Study: It Takes Men 20 Minutes or Less to Decide If They Want a Second Date
There's no formula for love, but there are some fundamental factors for a successful first date.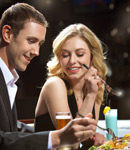 by Kristin Wong
Most of us have been there -- days after what you thought was the perfect first date, and your phone has never been more silent.
Or conversely, you made the worst first date impression imaginable, and the next day, you get a surprising text. Heck, maybe even years later, you're walking down the aisle with your bad first date.
From first dates to long term love, there's nothing particularly new about men and women having strikingly different perspectives. We've all seen 90s stand-up comedy.
But a new study from the University of Texas shows just how differently men and women view new relationships. The study finds that, the more attractive a woman is, the more a man thinks she's interested in him. Women, on the other hand, usually underestimate a man's attraction toward them.
A handful of men were interviewed here about their perspectives on a first date. And probably the most interesting find is, it takes singles 20 minutes or less to decide whether they want a second date with someone.
So set your timers, put on a big smile, and find out what men are looking for from their first dates.
But first, what turns them off:
- Complaining (if work sucks, leave it there)
- Talking about your baggage (no ex talk)
- Babbling (stick to a topic you're both interested in)
- Plastic surgery (keep the face lift under wraps)
And on a more positive note, here are the factors that make men want a second date:
- Smiling (be friendly and approachable)
- Sincerity (being yourself goes a long way)
- Compliments (who doesn't love a compliment?)
- Light, casual touching (just don't get too carried away, or your first date might turn into a one night stand!)

love: friendships, dating, sex & marriage
It's wedding season! Let's take a look back at when these stunning celebs put on gorgeous gowns and held beautiful bouquets in support of their friends' and family members' big days.

A new study says we're more open to consensual non-monogamy now than ever before — but does it work?

5 steps to being happy together in the long run.

There has been an exponential increase in the number of people who are questioning their marriage.

We're willing to bet that if you're not already grappling with these wedding-related snags, you will be soon.

Pull out the tissues for these personalized wedding vows.

Forgotten what love is all about? Read this note, and remember.

And a few that aren't so shocking.

If you find yourself doing any of these things, consider changing your behavior or counseling.

From pineapple sculptures made out of sunflowers to bold graphic printed tablecloths, ten trendsetters in the wedding industry shared 100 days' worth of inspiring new wedding details. See The Knot editors' top picks for the coolest and most awe-worthy ideas from the wedding experts.

Those Facebook friends who seem to have perfect lives with flawless mates whom they adore at all times? Even they face tough times like these.

How to flag her little fibs. By Laura Tedesco