Study: It Takes Men 20 Minutes or Less to Decide If They Want a Second Date
There's no formula for love, but there are some fundamental factors for a successful first date.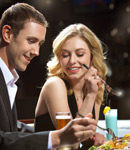 by Kristin Wong
Most of us have been there -- days after what you thought was the perfect first date, and your phone has never been more silent.
Or conversely, you made the worst first date impression imaginable, and the next day, you get a surprising text. Heck, maybe even years later, you're walking down the aisle with your bad first date.
From first dates to long term love, there's nothing particularly new about men and women having strikingly different perspectives. We've all seen 90s stand-up comedy.
But a new study from the University of Texas shows just how differently men and women view new relationships. The study finds that, the more attractive a woman is, the more a man thinks she's interested in him. Women, on the other hand, usually underestimate a man's attraction toward them.
A handful of men were interviewed here about their perspectives on a first date. And probably the most interesting find is, it takes singles 20 minutes or less to decide whether they want a second date with someone.
So set your timers, put on a big smile, and find out what men are looking for from their first dates.
But first, what turns them off:
- Complaining (if work sucks, leave it there)
- Talking about your baggage (no ex talk)
- Babbling (stick to a topic you're both interested in)
- Plastic surgery (keep the face lift under wraps)
And on a more positive note, here are the factors that make men want a second date:
- Smiling (be friendly and approachable)
- Sincerity (being yourself goes a long way)
- Compliments (who doesn't love a compliment?)
- Light, casual touching (just don't get too carried away, or your first date might turn into a one night stand!)

love: friendships, dating, sex & marriage
This just in: Guys over 5'10" are twice as likely to stray.

Or how to tell if you've reached THAT point in your bond.

Dating doesn't have to be a daunting task, promise. Here's how to make it fun for you and him.

This just in: A new study shows girls are warriors in the womb.

You can make a pros and cons list...but ultimately you know what works best for you.

Maggie Reyes is a life coach, writer, and the founder of ModernMarried.com. She helps newlyweds re-think what married life can be. Here, she's revealing tricks every newlywed couple needs to know.

Government-supported Vietnamese classes teach women Korean language, customs.

Whether you're into creative artists or uber-preppy bankers, there's something to be said for trying something new.

Sometimes two characters on a TV show or movie can portray being a happy couple effortlessly, or can have lots of fun playing former spouses — especially if they're married to each other in real life! Keep scrolling for six celebrity costars you probably didn't know tied the knot, even after the bloodiest and craziest story lines.

Some couples want nothing more than a laid-back, by-the-book proposal. Then there are the other couples, where the proposal not only needs to be personalized, it also has to be unique and entirely different than the typical restaurant, bended-knee idea. Sound like you? Then get inspired by some of the most creative proposal ideas we've ever seen. If you find something you like, steal it and then modify it to make your proposal something totally unforgettable.

From Nantucket all the way to Cayo Espanto, we've rounded up some of the prettiest beaches to travel to for your honeymoon.

Researchers studied the age-old stereotype that women really are more talkative than men.