Can We Learn From Arranged Marriages?
Some studies suggest arranged unions may work better.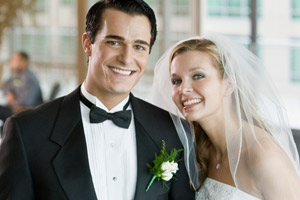 For most of us living the Western world, where freedom and liberty are emphasized, the idea of an arranged marriage immediately seems unsavory. But one researcher seems to think there's something to be learned from those unions.
Robert Epstein is a Senior Research Psychologist at the American Institute for Behavioral Research and Technology, and he's been studying couples in arranged marriages for the past eight years.
According to Epstein, those couples end up more in love with each other than couples in "love marriages." He explains that in non-arranged marriages, a couple's feelings dissipate as much as 50 percent after only 18 to 24 months of marriage. But based on his own findings as well as other studies, Epstein claims that arranged marriages are twice as strong as love marriages within the first ten years of the union.
"I've been studying this by interviewing people in arranged marriages, having them fill out certain forms and analyzing the data," Epstein told Family Fed. "People I've interviewed in arranged marriages laugh at us, because we're so naïve about what happens over time in a relationship."
Epstein added that unrealistic expectations are often to blame for the failure of love marriages:
"The notion that we get from movies and fairy tales and novels say that love lasts forever, that the person you marry is the one, your soul mate and that you live happily ever after. We have the notion that the good feelings will continue. All those expectations are wrong."
While Epstein believes much can be learned from arranged marriages, he's not necessarily advocating their practice in the Western world:
"Groups like the Beatles and the Beach Boys brought pieces of eastern culture into western culture, wonderful techniques for creating a sense of well-being. We didn't adopt the religion, the culture – we adopted the practices. I think we can learn from successful arranged marriages and adopt the practices."
It should be mentioned that Epstein is not referring to forced marriages. He clarified in an interview with the Algemeiner:
"In arranged marriages, there is a choice, and it is respected. The parents and the son or daughter make the decision together; everyone is interested in everyone else's benefit."
And the family's involvement is precisely why Epstein believes those marriages have an advantage.
"It means that there's a third party involved, there are other perspectives in the matching process." Epstein said. "We stumble across somebody in a bar on online, a poor basis for a marriage."
But of course, the idea of arranged marriage doesn't sit so well with some.
Fraidy Reiss is the founder of Unchained At Last, an organization that helps "women leave arranged marriages." Reiss told the Algemeiner that couples are often coerced into getting married at a young age, when they lack the "tools they need to make a proper decision."
"It's a business transaction. It's not about love," Reiss said. "The choice you make is not a choice at all. Its societal coercion."
Epstein sees those flaws, but argues that "an arranged marriage is not perfect, but in some respects it's better than a love marriage. I'm not saying we should practice it, but I do think we can learn from it."
And, generally speaking, what is there to learn?
"We can use our heads a little bit more, looking beyond just the physical characteristics, and then we can develop skills and an awareness that can help us not only keep love going but also make love deeper over time."
Photo: Andersen Ross/Getty Images
More on love & sex from MSN Living:
The 10 Worst First Date Ideas of All Time
The Most Memorable Star-Crossed Movie Couples
10 Rom-Coms That Won't Put Your Guy To Sleep

love: friendships, dating, sex & marriage
You'd think brides and grooms who celebrate their nuptials with 50 guests have an equal shot at wedded bliss as those who invite 500, but apparently not.

Because some things are just better with a buddy (whom you happen to be dating).

They're smart, funny, and adorable, but are you a good match?

Fight the urge to sign her up for OkCupid and read this instead.

We know you have good intentions, but...please...stop.

You can't say we didn't warn you. Every month is Movember when you're dating a guy with a beard. And while the scruffy look can be hot, there are some very real, err, challenges that come with the territory. Don't believe us? Well…

Follow these steps to slash your wedding budget—not your fun—in half.

It won't all be cake and flowers, but it can be the best year of your life together so far.

Expert tips on moving past those oh-so-familiar arguments.

Grow as a couple by sharing adventures.

For many married couples, falling in love and saying "I do" was the easy part. Living happily ever after is the part that takes a whole lot of work.