Can We Learn From Arranged Marriages?
Some studies suggest arranged unions may work better.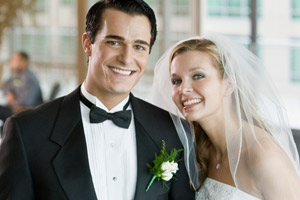 For most of us living the Western world, where freedom and liberty are emphasized, the idea of an arranged marriage immediately seems unsavory. But one researcher seems to think there's something to be learned from those unions.
Robert Epstein is a Senior Research Psychologist at the American Institute for Behavioral Research and Technology, and he's been studying couples in arranged marriages for the past eight years.
According to Epstein, those couples end up more in love with each other than couples in "love marriages." He explains that in non-arranged marriages, a couple's feelings dissipate as much as 50 percent after only 18 to 24 months of marriage. But based on his own findings as well as other studies, Epstein claims that arranged marriages are twice as strong as love marriages within the first ten years of the union.
"I've been studying this by interviewing people in arranged marriages, having them fill out certain forms and analyzing the data," Epstein told Family Fed. "People I've interviewed in arranged marriages laugh at us, because we're so naïve about what happens over time in a relationship."
Epstein added that unrealistic expectations are often to blame for the failure of love marriages:
"The notion that we get from movies and fairy tales and novels say that love lasts forever, that the person you marry is the one, your soul mate and that you live happily ever after. We have the notion that the good feelings will continue. All those expectations are wrong."
While Epstein believes much can be learned from arranged marriages, he's not necessarily advocating their practice in the Western world:
"Groups like the Beatles and the Beach Boys brought pieces of eastern culture into western culture, wonderful techniques for creating a sense of well-being. We didn't adopt the religion, the culture – we adopted the practices. I think we can learn from successful arranged marriages and adopt the practices."
It should be mentioned that Epstein is not referring to forced marriages. He clarified in an interview with the Algemeiner:
"In arranged marriages, there is a choice, and it is respected. The parents and the son or daughter make the decision together; everyone is interested in everyone else's benefit."
And the family's involvement is precisely why Epstein believes those marriages have an advantage.
"It means that there's a third party involved, there are other perspectives in the matching process." Epstein said. "We stumble across somebody in a bar on online, a poor basis for a marriage."
But of course, the idea of arranged marriage doesn't sit so well with some.
Fraidy Reiss is the founder of Unchained At Last, an organization that helps "women leave arranged marriages." Reiss told the Algemeiner that couples are often coerced into getting married at a young age, when they lack the "tools they need to make a proper decision."
"It's a business transaction. It's not about love," Reiss said. "The choice you make is not a choice at all. Its societal coercion."
Epstein sees those flaws, but argues that "an arranged marriage is not perfect, but in some respects it's better than a love marriage. I'm not saying we should practice it, but I do think we can learn from it."
And, generally speaking, what is there to learn?
"We can use our heads a little bit more, looking beyond just the physical characteristics, and then we can develop skills and an awareness that can help us not only keep love going but also make love deeper over time."
Photo: Andersen Ross/Getty Images
More on love & sex from MSN Living:
The 10 Worst First Date Ideas of All Time
The Most Memorable Star-Crossed Movie Couples
10 Rom-Coms That Won't Put Your Guy To Sleep

love: friendships, dating, sex & marriage
The typical wedding: A white dress, tiered cake, floral centerpieces and a cute flower girl -- you know the drill. Every once in a while, though, a couple trades in tradition for a quirky, never-seen-that-before idea. Here are a few of the most out-there wedding photos that made us do a double take.

There's a lot to love about weddings this fall, like cocktails served in copper Moscow mule mugs, industrial-inspired lighting and pheasant feather details. See what's new!

Do you have to be engaged to sport a ring with bling?

124.6 million haven't gotten hitched.

Even though the national average wedding is $29,858, that's just an average. If you live in a smaller state like Idaho where the average wedding costs $16,159, you may find yourself saving a little more than half of the national spend! Check out some of the other least expensive cities to get married in below:

Summer is winding down, but the ubiquitous summer romance lives on.

For those times when nothing big and horrible happened--but nothing is feeling right either.

He's confident, distinguished and anywhere from 4 to 20 years older than you. Age is just a number, but there's something about older men that we love. Here are eight reasons why being in a relationship with an older man is tops.

While a younger man may have less life experience, that doesn't mean he's not emotionally mature. Here are the eight reasons why being in a relationship with a younger man is tops.

Have you ever wondered what the 'other woman' was thinking?

So fall is coming and you need some romantic inspiration now that long walks on the beach are out of the question. Well look no further! From apple picking to pumpkin carving, these are some great fall date ideas from girls just like you!

Getting bored of the same dinner and movie date night? Take an adorable cue from your favorite celebs and try something new! From dancing to boxing you can't go wrong with these awesome date ideas.