Can We Learn From Arranged Marriages?
Some studies suggest arranged unions may work better.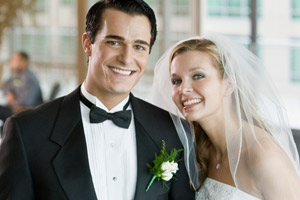 For most of us living the Western world, where freedom and liberty are emphasized, the idea of an arranged marriage immediately seems unsavory. But one researcher seems to think there's something to be learned from those unions.
Robert Epstein is a Senior Research Psychologist at the American Institute for Behavioral Research and Technology, and he's been studying couples in arranged marriages for the past eight years.
According to Epstein, those couples end up more in love with each other than couples in "love marriages." He explains that in non-arranged marriages, a couple's feelings dissipate as much as 50 percent after only 18 to 24 months of marriage. But based on his own findings as well as other studies, Epstein claims that arranged marriages are twice as strong as love marriages within the first ten years of the union.
"I've been studying this by interviewing people in arranged marriages, having them fill out certain forms and analyzing the data," Epstein told Family Fed. "People I've interviewed in arranged marriages laugh at us, because we're so naïve about what happens over time in a relationship."
Epstein added that unrealistic expectations are often to blame for the failure of love marriages:
"The notion that we get from movies and fairy tales and novels say that love lasts forever, that the person you marry is the one, your soul mate and that you live happily ever after. We have the notion that the good feelings will continue. All those expectations are wrong."
While Epstein believes much can be learned from arranged marriages, he's not necessarily advocating their practice in the Western world:
"Groups like the Beatles and the Beach Boys brought pieces of eastern culture into western culture, wonderful techniques for creating a sense of well-being. We didn't adopt the religion, the culture – we adopted the practices. I think we can learn from successful arranged marriages and adopt the practices."
It should be mentioned that Epstein is not referring to forced marriages. He clarified in an interview with the Algemeiner:
"In arranged marriages, there is a choice, and it is respected. The parents and the son or daughter make the decision together; everyone is interested in everyone else's benefit."
And the family's involvement is precisely why Epstein believes those marriages have an advantage.
"It means that there's a third party involved, there are other perspectives in the matching process." Epstein said. "We stumble across somebody in a bar on online, a poor basis for a marriage."
But of course, the idea of arranged marriage doesn't sit so well with some.
Fraidy Reiss is the founder of Unchained At Last, an organization that helps "women leave arranged marriages." Reiss told the Algemeiner that couples are often coerced into getting married at a young age, when they lack the "tools they need to make a proper decision."
"It's a business transaction. It's not about love," Reiss said. "The choice you make is not a choice at all. Its societal coercion."
Epstein sees those flaws, but argues that "an arranged marriage is not perfect, but in some respects it's better than a love marriage. I'm not saying we should practice it, but I do think we can learn from it."
And, generally speaking, what is there to learn?
"We can use our heads a little bit more, looking beyond just the physical characteristics, and then we can develop skills and an awareness that can help us not only keep love going but also make love deeper over time."
Photo: Andersen Ross/Getty Images
More on love & sex from MSN Living:
The 10 Worst First Date Ideas of All Time
The Most Memorable Star-Crossed Movie Couples
10 Rom-Coms That Won't Put Your Guy To Sleep

love: friendships, dating, sex & marriage
Hopeless romantics and cringe-worthy chick flicks would tell you that it doesn't matter what you do on the date, as long as you're together. But they're wrong. Dead wrong. Women use your date ideas to size you up, says matchmaker Rachel DeAlto, author of "Flirt Fearlessly." "You absolutely will be judged based on the date you plan. There are so many subconscious impressions that we take in while dating." Gulp. Here are 10 terrible ideas that can land you on the no-lay list—and simple swaps to keep her happy. By K. Aleisha Fetters

Here are 15 signs we've been on "The Bachelor" bandwagon—all 27 seasons of it—for (possibly) longer than we'd care to admit.

In the grand tradition of celebrating love, we've chosen some of the mushiest, sweetest, and most memorable scenes to hit the big or small screen. From marriage proposals to unexpected serenades, these moments will make you believe in love (and want someone to cuddle up with, stat).

How to flag her little fibs. By Laura Tedesco

Revealr is a new iPhone app that allows those looking for love to hear their possible matches before they see them.

A new poll reveals 59 percent of the country supports same-sex marriage.

Celebrity engagements are so much fun to follow because every detail is bound to be over-the-top — from the proposal (like when Kanye rented out an entire stadium to propose to Kim) to the huge, sparkly engagement ring and, of course, the wedding. Plus, as trendsetters, celebs can be a source of inspiration even if you can't afford a million dollar ring. Here are our celebrity wedding predictions for 2014.

If you've ever been to a club—like, ever, even once—you are not going to be shocked to hear that women get a lot of unwanted, aggressive attention. But when you read the findings of this study on how often and why it happens, it might make you feel downright sick to your stomach.

No matter your current relationship status or past relationship fails, get a fresh start this month, with these tips for spring cleaning your love life.

Forget the rules you've always heard—it's time to start making your own.

Are you in an affair without knowing it? Unless you're a swinger, having sex with someone else counts as cheating. But then there's the fuzzy area between friendship and infidelity—and chances are, your girlfriend sees those shades of gray as more black and white than you do. "Men aren't as attuned to identifying ambiguous behaviors as cheating as women are," says Daniel Kruger, Ph.D., a University of Michigan psychologist, who's studied gender differences in definitions of infidelity. In other words, what you consider totally innocent could be her deal breaker.

We spoke with relationship therapist Rachel A. Sussman, author of "The Breakup Bible," for her tips on how regular girls can survive a split like an A-lister.