Couple has wedding for under $2
No, we didn't forget any zeros.
Georgina Porteous and Sid Innes of the United Kingdom recently tied the knot in a ceremony that included the works: a cake, dress, reception and rings. Their grand total, minus the marriage license fee? $1.56.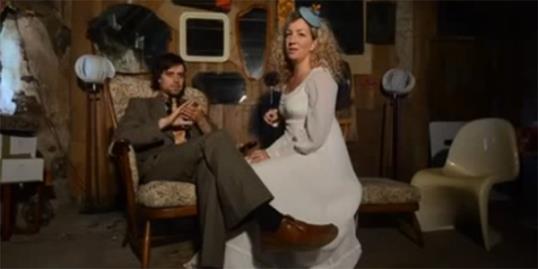 Gallery: 30 gorgeous ideas for DIY weddings
"I don't see the point in these massive weddings. It takes away from what marriage is truly about," Porteous told the Daily Mail.
But hey, you don't have to throw a massive wedding to rack up a big bill. The average cost of the dress alone is upwards of a thousand bucks, according to the Association of Bridal Consultants.
Bing: The most expensive weddings of all time
Indeed, the dress was Porteous' biggest expense. Well, actually, that was her only expense. She found a 1960s handmade ivory wedding gown on Freecycle.com and paid less than two dollars for it, according to the Daily Mail.
Gallery: Affordable wedding dresses for under $1,000
So how did they pull off the rest of the ceremony? Rings were handcrafted from antlers the couple found in their garden. The photographer agreed to donate his services in exchange for some film editing work. The cake was made by Porteous' aunt, guests brought food, and music was provided by the bride's saxophone-playing father.
"We have always been a bit alternative and arty so I enjoyed doing something a little different from everyone else's weddings," the bride said.
Tell us—are you impressed, or is this too thrifty for your taste?
More from The Heart Beat:
More working class Americans skipping out on marriage
More couples get married without God
Woman: I'm too pretty for my fiancé
Subscribe to The Heart Beat | Friend us on Facebook, follow us on Twitter and find us on Pinterest.
Photo: Georgina Porteous and Sid Innes (EEEENews via YouTube, http://www.youtube.c​om/watch?v=_RQi9kK4w​2Y)
love: friendships, dating, sex & marriage
The typical wedding: A white dress, tiered cake, floral centerpieces and a cute flower girl -- you know the drill. Every once in a while, though, a couple trades in tradition for a quirky, never-seen-that-before idea. Here are a few of the most out-there wedding photos that made us do a double take.

There's a lot to love about weddings this fall, like cocktails served in copper Moscow mule mugs, industrial-inspired lighting and pheasant feather details. See what's new!

Do you have to be engaged to sport a ring with bling?

124.6 million haven't gotten hitched.

Even though the national average wedding is $29,858, that's just an average. If you live in a smaller state like Idaho where the average wedding costs $16,159, you may find yourself saving a little more than half of the national spend! Check out some of the other least expensive cities to get married in below:

Summer is winding down, but the ubiquitous summer romance lives on.

For those times when nothing big and horrible happened--but nothing is feeling right either.

He's confident, distinguished and anywhere from 4 to 20 years older than you. Age is just a number, but there's something about older men that we love. Here are eight reasons why being in a relationship with an older man is tops.

While a younger man may have less life experience, that doesn't mean he's not emotionally mature. Here are the eight reasons why being in a relationship with a younger man is tops.

Have you ever wondered what the 'other woman' was thinking?

So fall is coming and you need some romantic inspiration now that long walks on the beach are out of the question. Well look no further! From apple picking to pumpkin carving, these are some great fall date ideas from girls just like you!

Getting bored of the same dinner and movie date night? Take an adorable cue from your favorite celebs and try something new! From dancing to boxing you can't go wrong with these awesome date ideas.