Couple has wedding for under $2
No, we didn't forget any zeros.
Georgina Porteous and Sid Innes of the United Kingdom recently tied the knot in a ceremony that included the works: a cake, dress, reception and rings. Their grand total, minus the marriage license fee? $1.56.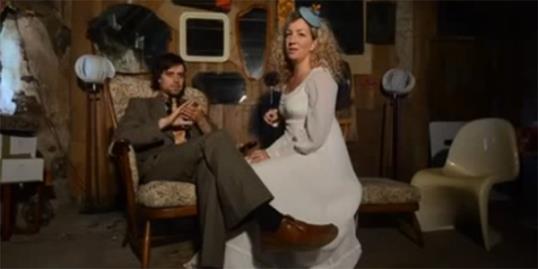 Gallery: 30 gorgeous ideas for DIY weddings
"I don't see the point in these massive weddings. It takes away from what marriage is truly about," Porteous told the Daily Mail.
But hey, you don't have to throw a massive wedding to rack up a big bill. The average cost of the dress alone is upwards of a thousand bucks, according to the Association of Bridal Consultants.
Bing: The most expensive weddings of all time
Indeed, the dress was Porteous' biggest expense. Well, actually, that was her only expense. She found a 1960s handmade ivory wedding gown on Freecycle.com and paid less than two dollars for it, according to the Daily Mail.
Gallery: Affordable wedding dresses for under $1,000
So how did they pull off the rest of the ceremony? Rings were handcrafted from antlers the couple found in their garden. The photographer agreed to donate his services in exchange for some film editing work. The cake was made by Porteous' aunt, guests brought food, and music was provided by the bride's saxophone-playing father.
"We have always been a bit alternative and arty so I enjoyed doing something a little different from everyone else's weddings," the bride said.
Tell us—are you impressed, or is this too thrifty for your taste?
More from The Heart Beat:
More working class Americans skipping out on marriage
More couples get married without God
Woman: I'm too pretty for my fiancé
Subscribe to The Heart Beat | Friend us on Facebook, follow us on Twitter and find us on Pinterest.
Photo: Georgina Porteous and Sid Innes (EEEENews via YouTube, http://www.youtube.c​om/watch?v=_RQi9kK4w​2Y)
love: friendships, dating, sex & marriage
It's wedding season! Let's take a look back at when these stunning celebs put on gorgeous gowns and held beautiful bouquets in support of their friends' and family members' big days.

A new study says we're more open to consensual non-monogamy now than ever before — but does it work?

5 steps to being happy together in the long run.

There has been an exponential increase in the number of people who are questioning their marriage.

We're willing to bet that if you're not already grappling with these wedding-related snags, you will be soon.

Pull out the tissues for these personalized wedding vows.

Forgotten what love is all about? Read this note, and remember.

And a few that aren't so shocking.

If you find yourself doing any of these things, consider changing your behavior or counseling.

From pineapple sculptures made out of sunflowers to bold graphic printed tablecloths, ten trendsetters in the wedding industry shared 100 days' worth of inspiring new wedding details. See The Knot editors' top picks for the coolest and most awe-worthy ideas from the wedding experts.

Those Facebook friends who seem to have perfect lives with flawless mates whom they adore at all times? Even they face tough times like these.

How to flag her little fibs. By Laura Tedesco