Couple has wedding for under $2
No, we didn't forget any zeros.
Georgina Porteous and Sid Innes of the United Kingdom recently tied the knot in a ceremony that included the works: a cake, dress, reception and rings. Their grand total, minus the marriage license fee? $1.56.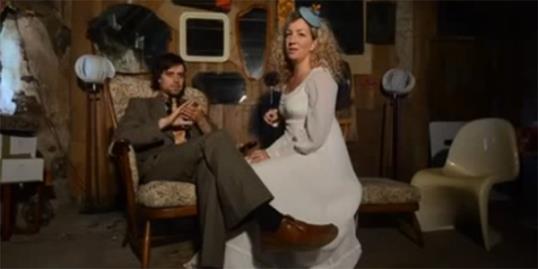 Gallery: 30 gorgeous ideas for DIY weddings
"I don't see the point in these massive weddings. It takes away from what marriage is truly about," Porteous told the Daily Mail.
But hey, you don't have to throw a massive wedding to rack up a big bill. The average cost of the dress alone is upwards of a thousand bucks, according to the Association of Bridal Consultants.
Bing: The most expensive weddings of all time
Indeed, the dress was Porteous' biggest expense. Well, actually, that was her only expense. She found a 1960s handmade ivory wedding gown on Freecycle.com and paid less than two dollars for it, according to the Daily Mail.
Gallery: Affordable wedding dresses for under $1,000
So how did they pull off the rest of the ceremony? Rings were handcrafted from antlers the couple found in their garden. The photographer agreed to donate his services in exchange for some film editing work. The cake was made by Porteous' aunt, guests brought food, and music was provided by the bride's saxophone-playing father.
"We have always been a bit alternative and arty so I enjoyed doing something a little different from everyone else's weddings," the bride said.
Tell us—are you impressed, or is this too thrifty for your taste?
More from The Heart Beat:
More working class Americans skipping out on marriage
More couples get married without God
Woman: I'm too pretty for my fiancé
Subscribe to The Heart Beat | Friend us on Facebook, follow us on Twitter and find us on Pinterest.
Photo: Georgina Porteous and Sid Innes (EEEENews via YouTube, http://www.youtube.c​om/watch?v=_RQi9kK4w​2Y)
love: friendships, dating, sex & marriage
You'd think brides and grooms who celebrate their nuptials with 50 guests have an equal shot at wedded bliss as those who invite 500, but apparently not.

Because some things are just better with a buddy (whom you happen to be dating).

They're smart, funny, and adorable, but are you a good match?

Fight the urge to sign her up for OkCupid and read this instead.

We know you have good intentions, but...please...stop.

You can't say we didn't warn you. Every month is Movember when you're dating a guy with a beard. And while the scruffy look can be hot, there are some very real, err, challenges that come with the territory. Don't believe us? Well…

Follow these steps to slash your wedding budget—not your fun—in half.

It won't all be cake and flowers, but it can be the best year of your life together so far.

Expert tips on moving past those oh-so-familiar arguments.

Grow as a couple by sharing adventures.

For many married couples, falling in love and saying "I do" was the easy part. Living happily ever after is the part that takes a whole lot of work.