Couple has wedding for under $2
No, we didn't forget any zeros.
Georgina Porteous and Sid Innes of the United Kingdom recently tied the knot in a ceremony that included the works: a cake, dress, reception and rings. Their grand total, minus the marriage license fee? $1.56.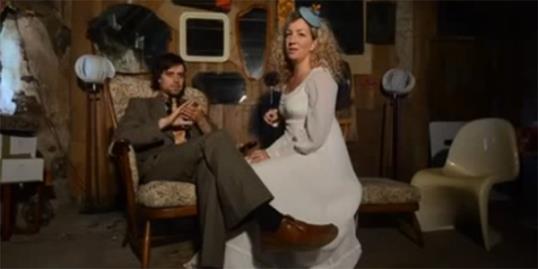 Gallery: 30 gorgeous ideas for DIY weddings
"I don't see the point in these massive weddings. It takes away from what marriage is truly about," Porteous told the Daily Mail.
But hey, you don't have to throw a massive wedding to rack up a big bill. The average cost of the dress alone is upwards of a thousand bucks, according to the Association of Bridal Consultants.
Bing: The most expensive weddings of all time
Indeed, the dress was Porteous' biggest expense. Well, actually, that was her only expense. She found a 1960s handmade ivory wedding gown on Freecycle.com and paid less than two dollars for it, according to the Daily Mail.
Gallery: Affordable wedding dresses for under $1,000
So how did they pull off the rest of the ceremony? Rings were handcrafted from antlers the couple found in their garden. The photographer agreed to donate his services in exchange for some film editing work. The cake was made by Porteous' aunt, guests brought food, and music was provided by the bride's saxophone-playing father.
"We have always been a bit alternative and arty so I enjoyed doing something a little different from everyone else's weddings," the bride said.
Tell us—are you impressed, or is this too thrifty for your taste?
More from The Heart Beat:
More working class Americans skipping out on marriage
More couples get married without God
Woman: I'm too pretty for my fiancé
Subscribe to The Heart Beat | Friend us on Facebook, follow us on Twitter and find us on Pinterest.
Photo: Georgina Porteous and Sid Innes (EEEENews via YouTube, http://www.youtube.c​om/watch?v=_RQi9kK4w​2Y)
love: friendships, dating, sex & marriage
How to flag her little fibs. By Laura Tedesco

A new study on attraction may help explain why fashions change.

As a general rule, any island that offers great weather year-round is going to attract the most visitors in the winter (high season) when we're all trying to escape the snow. Once summer rolls around, many islands see a sharp drop-off in tourism since many people have beach weather right in their own backyards.

And how you can attack the issues together.

A wedding is an exceptionally special day. Sometimes, an opportune photo flub makes the occasion even more memorable. Here are 25 awesome wedding photo bombs.

Somewhere between the first few butterfly-inducing dates and the committed-for-life stage, there's the period of wondering if you're both on the same page about how serious you feel about a future together. If you're not quite at the point of "that talk" but you're looking for a few clues you're heading in that direction, here are some signs he's in it for the long haul as your relationship progresses.

What's that sound? It's white noise blocking out the well-meaning person proclaiming groundbreaking news about where you can meet someone, asking why you're still single, or bugging you about when you're getting married already. Don't be that person. Here are 15 annoying things all single people don't want to hear.

With just a few days left before the big day, you already have a mile-long checklist of to-dos—now meet the don'ts! From impromptu skin treatments to all-night movie marathons, here are 11 things to avoid at all costs.

A new study shows that watching and discussing romantic films can drastically reduce your chance of divorce. These flicks more than fit the bill.

These seemingly innocent phrases still have the power to wound… big time.

Making "I do" last forever is one of the biggest challenges you'll ever face—and it's normal to worry about how you'll do it. But, if your connection involves any of these things, rest assured that you're in it for the long run.

Ultimately, as hard as it may seem at the beginning, a marital affair can be a turning point.