Couple has wedding for under $2
No, we didn't forget any zeros.
Georgina Porteous and Sid Innes of the United Kingdom recently tied the knot in a ceremony that included the works: a cake, dress, reception and rings. Their grand total, minus the marriage license fee? $1.56.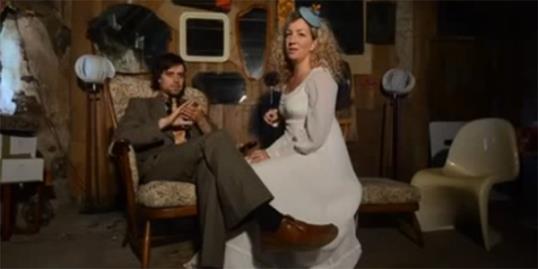 Gallery: 30 gorgeous ideas for DIY weddings
"I don't see the point in these massive weddings. It takes away from what marriage is truly about," Porteous told the Daily Mail.
But hey, you don't have to throw a massive wedding to rack up a big bill. The average cost of the dress alone is upwards of a thousand bucks, according to the Association of Bridal Consultants.
Bing: The most expensive weddings of all time
Indeed, the dress was Porteous' biggest expense. Well, actually, that was her only expense. She found a 1960s handmade ivory wedding gown on Freecycle.com and paid less than two dollars for it, according to the Daily Mail.
Gallery: Affordable wedding dresses for under $1,000
So how did they pull off the rest of the ceremony? Rings were handcrafted from antlers the couple found in their garden. The photographer agreed to donate his services in exchange for some film editing work. The cake was made by Porteous' aunt, guests brought food, and music was provided by the bride's saxophone-playing father.
"We have always been a bit alternative and arty so I enjoyed doing something a little different from everyone else's weddings," the bride said.
Tell us—are you impressed, or is this too thrifty for your taste?
More from The Heart Beat:
More working class Americans skipping out on marriage
More couples get married without God
Woman: I'm too pretty for my fiancé
Subscribe to The Heart Beat | Friend us on Facebook, follow us on Twitter and find us on Pinterest.
Photo: Georgina Porteous and Sid Innes (EEEENews via YouTube, http://www.youtube.c​om/watch?v=_RQi9kK4w​2Y)
love: friendships, dating, sex & marriage
This just in: A new study shows girls are warriors in the womb.

You can make a pros and cons list...but ultimately you know what works best for you.

Maggie Reyes is a life coach, writer, and the founder of ModernMarried.com. She helps newlyweds re-think what married life can be. Here, she's revealing tricks every newlywed couple needs to know.

Government-supported Vietnamese classes teach women Korean language, customs.

Whether you're into creative artists or uber-preppy bankers, there's something to be said for trying something new.

Sometimes two characters on a TV show or movie can portray being a happy couple effortlessly, or can have lots of fun playing former spouses — especially if they're married to each other in real life! Keep scrolling for six celebrity costars you probably didn't know tied the knot, even after the bloodiest and craziest story lines.

Some couples want nothing more than a laid-back, by-the-book proposal. Then there are the other couples, where the proposal not only needs to be personalized, it also has to be unique and entirely different than the typical restaurant, bended-knee idea. Sound like you? Then get inspired by some of the most creative proposal ideas we've ever seen. If you find something you like, steal it and then modify it to make your proposal something totally unforgettable.

From Nantucket all the way to Cayo Espanto, we've rounded up some of the prettiest beaches to travel to for your honeymoon.

Researchers studied the age-old stereotype that women really are more talkative than men.

'There is a science behind attraction,' SingldOut says.

One minute you're happy and in love, the next he's delivering the "It's not you, it's me" speech. Why? We have the scoop on the real reasons most couples split up.

Want to keep your wedding budget in check? Start by checking out this list of the 10 things that could end up costing you a lot more than you anticipated.