Some college women still hoping to get engaged before graduation
Even in today's modern age, college women are still on the hunt to find a fiancé before they leave school.
So here you are, ladies. It's spring semester of your senior year and all your thoughts are focused toward the future. You'll walk across that stage and get your diploma, but what happens next? Maybe you've landed a great job  in the big city. Maybe you're on your way to med school. Or … maybe you're getting married.
While the median age at first marriage has been steadily increasing, there is still a small percentage of college students who are planning an engagement party not long after their graduation party. Back in the '80s, the median age of marriage in the United States was about 25 years for men and 21 years for women. As of 2010, the median age of marriage was 28.2 years for men and 26.1 for women, yet many campus couples are making the transition to married life much younger.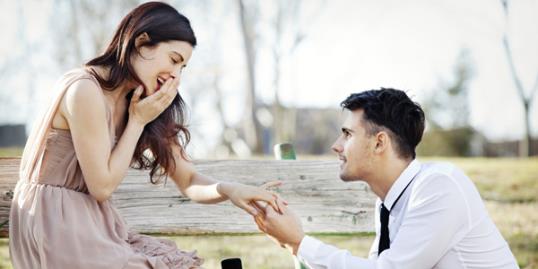 Is the 'Mrs. Degree' making a comeback?
Take, for example, the University of North Carolina at Chapel Hill. It is hard to find a student on UNC's large campus who doesn't know at least one engaged person. But apparently, this shouldn't be too surprising.
According to the U.S. Census Bureau, Virginia, North Carolina, Georgia and other southern states boast a higher marriage rate than the national average. Northern states like Pennsylvania, New York, and Massachusetts, on the other hand, typically report lower marriage rates than the national average.
The traditional – some would say, "old-fashioned," – nature of the South has long encouraged marriage and an early start to creating a family.
Bing: The top ranking colleges in the country.
"The South puts such a focus on having a family as fast as you can," says Victoria, a sophomore at UNC-Chapel Hill. "It's what every girl wants in the South."
The traditional values of the South historically led to the phenomenon that we know as the "Mrs. Degree." Call it a tradition or a stereotype, the Mrs. Degree simply implies that a girl goes to college for the sole purpose of finding a husband.
While the Mrs. Degree may have been a legitimate justification for attending college at one point in time, it has now been turned primarily into a joke. Even the southern belles don't take the 1950s-esque Mrs. Degree very seriously anymore.
A column from The Red and Black, a student-run publication of the University of Georgia, satirized the Mrs. Degree by saying, "A Southern Belle is nothing but a pretty face and pearls without a man to eat her cooking and appreciate her cleaning."
As a collegiette born and raised in the South, Victoria says she knows of a few girls who still dream of obtaining that Mrs. Degree to avoid having to work for the rest of their lives, but it's definitely not as common as it used to be. 
Read the rest of the article here on HerCampus.com.
More from HerCampus.com:
8 reasons not to get back together with your ex
7 scientifically prove​n ways to make him fall for you
7 flirty texts to send him
HerCampus.com is the No .1 online community for college women with content on Style, Beauty, Health, Love, Life, and Career plus local content from 200+ campus chapters.
Photo: College age women getting engaged / Cavan Images/Getty Images
love: friendships, dating, sex & marriage
Brad Pitt and Angelina Jolie finally took the plunge, but marriage isn't always a good choice for everyone.

Learn how these surprising tactics can really improve your relationship.

Use these tips to up your chances of finding love.

Find out how paired-off ladies might feel lacking—and how you can make your relationship satisfying.

These signals are seriously subtle, but they can give you real insight into what's going through your husband's mind.

Check which changes are necessary to stay happy together.

We know some of this may sound obvious, but these simple statements can make both of you happier.

Making your relationship more secure, connected, and intimate doesn't have to feel overwhelming. Try these expert tips and reap the rewards now—and in the long run.

For those times when nothing big and horrible happened--but nothing is feeling right either.

What's more fun than animals in weddings? We've rounded up eight of the cutest.

Your puppy is all over your Instagram, Facebook and fridge, so there's no reason not to include him in your engagement pictures too. The best engagement photos give viewers a peek into your life. If you're a dog owner, take this opportunity to show off your pooch, like these 22 couples did! And we can't thank them enough.

Our married blogger gets real about checking out other guys when you're taken.