Some college women still hoping to get engaged before graduation
Even in today's modern age, college women are still on the hunt to find a fiancé before they leave school.
So here you are, ladies. It's spring semester of your senior year and all your thoughts are focused toward the future. You'll walk across that stage and get your diploma, but what happens next? Maybe you've landed a great job  in the big city. Maybe you're on your way to med school. Or … maybe you're getting married.
While the median age at first marriage has been steadily increasing, there is still a small percentage of college students who are planning an engagement party not long after their graduation party. Back in the '80s, the median age of marriage in the United States was about 25 years for men and 21 years for women. As of 2010, the median age of marriage was 28.2 years for men and 26.1 for women, yet many campus couples are making the transition to married life much younger.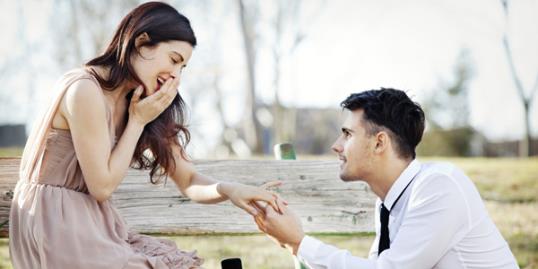 Is the 'Mrs. Degree' making a comeback?
Take, for example, the University of North Carolina at Chapel Hill. It is hard to find a student on UNC's large campus who doesn't know at least one engaged person. But apparently, this shouldn't be too surprising.
According to the U.S. Census Bureau, Virginia, North Carolina, Georgia and other southern states boast a higher marriage rate than the national average. Northern states like Pennsylvania, New York, and Massachusetts, on the other hand, typically report lower marriage rates than the national average.
The traditional – some would say, "old-fashioned," – nature of the South has long encouraged marriage and an early start to creating a family.
Bing: The top ranking colleges in the country.
"The South puts such a focus on having a family as fast as you can," says Victoria, a sophomore at UNC-Chapel Hill. "It's what every girl wants in the South."
The traditional values of the South historically led to the phenomenon that we know as the "Mrs. Degree." Call it a tradition or a stereotype, the Mrs. Degree simply implies that a girl goes to college for the sole purpose of finding a husband.
While the Mrs. Degree may have been a legitimate justification for attending college at one point in time, it has now been turned primarily into a joke. Even the southern belles don't take the 1950s-esque Mrs. Degree very seriously anymore.
A column from The Red and Black, a student-run publication of the University of Georgia, satirized the Mrs. Degree by saying, "A Southern Belle is nothing but a pretty face and pearls without a man to eat her cooking and appreciate her cleaning."
As a collegiette born and raised in the South, Victoria says she knows of a few girls who still dream of obtaining that Mrs. Degree to avoid having to work for the rest of their lives, but it's definitely not as common as it used to be. 
Read the rest of the article here on HerCampus.com.
More from HerCampus.com:
8 reasons not to get back together with your ex
7 scientifically prove​n ways to make him fall for you
7 flirty texts to send him
HerCampus.com is the No .1 online community for college women with content on Style, Beauty, Health, Love, Life, and Career plus local content from 200+ campus chapters.
Photo: College age women getting engaged / Cavan Images/Getty Images
love: friendships, dating, sex & marriage
How to flag her little fibs. By Laura Tedesco

A new study on attraction may help explain why fashions change.

As a general rule, any island that offers great weather year-round is going to attract the most visitors in the winter (high season) when we're all trying to escape the snow. Once summer rolls around, many islands see a sharp drop-off in tourism since many people have beach weather right in their own backyards.

And how you can attack the issues together.

A wedding is an exceptionally special day. Sometimes, an opportune photo flub makes the occasion even more memorable. Here are 25 awesome wedding photo bombs.

Somewhere between the first few butterfly-inducing dates and the committed-for-life stage, there's the period of wondering if you're both on the same page about how serious you feel about a future together. If you're not quite at the point of "that talk" but you're looking for a few clues you're heading in that direction, here are some signs he's in it for the long haul as your relationship progresses.

What's that sound? It's white noise blocking out the well-meaning person proclaiming groundbreaking news about where you can meet someone, asking why you're still single, or bugging you about when you're getting married already. Don't be that person. Here are 15 annoying things all single people don't want to hear.

With just a few days left before the big day, you already have a mile-long checklist of to-dos—now meet the don'ts! From impromptu skin treatments to all-night movie marathons, here are 11 things to avoid at all costs.

A new study shows that watching and discussing romantic films can drastically reduce your chance of divorce. These flicks more than fit the bill.

These seemingly innocent phrases still have the power to wound… big time.

Making "I do" last forever is one of the biggest challenges you'll ever face—and it's normal to worry about how you'll do it. But, if your connection involves any of these things, rest assured that you're in it for the long run.

Ultimately, as hard as it may seem at the beginning, a marital affair can be a turning point.