Some college women still hoping to get engaged before graduation
Even in today's modern age, college women are still on the hunt to find a fiancé before they leave school.
So here you are, ladies. It's spring semester of your senior year and all your thoughts are focused toward the future. You'll walk across that stage and get your diploma, but what happens next? Maybe you've landed a great job  in the big city. Maybe you're on your way to med school. Or … maybe you're getting married.
While the median age at first marriage has been steadily increasing, there is still a small percentage of college students who are planning an engagement party not long after their graduation party. Back in the '80s, the median age of marriage in the United States was about 25 years for men and 21 years for women. As of 2010, the median age of marriage was 28.2 years for men and 26.1 for women, yet many campus couples are making the transition to married life much younger.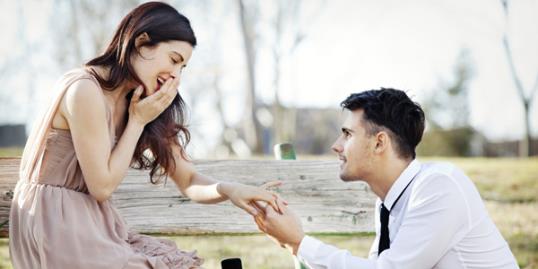 Is the 'Mrs. Degree' making a comeback?
Take, for example, the University of North Carolina at Chapel Hill. It is hard to find a student on UNC's large campus who doesn't know at least one engaged person. But apparently, this shouldn't be too surprising.
According to the U.S. Census Bureau, Virginia, North Carolina, Georgia and other southern states boast a higher marriage rate than the national average. Northern states like Pennsylvania, New York, and Massachusetts, on the other hand, typically report lower marriage rates than the national average.
The traditional – some would say, "old-fashioned," – nature of the South has long encouraged marriage and an early start to creating a family.
Bing: The top ranking colleges in the country.
"The South puts such a focus on having a family as fast as you can," says Victoria, a sophomore at UNC-Chapel Hill. "It's what every girl wants in the South."
The traditional values of the South historically led to the phenomenon that we know as the "Mrs. Degree." Call it a tradition or a stereotype, the Mrs. Degree simply implies that a girl goes to college for the sole purpose of finding a husband.
While the Mrs. Degree may have been a legitimate justification for attending college at one point in time, it has now been turned primarily into a joke. Even the southern belles don't take the 1950s-esque Mrs. Degree very seriously anymore.
A column from The Red and Black, a student-run publication of the University of Georgia, satirized the Mrs. Degree by saying, "A Southern Belle is nothing but a pretty face and pearls without a man to eat her cooking and appreciate her cleaning."
As a collegiette born and raised in the South, Victoria says she knows of a few girls who still dream of obtaining that Mrs. Degree to avoid having to work for the rest of their lives, but it's definitely not as common as it used to be. 
Read the rest of the article here on HerCampus.com.
More from HerCampus.com:
8 reasons not to get back together with your ex
7 scientifically prove​n ways to make him fall for you
7 flirty texts to send him
HerCampus.com is the No .1 online community for college women with content on Style, Beauty, Health, Love, Life, and Career plus local content from 200+ campus chapters.
Photo: College age women getting engaged / Cavan Images/Getty Images
love: friendships, dating, sex & marriage
The typical wedding: A white dress, tiered cake, floral centerpieces and a cute flower girl -- you know the drill. Every once in a while, though, a couple trades in tradition for a quirky, never-seen-that-before idea. Here are a few of the most out-there wedding photos that made us do a double take.

There's a lot to love about weddings this fall, like cocktails served in copper Moscow mule mugs, industrial-inspired lighting and pheasant feather details. See what's new!

Do you have to be engaged to sport a ring with bling?

124.6 million haven't gotten hitched.

Even though the national average wedding is $29,858, that's just an average. If you live in a smaller state like Idaho where the average wedding costs $16,159, you may find yourself saving a little more than half of the national spend! Check out some of the other least expensive cities to get married in below:

Summer is winding down, but the ubiquitous summer romance lives on.

For those times when nothing big and horrible happened--but nothing is feeling right either.

He's confident, distinguished and anywhere from 4 to 20 years older than you. Age is just a number, but there's something about older men that we love. Here are eight reasons why being in a relationship with an older man is tops.

While a younger man may have less life experience, that doesn't mean he's not emotionally mature. Here are the eight reasons why being in a relationship with a younger man is tops.

Have you ever wondered what the 'other woman' was thinking?

So fall is coming and you need some romantic inspiration now that long walks on the beach are out of the question. Well look no further! From apple picking to pumpkin carving, these are some great fall date ideas from girls just like you!

Getting bored of the same dinner and movie date night? Take an adorable cue from your favorite celebs and try something new! From dancing to boxing you can't go wrong with these awesome date ideas.