Trust can be a habit, study says
What makes you more likely to trust someone after a betrayal?
by Gena Kaufman
In the wake of betrayal, it can be hard to understand how one partner can forgive the other and let things go back to normal. But here's an explanation of what may make a person more likely to trust again.
In a study at Stanford University, researchers found that betrayal affects people differently depending on the length of the relationship. If you are betrayed early in a relationship, your brain makes more careful decisions about trusting that person in the future. But if you are betrayed later in a relationship, you are more likely to forgive as a habit.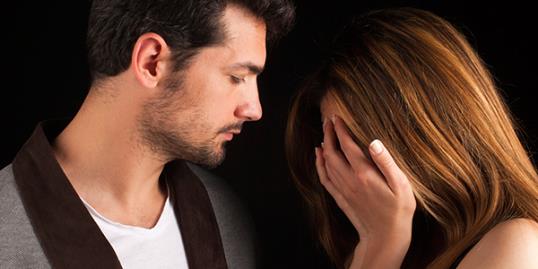 More from Glamour: 10 Hot Date-Night Outfits (According to Guys)
In an experiment, participants were paired with a "partner" (actually a computer program) and given $8. They could keep the money or give it to the partner. If they gave it to the partner, the value tripled, and the partner could then decide whether to keep it all or give half back to the original participant. If the partner betrayed the participant early on by keeping all the money, the participant took more time to make a decision and was more likely keep the money in the future.
But for those whose partner betrayed them later in the game, brain scans revealed increased activity in the part of the brain associated with habitual decision making, so the participants were more likely to trust their partners again.
More from Glamour: 25 Celebrity Hairstyles That Will Make You Want Bangs
If trust becomes a habit, does that mean you're more likely to be able to repair a relationship with someone who betrays you after a long period together? It's interesting to consider in the context of romantic relationships. On the one hand, if you've been together longer, you may have more invested in the relationship in addition to being in the habit of trusting that person, which could make it easier to forgive and forget. On the other hand, wouldn't you feel even more betrayed by someone you'd spent so much time with?
Have you ever been betrayed by a person you trusted? Could you ever trust that person again?
More from Glamour:
10 Wardrobe Essentials Every Woman Should Own
15 Hair-Color Makeover Ideas to Try in 2013
10 Beauty Tricks That Make Guys Melt

Subscribe to The Heart Beat | Friend us on Facebook, follow us on Twitter and find us on Pinterest.
Photo: Ragip Candan/Getty Images

Are you sure you want to delete this comment?
love: friendships, dating, sex & marriage
Here's why dudes without hair make the best boyfriends.

What do you wish you appreciated more when you were flying solo?

"If you're so busy tweeting and Instagraming, you're not paying attention," New York wedding planner Marcy Blum said. "It's almost a cosmic faux pas. People want your energy with them and focused on what they're doing."

The wedding favor, that little thank-you-for-coming gift, has risen to new heights with the bride and groom giving guests a wide range of favors that are meaningful to them.

Generations ago, planning a wedding was 100 percent the bride's job, but in today's age of gender equity, it's a mere 99 percent.

For all the self-help books and advice columns out there (um, keeping reading my advice anyway, please!), there's one tool we all already have in our arsenal for picking a partner that will keep us happy: our gut instincts.

According to a new study from the University of Texas and the University of California, Los Angeles, both men and women have regrets when it comes to sex, but the genders vary greatly when it comes to what they regret specifically.

Spending time alone with your guy is easy, but going public with your plus-one is another thing entirely. Whether it's your crazy relatives at Thanksgiving dinner or awkward convos with your boss at the holiday party, possible pitfalls are everywhere. Keep reading for tips on how to make his grand entrance into your social life a good thing.

Match.com survey reveals the day you're least likely to get spruced up for a date.

Drinking and relationships seem to go hand in hand in a lot of ways. But only in moderation!

Many men will tell you that they have no clue what their wives are thinking.

Spending the holidays with your guy's family for the first time is a huge relationship milestone. But between your nerves, the usual family tension, and your weird Uncle Sal's inappropriate stories, it's also a prime opportunity for total disaster. Read on for 10 of our readers' most embarrassing meet-the-parents moments.