Trust can be a habit, study says
What makes you more likely to trust someone after a betrayal?
by Gena Kaufman
In the wake of betrayal, it can be hard to understand how one partner can forgive the other and let things go back to normal. But here's an explanation of what may make a person more likely to trust again.
In a study at Stanford University, researchers found that betrayal affects people differently depending on the length of the relationship. If you are betrayed early in a relationship, your brain makes more careful decisions about trusting that person in the future. But if you are betrayed later in a relationship, you are more likely to forgive as a habit.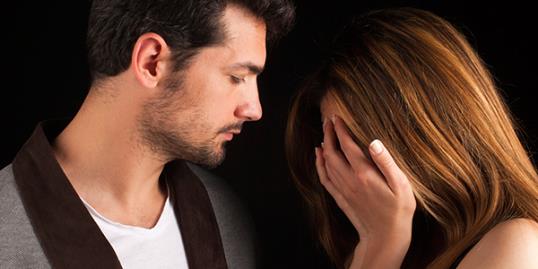 More from Glamour: 10 Hot Date-Night Outfits (According to Guys)
In an experiment, participants were paired with a "partner" (actually a computer program) and given $8. They could keep the money or give it to the partner. If they gave it to the partner, the value tripled, and the partner could then decide whether to keep it all or give half back to the original participant. If the partner betrayed the participant early on by keeping all the money, the participant took more time to make a decision and was more likely keep the money in the future.
But for those whose partner betrayed them later in the game, brain scans revealed increased activity in the part of the brain associated with habitual decision making, so the participants were more likely to trust their partners again.
More from Glamour: 25 Celebrity Hairstyles That Will Make You Want Bangs
If trust becomes a habit, does that mean you're more likely to be able to repair a relationship with someone who betrays you after a long period together? It's interesting to consider in the context of romantic relationships. On the one hand, if you've been together longer, you may have more invested in the relationship in addition to being in the habit of trusting that person, which could make it easier to forgive and forget. On the other hand, wouldn't you feel even more betrayed by someone you'd spent so much time with?
Have you ever been betrayed by a person you trusted? Could you ever trust that person again?
More from Glamour:
10 Wardrobe Essentials Every Woman Should Own
15 Hair-Color Makeover Ideas to Try in 2013
10 Beauty Tricks That Make Guys Melt

Subscribe to The Heart Beat | Friend us on Facebook, follow us on Twitter and find us on Pinterest.
Photo: Ragip Candan/Getty Images

Are you sure you want to delete this comment?
love: friendships, dating, sex & marriage
While we do love crazy, funny and over-the-top engagements, sometimes there's just nothing like a proposal with a heartfelt story behind it (warning: you might need some tissues). We've rounded up some of the most romantic wedding proposals from couples across the country, so keep scrolling for seven of our favorites:

As much as you'd like to think your guests will love every single aspect of your wedding, the truth is you really can't please everyone. However, you can try to avoid ticking them off. Here's how.

You'd think brides and grooms who celebrate their nuptials with 50 guests have an equal shot at wedded bliss as those who invite 500, but apparently not.

Because some things are just better with a buddy (whom you happen to be dating).

They're smart, funny, and adorable, but are you a good match?

Fight the urge to sign her up for OkCupid and read this instead.

We know you have good intentions, but...please...stop.

You can't say we didn't warn you. Every month is Movember when you're dating a guy with a beard. And while the scruffy look can be hot, there are some very real, err, challenges that come with the territory. Don't believe us? Well…

Follow these steps to slash your wedding budget—not your fun—in half.

It won't all be cake and flowers, but it can be the best year of your life together so far.

Expert tips on moving past those oh-so-familiar arguments.