Trust can be a habit, study says
What makes you more likely to trust someone after a betrayal?
by Gena Kaufman
In the wake of betrayal, it can be hard to understand how one partner can forgive the other and let things go back to normal. But here's an explanation of what may make a person more likely to trust again.
In a study at Stanford University, researchers found that betrayal affects people differently depending on the length of the relationship. If you are betrayed early in a relationship, your brain makes more careful decisions about trusting that person in the future. But if you are betrayed later in a relationship, you are more likely to forgive as a habit.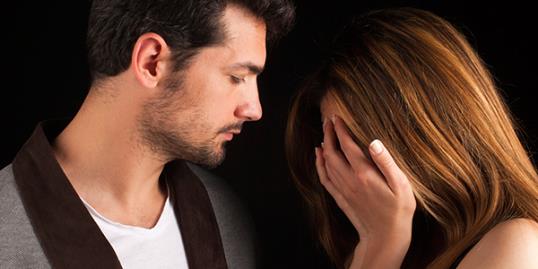 More from Glamour: 10 Hot Date-Night Outfits (According to Guys)
In an experiment, participants were paired with a "partner" (actually a computer program) and given $8. They could keep the money or give it to the partner. If they gave it to the partner, the value tripled, and the partner could then decide whether to keep it all or give half back to the original participant. If the partner betrayed the participant early on by keeping all the money, the participant took more time to make a decision and was more likely keep the money in the future.
But for those whose partner betrayed them later in the game, brain scans revealed increased activity in the part of the brain associated with habitual decision making, so the participants were more likely to trust their partners again.
More from Glamour: 25 Celebrity Hairstyles That Will Make You Want Bangs
If trust becomes a habit, does that mean you're more likely to be able to repair a relationship with someone who betrays you after a long period together? It's interesting to consider in the context of romantic relationships. On the one hand, if you've been together longer, you may have more invested in the relationship in addition to being in the habit of trusting that person, which could make it easier to forgive and forget. On the other hand, wouldn't you feel even more betrayed by someone you'd spent so much time with?
Have you ever been betrayed by a person you trusted? Could you ever trust that person again?
More from Glamour:
10 Wardrobe Essentials Every Woman Should Own
15 Hair-Color Makeover Ideas to Try in 2013
10 Beauty Tricks That Make Guys Melt

Subscribe to The Heart Beat | Friend us on Facebook, follow us on Twitter and find us on Pinterest.
Photo: Ragip Candan/Getty Images

Are you sure you want to delete this comment?
love: friendships, dating, sex & marriage
Brad Pitt and Angelina Jolie finally took the plunge, but marriage isn't always a good choice for everyone.

Learn how these surprising tactics can really improve your relationship.

Use these tips to up your chances of finding love.

Find out how paired-off ladies might feel lacking—and how you can make your relationship satisfying.

These signals are seriously subtle, but they can give you real insight into what's going through your husband's mind.

Check which changes are necessary to stay happy together.

We know some of this may sound obvious, but these simple statements can make both of you happier.

Making your relationship more secure, connected, and intimate doesn't have to feel overwhelming. Try these expert tips and reap the rewards now—and in the long run.

For those times when nothing big and horrible happened--but nothing is feeling right either.

What's more fun than animals in weddings? We've rounded up eight of the cutest.

Your puppy is all over your Instagram, Facebook and fridge, so there's no reason not to include him in your engagement pictures too. The best engagement photos give viewers a peek into your life. If you're a dog owner, take this opportunity to show off your pooch, like these 22 couples did! And we can't thank them enough.

Our married blogger gets real about checking out other guys when you're taken.