Trust can be a habit, study says
What makes you more likely to trust someone after a betrayal?
by Gena Kaufman
In the wake of betrayal, it can be hard to understand how one partner can forgive the other and let things go back to normal. But here's an explanation of what may make a person more likely to trust again.
In a study at Stanford University, researchers found that betrayal affects people differently depending on the length of the relationship. If you are betrayed early in a relationship, your brain makes more careful decisions about trusting that person in the future. But if you are betrayed later in a relationship, you are more likely to forgive as a habit.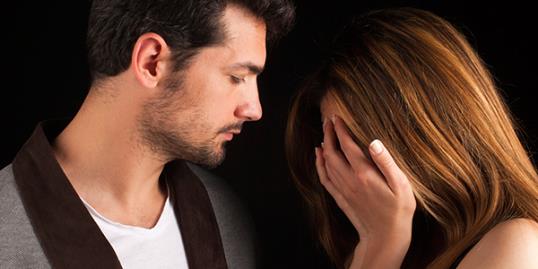 More from Glamour: 10 Hot Date-Night Outfits (According to Guys)
In an experiment, participants were paired with a "partner" (actually a computer program) and given $8. They could keep the money or give it to the partner. If they gave it to the partner, the value tripled, and the partner could then decide whether to keep it all or give half back to the original participant. If the partner betrayed the participant early on by keeping all the money, the participant took more time to make a decision and was more likely keep the money in the future.
But for those whose partner betrayed them later in the game, brain scans revealed increased activity in the part of the brain associated with habitual decision making, so the participants were more likely to trust their partners again.
More from Glamour: 25 Celebrity Hairstyles That Will Make You Want Bangs
If trust becomes a habit, does that mean you're more likely to be able to repair a relationship with someone who betrays you after a long period together? It's interesting to consider in the context of romantic relationships. On the one hand, if you've been together longer, you may have more invested in the relationship in addition to being in the habit of trusting that person, which could make it easier to forgive and forget. On the other hand, wouldn't you feel even more betrayed by someone you'd spent so much time with?
Have you ever been betrayed by a person you trusted? Could you ever trust that person again?
More from Glamour:
10 Wardrobe Essentials Every Woman Should Own
15 Hair-Color Makeover Ideas to Try in 2013
10 Beauty Tricks That Make Guys Melt

Subscribe to The Heart Beat | Friend us on Facebook, follow us on Twitter and find us on Pinterest.
Photo: Ragip Candan/Getty Images

Are you sure you want to delete this comment?
love: friendships, dating, sex & marriage
Why holding on to your partner's mistakes will end up hurting you.

A little extra effort, will power and research can help your marriage bloom well into old age.

These are the conversations all betrothed couples should take the time to have before they get hitched.

Brace yourself, this is uncomfortable.

There's nothing wrong with grabbing Italian food and alternating between watching action films and romantic comedies, but shaking up your going-out routine with an extreme date night can be the ultimate turn on and the best way to keep your relationship exciting.

This just in: Guys over 5'10" are twice as likely to stray.

Or how to tell if you've reached THAT point in your bond.

Dating doesn't have to be a daunting task, promise. Here's how to make it fun for you and him.

This just in: A new study shows girls are warriors in the womb.

You can make a pros and cons list...but ultimately you know what works best for you.

Maggie Reyes is a life coach, writer, and the founder of ModernMarried.com. She helps newlyweds re-think what married life can be. Here, she's revealing tricks every newlywed couple needs to know.

Government-supported Vietnamese classes teach women Korean language, customs.