It's 'Break Up With Your Ex' day!
Can't stop thinking about your ex? Valentine's Day can make it worse; here are some tips for moving on.
Sometimes your past won't stay where it belongs. During a breakup, denial can keep us from moving on from an ex—especially near Valentine's Day.
That's why love and relationship blog YourTango.com has officially declared Feb. 13 'Break Up With Your Ex' day. This year, The Heart Beat wanted to join in on the festivities. And just what do these festivities include?
"On February 13, YourTango is celebrating Break Up With Your Ex Day—a day to liberate yourself from old flames, say a final farewell same old type you always date—and vow to move on to healthy, happy, fulfilling relationships in 2013."
Sounds good to us. With the help of YourTango, we've put together a few tips for moving on from an old flame.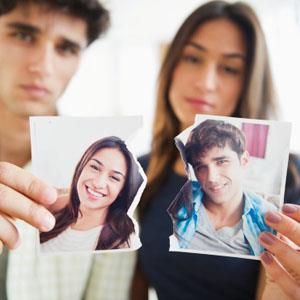 Sever digital ties: Unfriend, unfollow and untag. This might seem petty, but when you're constantly thinking about your old flame (and YourTango found that 71 percent of people do), the Internet can be your enemy. Online stalking is too big a temptation, and the last thing you want to see is that he or she is moving on without you.
Unfollow your ex on Twitter, block your ex on AIM, and untag any photos you have together. Maybe you can forge a friendship in the future, but for now, it's time to move on from your digital relationship, too.
From Your Tango: 10 Steps To Erasing Your Ex's Digital Footprint
Develop a new routine: Sometimes it's not all about your ex. Sometimes it's about the life you're used to living with that person. When you break up with someone, you're losing a routine, too—no more date night, no more daily phone call—it's hard to accept change. So pick up a new routine. On nights once dubbed 'date night', try to start a new 'movie night' tradition with your friends, for example. Distractions are key. Allowing time to stand still while you reminisce only makes things worse—and increases your chance of returning to a relationship that didn't work.
From Your Tango: The 6 Guys To Break Up With
Limit your mourning: Not only does constantly talking about your ex annoy your friends, it keeps him or her in your present, where they don't belong. Limit your post break up conversations, and limit the time you allow yourself to cry and mourn your relationship. It's not always easy, but force yourself to get up and do something else.
From Your Tango: Why We Repeatedly Choose The Wrong Relationships [EXPERT]
Accept that you may lose friends: Chances are, you and your ex share mutual friends. Last year, a survey found that on average, we lose eight friends after a breakup. Sometimes that can make moving on even harder—all you want is your old life and routine back. So to help yourself move on, accept that, along with your ex, some mutual friends may be lost, too. Anyway, your true pals will stick by your side. Maybe try to meet some new friends as part of developing a new routine.
From Your Tango: How Sleeping Around Saved My Relationship
If you're struggling to end a toxic relationship, if you've broken up with your ex for the fifth time, if you're doing everything you can to not go back—join us in celebrating 'Break Up With Your Ex' Day.
Want more tips for moving on? Join YourTango's Facebook event. Have some tips to share? Tell us in the comments below.
Love content like this? Friend us on Facebook, follow us on Twitter and find us on Pinterest   
Photo: Break up with your ex day / Jamie Grill/JGI/Getty Images
love: friendships, dating, sex & marriage
How to flag her little fibs. By Laura Tedesco

A new study on attraction may help explain why fashions change.

As a general rule, any island that offers great weather year-round is going to attract the most visitors in the winter (high season) when we're all trying to escape the snow. Once summer rolls around, many islands see a sharp drop-off in tourism since many people have beach weather right in their own backyards.

And how you can attack the issues together.

A wedding is an exceptionally special day. Sometimes, an opportune photo flub makes the occasion even more memorable. Here are 25 awesome wedding photo bombs.

Somewhere between the first few butterfly-inducing dates and the committed-for-life stage, there's the period of wondering if you're both on the same page about how serious you feel about a future together. If you're not quite at the point of "that talk" but you're looking for a few clues you're heading in that direction, here are some signs he's in it for the long haul as your relationship progresses.

What's that sound? It's white noise blocking out the well-meaning person proclaiming groundbreaking news about where you can meet someone, asking why you're still single, or bugging you about when you're getting married already. Don't be that person. Here are 15 annoying things all single people don't want to hear.

With just a few days left before the big day, you already have a mile-long checklist of to-dos—now meet the don'ts! From impromptu skin treatments to all-night movie marathons, here are 11 things to avoid at all costs.

A new study shows that watching and discussing romantic films can drastically reduce your chance of divorce. These flicks more than fit the bill.

These seemingly innocent phrases still have the power to wound… big time.

Making "I do" last forever is one of the biggest challenges you'll ever face—and it's normal to worry about how you'll do it. But, if your connection involves any of these things, rest assured that you're in it for the long run.

Ultimately, as hard as it may seem at the beginning, a marital affair can be a turning point.