It's 'Break Up With Your Ex' day!
Can't stop thinking about your ex? Valentine's Day can make it worse; here are some tips for moving on.
Sometimes your past won't stay where it belongs. During a breakup, denial can keep us from moving on from an ex—especially near Valentine's Day.
That's why love and relationship blog YourTango.com has officially declared Feb. 13 'Break Up With Your Ex' day. This year, The Heart Beat wanted to join in on the festivities. And just what do these festivities include?
"On February 13, YourTango is celebrating Break Up With Your Ex Day—a day to liberate yourself from old flames, say a final farewell same old type you always date—and vow to move on to healthy, happy, fulfilling relationships in 2013."
Sounds good to us. With the help of YourTango, we've put together a few tips for moving on from an old flame.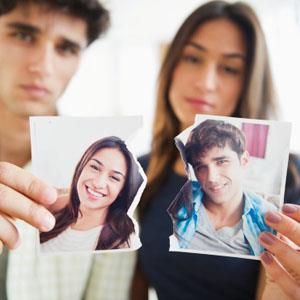 Sever digital ties: Unfriend, unfollow and untag. This might seem petty, but when you're constantly thinking about your old flame (and YourTango found that 71 percent of people do), the Internet can be your enemy. Online stalking is too big a temptation, and the last thing you want to see is that he or she is moving on without you.
Unfollow your ex on Twitter, block your ex on AIM, and untag any photos you have together. Maybe you can forge a friendship in the future, but for now, it's time to move on from your digital relationship, too.
From Your Tango: 10 Steps To Erasing Your Ex's Digital Footprint
Develop a new routine: Sometimes it's not all about your ex. Sometimes it's about the life you're used to living with that person. When you break up with someone, you're losing a routine, too—no more date night, no more daily phone call—it's hard to accept change. So pick up a new routine. On nights once dubbed 'date night', try to start a new 'movie night' tradition with your friends, for example. Distractions are key. Allowing time to stand still while you reminisce only makes things worse—and increases your chance of returning to a relationship that didn't work.
From Your Tango: The 6 Guys To Break Up With
Limit your mourning: Not only does constantly talking about your ex annoy your friends, it keeps him or her in your present, where they don't belong. Limit your post break up conversations, and limit the time you allow yourself to cry and mourn your relationship. It's not always easy, but force yourself to get up and do something else.
From Your Tango: Why We Repeatedly Choose The Wrong Relationships [EXPERT]
Accept that you may lose friends: Chances are, you and your ex share mutual friends. Last year, a survey found that on average, we lose eight friends after a breakup. Sometimes that can make moving on even harder—all you want is your old life and routine back. So to help yourself move on, accept that, along with your ex, some mutual friends may be lost, too. Anyway, your true pals will stick by your side. Maybe try to meet some new friends as part of developing a new routine.
From Your Tango: How Sleeping Around Saved My Relationship
If you're struggling to end a toxic relationship, if you've broken up with your ex for the fifth time, if you're doing everything you can to not go back—join us in celebrating 'Break Up With Your Ex' Day.
Want more tips for moving on? Join YourTango's Facebook event. Have some tips to share? Tell us in the comments below.
Love content like this? Friend us on Facebook, follow us on Twitter and find us on Pinterest   
Photo: Break up with your ex day / Jamie Grill/JGI/Getty Images
love: friendships, dating, sex & marriage
Brad Pitt and Angelina Jolie finally took the plunge, but marriage isn't always a good choice for everyone.

Learn how these surprising tactics can really improve your relationship.

Use these tips to up your chances of finding love.

Find out how paired-off ladies might feel lacking—and how you can make your relationship satisfying.

These signals are seriously subtle, but they can give you real insight into what's going through your husband's mind.

Check which changes are necessary to stay happy together.

We know some of this may sound obvious, but these simple statements can make both of you happier.

Making your relationship more secure, connected, and intimate doesn't have to feel overwhelming. Try these expert tips and reap the rewards now—and in the long run.

For those times when nothing big and horrible happened--but nothing is feeling right either.

What's more fun than animals in weddings? We've rounded up eight of the cutest.

Your puppy is all over your Instagram, Facebook and fridge, so there's no reason not to include him in your engagement pictures too. The best engagement photos give viewers a peek into your life. If you're a dog owner, take this opportunity to show off your pooch, like these 22 couples did! And we can't thank them enough.

Our married blogger gets real about checking out other guys when you're taken.