Weird Wedding Trend: Zombie Nuptials
'Til death do us part? Prove it.
Zombies seem to be having a moment. There's the video game, Plants vs. Zombies, for example. Then there's AMC's zombie hit, The Walking Dead, and, oh—there are even these.
And now, brides- and grooms-to-be are taking advantage of the undead trend by throwing their very own weird, zombie-themed weddings. Bridezilla? Try Bridezombie.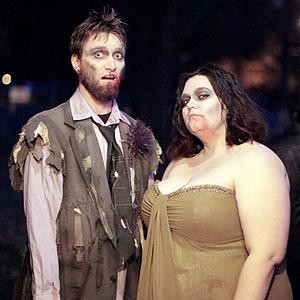 Over the weekend, 30-year-old Amanda Cusumano married 40-year-old Todd Lambert in an intimate, zombie-themed ceremony in Michigan. The bride and groom dressed as brain-eaters, as did their friends and family. Amanda wore a black velvet dress; her groom wore a black suit and fake monster teeth, holding a skeleton-headed cane as he vowed his undying love. Pastor Eric Drummonds said the two came together "to celebrate one of the scariest moments of their lives."
Related: 50 Things Everyone Should Know About Getting Married
If you're planning a wedding and you have a soft spot for the living dead, you're in luck. You can now buy custom-made zombie wedding cakes, and online marketplace Etsy is chock-full of zombie wedding decorations. The zombie wedding is becoming so popular, there's even a musical in its honor, aptly titled, Zombie Wedding: A Musical Zomedy.
It's not just a Halloween thing, either. In August, Jesse Embry and Jennifer Wilson wed during Louisville, Ky.'s annual Zombie Attack, according to The Courier-Journal. And Juliana Park and Ben Lee didn't have a zombie wedding, but they did have zombie engagement photos, staging an attack with the help of their photographer friend Amanda Rynda.
Related: 50 Unique Engagement Rings
Kendra Lacey wed Matthew Leach in Monmouth, N.J., earlier this month. After the wedding, they headed over to the annual Asbury Zombie Walk, as they were dressed for the occasion anyway.
"Why a zombie wedding? Because I want my kids to ask me why," Lacey explained.
Her husband added: "Why the hell else would you want to have a normal wedding when you can have a zombie wedding?"
What do you think of the zombie wedding trend—is it cool or just plain creepy?
Photo: Nathan Morgan/Daily News
Bing: Weirdest weddings ever.
More Sex & Love on MSN Living:
30 Diamond Engagement Rings So Sparkly You'll Need Sunglasses
5 Signs a Guy Is Toxic
5 Sexy Steps to Get Out of Your Date Rut
love: friendships, dating, sex & marriage
Here's why dudes without hair make the best boyfriends.

What do you wish you appreciated more when you were flying solo?

"If you're so busy tweeting and Instagraming, you're not paying attention," New York wedding planner Marcy Blum said. "It's almost a cosmic faux pas. People want your energy with them and focused on what they're doing."

The wedding favor, that little thank-you-for-coming gift, has risen to new heights with the bride and groom giving guests a wide range of favors that are meaningful to them.

Generations ago, planning a wedding was 100 percent the bride's job, but in today's age of gender equity, it's a mere 99 percent.

For all the self-help books and advice columns out there (um, keeping reading my advice anyway, please!), there's one tool we all already have in our arsenal for picking a partner that will keep us happy: our gut instincts.

According to a new study from the University of Texas and the University of California, Los Angeles, both men and women have regrets when it comes to sex, but the genders vary greatly when it comes to what they regret specifically.

Spending time alone with your guy is easy, but going public with your plus-one is another thing entirely. Whether it's your crazy relatives at Thanksgiving dinner or awkward convos with your boss at the holiday party, possible pitfalls are everywhere. Keep reading for tips on how to make his grand entrance into your social life a good thing.

Match.com survey reveals the day you're least likely to get spruced up for a date.

Drinking and relationships seem to go hand in hand in a lot of ways. But only in moderation!

Many men will tell you that they have no clue what their wives are thinking.

Spending the holidays with your guy's family for the first time is a huge relationship milestone. But between your nerves, the usual family tension, and your weird Uncle Sal's inappropriate stories, it's also a prime opportunity for total disaster. Read on for 10 of our readers' most embarrassing meet-the-parents moments.