Weird Wedding Trend: Zombie Nuptials
'Til death do us part? Prove it.
Zombies seem to be having a moment. There's the video game, Plants vs. Zombies, for example. Then there's AMC's zombie hit, The Walking Dead, and, oh—there are even these.
And now, brides- and grooms-to-be are taking advantage of the undead trend by throwing their very own weird, zombie-themed weddings. Bridezilla? Try Bridezombie.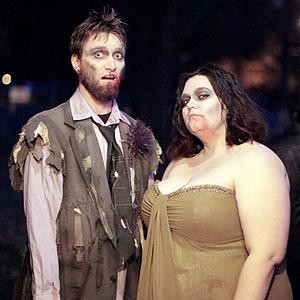 Over the weekend, 30-year-old Amanda Cusumano married 40-year-old Todd Lambert in an intimate, zombie-themed ceremony in Michigan. The bride and groom dressed as brain-eaters, as did their friends and family. Amanda wore a black velvet dress; her groom wore a black suit and fake monster teeth, holding a skeleton-headed cane as he vowed his undying love. Pastor Eric Drummonds said the two came together "to celebrate one of the scariest moments of their lives."
Related: 50 Things Everyone Should Know About Getting Married
If you're planning a wedding and you have a soft spot for the living dead, you're in luck. You can now buy custom-made zombie wedding cakes, and online marketplace Etsy is chock-full of zombie wedding decorations. The zombie wedding is becoming so popular, there's even a musical in its honor, aptly titled, Zombie Wedding: A Musical Zomedy.
It's not just a Halloween thing, either. In August, Jesse Embry and Jennifer Wilson wed during Louisville, Ky.'s annual Zombie Attack, according to The Courier-Journal. And Juliana Park and Ben Lee didn't have a zombie wedding, but they did have zombie engagement photos, staging an attack with the help of their photographer friend Amanda Rynda.
Related: 50 Unique Engagement Rings
Kendra Lacey wed Matthew Leach in Monmouth, N.J., earlier this month. After the wedding, they headed over to the annual Asbury Zombie Walk, as they were dressed for the occasion anyway.
"Why a zombie wedding? Because I want my kids to ask me why," Lacey explained.
Her husband added: "Why the hell else would you want to have a normal wedding when you can have a zombie wedding?"
What do you think of the zombie wedding trend—is it cool or just plain creepy?
Photo: Nathan Morgan/Daily News
Bing: Weirdest weddings ever.
More Sex & Love on MSN Living:
30 Diamond Engagement Rings So Sparkly You'll Need Sunglasses
5 Signs a Guy Is Toxic
5 Sexy Steps to Get Out of Your Date Rut
love: friendships, dating, sex & marriage
Revealr is a new iPhone app that allows those looking for love to hear their possible matches before they see them.

A new poll reveals 59 percent of the country supports same-sex marriage.

Celebrity engagements are so much fun to follow because every detail is bound to be over-the-top — from the proposal (like when Kanye rented out an entire stadium to propose to Kim) to the huge, sparkly engagement ring and, of course, the wedding. Plus, as trendsetters, celebs can be a source of inspiration even if you can't afford a million dollar ring. Here are our celebrity wedding predictions for 2014.

If you've ever been to a club—like, ever, even once—you are not going to be shocked to hear that women get a lot of unwanted, aggressive attention. But when you read the findings of this study on how often and why it happens, it might make you feel downright sick to your stomach.

Hopeless romantics and cringe-worthy chick flicks would tell you that it doesn't matter what you do on the date, as long as you're together. But they're wrong. Dead wrong. Women use your date ideas to size you up, says matchmaker Rachel DeAlto, author of "Flirt Fearlessly." "You absolutely will be judged based on the date you plan. There are so many subconscious impressions that we take in while dating." Gulp. Here are 10 terrible ideas that can land you on the no-lay list—and simple swaps to keep her happy. By K. Aleisha Fetters

No matter your current relationship status or past relationship fails, get a fresh start this month, with these tips for spring cleaning your love life.

Forget the rules you've always heard—it's time to start making your own.

Are you in an affair without knowing it? Unless you're a swinger, having sex with someone else counts as cheating. But then there's the fuzzy area between friendship and infidelity—and chances are, your girlfriend sees those shades of gray as more black and white than you do. "Men aren't as attuned to identifying ambiguous behaviors as cheating as women are," says Daniel Kruger, Ph.D., a University of Michigan psychologist, who's studied gender differences in definitions of infidelity. In other words, what you consider totally innocent could be her deal breaker.

We spoke with relationship therapist Rachel A. Sussman, author of "The Breakup Bible," for her tips on how regular girls can survive a split like an A-lister.

A researcher from Texas Tech University has found that people who use the same kind of "function words" are more likely to get together.

Check out these five celebrity stunners.

And by weird, we really mean friggin' awesome.