Weird Wedding Trend: Zombie Nuptials
'Til death do us part? Prove it.
Zombies seem to be having a moment. There's the video game, Plants vs. Zombies, for example. Then there's AMC's zombie hit, The Walking Dead, and, oh—there are even these.
And now, brides- and grooms-to-be are taking advantage of the undead trend by throwing their very own weird, zombie-themed weddings. Bridezilla? Try Bridezombie.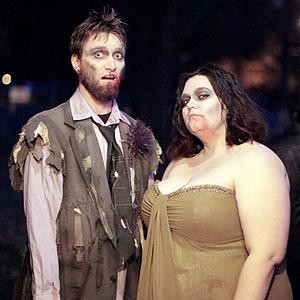 Over the weekend, 30-year-old Amanda Cusumano married 40-year-old Todd Lambert in an intimate, zombie-themed ceremony in Michigan. The bride and groom dressed as brain-eaters, as did their friends and family. Amanda wore a black velvet dress; her groom wore a black suit and fake monster teeth, holding a skeleton-headed cane as he vowed his undying love. Pastor Eric Drummonds said the two came together "to celebrate one of the scariest moments of their lives."
Related: 50 Things Everyone Should Know About Getting Married
If you're planning a wedding and you have a soft spot for the living dead, you're in luck. You can now buy custom-made zombie wedding cakes, and online marketplace Etsy is chock-full of zombie wedding decorations. The zombie wedding is becoming so popular, there's even a musical in its honor, aptly titled, Zombie Wedding: A Musical Zomedy.
It's not just a Halloween thing, either. In August, Jesse Embry and Jennifer Wilson wed during Louisville, Ky.'s annual Zombie Attack, according to The Courier-Journal. And Juliana Park and Ben Lee didn't have a zombie wedding, but they did have zombie engagement photos, staging an attack with the help of their photographer friend Amanda Rynda.
Related: 50 Unique Engagement Rings
Kendra Lacey wed Matthew Leach in Monmouth, N.J., earlier this month. After the wedding, they headed over to the annual Asbury Zombie Walk, as they were dressed for the occasion anyway.
"Why a zombie wedding? Because I want my kids to ask me why," Lacey explained.
Her husband added: "Why the hell else would you want to have a normal wedding when you can have a zombie wedding?"
What do you think of the zombie wedding trend—is it cool or just plain creepy?
Photo: Nathan Morgan/Daily News
Bing: Weirdest weddings ever.
More Sex & Love on MSN Living:
30 Diamond Engagement Rings So Sparkly You'll Need Sunglasses
5 Signs a Guy Is Toxic
5 Sexy Steps to Get Out of Your Date Rut
love: friendships, dating, sex & marriage
After your return from your honeymoon, your marriage officially starts and with that come some changes. It's not to say that the honeymoon phase is over, but you'll have to get some things situated in order to have your marriage start off on the right foot. We tapped the expert advice of wedding planner and reality TV star David Tutera and love and career coach Charreah Jackson to dish on six things you must do to have a successful first month of marriage — from wedding-related logistics to wrap up to relationship rules to set.

Owner of Weddings in Vieques, a destination-wedding planning company off the coast of Puerto Rico, Sandy Malone has helped countless couples plan their big day since 2007. Here, the veteran planner is sharing some expert advice for free: She's sharing the top eight things you have to do right after you get engaged.

Is the idea of a big bridal bash just not your thing? Or perhaps you and your fiancé are just the super spontaneous type, so why not make your next beach vacation your nuptials as well? If you're thinking of eloping but have questions on the mind, we're here to help. We tapped elopement and wedding planner Lindsey Nickel, founder of Events, Etc., for her top dos and don'ts for getting hitched on the sly.

Easy everyday ways to keep the love alive.

Expert tips on moving past those oh-so-familiar arguments.

Sometimes you have to do things you don't want to do, like hang out with his lame friends. You're not always in the mood to nurse a beer silently while he and his boys argue about who's going to die next on "Game of Thrones" — but tomorrow he's sitting through a seven-girl brunch. So.

Why holding on to your partner's mistakes will end up hurting you.

A little extra effort, will power and research can help your marriage bloom well into old age.

These are the conversations all betrothed couples should take the time to have before they get hitched.

Brace yourself, this is uncomfortable.

There's nothing wrong with grabbing Italian food and alternating between watching action films and romantic comedies, but shaking up your going-out routine with an extreme date night can be the ultimate turn on and the best way to keep your relationship exciting.

This just in: Guys over 5'10" are twice as likely to stray.