Is Gaming as Bad as Cheating?
Some compare video game addiction to infidelity.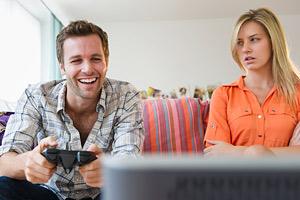 We all have our vices, and when you hear that cliché, you typically think of someone's penchant for alcohol, their soft spot for gambling, or something equally addictive that causes one to lose control. But for millions of people, that vice is gaming, and some believe the addiction may even be detrimental to relationships.
A Harris Interactive Poll released in 2007 showed that 8.5 percent of youth in the United States are addicted to video games. While the statistics aren't out on adult video game addiction, I think it's safe to assume it's not just restricted to kids. Overall, people spend three billion hours a week gaming.
It seems like an innocent enough hobby, but renowned therapist Dr. Bonnie Eaker Weil believes gaming can be dangerous to relationships.
"Anytime someone spends more time with something or someone else than with their loved one, that's an affair," Dr. Bonnie said in a statement. "In this sense, gaming can be an affair—it can take the place of love and romance."
I'm not sure about the spending more time argument, just because that would mean we're all cheating on our spouses with work, but Dr. Bonnie says the idea behind addictive gaming is escapism.
"This escapism can easily take the form of a video game; the alternate worlds and experiences lend themselves to thrill-seeking behavior. The problem is that it's a vicious cycle."
She encourages people not to sacrifice their personal relationships for a hobby. Her solution? Couples need to have more fun together—exercise together, have sex more instead of gaming, and cuddle. According to the statement, these things apparently cause the same adrenaline release people get from gaming. I, for one, can't wait for Playstation to release Xtreme Cuddling.
On a related note, one study found that people who cheat in gaming might be more likely to cheat in a relationship. Earlier this year, North Dakota State University polled over 1,200 adults in the US and UK and found that about half of those who admitted to cheating in a game admitted to cheating in a relationship, too. They also found that cheating in gaming can result in being 3.5 times more likely to cheat at everyday things in the real world.
"It's not surprising that online cheating parallels real-world cheating, even if people are just experimenting with the possibilities," said Dr. Mia Consalvo of Concordia University. 
But as one commenter put it:
"They make it sound as if the in game cheating leads to real life cheating. The most likely scenario is that these people were already cheaters, and the in game cheating comes easy to them because they're used to it."
Back to the addiction issue. For adults, some signs of video game addiction include neglecting to eat, sleep or bathe; calling in sick to stay home and play games; and lying about video game use.
"The key to avoiding such destructive behavior is communication," Dr. Bonnie says. She also advises couples to set boundaries with the gaming.
Not to say that I don't think gaming can cause issues in relationships, but I think I'd be a bit more hurt if my spouse cheated than if he took up a video gaming hobby. What do you think—have you argued with your spouse about gaming? Can gaming "be an affair"?
Photo: Jamie Grill/Getty Images
More on love & sex from MSN Living:
How to Determine If He's Marriage Material
8 Secret Guy Insecurities
On Location: A New Orleans Wedding

love: friendships, dating, sex & marriage
Or how to tell if you've reached THAT point in your bond.

Dating doesn't have to be a daunting task, promise. Here's how to make it fun for you and him.

This just in: A new study shows girls are warriors in the womb.

You can make a pros and cons list...but ultimately you know what works best for you.

Maggie Reyes is a life coach, writer, and the founder of ModernMarried.com. She helps newlyweds re-think what married life can be. Here, she's revealing tricks every newlywed couple needs to know.

Government-supported Vietnamese classes teach women Korean language, customs.

Whether you're into creative artists or uber-preppy bankers, there's something to be said for trying something new.

Sometimes two characters on a TV show or movie can portray being a happy couple effortlessly, or can have lots of fun playing former spouses — especially if they're married to each other in real life! Keep scrolling for six celebrity costars you probably didn't know tied the knot, even after the bloodiest and craziest story lines.

Some couples want nothing more than a laid-back, by-the-book proposal. Then there are the other couples, where the proposal not only needs to be personalized, it also has to be unique and entirely different than the typical restaurant, bended-knee idea. Sound like you? Then get inspired by some of the most creative proposal ideas we've ever seen. If you find something you like, steal it and then modify it to make your proposal something totally unforgettable.

From Nantucket all the way to Cayo Espanto, we've rounded up some of the prettiest beaches to travel to for your honeymoon.

Researchers studied the age-old stereotype that women really are more talkative than men.

'There is a science behind attraction,' SingldOut says.