Men threatened by women's success, study finds
Why does a woman's earned success bring out the sad puppy in a dude?
By Irene Jay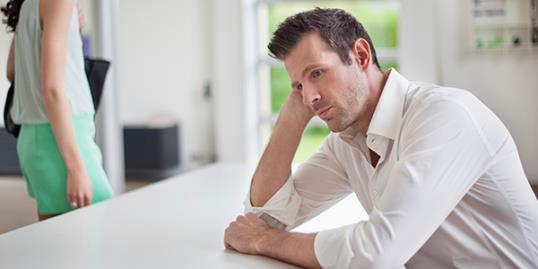 Who runs the world? Women — and apparently men don't like it. A new study revealed that a woman's success makes her man feel self-conscious, while she feels better about her relationship when her man succeeds. 
For all those times that your man took you out to celebrate your promotion or work award, turns out he was probably enjoying your success at the cost of his own ego. The research, performed at the University of South Florida, showed that a straight man's self-esteem dropped following his romantic partner's success.
More from Your Tango: Take Our Survey & Win A Year Of Snacks Delivered To Your Door!
In the study, researchers found that when they gave men a test to determine how they felt about their partners' achievements subconsciously, it was clear that every man whose partner performed well experienced a drop in self-worth. While the researchers say this could all be due to the fact that men are more competitive than women, for a woman, the cold hard facts still sting.
In the workplace — and in life — I've never met a woman who hasn't gone over the top to get a report in ahead of time or pick up the check when out to drink with friends. Sure, it doesn't happen every time, but I think it's safe to say that the days of taking a backseat to a man (and the male ego) are long gone — which is why the latest study feels like a huge step in the wrong direction for so many committed women.
More from Your Tango: What It Takes To Be Monogamous
Study author Kate Ratliff offers her own explanation, saying, "Self-esteem might be impacted when one fails to fulfill the roles ascribed to one's gender," in the study's published report. However, if that held true, wouldn't a man just be disappointed in himself? Why does it take a woman's earned success to bring out the sad puppy for a dude? We already make less than men (women on average make only 77 cents to every dollar earned by men), have to work harder to prove ourselves, deal with sexism daily in the workplace (in some locales, women deal with it every hour on the hour) and now should we also feel guilty that our success derails our man's self-esteem?
Do high-profile women like Beyonce and Angelina Jolie think twice before accepting an award, scheduling a world tour or directing an Oscar-winning movie? Do women say no to promotions and career advancements so that their men feel like the true breadwinners? Are we sacrificing our own paychecks and benefits and positions so that our men can climb the ladder at the office higher than we can? Have we time-traveled back to the 1950s? No, no, no and no. We haven't, we won't and we shouldn't.
But what's the most disappointing is that for women in relationships with successful men, their ego, self-worth and self-esteem remain unchanged. When researchers measured how women felt, they found that "Women reported feeling happier about the relationship when men succeeded." And as a woman, I'm not sure what to feel: Relieved that a man's workplace achievements don't make me feel crappy about myself, or ashamed that somewhere along the line I've taken a backseat to my boyfriend's good news, keeping my own success a secret.
After reading the research, my first thought was to feel guilty about the times my successes have overshadowed my partner's. I'm asking myself: Have I made him feel small? Have I shattered his ego? But I know better than to worry over that. If he does feel belittled, small or lacking in self-worth (which, he shouldn't, because I know that was not my intention — nor was it any other woman's who was proud of her promotion), then he should work harder. His success is as welcomed as my own.
And if he can work harder, he damned better believe that so can I.
More from Your Tango:
The Top 10 Qualities Men Are Secretly Looking For In A Girlfriend
Love: Tips & Expert Advice
31 Funny Love Quotes From Comedians Who Totally Get You
Photo: Fabrice LEROUGE/Getty Images
Are you sure you want to delete this comment?
love: friendships, dating, sex & marriage
Two steps forward, one giant fight afterward?

If you've been hiding any of this stuff, it's time to fess up.

The outlandish things we do for love have no limits; just ask these guys. Who's hugged the longest? Kissed the longest? Been on the most expensive date? Take a look below as we count down the world's most loving record-breakers.

If you just got engaged, congrats! This is seriously exciting news that deserves lots of congratulatory hugs, "oohing" and "ahhing" over the ring and plenty of bubbly. To make sure you get the right response from friends, family and coworkers, avoid announcing your engagement like this…

Ladies, give yourself the best gift of all this season: The NYC Taxi Driver 2014 Calendar. By Michelle Toglia

Pheromones may be the key to finding your perfect match.

Her partner? Wine? Downtime? Find out where it all ranks.

This time of year, we dust off our holiday traditions of special songs, stories, events and food to make our season bright. Here's a look into the traditional, unique and quirky holiday traditions of some famous couples.

Look, I looooove engagement season for obvious reasons, but even I can admit I'm like, "Really, AGAIN?" when yet ANOTHER engagement ring pops up in my news feed. Seriously, there were two this weekend. (Congrats, Gemma and Danny!)

We asked real men and women (and a few first-base experts, too) to give us the cardinal rules of kissing, tell us what makes someone a good kisser and more. So whether you're leaning in for kiss No. 1 or 1,000, read on.by Devin Tomb

Not quite sure which diamond shape suits your personality? We're here to help.

Dating can lead to all kinds of tricky situations. To help you navigate even the most awkward moments, we've compiled our 50 best dating tips—some new, some old—given to us by experts, moms, women like you, and even Justin Timberlake.