Lost Love Letter Recovered 60 Years Later
In the letter, a 21 year-old Dick Hauck proposes to his lifelong love.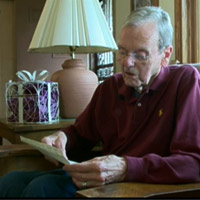 On March 31, 1952, soldier Dick Hauck sat down to write a letter, and it was an important one. He was asking the love of his life, Arlene, to marry him. While 21 year-old Dick was stationed in the Army in Massachusetts, Arlene was living with her folks in Minnesota.

Sixty years later—contractors found the letter while they were remodeling Arlene's childhood home in Brooklyn Center, Minnesota. One of the contractors told CNN affiliate KARE 11:
"When we stripped the linoleum back to reframe the wall to do what we had to do, there it was."
Last week, the letter was given back to Dick and Arlene, and Dick could barely reread his words, getting teary eyed with memories.
"I got your ring today. I sure hope you like it," Dick read aloud. "I wish I could have gotten it long ago, darling."
Choking up, Dick said: "the whole thing brings back memories."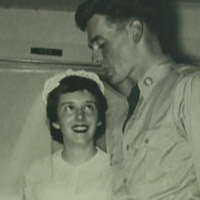 "I had a box of letters from him," Arlene said. Amusingly, she seemed pretty matter-of-fact about the whole thing, while her husband was in tears. As KARE 11 mused: "She thought it was funny. She was like, 'ah, it's just a letter.'"
Arlene says she has no idea how the letter became buried in the linoleum, and insists she wasn't hiding it from her parents.
But Arlene did make sure to hold on to the ring. After sending the letter to his lifelong love, Dick soon sent her the wedding band, which she still wears to this day.
When asked what the key to a long, successful marriage is, Dick and Arlene agreed—it's friendship.
For more on this story: http://www.kare11.co​m/news/news_article.​aspx?storyid=970401
love: friendships, dating, sex & marriage
Sometimes you have to do things you don't want to do, like hang out with his lame friends. You're not always in the mood to nurse a beer silently while he and his boys argue about who's going to die next on "Game of Thrones" — but tomorrow he's sitting through a seven-girl brunch. So.

Why holding on to your partner's mistakes will end up hurting you.

A little extra effort, will power and research can help your marriage bloom well into old age.

These are the conversations all betrothed couples should take the time to have before they get hitched.

Brace yourself, this is uncomfortable.

There's nothing wrong with grabbing Italian food and alternating between watching action films and romantic comedies, but shaking up your going-out routine with an extreme date night can be the ultimate turn on and the best way to keep your relationship exciting.

This just in: Guys over 5'10" are twice as likely to stray.

Or how to tell if you've reached THAT point in your bond.

Dating doesn't have to be a daunting task, promise. Here's how to make it fun for you and him.

This just in: A new study shows girls are warriors in the womb.

You can make a pros and cons list...but ultimately you know what works best for you.

Maggie Reyes is a life coach, writer, and the founder of ModernMarried.com. She helps newlyweds re-think what married life can be. Here, she's revealing tricks every newlywed couple needs to know.