Lost Love Letter Recovered 60 Years Later
In the letter, a 21 year-old Dick Hauck proposes to his lifelong love.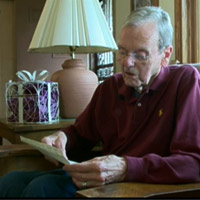 On March 31, 1952, soldier Dick Hauck sat down to write a letter, and it was an important one. He was asking the love of his life, Arlene, to marry him. While 21 year-old Dick was stationed in the Army in Massachusetts, Arlene was living with her folks in Minnesota.

Sixty years later—contractors found the letter while they were remodeling Arlene's childhood home in Brooklyn Center, Minnesota. One of the contractors told CNN affiliate KARE 11:
"When we stripped the linoleum back to reframe the wall to do what we had to do, there it was."
Last week, the letter was given back to Dick and Arlene, and Dick could barely reread his words, getting teary eyed with memories.
"I got your ring today. I sure hope you like it," Dick read aloud. "I wish I could have gotten it long ago, darling."
Choking up, Dick said: "the whole thing brings back memories."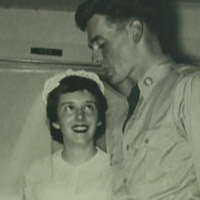 "I had a box of letters from him," Arlene said. Amusingly, she seemed pretty matter-of-fact about the whole thing, while her husband was in tears. As KARE 11 mused: "She thought it was funny. She was like, 'ah, it's just a letter.'"
Arlene says she has no idea how the letter became buried in the linoleum, and insists she wasn't hiding it from her parents.
But Arlene did make sure to hold on to the ring. After sending the letter to his lifelong love, Dick soon sent her the wedding band, which she still wears to this day.
When asked what the key to a long, successful marriage is, Dick and Arlene agreed—it's friendship.
For more on this story: http://www.kare11.co​m/news/news_article.​aspx?storyid=970401
love: friendships, dating, sex & marriage
It's wedding season! Let's take a look back at when these stunning celebs put on gorgeous gowns and held beautiful bouquets in support of their friends' and family members' big days.

A new study says we're more open to consensual non-monogamy now than ever before — but does it work?

5 steps to being happy together in the long run.

There has been an exponential increase in the number of people who are questioning their marriage.

We're willing to bet that if you're not already grappling with these wedding-related snags, you will be soon.

Pull out the tissues for these personalized wedding vows.

Forgotten what love is all about? Read this note, and remember.

And a few that aren't so shocking.

If you find yourself doing any of these things, consider changing your behavior or counseling.

From pineapple sculptures made out of sunflowers to bold graphic printed tablecloths, ten trendsetters in the wedding industry shared 100 days' worth of inspiring new wedding details. See The Knot editors' top picks for the coolest and most awe-worthy ideas from the wedding experts.

Those Facebook friends who seem to have perfect lives with flawless mates whom they adore at all times? Even they face tough times like these.

How to flag her little fibs. By Laura Tedesco