Lost Love Letter Recovered 60 Years Later
In the letter, a 21 year-old Dick Hauck proposes to his lifelong love.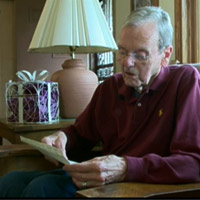 On March 31, 1952, soldier Dick Hauck sat down to write a letter, and it was an important one. He was asking the love of his life, Arlene, to marry him. While 21 year-old Dick was stationed in the Army in Massachusetts, Arlene was living with her folks in Minnesota.

Sixty years later—contractors found the letter while they were remodeling Arlene's childhood home in Brooklyn Center, Minnesota. One of the contractors told CNN affiliate KARE 11:
"When we stripped the linoleum back to reframe the wall to do what we had to do, there it was."
Last week, the letter was given back to Dick and Arlene, and Dick could barely reread his words, getting teary eyed with memories.
"I got your ring today. I sure hope you like it," Dick read aloud. "I wish I could have gotten it long ago, darling."
Choking up, Dick said: "the whole thing brings back memories."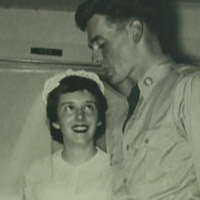 "I had a box of letters from him," Arlene said. Amusingly, she seemed pretty matter-of-fact about the whole thing, while her husband was in tears. As KARE 11 mused: "She thought it was funny. She was like, 'ah, it's just a letter.'"
Arlene says she has no idea how the letter became buried in the linoleum, and insists she wasn't hiding it from her parents.
But Arlene did make sure to hold on to the ring. After sending the letter to his lifelong love, Dick soon sent her the wedding band, which she still wears to this day.
When asked what the key to a long, successful marriage is, Dick and Arlene agreed—it's friendship.
For more on this story: http://www.kare11.co​m/news/news_article.​aspx?storyid=970401
love: friendships, dating, sex & marriage
Brad Pitt and Angelina Jolie finally took the plunge, but marriage isn't always a good choice for everyone.

Learn how these surprising tactics can really improve your relationship.

Use these tips to up your chances of finding love.

Find out how paired-off ladies might feel lacking—and how you can make your relationship satisfying.

These signals are seriously subtle, but they can give you real insight into what's going through your husband's mind.

Check which changes are necessary to stay happy together.

We know some of this may sound obvious, but these simple statements can make both of you happier.

Making your relationship more secure, connected, and intimate doesn't have to feel overwhelming. Try these expert tips and reap the rewards now—and in the long run.

For those times when nothing big and horrible happened--but nothing is feeling right either.

What's more fun than animals in weddings? We've rounded up eight of the cutest.

Your puppy is all over your Instagram, Facebook and fridge, so there's no reason not to include him in your engagement pictures too. The best engagement photos give viewers a peek into your life. If you're a dog owner, take this opportunity to show off your pooch, like these 22 couples did! And we can't thank them enough.

Our married blogger gets real about checking out other guys when you're taken.