Lost Love Letter Recovered 60 Years Later
In the letter, a 21 year-old Dick Hauck proposes to his lifelong love.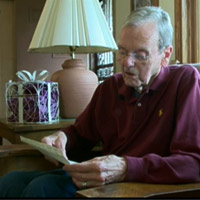 On March 31, 1952, soldier Dick Hauck sat down to write a letter, and it was an important one. He was asking the love of his life, Arlene, to marry him. While 21 year-old Dick was stationed in the Army in Massachusetts, Arlene was living with her folks in Minnesota.

Sixty years later—contractors found the letter while they were remodeling Arlene's childhood home in Brooklyn Center, Minnesota. One of the contractors told CNN affiliate KARE 11:
"When we stripped the linoleum back to reframe the wall to do what we had to do, there it was."
Last week, the letter was given back to Dick and Arlene, and Dick could barely reread his words, getting teary eyed with memories.
"I got your ring today. I sure hope you like it," Dick read aloud. "I wish I could have gotten it long ago, darling."
Choking up, Dick said: "the whole thing brings back memories."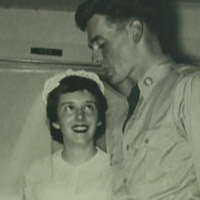 "I had a box of letters from him," Arlene said. Amusingly, she seemed pretty matter-of-fact about the whole thing, while her husband was in tears. As KARE 11 mused: "She thought it was funny. She was like, 'ah, it's just a letter.'"
Arlene says she has no idea how the letter became buried in the linoleum, and insists she wasn't hiding it from her parents.
But Arlene did make sure to hold on to the ring. After sending the letter to his lifelong love, Dick soon sent her the wedding band, which she still wears to this day.
When asked what the key to a long, successful marriage is, Dick and Arlene agreed—it's friendship.
For more on this story: http://www.kare11.co​m/news/news_article.​aspx?storyid=970401
love: friendships, dating, sex & marriage
There's a lot to love about weddings this fall, like cocktails served in copper Moscow mule mugs, industrial-inspired lighting and pheasant feather details. See what's new!

Do you have to be engaged to sport a ring with bling?

124.6 million haven't gotten hitched.

Even though the national average wedding is $29,858, that's just an average. If you live in a smaller state like Idaho where the average wedding costs $16,159, you may find yourself saving a little more than half of the national spend! Check out some of the other least expensive cities to get married in below:

Summer is winding down, but the ubiquitous summer romance lives on.

For those times when nothing big and horrible happened--but nothing is feeling right either.

He's confident, distinguished and anywhere from 4 to 20 years older than you. Age is just a number, but there's something about older men that we love. Here are eight reasons why being in a relationship with an older man is tops.

While a younger man may have less life experience, that doesn't mean he's not emotionally mature. Here are the eight reasons why being in a relationship with a younger man is tops.

Have you ever wondered what the 'other woman' was thinking?

So fall is coming and you need some romantic inspiration now that long walks on the beach are out of the question. Well look no further! From apple picking to pumpkin carving, these are some great fall date ideas from girls just like you!

Getting bored of the same dinner and movie date night? Take an adorable cue from your favorite celebs and try something new! From dancing to boxing you can't go wrong with these awesome date ideas.

New research shows they get divorced at vastly lower rates.