How many minutes sex & foreplay really last
Ever wonder what real women in real bedrooms are doing under the duvet covers?
Glamour surveyed 1,000 young women for their answers on a typical night in, timed. Here's how many minutes you say foreplay and sex last:
Average length of sex and foreplay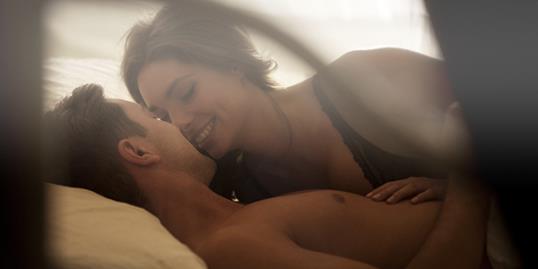 Less than 5 minutes:
•Foreplay: 23%
•Sex: 8%
5 to 9 minutes:
•Foreplay: 33%
•Sex: 25%
10 to 14 minutes:
•Foreplay: 24%
•Sex: 28%
More from Glamour: Cringe worthy fashion DON'Ts
15 to 19 minutes:
•Foreplay: 12%
•Sex: 17%
20 minutes or more:
•Foreplay: 8%
•Sex: 22%
More from Glamour: 8 easy ways to get glowing skin
So, according to our survey, the majority of you spend 5 to 9 minutes on foreplay and 10 to 14 minutes on sex. How many minutes do you spend?
For more stats on readers' sex cravings, naughty fantasies, favorite positions, and bedroom deal breakers, pick up a copy of Glamour on newsstands or download the digital issue.
More from Glamour:
30 reasons being a woman is awesome
How to ace the most stressful job ever
30 spring outfit ideas, modeled by Glamour editors
Photo: Tom Merton/Getty Images

love: friendships, dating, sex & marriage
Or how to tell if you've reached THAT point in your bond.

Dating doesn't have to be a daunting task, promise. Here's how to make it fun for you and him.

This just in: A new study shows girls are warriors in the womb.

You can make a pros and cons list...but ultimately you know what works best for you.

Maggie Reyes is a life coach, writer, and the founder of ModernMarried.com. She helps newlyweds re-think what married life can be. Here, she's revealing tricks every newlywed couple needs to know.

Government-supported Vietnamese classes teach women Korean language, customs.

Whether you're into creative artists or uber-preppy bankers, there's something to be said for trying something new.

Sometimes two characters on a TV show or movie can portray being a happy couple effortlessly, or can have lots of fun playing former spouses — especially if they're married to each other in real life! Keep scrolling for six celebrity costars you probably didn't know tied the knot, even after the bloodiest and craziest story lines.

Some couples want nothing more than a laid-back, by-the-book proposal. Then there are the other couples, where the proposal not only needs to be personalized, it also has to be unique and entirely different than the typical restaurant, bended-knee idea. Sound like you? Then get inspired by some of the most creative proposal ideas we've ever seen. If you find something you like, steal it and then modify it to make your proposal something totally unforgettable.

From Nantucket all the way to Cayo Espanto, we've rounded up some of the prettiest beaches to travel to for your honeymoon.

Researchers studied the age-old stereotype that women really are more talkative than men.

'There is a science behind attraction,' SingldOut says.