More Couples Sleeping in Separate Beds, Survey Finds
One expert explains how splitting up can bring couples together.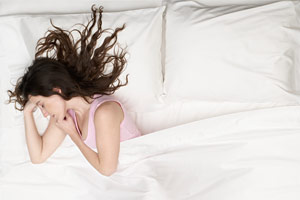 Recent surveys show that more couples are sleeping separately, and while some may think this would create a bar in intimacy, it's actually saving relationships.
In fact, sleeping separately is becoming so common that the National Association of Home Builders expects that 60 percent of custom-built homes will include dual master bedrooms in the year 2015.
A study from the National Sleep Foundation found that 25 percent of couples in the U.S. sleep separately; similarly, a recent British survey found that one in 10 British couples also sleep in separate beds. The Heart Beat talked to relationship expert Dr. Tracey Marks, the author of Master Your Sleep. She advocates separate sleeping and tells us why it's a good idea for some couples.
"With some couples, one partner is severely sleep deprived because the other partner keeps them awake with snoring, restlessness, keeping the room too hot, etc.," Dr. Marks tells us. "If the sleep deprivation makes you cranky, it's going to affect your relationship and you would be better off sleeping in a different bed so you can be in a better mood with your partner."
Conventionally, the notion of sleeping in the same bed is thought to create intimacy between spouses. But as Marks explains in a Huffington Post piece:
"While the media presents images of loving couples sleeping contentedly in each other's arms all night long, for many the reality is much different."

And she's right. A recent survey actually shows that couples fight 167 times a year in the bedroom. The number one cause of those fights is blanket hogging, followed by snoring and being too hot. These are all things that can easily be remedied by declaring your bedroom independence.
"The main problem arises when one partner feels rejected by it," Marks tells us. "Intellectually he may understand why it's a good idea, but he struggles with the idea that his partner doesn't want him.  I think this is a more likely outcome when there are underlying relationship problems and sleeping apart just compounds the problems and makes things feel less intimate."
Her answer for proposing the idea is to make sure that you start with a "clean slate," otherwise sleeping apart could exacerbate whatever problems are happening in the relationship.
But what about sex?
"Sleeping in separate beds can't mean no more sex," Marks says. "Sex is for waking hours, so do it before you go to sleep so that sleep and sex are completely distinct entities."
Sounds easy enough.  But as Marks mentioned, the media does present couples as bed-sharers, so there is a bit of a stigma with splitting up in the bedroom.
"People are going to take your lead in reacting to your situation," Dr. Marks tells us. "That is, if you are conflicted about it and mention it as though you are admitting some deep dark secret, the listener is going to respond that way…But if you are resolved that you are doing what's best for your relationship and both you and partner are fine with it, you can talk about it with confidence and emphasize how much more intimate your relationship is because of it."
And as for talking about it with your children, Marks advises:
"Whatever the reason is for needing to sleep separately, you emphasize the positive—dad and mom like it this way, mom and dad think it's important to get a good night's sleep, mom and dad like to cuddle in the same room while they are awake, but once we fall asleep we're not aware that we're not in the same bed, etc."
What do you think? Do you and your partner sleep in separate beds? Would you try it to keep from fighting in the bedroom?
Photo: Brad Wilson/Getty Images
More Love & Sex from MSN Living:
What He's Really Thinking After 1, 5, and 10 Years of Marriage
What She's Really Thinking After 1, 5, and 10 Years of Marriage
Avoid These Sneaky Love Landslides
love: friendships, dating, sex & marriage
Revealr is a new iPhone app that allows those looking for love to hear their possible matches before they see them.

A new poll reveals 59 percent of the country supports same-sex marriage.

Celebrity engagements are so much fun to follow because every detail is bound to be over-the-top — from the proposal (like when Kanye rented out an entire stadium to propose to Kim) to the huge, sparkly engagement ring and, of course, the wedding. Plus, as trendsetters, celebs can be a source of inspiration even if you can't afford a million dollar ring. Here are our celebrity wedding predictions for 2014.

If you've ever been to a club—like, ever, even once—you are not going to be shocked to hear that women get a lot of unwanted, aggressive attention. But when you read the findings of this study on how often and why it happens, it might make you feel downright sick to your stomach.

Hopeless romantics and cringe-worthy chick flicks would tell you that it doesn't matter what you do on the date, as long as you're together. But they're wrong. Dead wrong. Women use your date ideas to size you up, says matchmaker Rachel DeAlto, author of "Flirt Fearlessly." "You absolutely will be judged based on the date you plan. There are so many subconscious impressions that we take in while dating." Gulp. Here are 10 terrible ideas that can land you on the no-lay list—and simple swaps to keep her happy. By K. Aleisha Fetters

No matter your current relationship status or past relationship fails, get a fresh start this month, with these tips for spring cleaning your love life.

Forget the rules you've always heard—it's time to start making your own.

Are you in an affair without knowing it? Unless you're a swinger, having sex with someone else counts as cheating. But then there's the fuzzy area between friendship and infidelity—and chances are, your girlfriend sees those shades of gray as more black and white than you do. "Men aren't as attuned to identifying ambiguous behaviors as cheating as women are," says Daniel Kruger, Ph.D., a University of Michigan psychologist, who's studied gender differences in definitions of infidelity. In other words, what you consider totally innocent could be her deal breaker.

We spoke with relationship therapist Rachel A. Sussman, author of "The Breakup Bible," for her tips on how regular girls can survive a split like an A-lister.

A researcher from Texas Tech University has found that people who use the same kind of "function words" are more likely to get together.

Check out these five celebrity stunners.

And by weird, we really mean friggin' awesome.