Majority of porn viewers watch at work
Well, here's an embarrassing way to get fired.
There's a time and place for everything, and pornography enthusiasts may need to be reminded of this adage.
According to Dr. Christopher Ahlers, a sex therapist from Berlin, a staggering amount of people views porn from their work computers.
"Modern viewing of porn is no longer something in which strange individuals are engaged in quiet rooms in video booths," Ahlers said.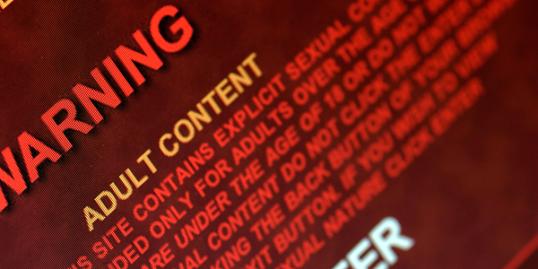 More on MSN Living: 10 men in your life you may be overlooking
Apparently, titillating videos are now enjoyed in cubicles around the world. At an Austrian conference on sexual behaviors, Ahlers claimed that of the 60 million people who log on daily to a free pornography website, about two-thirds of them are logging on from an office computer.
Ahler's claim isn't out of left field. The Washington Times reported that in 2009, an investigation at the National Science Foundation found that a senior executive spent a total of 331 days checking out porn on his government-issued computer. What's more, Bloomberg revealed that a memo written by the Pentagon ordered employees to stop "engaging in inappropriate content at work." The memo added that employees were "accessing Web sites and transmitting messages containing pornographic or sexually explicit images." I'm all for online surf breaks, but we may be getting just a little too comfortable with our at-work Internet habits.
More on MSN Living: 9 myths about men
According to Ahlers, while the first wave of the public's porn viewing seems to happen during office hours, the second daily wave occurs after dark.
"The second peak is from viewers at home after midnight," Ahlers explained. Definitely a more suitable venue.
Other studies have confirmed that excessive pornography habits do cause relationship issues. And with Ahler's recent claim, porn may be causing problems for people in the workplace as well. A 2011 ruling by the U.S. Court of Appeals says employees can legally be fired for looking at pornography on an office computer.
I suppose the phrase "NSFW" exists for a reason.
Photo: Martyn Vickery/Alamy
Bing: Find out which female sports star is getting divorced.
More Sex & Love on MSN Living:
The Essence most eligible bachelors
15 (guy approved!) ways to have the best first date ever
50 signs he's not that into you
20 'annoying' girl things he secretly loves about you
love: friendships, dating, sex & marriage
This winter, it's all about mixing unexpected seasonal elements with elegant neutral details and a hint of sparkle and sequins. Take a look.

Here's why dudes without hair make the best boyfriends.

What do you wish you appreciated more when you were flying solo?

"If you're so busy tweeting and Instagraming, you're not paying attention," New York wedding planner Marcy Blum said. "It's almost a cosmic faux pas. People want your energy with them and focused on what they're doing."

The wedding favor, that little thank-you-for-coming gift, has risen to new heights with the bride and groom giving guests a wide range of favors that are meaningful to them.

Generations ago, planning a wedding was 100 percent the bride's job, but in today's age of gender equity, it's a mere 99 percent.

For all the self-help books and advice columns out there (um, keeping reading my advice anyway, please!), there's one tool we all already have in our arsenal for picking a partner that will keep us happy: our gut instincts.

According to a new study from the University of Texas and the University of California, Los Angeles, both men and women have regrets when it comes to sex, but the genders vary greatly when it comes to what they regret specifically.

Spending time alone with your guy is easy, but going public with your plus-one is another thing entirely. Whether it's your crazy relatives at Thanksgiving dinner or awkward convos with your boss at the holiday party, possible pitfalls are everywhere. Keep reading for tips on how to make his grand entrance into your social life a good thing.

Match.com survey reveals the day you're least likely to get spruced up for a date.

Drinking and relationships seem to go hand in hand in a lot of ways. But only in moderation!

Many men will tell you that they have no clue what their wives are thinking.