Women Are Happier Than Men, Science Finds
One researcher explains the power of the "happiness gene."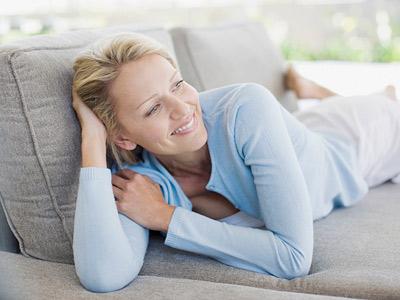 Earlier this year, a study found that women are happiest when men can empathize with their sadness. For men, the key to happiness is a bit simpler—they're happy when women are happy.
Well, there's good news for guys. Women, apparently, are quite happy. In fact, we're happier than most men, according to research from the University of Florida.
The Heart Beat talked to Dr. Henian Chen, a lead scientist in a recent study titled, "The MAOA Gene Predicts Happiness."
Chen and his researchers interviewed 350 men and women and measured their happiness on a scale of one to seven.
"We measured happiness by a widely used and validated happiness scale developed by scientists at University of California," Dr. Henian tells us.
From there, they took saliva samples from each of the 350 subjects, testing their DNA. Chen's work explains that the MAOA gene comes in two forms—a highly active type and a less active type. Women with the less active type were happier than others, and women with two copies of the "happy" type of MAOA were even happier.
But bad news for boyfriends, not only did less of them have the MAOA gene, when they did have the gene, it didn't seem to affect their happiness. Apparently, it only works for women. Chen explained that testosterone could possibly obscure the effects of the gene in men:
"Maybe men are happier before adolescence because their testosterone level is lower," Chen said.
The MAOA gene has made headlines in the past, known for causing aggressive behavior.
"It's even called the warrior gene by some scientists," Henian explains.
The gene affects the part of the brain involved with emotion, so it may help explain why women are generally thought to be the more excitable, emotional sex.
The MAOA gene is also responsible for fluctuating moods. So men, if your partner seems to be fine one minute and upset with something the next (guilty!), you're likely not imagining things. Men's immunity to the gene could also explain why they're generally considered to be the calmer sex. I know I've occasionally felt like my partner is uninterested because he doesn't display the same level of excitement as I do. But apparently, I'm just more genetically predisposed for happiness than he is.
It's not news that men and women are wired differently, but this gene further clarifies the differences, and it can help shed a light on relationship behavior.
In his study's abstract, Chen also points out that couples who are married tend to be happier overall:
"A study by Helliwell in 2003 showed that the highest subjective well-being level was associated with being married."
Indeed, quite a few studies have linked marriage to well-being. So based on the information, it might be safe to deduce that married women are the happiest demographic out there.
When we asked Dr. Chen why this study was important, he told us that most studies focus on extreme behavior. He wanted to study something that could apply to everyone: 
"We need more studies on positive feeling (psychology) for normal people because most of us are normal."
Photo: Paul Bradbury/Getty Images
More love and sex on MSN Living:
The New Bachelorette Party
9 Modern Ways to Get a Date
9 Proven Ways to Meet Someone New
love: friendships, dating, sex & marriage
While we do love crazy, funny and over-the-top engagements, sometimes there's just nothing like a proposal with a heartfelt story behind it (warning: you might need some tissues). We've rounded up some of the most romantic wedding proposals from couples across the country, so keep scrolling for seven of our favorites:

As much as you'd like to think your guests will love every single aspect of your wedding, the truth is you really can't please everyone. However, you can try to avoid ticking them off. Here's how.

You'd think brides and grooms who celebrate their nuptials with 50 guests have an equal shot at wedded bliss as those who invite 500, but apparently not.

Because some things are just better with a buddy (whom you happen to be dating).

They're smart, funny, and adorable, but are you a good match?

Fight the urge to sign her up for OkCupid and read this instead.

We know you have good intentions, but...please...stop.

You can't say we didn't warn you. Every month is Movember when you're dating a guy with a beard. And while the scruffy look can be hot, there are some very real, err, challenges that come with the territory. Don't believe us? Well…

Follow these steps to slash your wedding budget—not your fun—in half.

It won't all be cake and flowers, but it can be the best year of your life together so far.

Expert tips on moving past those oh-so-familiar arguments.