Women Are Happier Than Men, Science Finds
One researcher explains the power of the "happiness gene."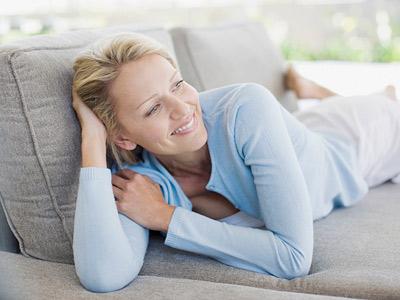 Earlier this year, a study found that women are happiest when men can empathize with their sadness. For men, the key to happiness is a bit simpler—they're happy when women are happy.
Well, there's good news for guys. Women, apparently, are quite happy. In fact, we're happier than most men, according to research from the University of Florida.
The Heart Beat talked to Dr. Henian Chen, a lead scientist in a recent study titled, "The MAOA Gene Predicts Happiness."
Chen and his researchers interviewed 350 men and women and measured their happiness on a scale of one to seven.
"We measured happiness by a widely used and validated happiness scale developed by scientists at University of California," Dr. Henian tells us.
From there, they took saliva samples from each of the 350 subjects, testing their DNA. Chen's work explains that the MAOA gene comes in two forms—a highly active type and a less active type. Women with the less active type were happier than others, and women with two copies of the "happy" type of MAOA were even happier.
But bad news for boyfriends, not only did less of them have the MAOA gene, when they did have the gene, it didn't seem to affect their happiness. Apparently, it only works for women. Chen explained that testosterone could possibly obscure the effects of the gene in men:
"Maybe men are happier before adolescence because their testosterone level is lower," Chen said.
The MAOA gene has made headlines in the past, known for causing aggressive behavior.
"It's even called the warrior gene by some scientists," Henian explains.
The gene affects the part of the brain involved with emotion, so it may help explain why women are generally thought to be the more excitable, emotional sex.
The MAOA gene is also responsible for fluctuating moods. So men, if your partner seems to be fine one minute and upset with something the next (guilty!), you're likely not imagining things. Men's immunity to the gene could also explain why they're generally considered to be the calmer sex. I know I've occasionally felt like my partner is uninterested because he doesn't display the same level of excitement as I do. But apparently, I'm just more genetically predisposed for happiness than he is.
It's not news that men and women are wired differently, but this gene further clarifies the differences, and it can help shed a light on relationship behavior.
In his study's abstract, Chen also points out that couples who are married tend to be happier overall:
"A study by Helliwell in 2003 showed that the highest subjective well-being level was associated with being married."
Indeed, quite a few studies have linked marriage to well-being. So based on the information, it might be safe to deduce that married women are the happiest demographic out there.
When we asked Dr. Chen why this study was important, he told us that most studies focus on extreme behavior. He wanted to study something that could apply to everyone: 
"We need more studies on positive feeling (psychology) for normal people because most of us are normal."
Photo: Paul Bradbury/Getty Images
More love and sex on MSN Living:
The New Bachelorette Party
9 Modern Ways to Get a Date
9 Proven Ways to Meet Someone New
love: friendships, dating, sex & marriage
Two guests arrested in New Jersey.

Celebrities certainly know how to travel in style, so if you're struggling to select a honeymoon destination, look no further than these star-approved hotspots. To make it even easier, we're providing you with hotel recommendations, packing essentials, and tips on what to do and see! So channel your inner celeb at one of these U.S. destinations for an unforgettable vacation!

Tall Twitter users named Wayne, we're on to you!

Should little girls be dreaming of a different kind of "I do"?

Need a reason to pack your bags and get the hell out of here?

After your return from your honeymoon, your marriage officially starts and with that come some changes. It's not to say that the honeymoon phase is over, but you'll have to get some things situated in order to have your marriage start off on the right foot. We tapped the expert advice of wedding planner and reality TV star David Tutera and love and career coach Charreah Jackson to dish on six things you must do to have a successful first month of marriage — from wedding-related logistics to wrap up to relationship rules to set.

Owner of Weddings in Vieques, a destination-wedding planning company off the coast of Puerto Rico, Sandy Malone has helped countless couples plan their big day since 2007. Here, the veteran planner is sharing some expert advice for free: She's sharing the top eight things you have to do right after you get engaged.

Is the idea of a big bridal bash just not your thing? Or perhaps you and your fiancé are just the super spontaneous type, so why not make your next beach vacation your nuptials as well? If you're thinking of eloping but have questions on the mind, we're here to help. We tapped elopement and wedding planner Lindsey Nickel, founder of Events, Etc., for her top dos and don'ts for getting hitched on the sly.

Easy everyday ways to keep the love alive.

Expert tips on moving past those oh-so-familiar arguments.

Sometimes you have to do things you don't want to do, like hang out with his lame friends. You're not always in the mood to nurse a beer silently while he and his boys argue about who's going to die next on "Game of Thrones" — but tomorrow he's sitting through a seven-girl brunch. So.

Why holding on to your partner's mistakes will end up hurting you.