Women Are Happier Than Men, Science Finds
One researcher explains the power of the "happiness gene."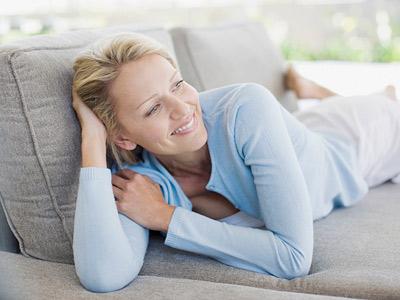 Earlier this year, a study found that women are happiest when men can empathize with their sadness. For men, the key to happiness is a bit simpler—they're happy when women are happy.
Well, there's good news for guys. Women, apparently, are quite happy. In fact, we're happier than most men, according to research from the University of Florida.
The Heart Beat talked to Dr. Henian Chen, a lead scientist in a recent study titled, "The MAOA Gene Predicts Happiness."
Chen and his researchers interviewed 350 men and women and measured their happiness on a scale of one to seven.
"We measured happiness by a widely used and validated happiness scale developed by scientists at University of California," Dr. Henian tells us.
From there, they took saliva samples from each of the 350 subjects, testing their DNA. Chen's work explains that the MAOA gene comes in two forms—a highly active type and a less active type. Women with the less active type were happier than others, and women with two copies of the "happy" type of MAOA were even happier.
But bad news for boyfriends, not only did less of them have the MAOA gene, when they did have the gene, it didn't seem to affect their happiness. Apparently, it only works for women. Chen explained that testosterone could possibly obscure the effects of the gene in men:
"Maybe men are happier before adolescence because their testosterone level is lower," Chen said.
The MAOA gene has made headlines in the past, known for causing aggressive behavior.
"It's even called the warrior gene by some scientists," Henian explains.
The gene affects the part of the brain involved with emotion, so it may help explain why women are generally thought to be the more excitable, emotional sex.
The MAOA gene is also responsible for fluctuating moods. So men, if your partner seems to be fine one minute and upset with something the next (guilty!), you're likely not imagining things. Men's immunity to the gene could also explain why they're generally considered to be the calmer sex. I know I've occasionally felt like my partner is uninterested because he doesn't display the same level of excitement as I do. But apparently, I'm just more genetically predisposed for happiness than he is.
It's not news that men and women are wired differently, but this gene further clarifies the differences, and it can help shed a light on relationship behavior.
In his study's abstract, Chen also points out that couples who are married tend to be happier overall:
"A study by Helliwell in 2003 showed that the highest subjective well-being level was associated with being married."
Indeed, quite a few studies have linked marriage to well-being. So based on the information, it might be safe to deduce that married women are the happiest demographic out there.
When we asked Dr. Chen why this study was important, he told us that most studies focus on extreme behavior. He wanted to study something that could apply to everyone: 
"We need more studies on positive feeling (psychology) for normal people because most of us are normal."
Photo: Paul Bradbury/Getty Images
More love and sex on MSN Living:
The New Bachelorette Party
9 Modern Ways to Get a Date
9 Proven Ways to Meet Someone New
love: friendships, dating, sex & marriage
This just in: Guys over 5'10" are twice as likely to stray.

Or how to tell if you've reached THAT point in your bond.

Dating doesn't have to be a daunting task, promise. Here's how to make it fun for you and him.

This just in: A new study shows girls are warriors in the womb.

You can make a pros and cons list...but ultimately you know what works best for you.

Maggie Reyes is a life coach, writer, and the founder of ModernMarried.com. She helps newlyweds re-think what married life can be. Here, she's revealing tricks every newlywed couple needs to know.

Government-supported Vietnamese classes teach women Korean language, customs.

Whether you're into creative artists or uber-preppy bankers, there's something to be said for trying something new.

Sometimes two characters on a TV show or movie can portray being a happy couple effortlessly, or can have lots of fun playing former spouses — especially if they're married to each other in real life! Keep scrolling for six celebrity costars you probably didn't know tied the knot, even after the bloodiest and craziest story lines.

Some couples want nothing more than a laid-back, by-the-book proposal. Then there are the other couples, where the proposal not only needs to be personalized, it also has to be unique and entirely different than the typical restaurant, bended-knee idea. Sound like you? Then get inspired by some of the most creative proposal ideas we've ever seen. If you find something you like, steal it and then modify it to make your proposal something totally unforgettable.

From Nantucket all the way to Cayo Espanto, we've rounded up some of the prettiest beaches to travel to for your honeymoon.

Researchers studied the age-old stereotype that women really are more talkative than men.