Funny wedding invitation RSVP goes viral
If this RSVP is any indication, the wedding will be a blast.
Katie Kerr and her fiancé, Chris Sabino, garnered much attention this week after posting their wedding invitation RSVP to Reddit.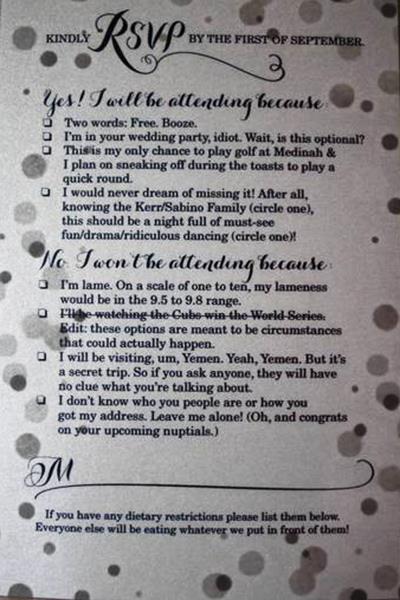 "Yes! I will be attending because…" the invitation reads, and the first line item is: "Two words: Free. Booze."
MSN Living: Funniest wedding invitations
Another option for those guests attending: "I'm in your wedding party, idiot. Wait, is this optional?"
"We were just trying to make it different and unique. This is crazy," Kerr told the Chicago Tribune, on how the RSVP went viral.
MSN Living: 10 reasons he's not the man for you
Crazy, maybe, but it's a welcome Internet hit considering all the bridezilla moments we've recently encountered.
There are also a few funny options for those who will not be attending:
"I'm lame."

"I will be visiting, um, Yemen. Yeah, Yemen."

"I don't know who you people are or how you got my address."
More from The Heart Beat: 
Poll: Summer makes us more attractive
Love letter delivered after nearly 70 years
France's first gay marriage is broadcast to nation
love: friendships, dating, sex & marriage
New research shows they get divorced at vastly lower rates.

Brad Pitt and Angelina Jolie finally took the plunge, but marriage isn't always a good choice for everyone.

Learn how these surprising tactics can really improve your relationship.

Use these tips to up your chances of finding love.

Find out how paired-off ladies might feel lacking—and how you can make your relationship satisfying.

These signals are seriously subtle, but they can give you real insight into what's going through your husband's mind.

Check which changes are necessary to stay happy together.

We know some of this may sound obvious, but these simple statements can make both of you happier.

Making your relationship more secure, connected, and intimate doesn't have to feel overwhelming. Try these expert tips and reap the rewards now—and in the long run.

For those times when nothing big and horrible happened--but nothing is feeling right either.

What's more fun than animals in weddings? We've rounded up eight of the cutest.

Your puppy is all over your Instagram, Facebook and fridge, so there's no reason not to include him in your engagement pictures too. The best engagement photos give viewers a peek into your life. If you're a dog owner, take this opportunity to show off your pooch, like these 22 couples did! And we can't thank them enough.