Funny wedding invitation RSVP goes viral
If this RSVP is any indication, the wedding will be a blast.
Katie Kerr and her fiancé, Chris Sabino, garnered much attention this week after posting their wedding invitation RSVP to Reddit.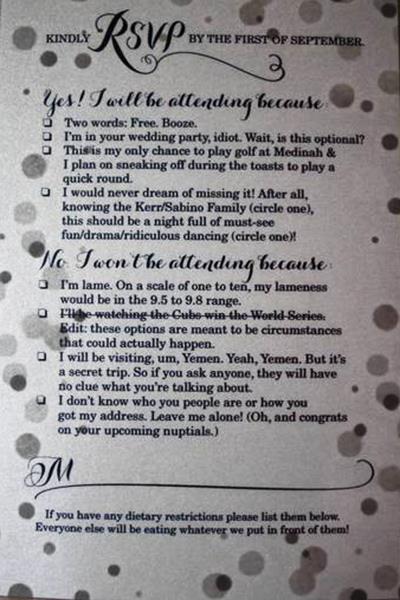 "Yes! I will be attending because…" the invitation reads, and the first line item is: "Two words: Free. Booze."
MSN Living: Funniest wedding invitations
Another option for those guests attending: "I'm in your wedding party, idiot. Wait, is this optional?"
"We were just trying to make it different and unique. This is crazy," Kerr told the Chicago Tribune, on how the RSVP went viral.
MSN Living: 10 reasons he's not the man for you
Crazy, maybe, but it's a welcome Internet hit considering all the bridezilla moments we've recently encountered.
There are also a few funny options for those who will not be attending:
"I'm lame."

"I will be visiting, um, Yemen. Yeah, Yemen."

"I don't know who you people are or how you got my address."
More from The Heart Beat: 
Poll: Summer makes us more attractive
Love letter delivered after nearly 70 years
France's first gay marriage is broadcast to nation
love: friendships, dating, sex & marriage
No sense in wasting your time on someone who will never commit.

There he is, the man of your dreams. He's sitting across from you at the coffee shop or standing at the opposite side of the bar. His eyes meet yours, a quick glance, and then it's back to his drink. Was he giving you a signal?

Remember that time on "30 Rock" when Liz Lemon and her eventual-husband Criss went shopping at Ikea, only to end up in a major fight? We know it couldn't be closer to the truth because we've all been there. In honor of the irritation that can be Ikea, here are the top fights you'll likely encounter.

Love it or hate it, the selfie wields much power.

Dating doesn't have to be a daunting task, promise. Here's how to make it fun for you and him.

One woman's honest journey to divorce will break your heart and inspire you at the same time.

Want to send your date running? Try one these moves.

Two guests arrested in New Jersey.

Celebrities certainly know how to travel in style, so if you're struggling to select a honeymoon destination, look no further than these star-approved hotspots. To make it even easier, we're providing you with hotel recommendations, packing essentials, and tips on what to do and see! So channel your inner celeb at one of these U.S. destinations for an unforgettable vacation!

Tall Twitter users named Wayne, we're on to you!

Should little girls be dreaming of a different kind of "I do"?

Need a reason to pack your bags and get the hell out of here?