Is online dating causing divorce rates to rise?
Some argue there is a link between the Internet and splitting up.
An interesting headline came across the Newswire yesterday, claiming that online dating has caused an increase in divorce rates.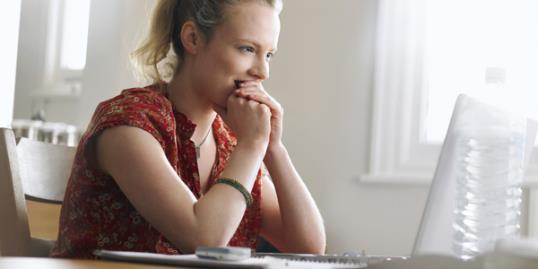 The piece cited two popular blogs -- D8 A Geek and Christ Ambassadors -- that reported the global rise in divorce rate and compared it to the increase in people who are now online dating:
"As the number of Internet dating users has grown, so, too, have the number of divorces," the PRNewswire piece reads. "...Internet dating may have eroded people's commitment to long term relationships due to the sheer amount of choice now available to both the single and attached."
While their conjecture might seem sensible, the piece doesn't cite any research to support their claim. But that doesn't necessarily mean they're wrong.
More on MSN Living: Most common holiday arguments—and how to avoid them
In 2003, economist Todd D. Kendall conducted one of the first complex studies on the effect of Internet access on divorce rates. The Journal of Family and Economic Issues published his report in 2011.

In it, Kendall outlines the ways in which the Internet might lead to divorce: online infidelity, accessible information to make divorces less costly, and poor marriage matches through online dating.
More on MSN Living: The biggest rocks of 2012
However, he argues that those points could conversely lead to fewer divorces: better marriage matches and tighter-lipped online affairs, for example.
After conducting an extensive study of 40,000 households over a six-year period, Kendall ultimately found that "the internet does not seem to affect divorce rates."
But again, that was nearly a decade ago. So what research has been done since Kendall's study?
Recently, dating site eHarmony conducted a study to see if there was a link between divorce and how couples met. Summing up their findings, they reported:

"It didn't really matter how you met your spouse, you were just as likely to get divorced."
Thus, those who meet via online dating don't seem to carry an increased risk of divorce.
But what about online infidelity? A survey conducted last year found that Facebook was cited in one-third of divorce petitions in the UK. The biggest complaint was a spouse's online behavior with the opposite sex.
Mark Keenan, the CEO of Online Legal Services Limited, who conducted the study, said:
"If someone wants to have an affair or flirt with the opposite sex then [Facebook is] the easiest place to do it."

One could argue that Facebook, or the Internet in general, is just a means to an inevitable end. Whether it's Facebook or a bar, cheaters will cheat, and those divorces would've still happened.
Overall, the Internet simply makes things easier. It's easier to facilitate a divorce; it's easier to meet someone via online dating. But matters of the heart aren't quite as simple. Plenty of singles still complain that, despite the ease of online dating, they can't meet someone special. Deciding on divorce is an equally difficult matter of the heart. I suppose without another extensive study, the link between online dating and divorce remains inconclusive.
What do you think—is online dating causing more divorces?
Photo: Moodboard/Getty Images
Bing: Tips for a strong marriage.
More Sex & Love on MSN Living:
10 places to meet a man for the holidays
7 strategies to divorce-proof marriages
The way to his heart after 1, 5 and 10 years of marriage
What does your engagement ring say about you
love: friendships, dating, sex & marriage
This just in: A new study shows girls are warriors in the womb.

You can make a pros and cons list...but ultimately you know what works best for you.

Maggie Reyes is a life coach, writer, and the founder of ModernMarried.com. She helps newlyweds re-think what married life can be. Here, she's revealing tricks every newlywed couple needs to know.

Government-supported Vietnamese classes teach women Korean language, customs.

Whether you're into creative artists or uber-preppy bankers, there's something to be said for trying something new.

Sometimes two characters on a TV show or movie can portray being a happy couple effortlessly, or can have lots of fun playing former spouses — especially if they're married to each other in real life! Keep scrolling for six celebrity costars you probably didn't know tied the knot, even after the bloodiest and craziest story lines.

Some couples want nothing more than a laid-back, by-the-book proposal. Then there are the other couples, where the proposal not only needs to be personalized, it also has to be unique and entirely different than the typical restaurant, bended-knee idea. Sound like you? Then get inspired by some of the most creative proposal ideas we've ever seen. If you find something you like, steal it and then modify it to make your proposal something totally unforgettable.

From Nantucket all the way to Cayo Espanto, we've rounded up some of the prettiest beaches to travel to for your honeymoon.

Researchers studied the age-old stereotype that women really are more talkative than men.

'There is a science behind attraction,' SingldOut says.

One minute you're happy and in love, the next he's delivering the "It's not you, it's me" speech. Why? We have the scoop on the real reasons most couples split up.

Want to keep your wedding budget in check? Start by checking out this list of the 10 things that could end up costing you a lot more than you anticipated.