Is online dating causing divorce rates to rise?
Some argue there is a link between the Internet and splitting up.
An interesting headline came across the Newswire yesterday, claiming that online dating has caused an increase in divorce rates.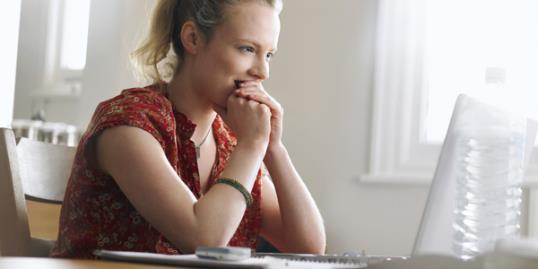 The piece cited two popular blogs -- D8 A Geek and Christ Ambassadors -- that reported the global rise in divorce rate and compared it to the increase in people who are now online dating:
"As the number of Internet dating users has grown, so, too, have the number of divorces," the PRNewswire piece reads. "...Internet dating may have eroded people's commitment to long term relationships due to the sheer amount of choice now available to both the single and attached."
While their conjecture might seem sensible, the piece doesn't cite any research to support their claim. But that doesn't necessarily mean they're wrong.
More on MSN Living: Most common holiday arguments—and how to avoid them
In 2003, economist Todd D. Kendall conducted one of the first complex studies on the effect of Internet access on divorce rates. The Journal of Family and Economic Issues published his report in 2011.

In it, Kendall outlines the ways in which the Internet might lead to divorce: online infidelity, accessible information to make divorces less costly, and poor marriage matches through online dating.
More on MSN Living: The biggest rocks of 2012
However, he argues that those points could conversely lead to fewer divorces: better marriage matches and tighter-lipped online affairs, for example.
After conducting an extensive study of 40,000 households over a six-year period, Kendall ultimately found that "the internet does not seem to affect divorce rates."
But again, that was nearly a decade ago. So what research has been done since Kendall's study?
Recently, dating site eHarmony conducted a study to see if there was a link between divorce and how couples met. Summing up their findings, they reported:

"It didn't really matter how you met your spouse, you were just as likely to get divorced."
Thus, those who meet via online dating don't seem to carry an increased risk of divorce.
But what about online infidelity? A survey conducted last year found that Facebook was cited in one-third of divorce petitions in the UK. The biggest complaint was a spouse's online behavior with the opposite sex.
Mark Keenan, the CEO of Online Legal Services Limited, who conducted the study, said:
"If someone wants to have an affair or flirt with the opposite sex then [Facebook is] the easiest place to do it."

One could argue that Facebook, or the Internet in general, is just a means to an inevitable end. Whether it's Facebook or a bar, cheaters will cheat, and those divorces would've still happened.
Overall, the Internet simply makes things easier. It's easier to facilitate a divorce; it's easier to meet someone via online dating. But matters of the heart aren't quite as simple. Plenty of singles still complain that, despite the ease of online dating, they can't meet someone special. Deciding on divorce is an equally difficult matter of the heart. I suppose without another extensive study, the link between online dating and divorce remains inconclusive.
What do you think—is online dating causing more divorces?
Photo: Moodboard/Getty Images
Bing: Tips for a strong marriage.
More Sex & Love on MSN Living:
10 places to meet a man for the holidays
7 strategies to divorce-proof marriages
The way to his heart after 1, 5 and 10 years of marriage
What does your engagement ring say about you
love: friendship, dating, sex & marriage
What's worse than getting snubbed while proposing? Having your heart broken in front of countless strangers.

We asked brides on TheKnot.com to tell all -- and they did. Here, five of the most likely culprits and advice for how to deal with your drama-causing guests along the way.

This short course in flirting will not only teach you how to flirt better but also how to tell when someone is flirting with you—and how to respond. Have fun.

Gatsby glamour doesn't have to just live on the big screen! Embrace the trendy (yet timeless) art deco style with sequins, pearls, feathers and geometric patterns. Check out these art deco ideas and achieve the feel of 1920s decadence. By the way, all of these are affordable, except for the $600 hairpiece which is a splurge, but a knockout. Shop the look!

Wondering if your summer love will last? Here are 15 signs if your seasonal love is fleeting or for real.

Sixteen years after "Titanic's" release—and 101 years after the historic ship's notorious sinking—our hearts still go on for star-crossed lovers Rose DeWitt Bukater (Kate Winslet) and Jack Dawson (Leonardo DiCaprio). We rounded up some of our favorite ill-fated, but oh-so-romantic affairs on film, from "Gone with the Wind" to "Moulin Rouge!".

Flirting shouldn't be retired once you've got the ring. We asked relationship expert Harlan Cohen, as well as real husbands, the best way to keep the sparks flying.

When we're annoyed by male behavior, we turn to columnist Aaron Traister. His logic may be strange, but we have to admit, it's pretty helpful. Here, he answers our many questions for guys.

Author Amanda Robb talks to clinical psychologist David Schnarch, Ph.D., author of Passionate Marriage: Keeping Love and Intimacy Alive in Committed Relationships and Intimacy and Desire: Awaken the Passion in Your Relationship, to discover the ways she can relight the fire in her own relationship. What she learned just might help you wake up your own libido.

The average wedding costs $28,000. Think that's pricey? You're in for a surprise. We've rounded up some of the most expensive weddings of all time. See if you can guess how much was dropped on these over-the-top affairs, then click through to Bing to see if you're right.

A guide to staying together forever…straight from divorce lawyers! They know what tears couples apart, and they'll tell you how to avoid it.

We've come across some odd tales of lost love. Here's our list of the weirdest reasons people have divorced.