Is online dating causing divorce rates to rise?
Some argue there is a link between the Internet and splitting up.
An interesting headline came across the Newswire yesterday, claiming that online dating has caused an increase in divorce rates.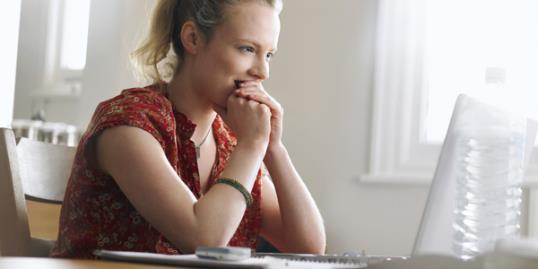 The piece cited two popular blogs -- D8 A Geek and Christ Ambassadors -- that reported the global rise in divorce rate and compared it to the increase in people who are now online dating:
"As the number of Internet dating users has grown, so, too, have the number of divorces," the PRNewswire piece reads. "...Internet dating may have eroded people's commitment to long term relationships due to the sheer amount of choice now available to both the single and attached."
While their conjecture might seem sensible, the piece doesn't cite any research to support their claim. But that doesn't necessarily mean they're wrong.
More on MSN Living: Most common holiday arguments—and how to avoid them
In 2003, economist Todd D. Kendall conducted one of the first complex studies on the effect of Internet access on divorce rates. The Journal of Family and Economic Issues published his report in 2011.

In it, Kendall outlines the ways in which the Internet might lead to divorce: online infidelity, accessible information to make divorces less costly, and poor marriage matches through online dating.
More on MSN Living: The biggest rocks of 2012
However, he argues that those points could conversely lead to fewer divorces: better marriage matches and tighter-lipped online affairs, for example.
After conducting an extensive study of 40,000 households over a six-year period, Kendall ultimately found that "the internet does not seem to affect divorce rates."
But again, that was nearly a decade ago. So what research has been done since Kendall's study?
Recently, dating site eHarmony conducted a study to see if there was a link between divorce and how couples met. Summing up their findings, they reported:

"It didn't really matter how you met your spouse, you were just as likely to get divorced."
Thus, those who meet via online dating don't seem to carry an increased risk of divorce.
But what about online infidelity? A survey conducted last year found that Facebook was cited in one-third of divorce petitions in the UK. The biggest complaint was a spouse's online behavior with the opposite sex.
Mark Keenan, the CEO of Online Legal Services Limited, who conducted the study, said:
"If someone wants to have an affair or flirt with the opposite sex then [Facebook is] the easiest place to do it."

One could argue that Facebook, or the Internet in general, is just a means to an inevitable end. Whether it's Facebook or a bar, cheaters will cheat, and those divorces would've still happened.
Overall, the Internet simply makes things easier. It's easier to facilitate a divorce; it's easier to meet someone via online dating. But matters of the heart aren't quite as simple. Plenty of singles still complain that, despite the ease of online dating, they can't meet someone special. Deciding on divorce is an equally difficult matter of the heart. I suppose without another extensive study, the link between online dating and divorce remains inconclusive.
What do you think—is online dating causing more divorces?
Photo: Moodboard/Getty Images
Bing: Tips for a strong marriage.
More Sex & Love on MSN Living:
10 places to meet a man for the holidays
7 strategies to divorce-proof marriages
The way to his heart after 1, 5 and 10 years of marriage
What does your engagement ring say about you
love: friendships, dating, sex & marriage
Two steps forward, one giant fight afterward?

If you've been hiding any of this stuff, it's time to fess up.

The outlandish things we do for love have no limits; just ask these guys. Who's hugged the longest? Kissed the longest? Been on the most expensive date? Take a look below as we count down the world's most loving record-breakers.

If you just got engaged, congrats! This is seriously exciting news that deserves lots of congratulatory hugs, "oohing" and "ahhing" over the ring and plenty of bubbly. To make sure you get the right response from friends, family and coworkers, avoid announcing your engagement like this…

Ladies, give yourself the best gift of all this season: The NYC Taxi Driver 2014 Calendar. By Michelle Toglia

Pheromones may be the key to finding your perfect match.

Her partner? Wine? Downtime? Find out where it all ranks.

This time of year, we dust off our holiday traditions of special songs, stories, events and food to make our season bright. Here's a look into the traditional, unique and quirky holiday traditions of some famous couples.

Look, I looooove engagement season for obvious reasons, but even I can admit I'm like, "Really, AGAIN?" when yet ANOTHER engagement ring pops up in my news feed. Seriously, there were two this weekend. (Congrats, Gemma and Danny!)

We asked real men and women (and a few first-base experts, too) to give us the cardinal rules of kissing, tell us what makes someone a good kisser and more. So whether you're leaning in for kiss No. 1 or 1,000, read on.by Devin Tomb

Not quite sure which diamond shape suits your personality? We're here to help.

Dating can lead to all kinds of tricky situations. To help you navigate even the most awkward moments, we've compiled our 50 best dating tips—some new, some old—given to us by experts, moms, women like you, and even Justin Timberlake.