Is online dating causing divorce rates to rise?
Some argue there is a link between the Internet and splitting up.
An interesting headline came across the Newswire yesterday, claiming that online dating has caused an increase in divorce rates.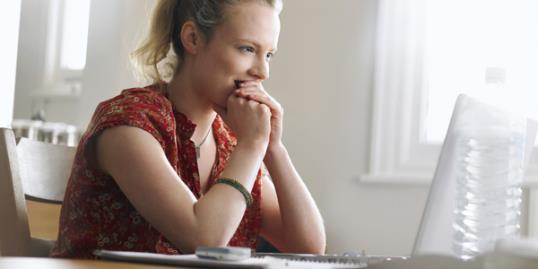 The piece cited two popular blogs -- D8 A Geek and Christ Ambassadors -- that reported the global rise in divorce rate and compared it to the increase in people who are now online dating:
"As the number of Internet dating users has grown, so, too, have the number of divorces," the PRNewswire piece reads. "...Internet dating may have eroded people's commitment to long term relationships due to the sheer amount of choice now available to both the single and attached."
While their conjecture might seem sensible, the piece doesn't cite any research to support their claim. But that doesn't necessarily mean they're wrong.
More on MSN Living: Most common holiday arguments—and how to avoid them
In 2003, economist Todd D. Kendall conducted one of the first complex studies on the effect of Internet access on divorce rates. The Journal of Family and Economic Issues published his report in 2011.

In it, Kendall outlines the ways in which the Internet might lead to divorce: online infidelity, accessible information to make divorces less costly, and poor marriage matches through online dating.
More on MSN Living: The biggest rocks of 2012
However, he argues that those points could conversely lead to fewer divorces: better marriage matches and tighter-lipped online affairs, for example.
After conducting an extensive study of 40,000 households over a six-year period, Kendall ultimately found that "the internet does not seem to affect divorce rates."
But again, that was nearly a decade ago. So what research has been done since Kendall's study?
Recently, dating site eHarmony conducted a study to see if there was a link between divorce and how couples met. Summing up their findings, they reported:

"It didn't really matter how you met your spouse, you were just as likely to get divorced."
Thus, those who meet via online dating don't seem to carry an increased risk of divorce.
But what about online infidelity? A survey conducted last year found that Facebook was cited in one-third of divorce petitions in the UK. The biggest complaint was a spouse's online behavior with the opposite sex.
Mark Keenan, the CEO of Online Legal Services Limited, who conducted the study, said:
"If someone wants to have an affair or flirt with the opposite sex then [Facebook is] the easiest place to do it."

One could argue that Facebook, or the Internet in general, is just a means to an inevitable end. Whether it's Facebook or a bar, cheaters will cheat, and those divorces would've still happened.
Overall, the Internet simply makes things easier. It's easier to facilitate a divorce; it's easier to meet someone via online dating. But matters of the heart aren't quite as simple. Plenty of singles still complain that, despite the ease of online dating, they can't meet someone special. Deciding on divorce is an equally difficult matter of the heart. I suppose without another extensive study, the link between online dating and divorce remains inconclusive.
What do you think—is online dating causing more divorces?
Photo: Moodboard/Getty Images
Bing: Tips for a strong marriage.
More Sex & Love on MSN Living:
10 places to meet a man for the holidays
7 strategies to divorce-proof marriages
The way to his heart after 1, 5 and 10 years of marriage
What does your engagement ring say about you
love: friendships, dating, sex & marriage
No sense in wasting your time on someone who will never commit.

There he is, the man of your dreams. He's sitting across from you at the coffee shop or standing at the opposite side of the bar. His eyes meet yours, a quick glance, and then it's back to his drink. Was he giving you a signal?

Remember that time on "30 Rock" when Liz Lemon and her eventual-husband Criss went shopping at Ikea, only to end up in a major fight? We know it couldn't be closer to the truth because we've all been there. In honor of the irritation that can be Ikea, here are the top fights you'll likely encounter.

Love it or hate it, the selfie wields much power.

Dating doesn't have to be a daunting task, promise. Here's how to make it fun for you and him.

One woman's honest journey to divorce will break your heart and inspire you at the same time.

Want to send your date running? Try one these moves.

Two guests arrested in New Jersey.

Celebrities certainly know how to travel in style, so if you're struggling to select a honeymoon destination, look no further than these star-approved hotspots. To make it even easier, we're providing you with hotel recommendations, packing essentials, and tips on what to do and see! So channel your inner celeb at one of these U.S. destinations for an unforgettable vacation!

Tall Twitter users named Wayne, we're on to you!

Should little girls be dreaming of a different kind of "I do"?

Need a reason to pack your bags and get the hell out of here?