Is online dating causing divorce rates to rise?
Some argue there is a link between the Internet and splitting up.
An interesting headline came across the Newswire yesterday, claiming that online dating has caused an increase in divorce rates.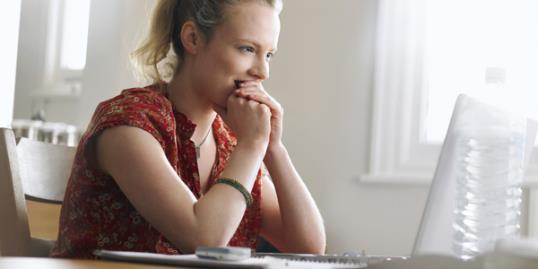 The piece cited two popular blogs -- D8 A Geek and Christ Ambassadors -- that reported the global rise in divorce rate and compared it to the increase in people who are now online dating:
"As the number of Internet dating users has grown, so, too, have the number of divorces," the PRNewswire piece reads. "...Internet dating may have eroded people's commitment to long term relationships due to the sheer amount of choice now available to both the single and attached."
While their conjecture might seem sensible, the piece doesn't cite any research to support their claim. But that doesn't necessarily mean they're wrong.
More on MSN Living: Most common holiday arguments—and how to avoid them
In 2003, economist Todd D. Kendall conducted one of the first complex studies on the effect of Internet access on divorce rates. The Journal of Family and Economic Issues published his report in 2011.

In it, Kendall outlines the ways in which the Internet might lead to divorce: online infidelity, accessible information to make divorces less costly, and poor marriage matches through online dating.
More on MSN Living: The biggest rocks of 2012
However, he argues that those points could conversely lead to fewer divorces: better marriage matches and tighter-lipped online affairs, for example.
After conducting an extensive study of 40,000 households over a six-year period, Kendall ultimately found that "the internet does not seem to affect divorce rates."
But again, that was nearly a decade ago. So what research has been done since Kendall's study?
Recently, dating site eHarmony conducted a study to see if there was a link between divorce and how couples met. Summing up their findings, they reported:

"It didn't really matter how you met your spouse, you were just as likely to get divorced."
Thus, those who meet via online dating don't seem to carry an increased risk of divorce.
But what about online infidelity? A survey conducted last year found that Facebook was cited in one-third of divorce petitions in the UK. The biggest complaint was a spouse's online behavior with the opposite sex.
Mark Keenan, the CEO of Online Legal Services Limited, who conducted the study, said:
"If someone wants to have an affair or flirt with the opposite sex then [Facebook is] the easiest place to do it."

One could argue that Facebook, or the Internet in general, is just a means to an inevitable end. Whether it's Facebook or a bar, cheaters will cheat, and those divorces would've still happened.
Overall, the Internet simply makes things easier. It's easier to facilitate a divorce; it's easier to meet someone via online dating. But matters of the heart aren't quite as simple. Plenty of singles still complain that, despite the ease of online dating, they can't meet someone special. Deciding on divorce is an equally difficult matter of the heart. I suppose without another extensive study, the link between online dating and divorce remains inconclusive.
What do you think—is online dating causing more divorces?
Photo: Moodboard/Getty Images
Bing: Tips for a strong marriage.
More Sex & Love on MSN Living:
10 places to meet a man for the holidays
7 strategies to divorce-proof marriages
The way to his heart after 1, 5 and 10 years of marriage
What does your engagement ring say about you
love: friendships, dating, sex & marriage
Forgotten what love is all about? Read this note, and remember.

And a few that aren't so shocking.

If you find yourself doing any of these things, consider changing your behavior or counseling.

From pineapple sculptures made out of sunflowers to bold graphic printed tablecloths, ten trendsetters in the wedding industry shared 100 days' worth of inspiring new wedding details. See The Knot editors' top picks for the coolest and most awe-worthy ideas from the wedding experts.

Those Facebook friends who seem to have perfect lives with flawless mates whom they adore at all times? Even they face tough times like these.

How to flag her little fibs. By Laura Tedesco

A new study on attraction may help explain why fashions change.

As a general rule, any island that offers great weather year-round is going to attract the most visitors in the winter (high season) when we're all trying to escape the snow. Once summer rolls around, many islands see a sharp drop-off in tourism since many people have beach weather right in their own backyards.

And how you can attack the issues together.

A wedding is an exceptionally special day. Sometimes, an opportune photo flub makes the occasion even more memorable. Here are 25 awesome wedding photo bombs.

Somewhere between the first few butterfly-inducing dates and the committed-for-life stage, there's the period of wondering if you're both on the same page about how serious you feel about a future together. If you're not quite at the point of "that talk" but you're looking for a few clues you're heading in that direction, here are some signs he's in it for the long haul as your relationship progresses.

What's that sound? It's white noise blocking out the well-meaning person proclaiming groundbreaking news about where you can meet someone, asking why you're still single, or bugging you about when you're getting married already. Don't be that person. Here are 15 annoying things all single people don't want to hear.