Study: Sex Can Make You Smarter, Less Depressed
Scientists say getting it on is good for the brain.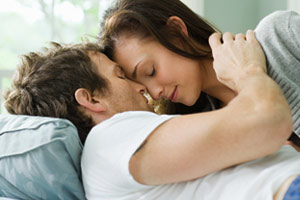 Despite that episode of
Seinfeld
in which George Costanza has a surge of cognitive function after abstaining from sex, scientists seem to think getting busy is actually what boosts brainpower.
Research shows that people who have lust on the brain perform better when presented with analytical problem solving assignments. What's more, scientists have also found that sex bolsters brain growth and can reduce depression.
Recently, Dr. Jens Forster of the University of Amsterdam led a study in which participants were presented with a series of critical thinking problems. Forster found that lustfully-minded subjects performed better than participants who didn't have sex on the brain.
In Jesse Bering's book, Why Is the Penis Shaped Like That? And Other Reflections on Being Human, he references this research and also discusses studies performed by Gordon Gallup, a psychologist at the University of Albany.
According to Bering, a "snapshot" of Gallup's recent research shows that "semen-exposed women perform better on concentration and cognitive tasks." Interestingly, Gallup's findings support a Princeton study that measured the cognitive function of sexually active rats.
In the Princeton experiment, scientists introduced adult male rats to sexually receptive female rats. Researchers then compared the brain function of the sexually active rats to that of virgin rats. The results? The sexually active rats experienced a growth in brain cells.
But Gallup's research is a bit different, as he's not just studying the health benefits of sex, but semen in particular. And his research, while valid, has not been without controversy.
In 2002, Gallup attracted media attention when he studied the mood-enhancing chemicals in semen. Bering lists these in his book:
"Perhaps the most striking of these compounds is the bundle of mood-enhancing chemicals in semen. Such anxiolytic chemicals include, but are by no means limited to, cortisol (known to increase affection), estrone (which elevates mood), prolactin (a natural antidepressant), oxytocin (also elevates mood),
thyrotropin-releasin​g

hormone (another antidepressant), melatonin (a sleep-inducing agent), and even serotonin (perhaps the best-known antidepressant neurotransmitter)."

With this knowledge, Gallup studied the antidepressant properties of semen and found that women who had regular unprotected sex indeed showed less depressive symptoms than those who used condoms. After the study was released, Gallup clarified:
"I want to make it clear that we are not advocating that people abstain from using condoms, clearly an unwanted pregnancy or a sexually transmitted disease would more than offset any advantageous psychological effects of semen."
In short, the consequences of unprotected sex are probably not worth it.
Getting back to sex and intelligence, this is an area that seems to intrigue scientists. In yet another experiment, German sex researcher Warner Habermehl also found that sexual activity stimulates the brain. He conducted a study among college students and discovered that participants who were having regular sex registered far more brain activity than those who weren't. The findings led Habermehl to assert:
"Sex makes you more intelligent in that experiences are collected that can be used later on in areas of your life not linked to sex."
Good news for the sexually active among us. Just remember: Smart sex is safe sex.
Photo: Getty Images
More Love & Sex from MSN Living:
What He's Really Thinking After 1, 5, and 10 Years of Marriage
What She's Really Thinking After 1, 5, and 10 Years of Marriage
Avoid These Sneaky Love Landslides
love: friendships, dating, sex & marriage
Revealr is a new iPhone app that allows those looking for love to hear their possible matches before they see them.

A new poll reveals 59 percent of the country supports same-sex marriage.

Celebrity engagements are so much fun to follow because every detail is bound to be over-the-top — from the proposal (like when Kanye rented out an entire stadium to propose to Kim) to the huge, sparkly engagement ring and, of course, the wedding. Plus, as trendsetters, celebs can be a source of inspiration even if you can't afford a million dollar ring. Here are our celebrity wedding predictions for 2014.

If you've ever been to a club—like, ever, even once—you are not going to be shocked to hear that women get a lot of unwanted, aggressive attention. But when you read the findings of this study on how often and why it happens, it might make you feel downright sick to your stomach.

Hopeless romantics and cringe-worthy chick flicks would tell you that it doesn't matter what you do on the date, as long as you're together. But they're wrong. Dead wrong. Women use your date ideas to size you up, says matchmaker Rachel DeAlto, author of "Flirt Fearlessly." "You absolutely will be judged based on the date you plan. There are so many subconscious impressions that we take in while dating." Gulp. Here are 10 terrible ideas that can land you on the no-lay list—and simple swaps to keep her happy. By K. Aleisha Fetters

No matter your current relationship status or past relationship fails, get a fresh start this month, with these tips for spring cleaning your love life.

Forget the rules you've always heard—it's time to start making your own.

Are you in an affair without knowing it? Unless you're a swinger, having sex with someone else counts as cheating. But then there's the fuzzy area between friendship and infidelity—and chances are, your girlfriend sees those shades of gray as more black and white than you do. "Men aren't as attuned to identifying ambiguous behaviors as cheating as women are," says Daniel Kruger, Ph.D., a University of Michigan psychologist, who's studied gender differences in definitions of infidelity. In other words, what you consider totally innocent could be her deal breaker.

We spoke with relationship therapist Rachel A. Sussman, author of "The Breakup Bible," for her tips on how regular girls can survive a split like an A-lister.

A researcher from Texas Tech University has found that people who use the same kind of "function words" are more likely to get together.

Check out these five celebrity stunners.

And by weird, we really mean friggin' awesome.