Study: Sex Can Make You Smarter, Less Depressed
Scientists say getting it on is good for the brain.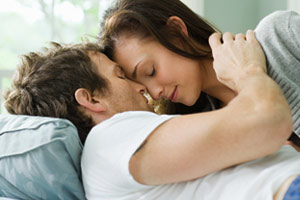 Despite that episode of
Seinfeld
in which George Costanza has a surge of cognitive function after abstaining from sex, scientists seem to think getting busy is actually what boosts brainpower.
Research shows that people who have lust on the brain perform better when presented with analytical problem solving assignments. What's more, scientists have also found that sex bolsters brain growth and can reduce depression.
Recently, Dr. Jens Forster of the University of Amsterdam led a study in which participants were presented with a series of critical thinking problems. Forster found that lustfully-minded subjects performed better than participants who didn't have sex on the brain.
In Jesse Bering's book, Why Is the Penis Shaped Like That? And Other Reflections on Being Human, he references this research and also discusses studies performed by Gordon Gallup, a psychologist at the University of Albany.
According to Bering, a "snapshot" of Gallup's recent research shows that "semen-exposed women perform better on concentration and cognitive tasks." Interestingly, Gallup's findings support a Princeton study that measured the cognitive function of sexually active rats.
In the Princeton experiment, scientists introduced adult male rats to sexually receptive female rats. Researchers then compared the brain function of the sexually active rats to that of virgin rats. The results? The sexually active rats experienced a growth in brain cells.
But Gallup's research is a bit different, as he's not just studying the health benefits of sex, but semen in particular. And his research, while valid, has not been without controversy.
In 2002, Gallup attracted media attention when he studied the mood-enhancing chemicals in semen. Bering lists these in his book:
"Perhaps the most striking of these compounds is the bundle of mood-enhancing chemicals in semen. Such anxiolytic chemicals include, but are by no means limited to, cortisol (known to increase affection), estrone (which elevates mood), prolactin (a natural antidepressant), oxytocin (also elevates mood),
thyrotropin-releasin​g

hormone (another antidepressant), melatonin (a sleep-inducing agent), and even serotonin (perhaps the best-known antidepressant neurotransmitter)."

With this knowledge, Gallup studied the antidepressant properties of semen and found that women who had regular unprotected sex indeed showed less depressive symptoms than those who used condoms. After the study was released, Gallup clarified:
"I want to make it clear that we are not advocating that people abstain from using condoms, clearly an unwanted pregnancy or a sexually transmitted disease would more than offset any advantageous psychological effects of semen."
In short, the consequences of unprotected sex are probably not worth it.
Getting back to sex and intelligence, this is an area that seems to intrigue scientists. In yet another experiment, German sex researcher Warner Habermehl also found that sexual activity stimulates the brain. He conducted a study among college students and discovered that participants who were having regular sex registered far more brain activity than those who weren't. The findings led Habermehl to assert:
"Sex makes you more intelligent in that experiences are collected that can be used later on in areas of your life not linked to sex."
Good news for the sexually active among us. Just remember: Smart sex is safe sex.
Photo: Getty Images
More Love & Sex from MSN Living:
What He's Really Thinking After 1, 5, and 10 Years of Marriage
What She's Really Thinking After 1, 5, and 10 Years of Marriage
Avoid These Sneaky Love Landslides
love: friendships, dating, sex & marriage
How to flag her little fibs. By Laura Tedesco

A new study on attraction may help explain why fashions change.

As a general rule, any island that offers great weather year-round is going to attract the most visitors in the winter (high season) when we're all trying to escape the snow. Once summer rolls around, many islands see a sharp drop-off in tourism since many people have beach weather right in their own backyards.

And how you can attack the issues together.

A wedding is an exceptionally special day. Sometimes, an opportune photo flub makes the occasion even more memorable. Here are 25 awesome wedding photo bombs.

Somewhere between the first few butterfly-inducing dates and the committed-for-life stage, there's the period of wondering if you're both on the same page about how serious you feel about a future together. If you're not quite at the point of "that talk" but you're looking for a few clues you're heading in that direction, here are some signs he's in it for the long haul as your relationship progresses.

What's that sound? It's white noise blocking out the well-meaning person proclaiming groundbreaking news about where you can meet someone, asking why you're still single, or bugging you about when you're getting married already. Don't be that person. Here are 15 annoying things all single people don't want to hear.

With just a few days left before the big day, you already have a mile-long checklist of to-dos—now meet the don'ts! From impromptu skin treatments to all-night movie marathons, here are 11 things to avoid at all costs.

A new study shows that watching and discussing romantic films can drastically reduce your chance of divorce. These flicks more than fit the bill.

These seemingly innocent phrases still have the power to wound… big time.

Making "I do" last forever is one of the biggest challenges you'll ever face—and it's normal to worry about how you'll do it. But, if your connection involves any of these things, rest assured that you're in it for the long run.

Ultimately, as hard as it may seem at the beginning, a marital affair can be a turning point.