Study: Sex Can Make You Smarter, Less Depressed
Scientists say getting it on is good for the brain.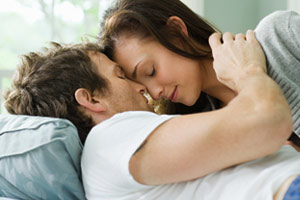 Despite that episode of
Seinfeld
in which George Costanza has a surge of cognitive function after abstaining from sex, scientists seem to think getting busy is actually what boosts brainpower.
Research shows that people who have lust on the brain perform better when presented with analytical problem solving assignments. What's more, scientists have also found that sex bolsters brain growth and can reduce depression.
Recently, Dr. Jens Forster of the University of Amsterdam led a study in which participants were presented with a series of critical thinking problems. Forster found that lustfully-minded subjects performed better than participants who didn't have sex on the brain.
In Jesse Bering's book, Why Is the Penis Shaped Like That? And Other Reflections on Being Human, he references this research and also discusses studies performed by Gordon Gallup, a psychologist at the University of Albany.
According to Bering, a "snapshot" of Gallup's recent research shows that "semen-exposed women perform better on concentration and cognitive tasks." Interestingly, Gallup's findings support a Princeton study that measured the cognitive function of sexually active rats.
In the Princeton experiment, scientists introduced adult male rats to sexually receptive female rats. Researchers then compared the brain function of the sexually active rats to that of virgin rats. The results? The sexually active rats experienced a growth in brain cells.
But Gallup's research is a bit different, as he's not just studying the health benefits of sex, but semen in particular. And his research, while valid, has not been without controversy.
In 2002, Gallup attracted media attention when he studied the mood-enhancing chemicals in semen. Bering lists these in his book:
"Perhaps the most striking of these compounds is the bundle of mood-enhancing chemicals in semen. Such anxiolytic chemicals include, but are by no means limited to, cortisol (known to increase affection), estrone (which elevates mood), prolactin (a natural antidepressant), oxytocin (also elevates mood),
thyrotropin-releasin​g

hormone (another antidepressant), melatonin (a sleep-inducing agent), and even serotonin (perhaps the best-known antidepressant neurotransmitter)."

With this knowledge, Gallup studied the antidepressant properties of semen and found that women who had regular unprotected sex indeed showed less depressive symptoms than those who used condoms. After the study was released, Gallup clarified:
"I want to make it clear that we are not advocating that people abstain from using condoms, clearly an unwanted pregnancy or a sexually transmitted disease would more than offset any advantageous psychological effects of semen."
In short, the consequences of unprotected sex are probably not worth it.
Getting back to sex and intelligence, this is an area that seems to intrigue scientists. In yet another experiment, German sex researcher Warner Habermehl also found that sexual activity stimulates the brain. He conducted a study among college students and discovered that participants who were having regular sex registered far more brain activity than those who weren't. The findings led Habermehl to assert:
"Sex makes you more intelligent in that experiences are collected that can be used later on in areas of your life not linked to sex."
Good news for the sexually active among us. Just remember: Smart sex is safe sex.
Photo: Getty Images
More Love & Sex from MSN Living:
What He's Really Thinking After 1, 5, and 10 Years of Marriage
What She's Really Thinking After 1, 5, and 10 Years of Marriage
Avoid These Sneaky Love Landslides
love: friendships, dating, sex & marriage
We asked real men and women (and a few first-base experts, too) to give us the cardinal rules of kissing, tell us what makes someone a good kisser and more. So whether you're leaning in for kiss No. 1 or 1,000, read on.by Devin Tomb

Not quite sure which diamond shape suits your personality? We're here to help.

Dating can lead to all kinds of tricky situations. To help you navigate even the most awkward moments, we've compiled our 50 best dating tips—some new, some old—given to us by experts, moms, women like you, and even Justin Timberlake.

Customers as Madison's new Snuggle House can snuggle with professional cuddlers for $60 an hour.

Can you believe it was only about 15 years ago that engagement ring shopping meant a time-consuming slog from jewelry boutique to jewelry boutique? Thank goodness for the internet; nowadays, it's easy to do all that legwork online.

The holiday season, with all its twinkly lights and fireplaces and cold nights perfect for snuggling, is most definitely for lovers—but "The Single Woman" author Mandy Hale is here to remind you that it's also for singles, too.

Studies show that being satisfied with your romantic relationship is one of the best predictors of happiness -- even more important than education, income, or having a high-status job. Resolve to make 2014 your happiest year yet with these bond-strengthening pledges.

This winter, it's all about mixing unexpected seasonal elements with elegant neutral details and a hint of sparkle and sequins. Take a look.

Here's why dudes without hair make the best boyfriends.

What do you wish you appreciated more when you were flying solo?

"If you're so busy tweeting and Instagraming, you're not paying attention," New York wedding planner Marcy Blum said. "It's almost a cosmic faux pas. People want your energy with them and focused on what they're doing."

The wedding favor, that little thank-you-for-coming gift, has risen to new heights with the bride and groom giving guests a wide range of favors that are meaningful to them.