Hey, Babe: The Pet Names Women Find Most Annoying
In the UK, women prefer their nicknames with less sugar.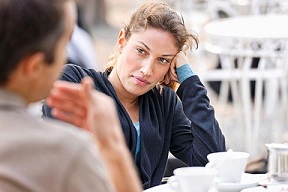 Honey, baby, sweet cheeks. If you're in a relationship, you likely don't call your partner by his or her first name. Chances are, you probably use a pet name when referring to your significant other.
But that loving nickname may not be as appreciated as you think.
A recent survey from Siteopia.com revealed babe as the most hated pet name among women. "Many people appear to find babe a bit too much, and it may be worth reconsidering the amount it's used and the kind of impact it's having," a spokesperson for the site told The Heart Beat.
Siteopia surveyed 2,000 British people between the ages of 18 and 60. They found that only one in five surveyed called their partner by his or her full name.
Related video: 5 Ways to Strengthen Your Relationship
In addition to babe, sweet cheeks, snookums, and baby doll were also unpopular.
"Pet names between partners are usually used as a way to show a little regular affection but some are clearly better than others," said the spokesperson.
Overly sappy nicknames proved to be most disliked by the ladies. Muffin, pudding, angel pie and honeybun all made the list of top 20 most hated nicknames.
Apparently, women don't appreciate being likened to desserts.
As for nicknames gals prefer, flattery will get you everywhere. Gorgeous, beautiful, lovely and sexy all made the list of top 20 most acceptable nicknames. Siteopia's spokesman continued:
"There's a lot of power in a name and each one throws up different connotations so it's important to know which ones will flatter a partner and which are definitely not going to have the right effect."
Personally, while angel pie may be a bit too sugary for my tastes, babe seems harmless. The spokesman explained that "babe" is one term of endearment that may not translate from the United States to the United Kingdom.

"When people hear 'Babe' in the U.K., it's very often associated with someone either trying a little bit too hard to be cool or coming across as cheesy."
Also interesting: One in seven surveyed admitted to giving their partner an unflattering pet name just to mess with them. One in six men referred to their partner as "the boss," and one in fourteen admitted to calling their significant other "the ball and chain."
Full lists of the most hated and most acceptable pet names for women are below. 
What do you think — which of these pet names are sweet and which are downright sappy?
Top 20 Most Hated Pet Names For Women:
Babe
Sweet cheeks
Snookums
Baby doll
Baby girl
Muffin
Ducky
Baby cakes
Sexy pants
Pudding
Angel pie
Pumpkin
Puppy
Sugar lips
Treacle (a type of syrup in the U.K.)

Baby
Pickle
Honeybun
Sugar pie
Cupcake

Top 20 Acceptable Pet Names For Women:
Gorgeous
Beautiful
Lovely
Love
Darling
Honey
Sexy
Angel
Dearest
Precious
Treasure
Snowflake
Blossom
Sweetie Pie
Sexy legs
Lover
Buttercup
Flower
Princess
Sweetness
Photo: George Clerk/The Agency COllection/Getty Images
More love and sex on MSN Living:
The New Bachelorette Party
9 Modern Ways to Get a Date
9 Proven Ways to Meet Someone New
love: friendships, dating, sex & marriage
It's not that you don't find every little thing about your partner endearing and adorable; it's just that it would have been really, really nice if that map could have been consulted three hours ago.

The typical wedding: A white dress, tiered cake, floral centerpieces and a cute flower girl -- you know the drill. Every once in a while, though, a couple trades in tradition for a quirky, never-seen-that-before idea. Here are a few of the most out-there wedding photos that made us do a double take.

There's a lot to love about weddings this fall, like cocktails served in copper Moscow mule mugs, industrial-inspired lighting and pheasant feather details. See what's new!

Do you have to be engaged to sport a ring with bling?

124.6 million haven't gotten hitched.

Even though the national average wedding is $29,858, that's just an average. If you live in a smaller state like Idaho where the average wedding costs $16,159, you may find yourself saving a little more than half of the national spend! Check out some of the other least expensive cities to get married in below:

Summer is winding down, but the ubiquitous summer romance lives on.

For those times when nothing big and horrible happened--but nothing is feeling right either.

He's confident, distinguished and anywhere from 4 to 20 years older than you. Age is just a number, but there's something about older men that we love. Here are eight reasons why being in a relationship with an older man is tops.

While a younger man may have less life experience, that doesn't mean he's not emotionally mature. Here are the eight reasons why being in a relationship with a younger man is tops.

Have you ever wondered what the 'other woman' was thinking?

So fall is coming and you need some romantic inspiration now that long walks on the beach are out of the question. Well look no further! From apple picking to pumpkin carving, these are some great fall date ideas from girls just like you!