Study: Savers are more attractive than spenders
Looking for a date? Try penny pinching.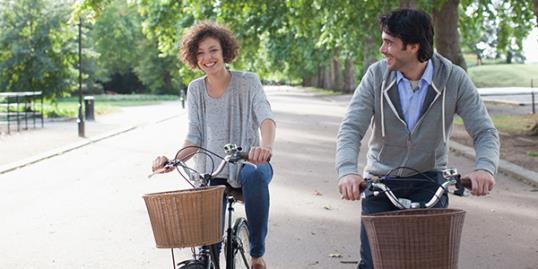 Good news for frugal singles: A new study finds that savers have sex appeal.
The study comes from the University of Michigan's Ross School of Business. In a paper titled, "A Penny Saved Is a Partner Earned: The Romantic Appeal of Savers," researchers explain that savers are perceived as having more self-control and discipline. The theory is that self-control also implies commitment and loyalty.
MSN Living: 10 great money-saving websites
Singles who have it together may also be perceived as more attractive because they have the discipline to take care of their hygiene and appearance, the paper explains. 

Researchers conducted a series of experiments that involved asking volunteers to rate the attractiveness of potential dates. Indeed, savers were "viewed as possessing greater general self-control, which increases their romantic and physical attractiveness." 
That is, as long as the penny-pinching didn't tread "Extreme Cheapskates" territory.
MSN Living: Mom's money saving tips
Similarly, in 2010, eHarmony studied millions of matches and found that singles who described themselves as frugal received 25 percent more online messages than those who said they were spenders.
What do you think? When it comes to dating, is frugality an attractive trait?
More from The Heart Beat:
Subscribe to The Heart Beat | Friend us on Facebook, follow us on Twitter and find us on Pinterest.
love: friendships, dating, sex & marriage
Pantone announced that radiant orchid is the official color of the year for 2014, and we're predicting it's going to be a hot color for weddings, too!

Here's why dudes without hair make the best boyfriends.

What do you wish you appreciated more when you were flying solo?

"If you're so busy tweeting and Instagraming, you're not paying attention," New York wedding planner Marcy Blum said. "It's almost a cosmic faux pas. People want your energy with them and focused on what they're doing."

The wedding favor, that little thank-you-for-coming gift, has risen to new heights with the bride and groom giving guests a wide range of favors that are meaningful to them.

Generations ago, planning a wedding was 100 percent the bride's job, but in today's age of gender equity, it's a mere 99 percent.

For all the self-help books and advice columns out there (um, keeping reading my advice anyway, please!), there's one tool we all already have in our arsenal for picking a partner that will keep us happy: our gut instincts.

According to a new study from the University of Texas and the University of California, Los Angeles, both men and women have regrets when it comes to sex, but the genders vary greatly when it comes to what they regret specifically.

Spending time alone with your guy is easy, but going public with your plus-one is another thing entirely. Whether it's your crazy relatives at Thanksgiving dinner or awkward convos with your boss at the holiday party, possible pitfalls are everywhere. Keep reading for tips on how to make his grand entrance into your social life a good thing.

Match.com survey reveals the day you're least likely to get spruced up for a date.

Drinking and relationships seem to go hand in hand in a lot of ways. But only in moderation!

Many men will tell you that they have no clue what their wives are thinking.