Study: Savers are more attractive than spenders
Looking for a date? Try penny pinching.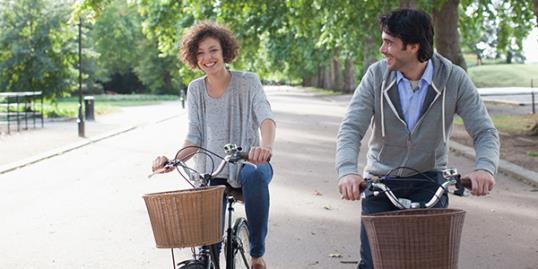 Good news for frugal singles: A new study finds that savers have sex appeal.
The study comes from the University of Michigan's Ross School of Business. In a paper titled, "A Penny Saved Is a Partner Earned: The Romantic Appeal of Savers," researchers explain that savers are perceived as having more self-control and discipline. The theory is that self-control also implies commitment and loyalty.
MSN Living: 10 great money-saving websites
Singles who have it together may also be perceived as more attractive because they have the discipline to take care of their hygiene and appearance, the paper explains. 

Researchers conducted a series of experiments that involved asking volunteers to rate the attractiveness of potential dates. Indeed, savers were "viewed as possessing greater general self-control, which increases their romantic and physical attractiveness." 
That is, as long as the penny-pinching didn't tread "Extreme Cheapskates" territory.
MSN Living: Mom's money saving tips
Similarly, in 2010, eHarmony studied millions of matches and found that singles who described themselves as frugal received 25 percent more online messages than those who said they were spenders.
What do you think? When it comes to dating, is frugality an attractive trait?
More from The Heart Beat:
Subscribe to The Heart Beat | Friend us on Facebook, follow us on Twitter and find us on Pinterest.
love: friendships, dating, sex & marriage
This just in: Guys over 5'10" are twice as likely to stray.

Or how to tell if you've reached THAT point in your bond.

Dating doesn't have to be a daunting task, promise. Here's how to make it fun for you and him.

This just in: A new study shows girls are warriors in the womb.

You can make a pros and cons list...but ultimately you know what works best for you.

Maggie Reyes is a life coach, writer, and the founder of ModernMarried.com. She helps newlyweds re-think what married life can be. Here, she's revealing tricks every newlywed couple needs to know.

Government-supported Vietnamese classes teach women Korean language, customs.

Whether you're into creative artists or uber-preppy bankers, there's something to be said for trying something new.

Sometimes two characters on a TV show or movie can portray being a happy couple effortlessly, or can have lots of fun playing former spouses — especially if they're married to each other in real life! Keep scrolling for six celebrity costars you probably didn't know tied the knot, even after the bloodiest and craziest story lines.

Some couples want nothing more than a laid-back, by-the-book proposal. Then there are the other couples, where the proposal not only needs to be personalized, it also has to be unique and entirely different than the typical restaurant, bended-knee idea. Sound like you? Then get inspired by some of the most creative proposal ideas we've ever seen. If you find something you like, steal it and then modify it to make your proposal something totally unforgettable.

From Nantucket all the way to Cayo Espanto, we've rounded up some of the prettiest beaches to travel to for your honeymoon.

Researchers studied the age-old stereotype that women really are more talkative than men.