Study: Savers are more attractive than spenders
Looking for a date? Try penny pinching.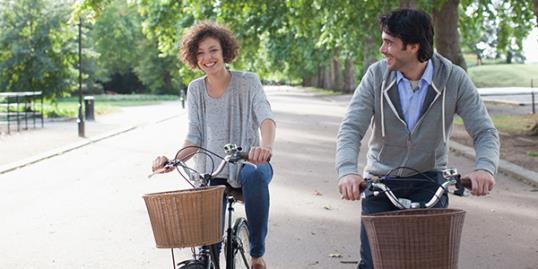 Good news for frugal singles: A new study finds that savers have sex appeal.
The study comes from the University of Michigan's Ross School of Business. In a paper titled, "A Penny Saved Is a Partner Earned: The Romantic Appeal of Savers," researchers explain that savers are perceived as having more self-control and discipline. The theory is that self-control also implies commitment and loyalty.
MSN Living: 10 great money-saving websites
Singles who have it together may also be perceived as more attractive because they have the discipline to take care of their hygiene and appearance, the paper explains. 

Researchers conducted a series of experiments that involved asking volunteers to rate the attractiveness of potential dates. Indeed, savers were "viewed as possessing greater general self-control, which increases their romantic and physical attractiveness." 
That is, as long as the penny-pinching didn't tread "Extreme Cheapskates" territory.
MSN Living: Mom's money saving tips
Similarly, in 2010, eHarmony studied millions of matches and found that singles who described themselves as frugal received 25 percent more online messages than those who said they were spenders.
What do you think? When it comes to dating, is frugality an attractive trait?
More from The Heart Beat:
Subscribe to The Heart Beat | Friend us on Facebook, follow us on Twitter and find us on Pinterest.
love: friendships, dating, sex & marriage
New research shows they get divorced at vastly lower rates.

Brad Pitt and Angelina Jolie finally took the plunge, but marriage isn't always a good choice for everyone.

Learn how these surprising tactics can really improve your relationship.

Use these tips to up your chances of finding love.

Find out how paired-off ladies might feel lacking—and how you can make your relationship satisfying.

These signals are seriously subtle, but they can give you real insight into what's going through your husband's mind.

Check which changes are necessary to stay happy together.

We know some of this may sound obvious, but these simple statements can make both of you happier.

Making your relationship more secure, connected, and intimate doesn't have to feel overwhelming. Try these expert tips and reap the rewards now—and in the long run.

For those times when nothing big and horrible happened--but nothing is feeling right either.

What's more fun than animals in weddings? We've rounded up eight of the cutest.

Your puppy is all over your Instagram, Facebook and fridge, so there's no reason not to include him in your engagement pictures too. The best engagement photos give viewers a peek into your life. If you're a dog owner, take this opportunity to show off your pooch, like these 22 couples did! And we can't thank them enough.