True love stories: Couple falls in love on Instagram
A picture perfect digital romance that bridges 2,500 miles.
"What's up?"
Those were the simple first words exchanged between Matt Fleming and Robin Coe, a couple who fell in love over Instagram, the popular photo sharing app. 
Matt and Robin followed each other on Instagram and occasionally commented on each other's photos, but there was one particular pic responsible for igniting their romance.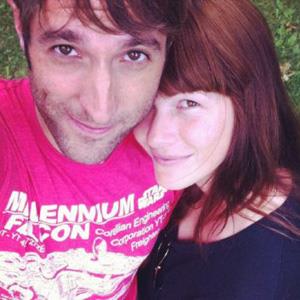 More on MSN Living: GQ's foolproof guide to online dating
It was 2011, and Robin had posted a photo of someone walking a dog through Toronto's cold, wintery landscape. Matt saw this, and it reminded him of his childhood, having grown up in the blustery Midwest. Among her 279,000 followers, Matt finally asked Robin to message him. 
"What's up?" she replied. This prompted Matt to send her an eight-paragraph email about himself and his childhood. 
"He was just so endearing and sincere. I could feel the warmth in his words," Robin, 34, told The Heart Beat. "I'd long been struggling to find my place on this earth, and despite the differences in our individual circumstances, I could relate to every single word. I didn't hesitate to write back."
More on MSN Living: Men reveal 7 biggest first date complaints
Soon enough, the two were regularly emailing while still continuing to view and comment on each other's photos.  In a January 2012 email, Matt, made a bold move: 
"If you want to reach my voice, this is how you get it." 
To say they hit it off would be an understatement. One Skype call between the pair lasted 13 hours—they stayed up all night and finally hung up at 6 a.m. They found themselves in the middle of a full-fledged long distance relationship—Robin was in Toronto and Matt lived in Oakland, Calif. 
On April 24, 2012, the couple finally met in person, The Star reports. Robin captured a photo of Matt upon first seeing him face-to-face. She says it's an odd feeling to see someone for the first time when they simultaneously seem so familiar.
"I couldn't even make eye contact with him. I'm not exaggerating," Robin told us. "For at least an hour, I couldn't look him in the eyes for more than a second or two. I was a flustered, giddy mess."
Since then, the couple has shared their blossoming romance through photos. Earlier this week, for example, Robin posted a photo of a gift from Matt—an illustration of her dog, Gracie. Looking forward to an upcoming trip, she captioned the pic: 
"Have I mentioned lately that long-distance love is like holding your breath, chin tilted up towards a surface that is 36 days away?" 
They say love happens when you least expect it, and that was definitely the case for Robin:
"I was at the end of a
five-year-relationsh​ip...I

was fully immersed in the process of getting comfortable just being on my own. I was happier than I'd been in probably a decade. And, honestly, I think that's why we found each other. I finally had room in my life to let in a little light."

Her tip for maintaining long distance love? 
"We do our best to have our next visit planned before we say goodbye. Those goodbyes are excruciating, and having something concrete to look forward to can ease the pain a bit."
She adds that honesty and communication fuel their relationship, as does not sweating the small stuff. "We're in it together, and we remind each of that every single day," she says.
Here's wishing Robin and Matt the very best in their digital-turned-real-​life romance.
More from The Heart Beat:
Controversial dating site illegal in some U.S. cities
A school that teaches wives to be mistresses
China's 'fake-marriage market' a growing trend
Love content like this? Friend us on Facebook, follow us on Twitter and find us on Pinterest.   
Photo: Robinmay via Instagram
love: friendships, dating, sex & marriage
This winter, it's all about mixing unexpected seasonal elements with elegant neutral details and a hint of sparkle and sequins. Take a look.

Here's why dudes without hair make the best boyfriends.

What do you wish you appreciated more when you were flying solo?

"If you're so busy tweeting and Instagraming, you're not paying attention," New York wedding planner Marcy Blum said. "It's almost a cosmic faux pas. People want your energy with them and focused on what they're doing."

The wedding favor, that little thank-you-for-coming gift, has risen to new heights with the bride and groom giving guests a wide range of favors that are meaningful to them.

Generations ago, planning a wedding was 100 percent the bride's job, but in today's age of gender equity, it's a mere 99 percent.

For all the self-help books and advice columns out there (um, keeping reading my advice anyway, please!), there's one tool we all already have in our arsenal for picking a partner that will keep us happy: our gut instincts.

According to a new study from the University of Texas and the University of California, Los Angeles, both men and women have regrets when it comes to sex, but the genders vary greatly when it comes to what they regret specifically.

Spending time alone with your guy is easy, but going public with your plus-one is another thing entirely. Whether it's your crazy relatives at Thanksgiving dinner or awkward convos with your boss at the holiday party, possible pitfalls are everywhere. Keep reading for tips on how to make his grand entrance into your social life a good thing.

Match.com survey reveals the day you're least likely to get spruced up for a date.

Drinking and relationships seem to go hand in hand in a lot of ways. But only in moderation!

Many men will tell you that they have no clue what their wives are thinking.