Bride doesn't want guests attending her wedding 'for free,' so don't forget your checkbook
It's poor form to ever mention gifts to your guests. But just wait until you read her former friend's response.
By Kim Fusaro
I just got an email from a frustrated wedding guest, we'll call her Gretchen, who is currently in school and recently lost her job and hasn't gotten around to giving her childhood friend (who we'll call Brandy) a wedding gift. Gretchen, who is 23, had given Brandy a homemade bridal shower gift and had said (TWICE) that she'd "make up" for the wedding gift when she had more cash. (I should mention here that while wedding planning, Brandy was vocal about what she and her groom spent per guest to throw their wedding: $200.) Of course at this point (twice) Brandy-the-bride should've said, "We know you're strapped. We don't need a wedding gift, we just wanted to celebrate with you."
More from Glamour: 25 Celebrity Hairstyles That Will Make You Want Bangs
Instead she basically said, "Show me the money." Here's a text convo. (The candles are part of the bridal shower gift, I assume.)

I was going to add little arrows to point out the parts where the bride was being out of line, but since everything she said was offensive, I went with numbers, so you'll know which section of offensiveness I'm referencing.
More from Glamour: 10 Wardrobe Essentials Every Woman Should Own
1. It's poor form to ever mention gifts to your guests. And worse form to imply that "a card" [read: cash] is the gift you're expecting.
2. Your money woes are NOT your guests' problem. If you couldn't afford to throw a $200-a-head wedding, you shouldn't have done so at the expense of, say, your electricity.
3. "U coming for free" I. Just. Can't.
4. Oh MAH GAWD. A baby shower, like a wedding, is not an open call for gifts. It's a celebration of something wonderful in your life, which you should want the people you love to be a part of, regardless of their ability to "make up" for their crustless cucumber sandwiches.
Here is the "card" Gretchen later dropped off (with the identifying info blurred out, unfortunately):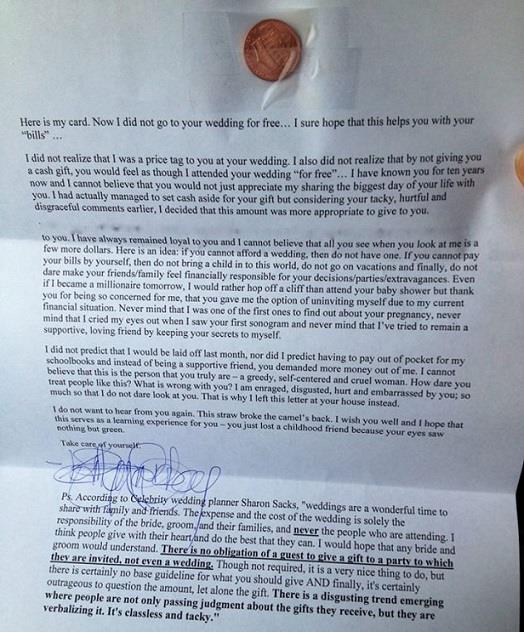 Well done, Gretchen. Well done.
Is anyone OK with this bride's behavior?
More from Glamour:
8 Hair Color Ideas To Try This Fall
8 Workout Moves for a Toned Body in Two Weeks
The 10 Prettiest Hair, Nail and Makeup Looks for Fall 2013
Subscribe to The Heart Beat | Friend us on Facebook, follow us on Twitter and find us on Pinterest
Photos: Courtesy of Glamour
love: friendships, dating, sex & marriage
While we do love crazy, funny and over-the-top engagements, sometimes there's just nothing like a proposal with a heartfelt story behind it (warning: you might need some tissues). We've rounded up some of the most romantic wedding proposals from couples across the country, so keep scrolling for seven of our favorites:

As much as you'd like to think your guests will love every single aspect of your wedding, the truth is you really can't please everyone. However, you can try to avoid ticking them off. Here's how.

You'd think brides and grooms who celebrate their nuptials with 50 guests have an equal shot at wedded bliss as those who invite 500, but apparently not.

Because some things are just better with a buddy (whom you happen to be dating).

They're smart, funny, and adorable, but are you a good match?

Fight the urge to sign her up for OkCupid and read this instead.