Bride doesn't want guests attending her wedding 'for free,' so don't forget your checkbook
It's poor form to ever mention gifts to your guests. But just wait until you read her former friend's response.
By Kim Fusaro
I just got an email from a frustrated wedding guest, we'll call her Gretchen, who is currently in school and recently lost her job and hasn't gotten around to giving her childhood friend (who we'll call Brandy) a wedding gift. Gretchen, who is 23, had given Brandy a homemade bridal shower gift and had said (TWICE) that she'd "make up" for the wedding gift when she had more cash. (I should mention here that while wedding planning, Brandy was vocal about what she and her groom spent per guest to throw their wedding: $200.) Of course at this point (twice) Brandy-the-bride should've said, "We know you're strapped. We don't need a wedding gift, we just wanted to celebrate with you."
More from Glamour: 25 Celebrity Hairstyles That Will Make You Want Bangs
Instead she basically said, "Show me the money." Here's a text convo. (The candles are part of the bridal shower gift, I assume.)

I was going to add little arrows to point out the parts where the bride was being out of line, but since everything she said was offensive, I went with numbers, so you'll know which section of offensiveness I'm referencing.
More from Glamour: 10 Wardrobe Essentials Every Woman Should Own
1. It's poor form to ever mention gifts to your guests. And worse form to imply that "a card" [read: cash] is the gift you're expecting.
2. Your money woes are NOT your guests' problem. If you couldn't afford to throw a $200-a-head wedding, you shouldn't have done so at the expense of, say, your electricity.
3. "U coming for free" I. Just. Can't.
4. Oh MAH GAWD. A baby shower, like a wedding, is not an open call for gifts. It's a celebration of something wonderful in your life, which you should want the people you love to be a part of, regardless of their ability to "make up" for their crustless cucumber sandwiches.
Here is the "card" Gretchen later dropped off (with the identifying info blurred out, unfortunately):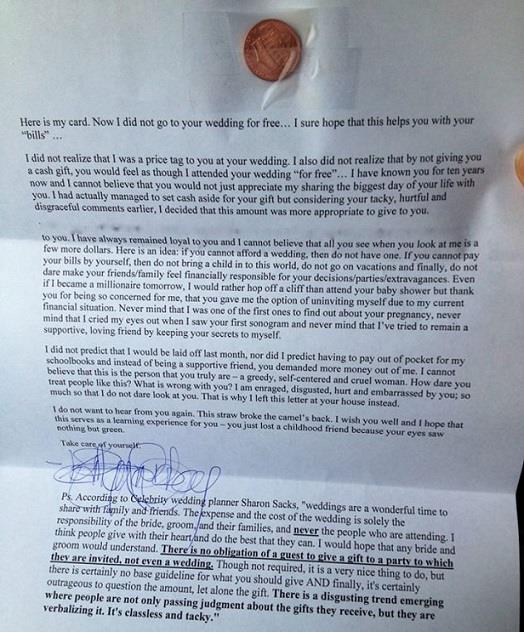 Well done, Gretchen. Well done.
Is anyone OK with this bride's behavior?
More from Glamour:
8 Hair Color Ideas To Try This Fall
8 Workout Moves for a Toned Body in Two Weeks
The 10 Prettiest Hair, Nail and Makeup Looks for Fall 2013
Subscribe to The Heart Beat | Friend us on Facebook, follow us on Twitter and find us on Pinterest
Photos: Courtesy of Glamour
love: friendships, dating, sex & marriage
Whether you're into creative artists or uber-preppy bankers, there's something to be said for trying something new.

Sometimes two characters on a TV show or movie can portray being a happy couple effortlessly, or can have lots of fun playing former spouses — especially if they're married to each other in real life! Keep scrolling for six celebrity costars you probably didn't know tied the knot, even after the bloodiest and craziest story lines.

Some couples want nothing more than a laid-back, by-the-book proposal. Then there are the other couples, where the proposal not only needs to be personalized, it also has to be unique and entirely different than the typical restaurant, bended-knee idea. Sound like you? Then get inspired by some of the most creative proposal ideas we've ever seen. If you find something you like, steal it and then modify it to make your proposal something totally unforgettable.

From Nantucket all the way to Cayo Espanto, we've rounded up some of the prettiest beaches to travel to for your honeymoon.

Researchers studied the age-old stereotype that women really are more talkative than men.

'There is a science behind attraction,' SingldOut says.

One minute you're happy and in love, the next he's delivering the "It's not you, it's me" speech. Why? We have the scoop on the real reasons most couples split up.

Want to keep your wedding budget in check? Start by checking out this list of the 10 things that could end up costing you a lot more than you anticipated.

The proposal-filled site How He Asked has shared its top 10 most emotional proposal photos with us, so have your tissues handy. We're suckers for a good proposal story, and these ones are truly tear-worthy. Check them out now, and watch your heart grow (at least) three sizes!

How to do weddings: Yet another foreign (and expensive) aspect of adulthood that you have to learn the hard way. But have no fear! Click through for some must-have wedding tips.

As part of the 2014 Brides Best Honeymoon awards, we're counting down the best places for newlyweds to stay in the Mainland U.S. From luxe resorts in the Napa Valley to hotel oases in the Sedona Desert, you're guaranteed a memorable stay no matter which resort you choose.

For him they're NBD, so don't stress.