Bride doesn't want guests attending her wedding 'for free,' so don't forget your checkbook
It's poor form to ever mention gifts to your guests. But just wait until you read her former friend's response.
By Kim Fusaro
I just got an email from a frustrated wedding guest, we'll call her Gretchen, who is currently in school and recently lost her job and hasn't gotten around to giving her childhood friend (who we'll call Brandy) a wedding gift. Gretchen, who is 23, had given Brandy a homemade bridal shower gift and had said (TWICE) that she'd "make up" for the wedding gift when she had more cash. (I should mention here that while wedding planning, Brandy was vocal about what she and her groom spent per guest to throw their wedding: $200.) Of course at this point (twice) Brandy-the-bride should've said, "We know you're strapped. We don't need a wedding gift, we just wanted to celebrate with you."
More from Glamour: 25 Celebrity Hairstyles That Will Make You Want Bangs
Instead she basically said, "Show me the money." Here's a text convo. (The candles are part of the bridal shower gift, I assume.)

I was going to add little arrows to point out the parts where the bride was being out of line, but since everything she said was offensive, I went with numbers, so you'll know which section of offensiveness I'm referencing.
More from Glamour: 10 Wardrobe Essentials Every Woman Should Own
1. It's poor form to ever mention gifts to your guests. And worse form to imply that "a card" [read: cash] is the gift you're expecting.
2. Your money woes are NOT your guests' problem. If you couldn't afford to throw a $200-a-head wedding, you shouldn't have done so at the expense of, say, your electricity.
3. "U coming for free" I. Just. Can't.
4. Oh MAH GAWD. A baby shower, like a wedding, is not an open call for gifts. It's a celebration of something wonderful in your life, which you should want the people you love to be a part of, regardless of their ability to "make up" for their crustless cucumber sandwiches.
Here is the "card" Gretchen later dropped off (with the identifying info blurred out, unfortunately):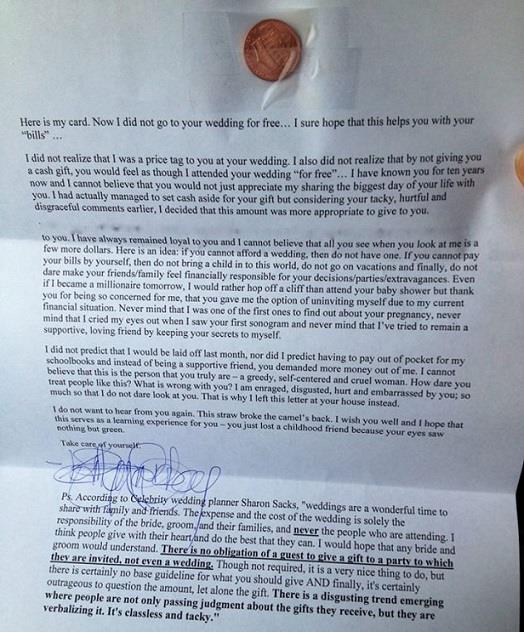 Well done, Gretchen. Well done.
Is anyone OK with this bride's behavior?
More from Glamour:
8 Hair Color Ideas To Try This Fall
8 Workout Moves for a Toned Body in Two Weeks
The 10 Prettiest Hair, Nail and Makeup Looks for Fall 2013
Subscribe to The Heart Beat | Friend us on Facebook, follow us on Twitter and find us on Pinterest
Photos: Courtesy of Glamour
love: friendships, dating, sex & marriage
The typical wedding: A white dress, tiered cake, floral centerpieces and a cute flower girl -- you know the drill. Every once in a while, though, a couple trades in tradition for a quirky, never-seen-that-before idea. Here are a few of the most out-there wedding photos that made us do a double take.

There's a lot to love about weddings this fall, like cocktails served in copper Moscow mule mugs, industrial-inspired lighting and pheasant feather details. See what's new!

Do you have to be engaged to sport a ring with bling?

124.6 million haven't gotten hitched.

Even though the national average wedding is $29,858, that's just an average. If you live in a smaller state like Idaho where the average wedding costs $16,159, you may find yourself saving a little more than half of the national spend! Check out some of the other least expensive cities to get married in below:

Summer is winding down, but the ubiquitous summer romance lives on.

For those times when nothing big and horrible happened--but nothing is feeling right either.

He's confident, distinguished and anywhere from 4 to 20 years older than you. Age is just a number, but there's something about older men that we love. Here are eight reasons why being in a relationship with an older man is tops.

While a younger man may have less life experience, that doesn't mean he's not emotionally mature. Here are the eight reasons why being in a relationship with a younger man is tops.

Have you ever wondered what the 'other woman' was thinking?

So fall is coming and you need some romantic inspiration now that long walks on the beach are out of the question. Well look no further! From apple picking to pumpkin carving, these are some great fall date ideas from girls just like you!

Getting bored of the same dinner and movie date night? Take an adorable cue from your favorite celebs and try something new! From dancing to boxing you can't go wrong with these awesome date ideas.