Bride doesn't want guests attending her wedding 'for free,' so don't forget your checkbook
It's poor form to ever mention gifts to your guests. But just wait until you read her former friend's response.
By Kim Fusaro
I just got an email from a frustrated wedding guest, we'll call her Gretchen, who is currently in school and recently lost her job and hasn't gotten around to giving her childhood friend (who we'll call Brandy) a wedding gift. Gretchen, who is 23, had given Brandy a homemade bridal shower gift and had said (TWICE) that she'd "make up" for the wedding gift when she had more cash. (I should mention here that while wedding planning, Brandy was vocal about what she and her groom spent per guest to throw their wedding: $200.) Of course at this point (twice) Brandy-the-bride should've said, "We know you're strapped. We don't need a wedding gift, we just wanted to celebrate with you."
More from Glamour: 25 Celebrity Hairstyles That Will Make You Want Bangs
Instead she basically said, "Show me the money." Here's a text convo. (The candles are part of the bridal shower gift, I assume.)

I was going to add little arrows to point out the parts where the bride was being out of line, but since everything she said was offensive, I went with numbers, so you'll know which section of offensiveness I'm referencing.
More from Glamour: 10 Wardrobe Essentials Every Woman Should Own
1. It's poor form to ever mention gifts to your guests. And worse form to imply that "a card" [read: cash] is the gift you're expecting.
2. Your money woes are NOT your guests' problem. If you couldn't afford to throw a $200-a-head wedding, you shouldn't have done so at the expense of, say, your electricity.
3. "U coming for free" I. Just. Can't.
4. Oh MAH GAWD. A baby shower, like a wedding, is not an open call for gifts. It's a celebration of something wonderful in your life, which you should want the people you love to be a part of, regardless of their ability to "make up" for their crustless cucumber sandwiches.
Here is the "card" Gretchen later dropped off (with the identifying info blurred out, unfortunately):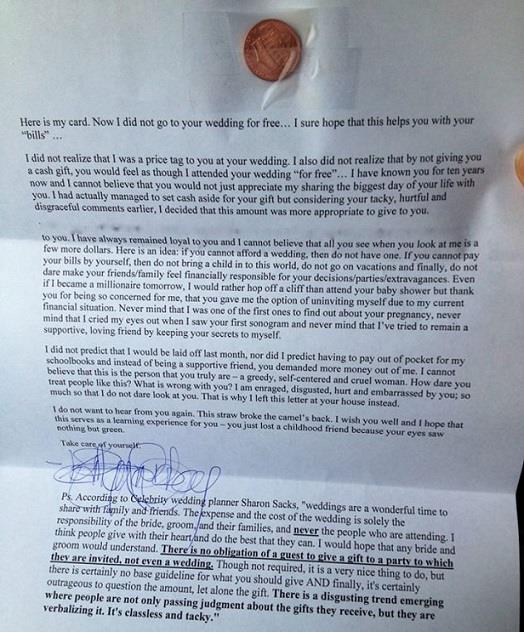 Well done, Gretchen. Well done.
Is anyone OK with this bride's behavior?
More from Glamour:
8 Hair Color Ideas To Try This Fall
8 Workout Moves for a Toned Body in Two Weeks
The 10 Prettiest Hair, Nail and Makeup Looks for Fall 2013
Subscribe to The Heart Beat | Friend us on Facebook, follow us on Twitter and find us on Pinterest
Photos: Courtesy of Glamour
love: friendships, dating, sex & marriage
Forgotten what love is all about? Read this note, and remember.

And a few that aren't so shocking.

If you find yourself doing any of these things, consider changing your behavior or counseling.

From pineapple sculptures made out of sunflowers to bold graphic printed tablecloths, ten trendsetters in the wedding industry shared 100 days' worth of inspiring new wedding details. See The Knot editors' top picks for the coolest and most awe-worthy ideas from the wedding experts.

Those Facebook friends who seem to have perfect lives with flawless mates whom they adore at all times? Even they face tough times like these.

How to flag her little fibs. By Laura Tedesco

A new study on attraction may help explain why fashions change.

As a general rule, any island that offers great weather year-round is going to attract the most visitors in the winter (high season) when we're all trying to escape the snow. Once summer rolls around, many islands see a sharp drop-off in tourism since many people have beach weather right in their own backyards.

And how you can attack the issues together.

A wedding is an exceptionally special day. Sometimes, an opportune photo flub makes the occasion even more memorable. Here are 25 awesome wedding photo bombs.

Somewhere between the first few butterfly-inducing dates and the committed-for-life stage, there's the period of wondering if you're both on the same page about how serious you feel about a future together. If you're not quite at the point of "that talk" but you're looking for a few clues you're heading in that direction, here are some signs he's in it for the long haul as your relationship progresses.

What's that sound? It's white noise blocking out the well-meaning person proclaiming groundbreaking news about where you can meet someone, asking why you're still single, or bugging you about when you're getting married already. Don't be that person. Here are 15 annoying things all single people don't want to hear.