Is the Goodnight Kiss Over?
For 80 percent, sleeping beats smooching.
After a certain amount of time together, most couples often can't help falling into a routine. And with that routine, the little things are often forgotten — love notes, date nights and, sometimes, even the goodnight kiss.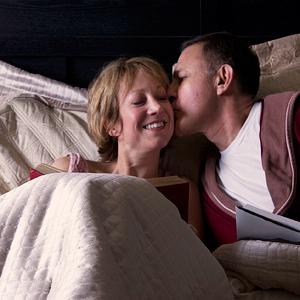 According to a new British study, eight in 10 couples no longer kiss before going to sleep. If that sounds heartbreaking to you, just wait. There's more.
Travelodge surveyed 2,000 couples, inquiring about their romantic before-bed behavior. Turns out, couples are not only not kissing, they're arguing and distancing themselves, too.
Fifty-four percent of couples said they sleep with their backs turned to each other, and a quarter say they can't stand their partner even touching them while they're asleep.
But let's be reasonable here. This is sleep we're talking about. Wonderful, coveted sleep! For most people, there's not even an eight-hour window for nightly rejuvenation. And for many people, drifting into unconsciousness is a hurdle that must be overcome with the aid of herbal teas and midnight reruns of the Golden Girls.
What I'm getting at is that it's understandable if people need their alone time while they're asleep. No touching? No problem!
Relationship psychologist Corrine Sweet understands. She told the Telegraph:
"Inevitably, once the first flush of lust wears off, with couples naked and entwined, it is more likely the need for a good night's sleep predominates, so sleeping back to back becomes a favorable position in bed."
Whoa, wait. Do couples actually sleep naked and entwined? Aside from on the covers of drugstore romance novels, I mean? Yes, they do, albeit a small percentage. One percent of couples actually sleep in the "heroic, romantic movie scene sleeping position," which constitutes the man lying on his back facing up and the woman's head nestled in his chest. Good for the 1 percent.
But that's not where the study ends. In addition to forgoing the goodnight kiss, 90 percent of couples apparently don't say, "I love you" before turning out the lights, either. And sadly, one in four couples repeatedly argue in bed because one keeps the other awake.
The survey also revealed that half of us think our sex lives would be improved with some cuddle time. Contrary to stereotypes, men are actually the ones campaigning for cuddling, with 67 percent of them saying they would like more of it.
Sleep is important, I understand. But saying, "I love you" and puckering up don't deprive you of any slumber. And if you can make time for sex, why not toss in some snuggling while you're at it?
These relationship habits may seem minor, and indeed, they're little things. But the little things shouldn't be forgotten.
Bing: Get the spark back in your relationship.
Photo: Diane Diederich/Getty Images
More Sex & Love on MSN Living:
10 Reasons He Hasn't Asked You to Marry Him
10 Things He Should Do to Make You Happy
What His Date Style Says About Him
8 Words That Give a Liar Away
6 Fascinating Facts About Exes
love: friendships, dating, sex & marriage
We know some of this may sound obvious, but these simple statements can make both of you happier.

Making your relationship more secure, connected, and intimate doesn't have to feel overwhelming. Try these expert tips and reap the rewards now—and in the long run.

For those times when nothing big and horrible happened--but nothing is feeling right either.

What's more fun than animals in weddings? We've rounded up eight of the cutest.

Your puppy is all over your Instagram, Facebook and fridge, so there's no reason not to include him in your engagement pictures too. The best engagement photos give viewers a peek into your life. If you're a dog owner, take this opportunity to show off your pooch, like these 22 couples did! And we can't thank them enough.

Our married blogger gets real about checking out other guys when you're taken.

He's confident, distinguished and anywhere from 4 to 20 years older than you. Age is just a number, but there's something about older men that we love. Here are eight reasons why being in a relationship with an older man is tops.

While a younger man may have less life experience, that doesn't mean he's not emotionally mature. Here are the eight reasons why being in a relationship with a younger man is tops.

While we do love crazy, funny and over-the-top engagements, sometimes there's just nothing like a proposal with a heartfelt story behind it (warning: you might need some tissues). We've rounded up some of the most romantic wedding proposals from couples across the country, so keep scrolling for seven of our favorites:

As much as you'd like to think your guests will love every single aspect of your wedding, the truth is you really can't please everyone. However, you can try to avoid ticking them off. Here's how.

You'd think brides and grooms who celebrate their nuptials with 50 guests have an equal shot at wedded bliss as those who invite 500, but apparently not.

Because some things are just better with a buddy (whom you happen to be dating).