Is the Goodnight Kiss Over?
For 80 percent, sleeping beats smooching.
After a certain amount of time together, most couples often can't help falling into a routine. And with that routine, the little things are often forgotten — love notes, date nights and, sometimes, even the goodnight kiss.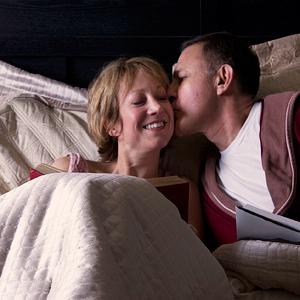 According to a new British study, eight in 10 couples no longer kiss before going to sleep. If that sounds heartbreaking to you, just wait. There's more.
Travelodge surveyed 2,000 couples, inquiring about their romantic before-bed behavior. Turns out, couples are not only not kissing, they're arguing and distancing themselves, too.
Fifty-four percent of couples said they sleep with their backs turned to each other, and a quarter say they can't stand their partner even touching them while they're asleep.
But let's be reasonable here. This is sleep we're talking about. Wonderful, coveted sleep! For most people, there's not even an eight-hour window for nightly rejuvenation. And for many people, drifting into unconsciousness is a hurdle that must be overcome with the aid of herbal teas and midnight reruns of the Golden Girls.
What I'm getting at is that it's understandable if people need their alone time while they're asleep. No touching? No problem!
Relationship psychologist Corrine Sweet understands. She told the Telegraph:
"Inevitably, once the first flush of lust wears off, with couples naked and entwined, it is more likely the need for a good night's sleep predominates, so sleeping back to back becomes a favorable position in bed."
Whoa, wait. Do couples actually sleep naked and entwined? Aside from on the covers of drugstore romance novels, I mean? Yes, they do, albeit a small percentage. One percent of couples actually sleep in the "heroic, romantic movie scene sleeping position," which constitutes the man lying on his back facing up and the woman's head nestled in his chest. Good for the 1 percent.
But that's not where the study ends. In addition to forgoing the goodnight kiss, 90 percent of couples apparently don't say, "I love you" before turning out the lights, either. And sadly, one in four couples repeatedly argue in bed because one keeps the other awake.
The survey also revealed that half of us think our sex lives would be improved with some cuddle time. Contrary to stereotypes, men are actually the ones campaigning for cuddling, with 67 percent of them saying they would like more of it.
Sleep is important, I understand. But saying, "I love you" and puckering up don't deprive you of any slumber. And if you can make time for sex, why not toss in some snuggling while you're at it?
These relationship habits may seem minor, and indeed, they're little things. But the little things shouldn't be forgotten.
Bing: Get the spark back in your relationship.
Photo: Diane Diederich/Getty Images
More Sex & Love on MSN Living:
10 Reasons He Hasn't Asked You to Marry Him
10 Things He Should Do to Make You Happy
What His Date Style Says About Him
8 Words That Give a Liar Away
6 Fascinating Facts About Exes
love: friendships, dating, sex & marriage
This winter, it's all about mixing unexpected seasonal elements with elegant neutral details and a hint of sparkle and sequins. Take a look.

Here's why dudes without hair make the best boyfriends.

What do you wish you appreciated more when you were flying solo?

"If you're so busy tweeting and Instagraming, you're not paying attention," New York wedding planner Marcy Blum said. "It's almost a cosmic faux pas. People want your energy with them and focused on what they're doing."

The wedding favor, that little thank-you-for-coming gift, has risen to new heights with the bride and groom giving guests a wide range of favors that are meaningful to them.

Generations ago, planning a wedding was 100 percent the bride's job, but in today's age of gender equity, it's a mere 99 percent.

For all the self-help books and advice columns out there (um, keeping reading my advice anyway, please!), there's one tool we all already have in our arsenal for picking a partner that will keep us happy: our gut instincts.

According to a new study from the University of Texas and the University of California, Los Angeles, both men and women have regrets when it comes to sex, but the genders vary greatly when it comes to what they regret specifically.

Spending time alone with your guy is easy, but going public with your plus-one is another thing entirely. Whether it's your crazy relatives at Thanksgiving dinner or awkward convos with your boss at the holiday party, possible pitfalls are everywhere. Keep reading for tips on how to make his grand entrance into your social life a good thing.

Match.com survey reveals the day you're least likely to get spruced up for a date.

Drinking and relationships seem to go hand in hand in a lot of ways. But only in moderation!

Many men will tell you that they have no clue what their wives are thinking.