Is the Goodnight Kiss Over?
For 80 percent, sleeping beats smooching.
After a certain amount of time together, most couples often can't help falling into a routine. And with that routine, the little things are often forgotten — love notes, date nights and, sometimes, even the goodnight kiss.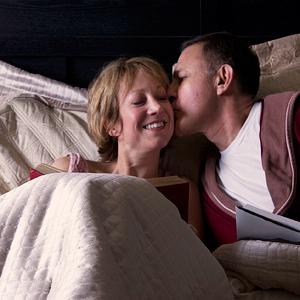 According to a new British study, eight in 10 couples no longer kiss before going to sleep. If that sounds heartbreaking to you, just wait. There's more.
Travelodge surveyed 2,000 couples, inquiring about their romantic before-bed behavior. Turns out, couples are not only not kissing, they're arguing and distancing themselves, too.
Fifty-four percent of couples said they sleep with their backs turned to each other, and a quarter say they can't stand their partner even touching them while they're asleep.
But let's be reasonable here. This is sleep we're talking about. Wonderful, coveted sleep! For most people, there's not even an eight-hour window for nightly rejuvenation. And for many people, drifting into unconsciousness is a hurdle that must be overcome with the aid of herbal teas and midnight reruns of the Golden Girls.
What I'm getting at is that it's understandable if people need their alone time while they're asleep. No touching? No problem!
Relationship psychologist Corrine Sweet understands. She told the Telegraph:
"Inevitably, once the first flush of lust wears off, with couples naked and entwined, it is more likely the need for a good night's sleep predominates, so sleeping back to back becomes a favorable position in bed."
Whoa, wait. Do couples actually sleep naked and entwined? Aside from on the covers of drugstore romance novels, I mean? Yes, they do, albeit a small percentage. One percent of couples actually sleep in the "heroic, romantic movie scene sleeping position," which constitutes the man lying on his back facing up and the woman's head nestled in his chest. Good for the 1 percent.
But that's not where the study ends. In addition to forgoing the goodnight kiss, 90 percent of couples apparently don't say, "I love you" before turning out the lights, either. And sadly, one in four couples repeatedly argue in bed because one keeps the other awake.
The survey also revealed that half of us think our sex lives would be improved with some cuddle time. Contrary to stereotypes, men are actually the ones campaigning for cuddling, with 67 percent of them saying they would like more of it.
Sleep is important, I understand. But saying, "I love you" and puckering up don't deprive you of any slumber. And if you can make time for sex, why not toss in some snuggling while you're at it?
These relationship habits may seem minor, and indeed, they're little things. But the little things shouldn't be forgotten.
Bing: Get the spark back in your relationship.
Photo: Diane Diederich/Getty Images
More Sex & Love on MSN Living:
10 Reasons He Hasn't Asked You to Marry Him
10 Things He Should Do to Make You Happy
What His Date Style Says About Him
8 Words That Give a Liar Away
6 Fascinating Facts About Exes
love: friendships, dating, sex & marriage
Want to send your date running? Try one these moves.

Two guests arrested in New Jersey.

Celebrities certainly know how to travel in style, so if you're struggling to select a honeymoon destination, look no further than these star-approved hotspots. To make it even easier, we're providing you with hotel recommendations, packing essentials, and tips on what to do and see! So channel your inner celeb at one of these U.S. destinations for an unforgettable vacation!

Tall Twitter users named Wayne, we're on to you!

Should little girls be dreaming of a different kind of "I do"?

Need a reason to pack your bags and get the hell out of here?

After your return from your honeymoon, your marriage officially starts and with that come some changes. It's not to say that the honeymoon phase is over, but you'll have to get some things situated in order to have your marriage start off on the right foot. We tapped the expert advice of wedding planner and reality TV star David Tutera and love and career coach Charreah Jackson to dish on six things you must do to have a successful first month of marriage — from wedding-related logistics to wrap up to relationship rules to set.

Owner of Weddings in Vieques, a destination-wedding planning company off the coast of Puerto Rico, Sandy Malone has helped countless couples plan their big day since 2007. Here, the veteran planner is sharing some expert advice for free: She's sharing the top eight things you have to do right after you get engaged.

Is the idea of a big bridal bash just not your thing? Or perhaps you and your fiancé are just the super spontaneous type, so why not make your next beach vacation your nuptials as well? If you're thinking of eloping but have questions on the mind, we're here to help. We tapped elopement and wedding planner Lindsey Nickel, founder of Events, Etc., for her top dos and don'ts for getting hitched on the sly.

Easy everyday ways to keep the love alive.

Expert tips on moving past those oh-so-familiar arguments.

Sometimes you have to do things you don't want to do, like hang out with his lame friends. You're not always in the mood to nurse a beer silently while he and his boys argue about who's going to die next on "Game of Thrones" — but tomorrow he's sitting through a seven-girl brunch. So.