Is the Goodnight Kiss Over?
For 80 percent, sleeping beats smooching.
After a certain amount of time together, most couples often can't help falling into a routine. And with that routine, the little things are often forgotten — love notes, date nights and, sometimes, even the goodnight kiss.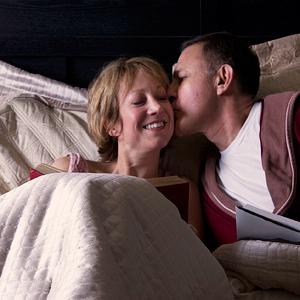 According to a new British study, eight in 10 couples no longer kiss before going to sleep. If that sounds heartbreaking to you, just wait. There's more.
Travelodge surveyed 2,000 couples, inquiring about their romantic before-bed behavior. Turns out, couples are not only not kissing, they're arguing and distancing themselves, too.
Fifty-four percent of couples said they sleep with their backs turned to each other, and a quarter say they can't stand their partner even touching them while they're asleep.
But let's be reasonable here. This is sleep we're talking about. Wonderful, coveted sleep! For most people, there's not even an eight-hour window for nightly rejuvenation. And for many people, drifting into unconsciousness is a hurdle that must be overcome with the aid of herbal teas and midnight reruns of the Golden Girls.
What I'm getting at is that it's understandable if people need their alone time while they're asleep. No touching? No problem!
Relationship psychologist Corrine Sweet understands. She told the Telegraph:
"Inevitably, once the first flush of lust wears off, with couples naked and entwined, it is more likely the need for a good night's sleep predominates, so sleeping back to back becomes a favorable position in bed."
Whoa, wait. Do couples actually sleep naked and entwined? Aside from on the covers of drugstore romance novels, I mean? Yes, they do, albeit a small percentage. One percent of couples actually sleep in the "heroic, romantic movie scene sleeping position," which constitutes the man lying on his back facing up and the woman's head nestled in his chest. Good for the 1 percent.
But that's not where the study ends. In addition to forgoing the goodnight kiss, 90 percent of couples apparently don't say, "I love you" before turning out the lights, either. And sadly, one in four couples repeatedly argue in bed because one keeps the other awake.
The survey also revealed that half of us think our sex lives would be improved with some cuddle time. Contrary to stereotypes, men are actually the ones campaigning for cuddling, with 67 percent of them saying they would like more of it.
Sleep is important, I understand. But saying, "I love you" and puckering up don't deprive you of any slumber. And if you can make time for sex, why not toss in some snuggling while you're at it?
These relationship habits may seem minor, and indeed, they're little things. But the little things shouldn't be forgotten.
Bing: Get the spark back in your relationship.
Photo: Diane Diederich/Getty Images
More Sex & Love on MSN Living:
10 Reasons He Hasn't Asked You to Marry Him
10 Things He Should Do to Make You Happy
What His Date Style Says About Him
8 Words That Give a Liar Away
6 Fascinating Facts About Exes
love: friendships, dating, sex & marriage
Forgotten what love is all about? Read this note, and remember.

And a few that aren't so shocking.

If you find yourself doing any of these things, consider changing your behavior or counseling.

From pineapple sculptures made out of sunflowers to bold graphic printed tablecloths, ten trendsetters in the wedding industry shared 100 days' worth of inspiring new wedding details. See The Knot editors' top picks for the coolest and most awe-worthy ideas from the wedding experts.

Those Facebook friends who seem to have perfect lives with flawless mates whom they adore at all times? Even they face tough times like these.

How to flag her little fibs. By Laura Tedesco

A new study on attraction may help explain why fashions change.

As a general rule, any island that offers great weather year-round is going to attract the most visitors in the winter (high season) when we're all trying to escape the snow. Once summer rolls around, many islands see a sharp drop-off in tourism since many people have beach weather right in their own backyards.

And how you can attack the issues together.

A wedding is an exceptionally special day. Sometimes, an opportune photo flub makes the occasion even more memorable. Here are 25 awesome wedding photo bombs.

Somewhere between the first few butterfly-inducing dates and the committed-for-life stage, there's the period of wondering if you're both on the same page about how serious you feel about a future together. If you're not quite at the point of "that talk" but you're looking for a few clues you're heading in that direction, here are some signs he's in it for the long haul as your relationship progresses.

What's that sound? It's white noise blocking out the well-meaning person proclaiming groundbreaking news about where you can meet someone, asking why you're still single, or bugging you about when you're getting married already. Don't be that person. Here are 15 annoying things all single people don't want to hear.