Two Words That Can Improve Your Relationship
A simple way to boost your relationship happiness.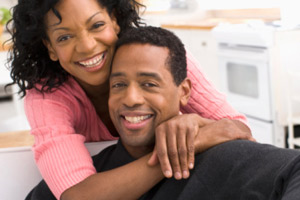 It's simple manners, really, but new research has found that boosting relationship happiness might be as easy as saying 'thank you.' Researchers at the University of California, Berkeley, found that couples who appreciated each other were less likely to split and more likely to increase their relationship commitment.
Researchers examined 50 couples who were in relationships for approximately 15 months. Each night for about a week, participants filled questionnaires about their relationship, documenting how appreciative they felt toward their partner.
The study found that when people reported feeling appreciated, they were more likely to report feeling appreciative of their partner the next night. What's more, couples who appreciated each other were less likely to have broken up nine months later, when researchers checked in on them. In fact; those couples were also more committed to each other at that time.
"Feeling appreciated by your partner influences how you act in your relationship, and how much you want to stay in that relationship," study researcher Amie Gordon told LiveScience. "Instead of just waiting for the other person to make you feel good, you can jumpstart that cycle and take it into your own hands by focusing on what's good in your relationship."
Sounds simple enough. But I think at some point, we're all guilty of expecting simple acts of kindness from our partner rather than taking the time to appreciate them.
But it's not just about 'thank you.'
The researchers also brought subjects into the lab and monitored their interactions. Ranging in age from 18 to 60, half of the couples were living together. Researchers documented how the participants interacted, how often they touched each other, how engaged they were in conversation, and how often they made eye contact.
Unsurprisingly, couples who were gentle and caring toward each other were in happier relationships.
"What goes wrong in a lot of relationships is you start to take your partner for granted," Gordon explained. "You get used to having them in your life and forget why you chose to be with them."
And a kind touch and a caring look go a long way. Gordon continued:
"When you are appreciative and you notice the value in your partner, it helps you realize what you have and makes you want to hold on to it.  You have something good and you think, 'I want to keep it.' You are more responsive, you tend to their needs, and you are more thoughtful."
Not surprised by this study? You're not alone. But if anything, it serves as a reminder to make sure your significant other knows he or she is appreciated—a simple way to improve your relationship.
Photo: Getty Images
More on love & sex from MSN Living:

The Most Amazing Wedding Venues in the World

12 Fourth of July Wedding Ideas
love: friendships, dating, sex & marriage
This just in: A new study shows girls are warriors in the womb.

You can make a pros and cons list...but ultimately you know what works best for you.

Maggie Reyes is a life coach, writer, and the founder of ModernMarried.com. She helps newlyweds re-think what married life can be. Here, she's revealing tricks every newlywed couple needs to know.

Government-supported Vietnamese classes teach women Korean language, customs.

Whether you're into creative artists or uber-preppy bankers, there's something to be said for trying something new.

Sometimes two characters on a TV show or movie can portray being a happy couple effortlessly, or can have lots of fun playing former spouses — especially if they're married to each other in real life! Keep scrolling for six celebrity costars you probably didn't know tied the knot, even after the bloodiest and craziest story lines.

Some couples want nothing more than a laid-back, by-the-book proposal. Then there are the other couples, where the proposal not only needs to be personalized, it also has to be unique and entirely different than the typical restaurant, bended-knee idea. Sound like you? Then get inspired by some of the most creative proposal ideas we've ever seen. If you find something you like, steal it and then modify it to make your proposal something totally unforgettable.

From Nantucket all the way to Cayo Espanto, we've rounded up some of the prettiest beaches to travel to for your honeymoon.

Researchers studied the age-old stereotype that women really are more talkative than men.

'There is a science behind attraction,' SingldOut says.

One minute you're happy and in love, the next he's delivering the "It's not you, it's me" speech. Why? We have the scoop on the real reasons most couples split up.

Want to keep your wedding budget in check? Start by checking out this list of the 10 things that could end up costing you a lot more than you anticipated.