Two Words That Can Improve Your Relationship
A simple way to boost your relationship happiness.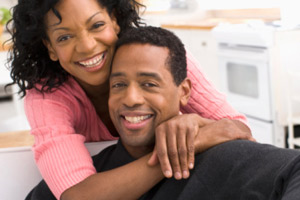 It's simple manners, really, but new research has found that boosting relationship happiness might be as easy as saying 'thank you.' Researchers at the University of California, Berkeley, found that couples who appreciated each other were less likely to split and more likely to increase their relationship commitment.
Researchers examined 50 couples who were in relationships for approximately 15 months. Each night for about a week, participants filled questionnaires about their relationship, documenting how appreciative they felt toward their partner.
The study found that when people reported feeling appreciated, they were more likely to report feeling appreciative of their partner the next night. What's more, couples who appreciated each other were less likely to have broken up nine months later, when researchers checked in on them. In fact; those couples were also more committed to each other at that time.
"Feeling appreciated by your partner influences how you act in your relationship, and how much you want to stay in that relationship," study researcher Amie Gordon told LiveScience. "Instead of just waiting for the other person to make you feel good, you can jumpstart that cycle and take it into your own hands by focusing on what's good in your relationship."
Sounds simple enough. But I think at some point, we're all guilty of expecting simple acts of kindness from our partner rather than taking the time to appreciate them.
But it's not just about 'thank you.'
The researchers also brought subjects into the lab and monitored their interactions. Ranging in age from 18 to 60, half of the couples were living together. Researchers documented how the participants interacted, how often they touched each other, how engaged they were in conversation, and how often they made eye contact.
Unsurprisingly, couples who were gentle and caring toward each other were in happier relationships.
"What goes wrong in a lot of relationships is you start to take your partner for granted," Gordon explained. "You get used to having them in your life and forget why you chose to be with them."
And a kind touch and a caring look go a long way. Gordon continued:
"When you are appreciative and you notice the value in your partner, it helps you realize what you have and makes you want to hold on to it.  You have something good and you think, 'I want to keep it.' You are more responsive, you tend to their needs, and you are more thoughtful."
Not surprised by this study? You're not alone. But if anything, it serves as a reminder to make sure your significant other knows he or she is appreciated—a simple way to improve your relationship.
Photo: Getty Images
More on love & sex from MSN Living:

The Most Amazing Wedding Venues in the World

12 Fourth of July Wedding Ideas
love: friendships, dating, sex & marriage
No sense in wasting your time on someone who will never commit.

There he is, the man of your dreams. He's sitting across from you at the coffee shop or standing at the opposite side of the bar. His eyes meet yours, a quick glance, and then it's back to his drink. Was he giving you a signal?

Remember that time on "30 Rock" when Liz Lemon and her eventual-husband Criss went shopping at Ikea, only to end up in a major fight? We know it couldn't be closer to the truth because we've all been there. In honor of the irritation that can be Ikea, here are the top fights you'll likely encounter.

Love it or hate it, the selfie wields much power.

Dating doesn't have to be a daunting task, promise. Here's how to make it fun for you and him.

One woman's honest journey to divorce will break your heart and inspire you at the same time.

Want to send your date running? Try one these moves.

Two guests arrested in New Jersey.

Celebrities certainly know how to travel in style, so if you're struggling to select a honeymoon destination, look no further than these star-approved hotspots. To make it even easier, we're providing you with hotel recommendations, packing essentials, and tips on what to do and see! So channel your inner celeb at one of these U.S. destinations for an unforgettable vacation!

Tall Twitter users named Wayne, we're on to you!

Should little girls be dreaming of a different kind of "I do"?

Need a reason to pack your bags and get the hell out of here?