Two Words That Can Improve Your Relationship
A simple way to boost your relationship happiness.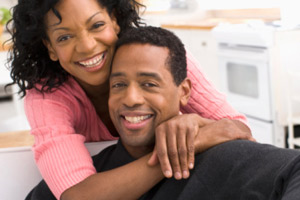 It's simple manners, really, but new research has found that boosting relationship happiness might be as easy as saying 'thank you.' Researchers at the University of California, Berkeley, found that couples who appreciated each other were less likely to split and more likely to increase their relationship commitment.
Researchers examined 50 couples who were in relationships for approximately 15 months. Each night for about a week, participants filled questionnaires about their relationship, documenting how appreciative they felt toward their partner.
The study found that when people reported feeling appreciated, they were more likely to report feeling appreciative of their partner the next night. What's more, couples who appreciated each other were less likely to have broken up nine months later, when researchers checked in on them. In fact; those couples were also more committed to each other at that time.
"Feeling appreciated by your partner influences how you act in your relationship, and how much you want to stay in that relationship," study researcher Amie Gordon told LiveScience. "Instead of just waiting for the other person to make you feel good, you can jumpstart that cycle and take it into your own hands by focusing on what's good in your relationship."
Sounds simple enough. But I think at some point, we're all guilty of expecting simple acts of kindness from our partner rather than taking the time to appreciate them.
But it's not just about 'thank you.'
The researchers also brought subjects into the lab and monitored their interactions. Ranging in age from 18 to 60, half of the couples were living together. Researchers documented how the participants interacted, how often they touched each other, how engaged they were in conversation, and how often they made eye contact.
Unsurprisingly, couples who were gentle and caring toward each other were in happier relationships.
"What goes wrong in a lot of relationships is you start to take your partner for granted," Gordon explained. "You get used to having them in your life and forget why you chose to be with them."
And a kind touch and a caring look go a long way. Gordon continued:
"When you are appreciative and you notice the value in your partner, it helps you realize what you have and makes you want to hold on to it.  You have something good and you think, 'I want to keep it.' You are more responsive, you tend to their needs, and you are more thoughtful."
Not surprised by this study? You're not alone. But if anything, it serves as a reminder to make sure your significant other knows he or she is appreciated—a simple way to improve your relationship.
Photo: Getty Images
More on love & sex from MSN Living:

The Most Amazing Wedding Venues in the World

12 Fourth of July Wedding Ideas
love: friendships, dating, sex & marriage
Brad Pitt and Angelina Jolie finally took the plunge, but marriage isn't always a good choice for everyone.

Learn how these surprising tactics can really improve your relationship.

Use these tips to up your chances of finding love.

Find out how paired-off ladies might feel lacking—and how you can make your relationship satisfying.

These signals are seriously subtle, but they can give you real insight into what's going through your husband's mind.

Check which changes are necessary to stay happy together.

We know some of this may sound obvious, but these simple statements can make both of you happier.

Making your relationship more secure, connected, and intimate doesn't have to feel overwhelming. Try these expert tips and reap the rewards now—and in the long run.

For those times when nothing big and horrible happened--but nothing is feeling right either.

What's more fun than animals in weddings? We've rounded up eight of the cutest.

Your puppy is all over your Instagram, Facebook and fridge, so there's no reason not to include him in your engagement pictures too. The best engagement photos give viewers a peek into your life. If you're a dog owner, take this opportunity to show off your pooch, like these 22 couples did! And we can't thank them enough.

Our married blogger gets real about checking out other guys when you're taken.