Two Words That Can Improve Your Relationship
A simple way to boost your relationship happiness.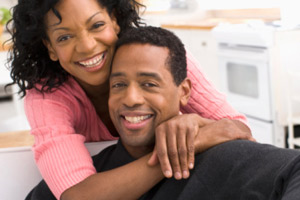 It's simple manners, really, but new research has found that boosting relationship happiness might be as easy as saying 'thank you.' Researchers at the University of California, Berkeley, found that couples who appreciated each other were less likely to split and more likely to increase their relationship commitment.
Researchers examined 50 couples who were in relationships for approximately 15 months. Each night for about a week, participants filled questionnaires about their relationship, documenting how appreciative they felt toward their partner.
The study found that when people reported feeling appreciated, they were more likely to report feeling appreciative of their partner the next night. What's more, couples who appreciated each other were less likely to have broken up nine months later, when researchers checked in on them. In fact; those couples were also more committed to each other at that time.
"Feeling appreciated by your partner influences how you act in your relationship, and how much you want to stay in that relationship," study researcher Amie Gordon told LiveScience. "Instead of just waiting for the other person to make you feel good, you can jumpstart that cycle and take it into your own hands by focusing on what's good in your relationship."
Sounds simple enough. But I think at some point, we're all guilty of expecting simple acts of kindness from our partner rather than taking the time to appreciate them.
But it's not just about 'thank you.'
The researchers also brought subjects into the lab and monitored their interactions. Ranging in age from 18 to 60, half of the couples were living together. Researchers documented how the participants interacted, how often they touched each other, how engaged they were in conversation, and how often they made eye contact.
Unsurprisingly, couples who were gentle and caring toward each other were in happier relationships.
"What goes wrong in a lot of relationships is you start to take your partner for granted," Gordon explained. "You get used to having them in your life and forget why you chose to be with them."
And a kind touch and a caring look go a long way. Gordon continued:
"When you are appreciative and you notice the value in your partner, it helps you realize what you have and makes you want to hold on to it.  You have something good and you think, 'I want to keep it.' You are more responsive, you tend to their needs, and you are more thoughtful."
Not surprised by this study? You're not alone. But if anything, it serves as a reminder to make sure your significant other knows he or she is appreciated—a simple way to improve your relationship.
Photo: Getty Images
More on love & sex from MSN Living:

The Most Amazing Wedding Venues in the World

12 Fourth of July Wedding Ideas
love: friendships, dating, sex & marriage
The typical wedding: A white dress, tiered cake, floral centerpieces and a cute flower girl -- you know the drill. Every once in a while, though, a couple trades in tradition for a quirky, never-seen-that-before idea. Here are a few of the most out-there wedding photos that made us do a double take.

There's a lot to love about weddings this fall, like cocktails served in copper Moscow mule mugs, industrial-inspired lighting and pheasant feather details. See what's new!

Do you have to be engaged to sport a ring with bling?

124.6 million haven't gotten hitched.

Even though the national average wedding is $29,858, that's just an average. If you live in a smaller state like Idaho where the average wedding costs $16,159, you may find yourself saving a little more than half of the national spend! Check out some of the other least expensive cities to get married in below:

Summer is winding down, but the ubiquitous summer romance lives on.

For those times when nothing big and horrible happened--but nothing is feeling right either.

He's confident, distinguished and anywhere from 4 to 20 years older than you. Age is just a number, but there's something about older men that we love. Here are eight reasons why being in a relationship with an older man is tops.

While a younger man may have less life experience, that doesn't mean he's not emotionally mature. Here are the eight reasons why being in a relationship with a younger man is tops.

Have you ever wondered what the 'other woman' was thinking?

So fall is coming and you need some romantic inspiration now that long walks on the beach are out of the question. Well look no further! From apple picking to pumpkin carving, these are some great fall date ideas from girls just like you!

Getting bored of the same dinner and movie date night? Take an adorable cue from your favorite celebs and try something new! From dancing to boxing you can't go wrong with these awesome date ideas.