Military couples more likely to divorce, study says
The Department of Defense says couples married before 9/11 are at greater risk of splitting up.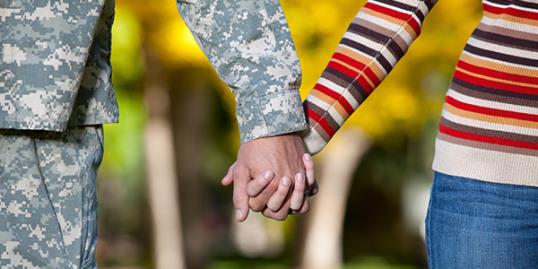 A disheartening study sponsored by the Department of Defense has found a link between divorce and military marriages. According to the study, when one or both military spouses are deployed overseas for a year, their risk of divorce increases by 28 percent.
MSN Living:  Soldier's homecoming turns into surprise proposal
Interestingly, the above statistic was only found for couples who married before the Sept. 11 terrorist attacks; the same was not found for couples who marred after Sept. 11. The Department of Defense commissioned the study of nearly 500,000 soldiers over a period of nine years.
It also found that location of deployment was significant. Divorce risk was higher when a spouse was deployed to a hostile area, rather than a non-hostile one.
If there's a silver lining to this study, it's that the risk of divorce was lower among military families with children. Read more about the report here.
More from The Heart Beat: 
Love letter delivered after nearly 70 years
More couples get married without God
Heartbroken bride finds another groom at wedding
Subscribe to The Heart Beat | Friend us on Facebook, follow us on Twitter and find us on Pinterest.
Photo: Daniel Bendjy/Getty Images
love: friendships, dating, sex & marriage
It's wedding season! Let's take a look back at when these stunning celebs put on gorgeous gowns and held beautiful bouquets in support of their friends' and family members' big days.

A new study says we're more open to consensual non-monogamy now than ever before — but does it work?

5 steps to being happy together in the long run.

There has been an exponential increase in the number of people who are questioning their marriage.

We're willing to bet that if you're not already grappling with these wedding-related snags, you will be soon.

Pull out the tissues for these personalized wedding vows.

Forgotten what love is all about? Read this note, and remember.

And a few that aren't so shocking.

If you find yourself doing any of these things, consider changing your behavior or counseling.

From pineapple sculptures made out of sunflowers to bold graphic printed tablecloths, ten trendsetters in the wedding industry shared 100 days' worth of inspiring new wedding details. See The Knot editors' top picks for the coolest and most awe-worthy ideas from the wedding experts.

Those Facebook friends who seem to have perfect lives with flawless mates whom they adore at all times? Even they face tough times like these.

How to flag her little fibs. By Laura Tedesco