Get over your ex the right way
Heartbreak is brutal. Here's how to move on in a healthy way.
Heartbreak is brutal. Following a breakup, time seems to move slowly and all you can think about is how much you miss your boyfriend-turned-ex.​ It's easy to dwell on the past, but eventually you have to move on. Though people deal with breakups differently, there are some tried-and-true ways to get over him. We spoke to Laura Bradley, a therapist and the clinical director of Steadfast Counselling, and college women about healthy ways to move on.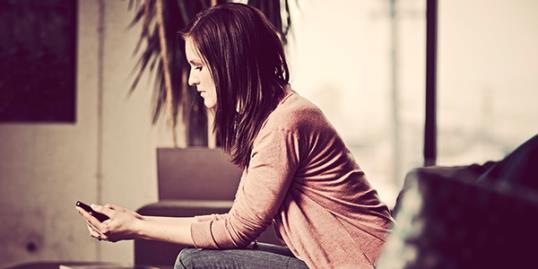 Be honest about your feelings
Although it's good to distract yourself to keep from dwelling on the relationship, it's important to realize when you're trying to suppress your feelings. By pretending that you're feeling fine when you're not, you're only prolonging the heartache and slowing down the healing process, as Stephanie Taylor, a graduate of Oklahoma State University, learned.
MSN Living: 20 ways to survive and feel better after a breakup
"I tried to pretend I was OK and wear a smile for people when I was really a mess," Stephanie says. "Being around him on campus was so hard, so I just pretended [I was happy]. I went to parties and acted as if he never mattered."
It wasn't until a year later that she finally realized she wasn't OK and decided to face the truth.
"I knew I hadn't gotten over it because it still hurt and I hadn't given myself the time I needed to move on," she says. "So I started getting honest about how I felt. I let myself cry. I just got real and did what I needed to do for myself to get better."
Rebuild neglected relationships
Looking back on your relationship, you may have been so head-over-heels in love that you didn't realize how much you took your family and friends for granted. Now that the relationship is over, why not use your free time to reconnect with people you might have lost touch with? That's what Allie Sutherland, a junior at Syracuse University, did after her last breakup.
Bing: Best things to do after a breakup
"I'm actually seven months into single life after a three-year relationship ended, and it's allowed me to reflect and realize how much I was prioritizing my role as a girlfriend over the [other] roles in my life," Allie says. "Now that I could focus on being a better friend, sister and daughter, I've made my relationships with my friends and family so much stronger, and I feel like a much more well-rounded person . . . I'm much more appreciative and thankful for my support system that has always been there for me."
MSN Living: 20 of the most annoying kinds of couples
If you worry that your friends might reject you after you've neglected them in favor of spending more time with your boyfriend, don't, Bradley says. "Even if you haven't seen your friends as often as you used to, they'll be there," she says.
Start by genuinely apologizing to your friends and admitting that you regret the lack of time spent with them. Let them know that you value their friendship, and not just because you're lonely now. Offer to take them out for lunch or coffee as a way to make amends and catch up.
Reconnecting with people who you were close to before the relationship started will not only remind you that there are people in your life besides your ex, but they'll also be there to comfort you through the breakup.
Don't be afraid to talk it out
Talking about your heartache will help you heal. Now that you've reconnected with your girlfriends, let it all out. Tell them everything you're feeling -- anger, sadness, confusion -- and don't be afraid to cry! They'll not only lend you their shoulders, they'll also help you look back on the relationship with clearer eyes. They can be sympathetic, but also blunt if they need to be.
"My best friend told me all the ways [my ex] was so wrong for me and how he was so immature and by showing all his flaws," says Shira Kipnees, a rising junior at Franklin & Marshall College. "I could see that he clearly wasn't right for me and that I could do better and move on."
However, there is a limit to letting out your emotions. It's important to vent your feelings to your friends, but make sure that after you've let them out, you pick yourself up and move on. After some time has passed, if you're still dwelling on the past and making no effort to move on, don't be surprised if your friends start to get less sympathetic. "After a week or so of being upset, everyone told me to just move on and get over it, which was another wake-up call for me," says Shira. Your friends will want what's best for you, which is for you to be able to move past the breakup, after all.
Breakups take time to get over, so if you still need to express yourself but don't want to annoy your friends any longer, make a new friend -- a journal. You'll be surprised at how writing down your emotions can feel just as good as venting to a friend.
Cut off all contact with your ex
Even if you want to be friends with your ex in the future, the initial days and weeks after the breakup will be full of so much emotion that you're better off avoiding a conversation with him if you can. Talking to your ex can bring up sad, angry or nostalgic feelings and make it harder for you to move on; sometimes, it can just make you feel worse. Shira learned this the hard way.
"The guy I dated before my current boyfriend broke up with me on our three-month anniversary via Facebook chat, and at first I took it really hard," she says. He later contacted her through Facebook chat to apologize for breaking up with her via Facebook chat! "[That's what] made me decide to move on," she says. "I took him off my newsfeed and made myself offline on chat so I never had to hear from him again."
Out of sight, out of mind checklist:
Delete him from your Facebook (and Twitter, Instagram, Tumblr, etc.) friend list, or change your settings to stop getting his activity on your newsfeed.
Take his phone number out of your contacts.
Delete any photos you have together or painful reminders of the relationship (including old emails or texts).
Throw or store away any things of his you may still have. Don't be tempted to return them in person. If you must, get a third party to do it for you!
Focus on yourself
Your boyfriend-filled days not only took time away from family and friends, they also took time away from yourself. Now that you're not dedicating so much time to a guy, it's time to build up your self-esteem by focusing on bettering yourself, whether it is studying harder to improve your grades, putting in volunteer hours for your resume, or hitting the gym to improve your health.
Kelsey Mulvey, HerCampus.com's How She Got There editor and a senior at Boston University, found that the time following a breakup was the perfect time for her to start investing in herself and her future.
"Once my ex and I broke up, it was very obvious that he was holding me back in a number of ways," says Kelsey. "I took my breakup as an opportunity to move my career forward. I became more invested in my extracurricular [activities] and writing positions, for example. As a result, I feel like I've turned into an improved and more independent version of myself."
Similarly, following her devastating breakup, Jenna Kapsis, a junior and campus correspondent for the HerCampus chapter at William Paterson University of New Jersey, focused her energy on getting involved in her school's HC chapter.
"I discovered the HC website a month after I had a horrible breakup," says Jenna. "It seemed perfect because I wanted to be involved in something that was fun and girly that was also going to benefit my future. So, I focused on bettering myself and being more successful."
Focusing on yourself will build your self-esteem -- you'll realize you can make things happen for yourself and don't need to rely on a guy for happiness!
More from The Heart Beat:
State with the highest divorce rate is ...
Couple has wedding for under $2
Couple remarry nearly 50 years after their divorce
Subscribe to The Heart Beat | Friend us on Facebook, follow us on Twitter and find us on Pinterest.
For the rest of the article and more love advice, check out HerCampus.com!
Photo: Joey Boylan/Getty Images
love: friendships, dating, sex & marriage
It might be time to let go of our general assumption that long-distance relationships are pure torture.

Researchers in a recent study conclude that men are better at focusing on one task, while women are more attuned to multi-task.

Experts say a meaningful gift is an extension of a healthy relationship (no pressure, though!).

It's normal to want to be accepted by your in-laws. But feeling that you need to be accepted can bring complications, causing you to be uncomfortable and unnatural around them.

One New York couple breaks down the highs and lows of their year together and even asks friends and family to weigh in.

Okay, prepare the tissues. We've rounded up the top ten viral love stories of the year. These stories are the ones that tugged at our heartstrings and went wild on the internet. And for good reason! These stories set the internet on fire and nearly crashed our computers, all because they revolve around the most important emotion in the world: love.

Man's best friend might have just become his mortal enemy due to stealing his woman.

Can a long-term union be happy without sex? One 34-year-old mom says yes. She anonymously shares all the not-so-dirty details of why not getting busy led to her wedded bliss.

Gluten-free? Mac lover? Pixie? There's a dating site for you.

Dating can lead to all kinds of tricky situations. To help you navigate even the most awkward moments, we've compiled our 50 best dating tips—some new, some old—given to us by experts, moms, women like you, and even Justin Timberlake.

This time of year, we dust off our holiday traditions of special songs, stories, events and food to make our season bright. Here's a look into the traditional, unique and quirky holiday traditions of some famous couples.

Two steps forward, one giant fight afterward?