Study Finds Friends With Benefits Can Lead to Long-Term Love
If Harry and Sally were sex buddies, they could've still ended up together.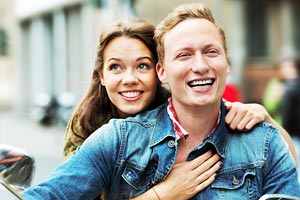 It might be an awkward "how I met your mother" story, but a new study shows that couples who start out as casual sex buddies can later make the shift into long term partners without their histories getting in the way.
In fact, the study's lead author went so far as to assert, "friends with benefits may actually be the new form of dating."
Jesse Owen, a professor of psychology at the University of Louisville, led the study along with Frank Fincham from Florida State University. Owen and Fincham researched the behaviors of 764 men and women who were in serious relationships. They sought to find out whether a "friends with benefits" (FWB) past had any impact on a couple's ability to thrive in a blossoming, exclusive relationship. They found that although a FWB relationship is unconventional and stereotypically tumultuous, couples who start out that way are no more likely to fail than any other couple.
"Commitment is a foundation of any relationship," Owen told the Vancouver Sun. "And friends with benefits are really unstable, almost by definition. We thought that would carry forward but it didn't happen."
Of the 764 participants, 20 percent started out as FWB. Researchers tested relationship satisfaction, communication quality and relationship status ambiguity (not answering the "what are we?" question). They were surprised to find that FWB histories were "basically a non-factor in the health and viability of those people's relationships."
Four months later, Owen and Fincham checked back in with the couples to see who had broken up and who was still going strong. They found that FWB couples were no more likely to have separated than non-FWB couples.
There's no denying the instability and complexity of the FWB relationship, so it's understandable that Owen was surprised by the results. He offers two possible explanations.
First, there's the chance that the FWB couples entered the casual relationship with the hopes that it would blossom into something more serious—and it did.
A second explanation Owen offers is that the couples must have had a serious talk about changing their relationship status at some point, and that conversation set the course for healthy communication in the future.
Either way, Owen concludes:
"Just because people start out as friends with benefits, doesn't necessarily mean a doomsday scenario for their relationship."
Good news for sex buddies ready to settle down.
Photo: Lise Gagne/Getty Images
More on love & sex from MSN Living:
The 10 Worst First Date Ideas of All Time
The Most Memorable Star-Crossed Movie Couples
10 Rom-Coms That Won't Put Your Guy To Sleep
love: friendships, dating, sex & marriage
This time of year, we dust off our holiday traditions of special songs, stories, events and food to make our season bright. Here's a look into the traditional, unique and quirky holiday traditions of some famous couples.

Look, I looooove engagement season for obvious reasons, but even I can admit I'm like, "Really, AGAIN?" when yet ANOTHER engagement ring pops up in my news feed. Seriously, there were two this weekend. (Congrats, Gemma and Danny!)

We asked real men and women (and a few first-base experts, too) to give us the cardinal rules of kissing, tell us what makes someone a good kisser and more. So whether you're leaning in for kiss No. 1 or 1,000, read on.by Devin Tomb

Not quite sure which diamond shape suits your personality? We're here to help.

Dating can lead to all kinds of tricky situations. To help you navigate even the most awkward moments, we've compiled our 50 best dating tips—some new, some old—given to us by experts, moms, women like you, and even Justin Timberlake.

Customers as Madison's new Snuggle House can snuggle with professional cuddlers for $60 an hour.

Can you believe it was only about 15 years ago that engagement ring shopping meant a time-consuming slog from jewelry boutique to jewelry boutique? Thank goodness for the internet; nowadays, it's easy to do all that legwork online.

The holiday season, with all its twinkly lights and fireplaces and cold nights perfect for snuggling, is most definitely for lovers—but "The Single Woman" author Mandy Hale is here to remind you that it's also for singles, too.

Studies show that being satisfied with your romantic relationship is one of the best predictors of happiness -- even more important than education, income, or having a high-status job. Resolve to make 2014 your happiest year yet with these bond-strengthening pledges.

This winter, it's all about mixing unexpected seasonal elements with elegant neutral details and a hint of sparkle and sequins. Take a look.

Here's why dudes without hair make the best boyfriends.

What do you wish you appreciated more when you were flying solo?