Study Finds Friends With Benefits Can Lead to Long-Term Love
If Harry and Sally were sex buddies, they could've still ended up together.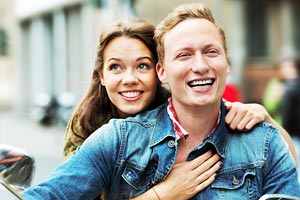 It might be an awkward "how I met your mother" story, but a new study shows that couples who start out as casual sex buddies can later make the shift into long term partners without their histories getting in the way.
In fact, the study's lead author went so far as to assert, "friends with benefits may actually be the new form of dating."
Jesse Owen, a professor of psychology at the University of Louisville, led the study along with Frank Fincham from Florida State University. Owen and Fincham researched the behaviors of 764 men and women who were in serious relationships. They sought to find out whether a "friends with benefits" (FWB) past had any impact on a couple's ability to thrive in a blossoming, exclusive relationship. They found that although a FWB relationship is unconventional and stereotypically tumultuous, couples who start out that way are no more likely to fail than any other couple.
"Commitment is a foundation of any relationship," Owen told the Vancouver Sun. "And friends with benefits are really unstable, almost by definition. We thought that would carry forward but it didn't happen."
Of the 764 participants, 20 percent started out as FWB. Researchers tested relationship satisfaction, communication quality and relationship status ambiguity (not answering the "what are we?" question). They were surprised to find that FWB histories were "basically a non-factor in the health and viability of those people's relationships."
Four months later, Owen and Fincham checked back in with the couples to see who had broken up and who was still going strong. They found that FWB couples were no more likely to have separated than non-FWB couples.
There's no denying the instability and complexity of the FWB relationship, so it's understandable that Owen was surprised by the results. He offers two possible explanations.
First, there's the chance that the FWB couples entered the casual relationship with the hopes that it would blossom into something more serious—and it did.
A second explanation Owen offers is that the couples must have had a serious talk about changing their relationship status at some point, and that conversation set the course for healthy communication in the future.
Either way, Owen concludes:
"Just because people start out as friends with benefits, doesn't necessarily mean a doomsday scenario for their relationship."
Good news for sex buddies ready to settle down.
Photo: Lise Gagne/Getty Images
More on love & sex from MSN Living:
The 10 Worst First Date Ideas of All Time
The Most Memorable Star-Crossed Movie Couples
10 Rom-Coms That Won't Put Your Guy To Sleep
love: friendships, dating, sex & marriage
It's not that you don't find every little thing about your partner endearing and adorable; it's just that it would have been really, really nice if that map could have been consulted three hours ago.

The typical wedding: A white dress, tiered cake, floral centerpieces and a cute flower girl -- you know the drill. Every once in a while, though, a couple trades in tradition for a quirky, never-seen-that-before idea. Here are a few of the most out-there wedding photos that made us do a double take.

There's a lot to love about weddings this fall, like cocktails served in copper Moscow mule mugs, industrial-inspired lighting and pheasant feather details. See what's new!

Do you have to be engaged to sport a ring with bling?

124.6 million haven't gotten hitched.

Even though the national average wedding is $29,858, that's just an average. If you live in a smaller state like Idaho where the average wedding costs $16,159, you may find yourself saving a little more than half of the national spend! Check out some of the other least expensive cities to get married in below:

Summer is winding down, but the ubiquitous summer romance lives on.

For those times when nothing big and horrible happened--but nothing is feeling right either.

He's confident, distinguished and anywhere from 4 to 20 years older than you. Age is just a number, but there's something about older men that we love. Here are eight reasons why being in a relationship with an older man is tops.

While a younger man may have less life experience, that doesn't mean he's not emotionally mature. Here are the eight reasons why being in a relationship with a younger man is tops.

Have you ever wondered what the 'other woman' was thinking?

So fall is coming and you need some romantic inspiration now that long walks on the beach are out of the question. Well look no further! From apple picking to pumpkin carving, these are some great fall date ideas from girls just like you!