Study Finds Friends With Benefits Can Lead to Long-Term Love
If Harry and Sally were sex buddies, they could've still ended up together.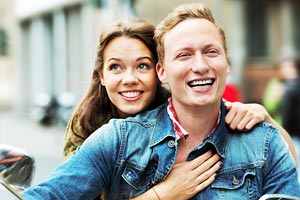 It might be an awkward "how I met your mother" story, but a new study shows that couples who start out as casual sex buddies can later make the shift into long term partners without their histories getting in the way.
In fact, the study's lead author went so far as to assert, "friends with benefits may actually be the new form of dating."
Jesse Owen, a professor of psychology at the University of Louisville, led the study along with Frank Fincham from Florida State University. Owen and Fincham researched the behaviors of 764 men and women who were in serious relationships. They sought to find out whether a "friends with benefits" (FWB) past had any impact on a couple's ability to thrive in a blossoming, exclusive relationship. They found that although a FWB relationship is unconventional and stereotypically tumultuous, couples who start out that way are no more likely to fail than any other couple.
"Commitment is a foundation of any relationship," Owen told the Vancouver Sun. "And friends with benefits are really unstable, almost by definition. We thought that would carry forward but it didn't happen."
Of the 764 participants, 20 percent started out as FWB. Researchers tested relationship satisfaction, communication quality and relationship status ambiguity (not answering the "what are we?" question). They were surprised to find that FWB histories were "basically a non-factor in the health and viability of those people's relationships."
Four months later, Owen and Fincham checked back in with the couples to see who had broken up and who was still going strong. They found that FWB couples were no more likely to have separated than non-FWB couples.
There's no denying the instability and complexity of the FWB relationship, so it's understandable that Owen was surprised by the results. He offers two possible explanations.
First, there's the chance that the FWB couples entered the casual relationship with the hopes that it would blossom into something more serious—and it did.
A second explanation Owen offers is that the couples must have had a serious talk about changing their relationship status at some point, and that conversation set the course for healthy communication in the future.
Either way, Owen concludes:
"Just because people start out as friends with benefits, doesn't necessarily mean a doomsday scenario for their relationship."
Good news for sex buddies ready to settle down.
Photo: Lise Gagne/Getty Images
More on love & sex from MSN Living:
The 10 Worst First Date Ideas of All Time
The Most Memorable Star-Crossed Movie Couples
10 Rom-Coms That Won't Put Your Guy To Sleep
love: friendships, dating, sex & marriage
It's wedding season! Let's take a look back at when these stunning celebs put on gorgeous gowns and held beautiful bouquets in support of their friends' and family members' big days.

A new study says we're more open to consensual non-monogamy now than ever before — but does it work?

5 steps to being happy together in the long run.

There has been an exponential increase in the number of people who are questioning their marriage.

We're willing to bet that if you're not already grappling with these wedding-related snags, you will be soon.

Pull out the tissues for these personalized wedding vows.

Forgotten what love is all about? Read this note, and remember.

And a few that aren't so shocking.

If you find yourself doing any of these things, consider changing your behavior or counseling.

From pineapple sculptures made out of sunflowers to bold graphic printed tablecloths, ten trendsetters in the wedding industry shared 100 days' worth of inspiring new wedding details. See The Knot editors' top picks for the coolest and most awe-worthy ideas from the wedding experts.

Those Facebook friends who seem to have perfect lives with flawless mates whom they adore at all times? Even they face tough times like these.

How to flag her little fibs. By Laura Tedesco