Study Finds Friends With Benefits Can Lead to Long-Term Love
If Harry and Sally were sex buddies, they could've still ended up together.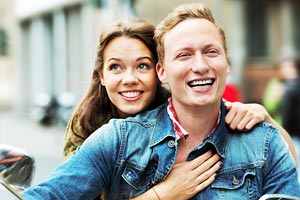 It might be an awkward "how I met your mother" story, but a new study shows that couples who start out as casual sex buddies can later make the shift into long term partners without their histories getting in the way.
In fact, the study's lead author went so far as to assert, "friends with benefits may actually be the new form of dating."
Jesse Owen, a professor of psychology at the University of Louisville, led the study along with Frank Fincham from Florida State University. Owen and Fincham researched the behaviors of 764 men and women who were in serious relationships. They sought to find out whether a "friends with benefits" (FWB) past had any impact on a couple's ability to thrive in a blossoming, exclusive relationship. They found that although a FWB relationship is unconventional and stereotypically tumultuous, couples who start out that way are no more likely to fail than any other couple.
"Commitment is a foundation of any relationship," Owen told the Vancouver Sun. "And friends with benefits are really unstable, almost by definition. We thought that would carry forward but it didn't happen."
Of the 764 participants, 20 percent started out as FWB. Researchers tested relationship satisfaction, communication quality and relationship status ambiguity (not answering the "what are we?" question). They were surprised to find that FWB histories were "basically a non-factor in the health and viability of those people's relationships."
Four months later, Owen and Fincham checked back in with the couples to see who had broken up and who was still going strong. They found that FWB couples were no more likely to have separated than non-FWB couples.
There's no denying the instability and complexity of the FWB relationship, so it's understandable that Owen was surprised by the results. He offers two possible explanations.
First, there's the chance that the FWB couples entered the casual relationship with the hopes that it would blossom into something more serious—and it did.
A second explanation Owen offers is that the couples must have had a serious talk about changing their relationship status at some point, and that conversation set the course for healthy communication in the future.
Either way, Owen concludes:
"Just because people start out as friends with benefits, doesn't necessarily mean a doomsday scenario for their relationship."
Good news for sex buddies ready to settle down.
Photo: Lise Gagne/Getty Images
More on love & sex from MSN Living:
The 10 Worst First Date Ideas of All Time
The Most Memorable Star-Crossed Movie Couples
10 Rom-Coms That Won't Put Your Guy To Sleep
love: friendships, dating, sex & marriage
Two guests arrested in New Jersey.

Celebrities certainly know how to travel in style, so if you're struggling to select a honeymoon destination, look no further than these star-approved hotspots. To make it even easier, we're providing you with hotel recommendations, packing essentials, and tips on what to do and see! So channel your inner celeb at one of these U.S. destinations for an unforgettable vacation!

Tall Twitter users named Wayne, we're on to you!

Should little girls be dreaming of a different kind of "I do"?

Need a reason to pack your bags and get the hell out of here?

After your return from your honeymoon, your marriage officially starts and with that come some changes. It's not to say that the honeymoon phase is over, but you'll have to get some things situated in order to have your marriage start off on the right foot. We tapped the expert advice of wedding planner and reality TV star David Tutera and love and career coach Charreah Jackson to dish on six things you must do to have a successful first month of marriage — from wedding-related logistics to wrap up to relationship rules to set.

Owner of Weddings in Vieques, a destination-wedding planning company off the coast of Puerto Rico, Sandy Malone has helped countless couples plan their big day since 2007. Here, the veteran planner is sharing some expert advice for free: She's sharing the top eight things you have to do right after you get engaged.

Is the idea of a big bridal bash just not your thing? Or perhaps you and your fiancé are just the super spontaneous type, so why not make your next beach vacation your nuptials as well? If you're thinking of eloping but have questions on the mind, we're here to help. We tapped elopement and wedding planner Lindsey Nickel, founder of Events, Etc., for her top dos and don'ts for getting hitched on the sly.

Easy everyday ways to keep the love alive.

Expert tips on moving past those oh-so-familiar arguments.

Sometimes you have to do things you don't want to do, like hang out with his lame friends. You're not always in the mood to nurse a beer silently while he and his boys argue about who's going to die next on "Game of Thrones" — but tomorrow he's sitting through a seven-girl brunch. So.

Why holding on to your partner's mistakes will end up hurting you.