Men No Longer Willing to Pay For First Date, Survey Finds
Let's split hairs over splitting the bill, shall we?
As the gender gap narrows in the Western world, more men seem to be speaking up about something they believe to be unfair: paying for the first date.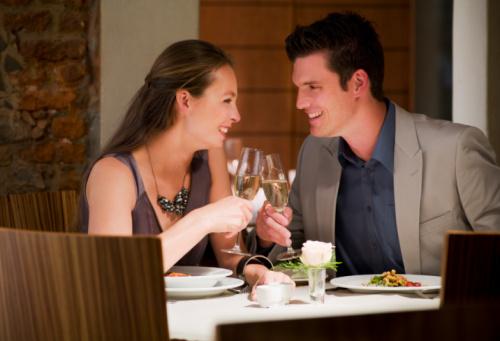 In a recent survey, only a third of men polled said they would be willing to pay for a first date. More than half of men said going dutch on a first date is fair. Most men surveyed said they would ask for a contribution from their date.
One might look at these stats and say chivalry is dead, but is it erroneous to equate chivalry with money in the first place?
Website Fridayfriday.com carried out the survey, and a spokesperson told the Daily Mail:
"This may sound a little unromantic, but our poll has revealed that, for many, they simply don't have as much cash as they may once have…and therefore are keen to ensure their spending doesn't spiral."
So perhaps it's less about gender equality and more about the recession. In fact, women still statistically make less than men. But at the same time, more women are marrying men who make less than them. Personally, the majority of women in my life actually earn more than their male significant others, and I've noticed that those women also take turns paying for dates.
Related video: 5 Ways to Strengthen Your Relationship
The spokesperson continues:
"Some of those surveyed pointed to the fact that the gap between male and female pay [is] still shrinking and therefore it [isn't] unreasonable to expect some money on their part."
The gap is narrowing, sure, but we aren't there yet. That being said, should money have anything to do with romance in the first place? The Daily Mail reported:
"The true gentlemen out there are numbered," and "It seems that chivalry is dead…"
While it's been instilled in us over the years that chivalry is associated with paying for a woman's meal, perhaps it's time to socially evolve from this notion. Admittedly, while I think things should be split in an established relationship, I still instinctively find it romantic for a guy to pay on the first date, too. But can't men still be gentlemen without cash being involved? Or is there something to be said for being old-fashioned?
Either way, the survey continues, with one in five men saying they'd be happy to pay for parts of the night, including a round of drinks, but forking over money for the whole evening is out of the question. Five percent of men said they'd be happy to allow the women to pay for the whole shebang. A whopping 91 percent said that they would leave a bad date early in order to save some money.
"Increasing financial pressures was cited as the number one reason behind the decision; however, many of those polled stated that they felt it was unfair, or even a little embarrassing, to pay for the date," the spokesperson continued.
One suggestion that's emerged from this debate is that the person who suggests the date should pay for the date. Sounds reasonable enough.
But what do you think? Should men still be expected to pay for the first date?
Photo: Getty Images
More love and sex on MSN Living:
Crazy Marriage Proposals
Weird Wild World of Modern Love
Most Romantic Date Destinations in America
25 Reasons Why Married Sex Is Better
love: friendships, dating, sex & marriage
While we do love crazy, funny and over-the-top engagements, sometimes there's just nothing like a proposal with a heartfelt story behind it (warning: you might need some tissues). We've rounded up some of the most romantic wedding proposals from couples across the country, so keep scrolling for seven of our favorites:

As much as you'd like to think your guests will love every single aspect of your wedding, the truth is you really can't please everyone. However, you can try to avoid ticking them off. Here's how.

You'd think brides and grooms who celebrate their nuptials with 50 guests have an equal shot at wedded bliss as those who invite 500, but apparently not.

Because some things are just better with a buddy (whom you happen to be dating).

They're smart, funny, and adorable, but are you a good match?

Fight the urge to sign her up for OkCupid and read this instead.

We know you have good intentions, but...please...stop.

You can't say we didn't warn you. Every month is Movember when you're dating a guy with a beard. And while the scruffy look can be hot, there are some very real, err, challenges that come with the territory. Don't believe us? Well…

Follow these steps to slash your wedding budget—not your fun—in half.

It won't all be cake and flowers, but it can be the best year of your life together so far.

Expert tips on moving past those oh-so-familiar arguments.