What Does it Mean to Ditch Your Wedding Ring?
Experts say wedding rings might be losing their symbolic value.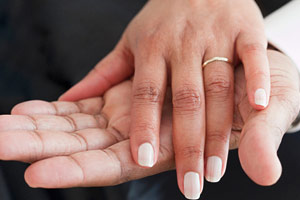 While most of the women I know wouldn't stand for it, there's been a lot of buzz around husbands opting not to wear their wedding bands. According to some experts, people just don't value the symbolism in a ring like they used to.
"I know I'm married, everybody else knows I'm married. I just don't have no desire to wear it, at all."
Richard Rhodes has been happily married for 15 years and says he hasn't worn his ring since he tied the knot.

"I took it off right after the reception and I ain't seen it since," said Rhodes.
But the wedding ring is not just a symbol of love for married couples; it's also an "off-limits" sign for singles.
Psychiatrist Gary Malone says that when a man decides not to wear his ring, it's usually because he wants to "present himself as not married."
We didn't need a psychiatrist to tell us that, but it helps.
"He gets all the payoff of presenting himself as single, while he actually gets the other payoff of having a wife at home," Malone says.
And yes, Rhodes is getting hit on when he presents himself as single:
"The attention is good, but usually the attention fades down as soon as you give them the statement, I'm married, I have two kids and I ain't never leaving my wife, usually the attention goes away after that," said Rhodes.
I think they key word here is "usually."
Malone argues that, while some couples do choose to go ring-less, they're usually sacrificing something in that agreement.
"It means there's some trade off in your dynamic that makes it okay to do that," Malone says.  He adds that social customs are around for a reason.
Meanwhile, if wedding rings have lost their significance, maybe people will take divorce rings seriously?
Gisele Ganne, a French jewelry designer, has created a line of divorce rings to represent the fact that nearly half of marriages end in divorce. The rings are decorated with anti-marriage symbols, like gold bird skulls. Women apparently wear them on their wedding ring fingers to emphatically declare, "I don't!"
love: friendships, dating, sex & marriage
The typical wedding: A white dress, tiered cake, floral centerpieces and a cute flower girl -- you know the drill. Every once in a while, though, a couple trades in tradition for a quirky, never-seen-that-before idea. Here are a few of the most out-there wedding photos that made us do a double take.

There's a lot to love about weddings this fall, like cocktails served in copper Moscow mule mugs, industrial-inspired lighting and pheasant feather details. See what's new!

Do you have to be engaged to sport a ring with bling?

124.6 million haven't gotten hitched.

Even though the national average wedding is $29,858, that's just an average. If you live in a smaller state like Idaho where the average wedding costs $16,159, you may find yourself saving a little more than half of the national spend! Check out some of the other least expensive cities to get married in below:

Summer is winding down, but the ubiquitous summer romance lives on.

For those times when nothing big and horrible happened--but nothing is feeling right either.

He's confident, distinguished and anywhere from 4 to 20 years older than you. Age is just a number, but there's something about older men that we love. Here are eight reasons why being in a relationship with an older man is tops.

While a younger man may have less life experience, that doesn't mean he's not emotionally mature. Here are the eight reasons why being in a relationship with a younger man is tops.

Have you ever wondered what the 'other woman' was thinking?

So fall is coming and you need some romantic inspiration now that long walks on the beach are out of the question. Well look no further! From apple picking to pumpkin carving, these are some great fall date ideas from girls just like you!

Getting bored of the same dinner and movie date night? Take an adorable cue from your favorite celebs and try something new! From dancing to boxing you can't go wrong with these awesome date ideas.