What Does it Mean to Ditch Your Wedding Ring?
Experts say wedding rings might be losing their symbolic value.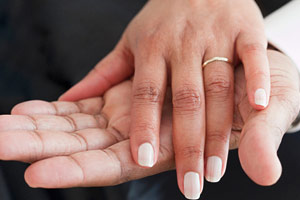 While most of the women I know wouldn't stand for it, there's been a lot of buzz around husbands opting not to wear their wedding bands. According to some experts, people just don't value the symbolism in a ring like they used to.
"I know I'm married, everybody else knows I'm married. I just don't have no desire to wear it, at all."
Richard Rhodes has been happily married for 15 years and says he hasn't worn his ring since he tied the knot.

"I took it off right after the reception and I ain't seen it since," said Rhodes.
But the wedding ring is not just a symbol of love for married couples; it's also an "off-limits" sign for singles.
Psychiatrist Gary Malone says that when a man decides not to wear his ring, it's usually because he wants to "present himself as not married."
We didn't need a psychiatrist to tell us that, but it helps.
"He gets all the payoff of presenting himself as single, while he actually gets the other payoff of having a wife at home," Malone says.
And yes, Rhodes is getting hit on when he presents himself as single:
"The attention is good, but usually the attention fades down as soon as you give them the statement, I'm married, I have two kids and I ain't never leaving my wife, usually the attention goes away after that," said Rhodes.
I think they key word here is "usually."
Malone argues that, while some couples do choose to go ring-less, they're usually sacrificing something in that agreement.
"It means there's some trade off in your dynamic that makes it okay to do that," Malone says.  He adds that social customs are around for a reason.
Meanwhile, if wedding rings have lost their significance, maybe people will take divorce rings seriously?
Gisele Ganne, a French jewelry designer, has created a line of divorce rings to represent the fact that nearly half of marriages end in divorce. The rings are decorated with anti-marriage symbols, like gold bird skulls. Women apparently wear them on their wedding ring fingers to emphatically declare, "I don't!"
love: friendships, dating, sex & marriage
Government-supported Vietnamese classes teach women Korean language, customs.

Whether you're into creative artists or uber-preppy bankers, there's something to be said for trying something new.

Sometimes two characters on a TV show or movie can portray being a happy couple effortlessly, or can have lots of fun playing former spouses — especially if they're married to each other in real life! Keep scrolling for six celebrity costars you probably didn't know tied the knot, even after the bloodiest and craziest story lines.

Some couples want nothing more than a laid-back, by-the-book proposal. Then there are the other couples, where the proposal not only needs to be personalized, it also has to be unique and entirely different than the typical restaurant, bended-knee idea. Sound like you? Then get inspired by some of the most creative proposal ideas we've ever seen. If you find something you like, steal it and then modify it to make your proposal something totally unforgettable.

From Nantucket all the way to Cayo Espanto, we've rounded up some of the prettiest beaches to travel to for your honeymoon.

Researchers studied the age-old stereotype that women really are more talkative than men.

'There is a science behind attraction,' SingldOut says.

One minute you're happy and in love, the next he's delivering the "It's not you, it's me" speech. Why? We have the scoop on the real reasons most couples split up.

Want to keep your wedding budget in check? Start by checking out this list of the 10 things that could end up costing you a lot more than you anticipated.

Brace yourself, this is uncomfortable.

The proposal-filled site How He Asked has shared its top 10 most emotional proposal photos with us, so have your tissues handy. We're suckers for a good proposal story, and these ones are truly tear-worthy. Check them out now, and watch your heart grow (at least) three sizes!

How to do weddings: Yet another foreign (and expensive) aspect of adulthood that you have to learn the hard way. But have no fear! Click through for some must-have wedding tips.