What Does it Mean to Ditch Your Wedding Ring?
Experts say wedding rings might be losing their symbolic value.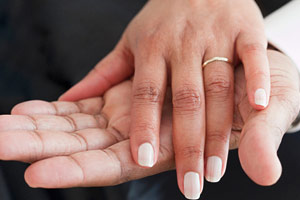 While most of the women I know wouldn't stand for it, there's been a lot of buzz around husbands opting not to wear their wedding bands. According to some experts, people just don't value the symbolism in a ring like they used to.
"I know I'm married, everybody else knows I'm married. I just don't have no desire to wear it, at all."
Richard Rhodes has been happily married for 15 years and says he hasn't worn his ring since he tied the knot.

"I took it off right after the reception and I ain't seen it since," said Rhodes.
But the wedding ring is not just a symbol of love for married couples; it's also an "off-limits" sign for singles.
Psychiatrist Gary Malone says that when a man decides not to wear his ring, it's usually because he wants to "present himself as not married."
We didn't need a psychiatrist to tell us that, but it helps.
"He gets all the payoff of presenting himself as single, while he actually gets the other payoff of having a wife at home," Malone says.
And yes, Rhodes is getting hit on when he presents himself as single:
"The attention is good, but usually the attention fades down as soon as you give them the statement, I'm married, I have two kids and I ain't never leaving my wife, usually the attention goes away after that," said Rhodes.
I think they key word here is "usually."
Malone argues that, while some couples do choose to go ring-less, they're usually sacrificing something in that agreement.
"It means there's some trade off in your dynamic that makes it okay to do that," Malone says.  He adds that social customs are around for a reason.
Meanwhile, if wedding rings have lost their significance, maybe people will take divorce rings seriously?
Gisele Ganne, a French jewelry designer, has created a line of divorce rings to represent the fact that nearly half of marriages end in divorce. The rings are decorated with anti-marriage symbols, like gold bird skulls. Women apparently wear them on their wedding ring fingers to emphatically declare, "I don't!"
love: friendships, dating, sex & marriage
A new study says we're more open to consensual non-monogamy now than ever before — but does it work?

5 steps to being happy together in the long run.

There has been an exponential increase in the number of people who are questioning their marriage.

We're willing to bet that if you're not already grappling with these wedding-related snags, you will be soon.

Pull out the tissues for these personalized wedding vows.

Forgotten what love is all about? Read this note, and remember.

And a few that aren't so shocking.

If you find yourself doing any of these things, consider changing your behavior or counseling.

From pineapple sculptures made out of sunflowers to bold graphic printed tablecloths, ten trendsetters in the wedding industry shared 100 days' worth of inspiring new wedding details. See The Knot editors' top picks for the coolest and most awe-worthy ideas from the wedding experts.

Those Facebook friends who seem to have perfect lives with flawless mates whom they adore at all times? Even they face tough times like these.

How to flag her little fibs. By Laura Tedesco

A new study on attraction may help explain why fashions change.