What Does it Mean to Ditch Your Wedding Ring?
Experts say wedding rings might be losing their symbolic value.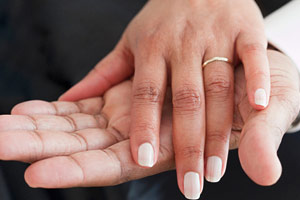 While most of the women I know wouldn't stand for it, there's been a lot of buzz around husbands opting not to wear their wedding bands. According to some experts, people just don't value the symbolism in a ring like they used to.
"I know I'm married, everybody else knows I'm married. I just don't have no desire to wear it, at all."
Richard Rhodes has been happily married for 15 years and says he hasn't worn his ring since he tied the knot.

"I took it off right after the reception and I ain't seen it since," said Rhodes.
But the wedding ring is not just a symbol of love for married couples; it's also an "off-limits" sign for singles.
Psychiatrist Gary Malone says that when a man decides not to wear his ring, it's usually because he wants to "present himself as not married."
We didn't need a psychiatrist to tell us that, but it helps.
"He gets all the payoff of presenting himself as single, while he actually gets the other payoff of having a wife at home," Malone says.
And yes, Rhodes is getting hit on when he presents himself as single:
"The attention is good, but usually the attention fades down as soon as you give them the statement, I'm married, I have two kids and I ain't never leaving my wife, usually the attention goes away after that," said Rhodes.
I think they key word here is "usually."
Malone argues that, while some couples do choose to go ring-less, they're usually sacrificing something in that agreement.
"It means there's some trade off in your dynamic that makes it okay to do that," Malone says.  He adds that social customs are around for a reason.
Meanwhile, if wedding rings have lost their significance, maybe people will take divorce rings seriously?
Gisele Ganne, a French jewelry designer, has created a line of divorce rings to represent the fact that nearly half of marriages end in divorce. The rings are decorated with anti-marriage symbols, like gold bird skulls. Women apparently wear them on their wedding ring fingers to emphatically declare, "I don't!"
love: friendships, dating, sex & marriage
How to flag her little fibs. By Laura Tedesco

A new study on attraction may help explain why fashions change.

As a general rule, any island that offers great weather year-round is going to attract the most visitors in the winter (high season) when we're all trying to escape the snow. Once summer rolls around, many islands see a sharp drop-off in tourism since many people have beach weather right in their own backyards.

And how you can attack the issues together.

A wedding is an exceptionally special day. Sometimes, an opportune photo flub makes the occasion even more memorable. Here are 25 awesome wedding photo bombs.

Somewhere between the first few butterfly-inducing dates and the committed-for-life stage, there's the period of wondering if you're both on the same page about how serious you feel about a future together. If you're not quite at the point of "that talk" but you're looking for a few clues you're heading in that direction, here are some signs he's in it for the long haul as your relationship progresses.

What's that sound? It's white noise blocking out the well-meaning person proclaiming groundbreaking news about where you can meet someone, asking why you're still single, or bugging you about when you're getting married already. Don't be that person. Here are 15 annoying things all single people don't want to hear.

With just a few days left before the big day, you already have a mile-long checklist of to-dos—now meet the don'ts! From impromptu skin treatments to all-night movie marathons, here are 11 things to avoid at all costs.

A new study shows that watching and discussing romantic films can drastically reduce your chance of divorce. These flicks more than fit the bill.

These seemingly innocent phrases still have the power to wound… big time.

Making "I do" last forever is one of the biggest challenges you'll ever face—and it's normal to worry about how you'll do it. But, if your connection involves any of these things, rest assured that you're in it for the long run.

Ultimately, as hard as it may seem at the beginning, a marital affair can be a turning point.