What Does it Mean to Ditch Your Wedding Ring?
Experts say wedding rings might be losing their symbolic value.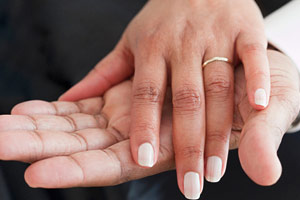 While most of the women I know wouldn't stand for it, there's been a lot of buzz around husbands opting not to wear their wedding bands. According to some experts, people just don't value the symbolism in a ring like they used to.
"I know I'm married, everybody else knows I'm married. I just don't have no desire to wear it, at all."
Richard Rhodes has been happily married for 15 years and says he hasn't worn his ring since he tied the knot.

"I took it off right after the reception and I ain't seen it since," said Rhodes.
But the wedding ring is not just a symbol of love for married couples; it's also an "off-limits" sign for singles.
Psychiatrist Gary Malone says that when a man decides not to wear his ring, it's usually because he wants to "present himself as not married."
We didn't need a psychiatrist to tell us that, but it helps.
"He gets all the payoff of presenting himself as single, while he actually gets the other payoff of having a wife at home," Malone says.
And yes, Rhodes is getting hit on when he presents himself as single:
"The attention is good, but usually the attention fades down as soon as you give them the statement, I'm married, I have two kids and I ain't never leaving my wife, usually the attention goes away after that," said Rhodes.
I think they key word here is "usually."
Malone argues that, while some couples do choose to go ring-less, they're usually sacrificing something in that agreement.
"It means there's some trade off in your dynamic that makes it okay to do that," Malone says.  He adds that social customs are around for a reason.
Meanwhile, if wedding rings have lost their significance, maybe people will take divorce rings seriously?
Gisele Ganne, a French jewelry designer, has created a line of divorce rings to represent the fact that nearly half of marriages end in divorce. The rings are decorated with anti-marriage symbols, like gold bird skulls. Women apparently wear them on their wedding ring fingers to emphatically declare, "I don't!"
love: friendships, dating, sex & marriage
Here's why dudes without hair make the best boyfriends.

What do you wish you appreciated more when you were flying solo?

"If you're so busy tweeting and Instagraming, you're not paying attention," New York wedding planner Marcy Blum said. "It's almost a cosmic faux pas. People want your energy with them and focused on what they're doing."

The wedding favor, that little thank-you-for-coming gift, has risen to new heights with the bride and groom giving guests a wide range of favors that are meaningful to them.

Generations ago, planning a wedding was 100 percent the bride's job, but in today's age of gender equity, it's a mere 99 percent.

For all the self-help books and advice columns out there (um, keeping reading my advice anyway, please!), there's one tool we all already have in our arsenal for picking a partner that will keep us happy: our gut instincts.

According to a new study from the University of Texas and the University of California, Los Angeles, both men and women have regrets when it comes to sex, but the genders vary greatly when it comes to what they regret specifically.

Spending time alone with your guy is easy, but going public with your plus-one is another thing entirely. Whether it's your crazy relatives at Thanksgiving dinner or awkward convos with your boss at the holiday party, possible pitfalls are everywhere. Keep reading for tips on how to make his grand entrance into your social life a good thing.

Match.com survey reveals the day you're least likely to get spruced up for a date.

Drinking and relationships seem to go hand in hand in a lot of ways. But only in moderation!

Many men will tell you that they have no clue what their wives are thinking.

Spending the holidays with your guy's family for the first time is a huge relationship milestone. But between your nerves, the usual family tension, and your weird Uncle Sal's inappropriate stories, it's also a prime opportunity for total disaster. Read on for 10 of our readers' most embarrassing meet-the-parents moments.