Bride and groom adopt new last name
Most brides decide to ditch their maiden names. Is it time for a social overhaul?
It's been a contentious question lately—why should women change their last names after marriage? A headline from The Guardian, for example, reads: "Let men change theirs."
Well, one man did. Jonathan Camery-Hoggatt married Rebecca Jones, and both of them decided to adopt a new last name, according to his piece written for the Huffington Post. While his reasons for the change are simple enough, Jonathan explains the subtle impact surnames have on our society.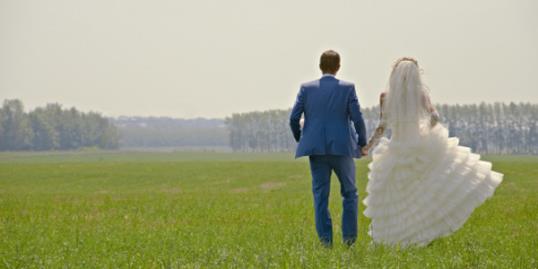 More on MSN Living: Readers share their funniest, cheesiest and best pickup lines
Jonathan was born Jonathan Camery-Hoggatt. When he married, became Jonathan Jackson.
"My mom was Camery, and my dad was Hoggatt, and I was born a Camery-Hoggatt," Jackson writes. "Upside: Both families are represented equally. Downside: This only works for one generation."
Thus, when Jonathan met Rebecca, he realized their joint last name would have been Jones-Camery-Hoggat.​
More on MSN Living: MSN Living readers share engagement rings
"…and if our kids and grandkids hyphenate, they'll have last names like Tutu-Smithersby-Rodr​igues-Jones-Camery-H​oggatt, and that just seems irresponsible."
To avoid a last name that resembled a short novel, Jackson explains that he and his bride picked a new one.
"We wanted one that's easy to pronounce and that fits well with our first names. Simple. That's why, on our wedding day, we both took the last name Jackson."
While the newlyweds made the change out of simplicity, the backlash they received reflected a more complex perspective about marriage, surnames and sexism.
"One women tried to insult me by saying that I must have a small penis," Jackson writes. "I hadn't considered correlating penis size with resistance to social norms. Second, each body is unique. I will never be insulted by comparisons to anyone's body type. Third, my penis is probably bigger than hers. Sadly, sexism comes in all shapes and sizes."
Even friends who advocated gender equality were taken aback by Jonathan and Rebecca's decision. Like most of us, they simply assumed that the woman would take the man's name.
Jackson explains that surnames evolved historically to symbolize a person's relationship with society. They developed based on titles and towns and land people owned.
"But a problem appeared: Servants, slaves, children, and women were a white man's property, so they fell under his family name."
Based on this reason, Jackson ends his piece by arguing that the social expectation of the bride taking the last name needs to change.
Bing: Why do brides change their last name?
"Our society needs an overhaul, and this last name choice won't make a huge difference by itself. We know that. It's quiet. It's subtle. But it still undermines small power asymmetries. In that sense, our last name has the potential to stand for something much, much bigger: It symbolizes our relationship with society itself."
What do you think--should brides continue the tradition of taking the groom's last name? Or is it time for a social overhaul?
More from The Heart Beat:

Traditional weddings: Are they outdated?
The most popular days for sex
Cougar cruises help young guys hook up with older women
Love content like this? Friend us on Facebook, follow us on Twitter and find us on Pinterest
Photo: Irina Sidorenko/Getty Images
love: friendships, dating, sex & marriage
Revealr is a new iPhone app that allows those looking for love to hear their possible matches before they see them.

A new poll reveals 59 percent of the country supports same-sex marriage.

Celebrity engagements are so much fun to follow because every detail is bound to be over-the-top — from the proposal (like when Kanye rented out an entire stadium to propose to Kim) to the huge, sparkly engagement ring and, of course, the wedding. Plus, as trendsetters, celebs can be a source of inspiration even if you can't afford a million dollar ring. Here are our celebrity wedding predictions for 2014.

If you've ever been to a club—like, ever, even once—you are not going to be shocked to hear that women get a lot of unwanted, aggressive attention. But when you read the findings of this study on how often and why it happens, it might make you feel downright sick to your stomach.

Hopeless romantics and cringe-worthy chick flicks would tell you that it doesn't matter what you do on the date, as long as you're together. But they're wrong. Dead wrong. Women use your date ideas to size you up, says matchmaker Rachel DeAlto, author of "Flirt Fearlessly." "You absolutely will be judged based on the date you plan. There are so many subconscious impressions that we take in while dating." Gulp. Here are 10 terrible ideas that can land you on the no-lay list—and simple swaps to keep her happy. By K. Aleisha Fetters

No matter your current relationship status or past relationship fails, get a fresh start this month, with these tips for spring cleaning your love life.

Forget the rules you've always heard—it's time to start making your own.

Are you in an affair without knowing it? Unless you're a swinger, having sex with someone else counts as cheating. But then there's the fuzzy area between friendship and infidelity—and chances are, your girlfriend sees those shades of gray as more black and white than you do. "Men aren't as attuned to identifying ambiguous behaviors as cheating as women are," says Daniel Kruger, Ph.D., a University of Michigan psychologist, who's studied gender differences in definitions of infidelity. In other words, what you consider totally innocent could be her deal breaker.

We spoke with relationship therapist Rachel A. Sussman, author of "The Breakup Bible," for her tips on how regular girls can survive a split like an A-lister.

A researcher from Texas Tech University has found that people who use the same kind of "function words" are more likely to get together.

Check out these five celebrity stunners.

And by weird, we really mean friggin' awesome.