Bride and groom adopt new last name
Most brides decide to ditch their maiden names. Is it time for a social overhaul?
It's been a contentious question lately—why should women change their last names after marriage? A headline from The Guardian, for example, reads: "Let men change theirs."
Well, one man did. Jonathan Camery-Hoggatt married Rebecca Jones, and both of them decided to adopt a new last name, according to his piece written for the Huffington Post. While his reasons for the change are simple enough, Jonathan explains the subtle impact surnames have on our society.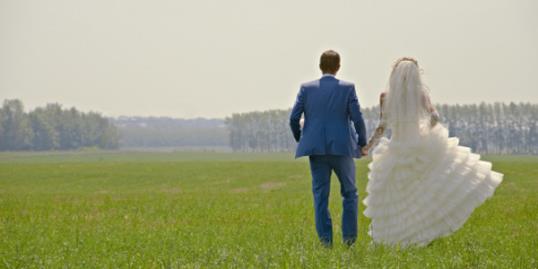 More on MSN Living: Readers share their funniest, cheesiest and best pickup lines
Jonathan was born Jonathan Camery-Hoggatt. When he married, became Jonathan Jackson.
"My mom was Camery, and my dad was Hoggatt, and I was born a Camery-Hoggatt," Jackson writes. "Upside: Both families are represented equally. Downside: This only works for one generation."
Thus, when Jonathan met Rebecca, he realized their joint last name would have been Jones-Camery-Hoggat.​
More on MSN Living: MSN Living readers share engagement rings
"…and if our kids and grandkids hyphenate, they'll have last names like Tutu-Smithersby-Rodr​igues-Jones-Camery-H​oggatt, and that just seems irresponsible."
To avoid a last name that resembled a short novel, Jackson explains that he and his bride picked a new one.
"We wanted one that's easy to pronounce and that fits well with our first names. Simple. That's why, on our wedding day, we both took the last name Jackson."
While the newlyweds made the change out of simplicity, the backlash they received reflected a more complex perspective about marriage, surnames and sexism.
"One women tried to insult me by saying that I must have a small penis," Jackson writes. "I hadn't considered correlating penis size with resistance to social norms. Second, each body is unique. I will never be insulted by comparisons to anyone's body type. Third, my penis is probably bigger than hers. Sadly, sexism comes in all shapes and sizes."
Even friends who advocated gender equality were taken aback by Jonathan and Rebecca's decision. Like most of us, they simply assumed that the woman would take the man's name.
Jackson explains that surnames evolved historically to symbolize a person's relationship with society. They developed based on titles and towns and land people owned.
"But a problem appeared: Servants, slaves, children, and women were a white man's property, so they fell under his family name."
Based on this reason, Jackson ends his piece by arguing that the social expectation of the bride taking the last name needs to change.
Bing: Why do brides change their last name?
"Our society needs an overhaul, and this last name choice won't make a huge difference by itself. We know that. It's quiet. It's subtle. But it still undermines small power asymmetries. In that sense, our last name has the potential to stand for something much, much bigger: It symbolizes our relationship with society itself."
What do you think--should brides continue the tradition of taking the groom's last name? Or is it time for a social overhaul?
More from The Heart Beat:

Traditional weddings: Are they outdated?
The most popular days for sex
Cougar cruises help young guys hook up with older women
Love content like this? Friend us on Facebook, follow us on Twitter and find us on Pinterest
Photo: Irina Sidorenko/Getty Images
love: friendships, dating, sex & marriage
How to flag her little fibs. By Laura Tedesco

A new study on attraction may help explain why fashions change.

As a general rule, any island that offers great weather year-round is going to attract the most visitors in the winter (high season) when we're all trying to escape the snow. Once summer rolls around, many islands see a sharp drop-off in tourism since many people have beach weather right in their own backyards.

And how you can attack the issues together.

A wedding is an exceptionally special day. Sometimes, an opportune photo flub makes the occasion even more memorable. Here are 25 awesome wedding photo bombs.

Somewhere between the first few butterfly-inducing dates and the committed-for-life stage, there's the period of wondering if you're both on the same page about how serious you feel about a future together. If you're not quite at the point of "that talk" but you're looking for a few clues you're heading in that direction, here are some signs he's in it for the long haul as your relationship progresses.

What's that sound? It's white noise blocking out the well-meaning person proclaiming groundbreaking news about where you can meet someone, asking why you're still single, or bugging you about when you're getting married already. Don't be that person. Here are 15 annoying things all single people don't want to hear.

With just a few days left before the big day, you already have a mile-long checklist of to-dos—now meet the don'ts! From impromptu skin treatments to all-night movie marathons, here are 11 things to avoid at all costs.

A new study shows that watching and discussing romantic films can drastically reduce your chance of divorce. These flicks more than fit the bill.

These seemingly innocent phrases still have the power to wound… big time.

Making "I do" last forever is one of the biggest challenges you'll ever face—and it's normal to worry about how you'll do it. But, if your connection involves any of these things, rest assured that you're in it for the long run.

Ultimately, as hard as it may seem at the beginning, a marital affair can be a turning point.