Bride and groom adopt new last name
Most brides decide to ditch their maiden names. Is it time for a social overhaul?
It's been a contentious question lately—why should women change their last names after marriage? A headline from The Guardian, for example, reads: "Let men change theirs."
Well, one man did. Jonathan Camery-Hoggatt married Rebecca Jones, and both of them decided to adopt a new last name, according to his piece written for the Huffington Post. While his reasons for the change are simple enough, Jonathan explains the subtle impact surnames have on our society.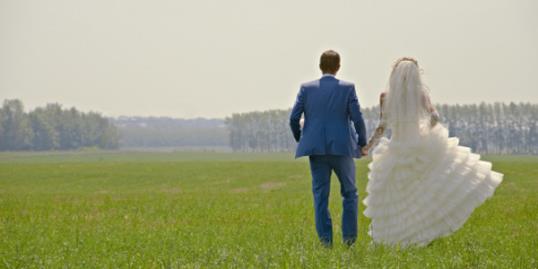 More on MSN Living: Readers share their funniest, cheesiest and best pickup lines
Jonathan was born Jonathan Camery-Hoggatt. When he married, became Jonathan Jackson.
"My mom was Camery, and my dad was Hoggatt, and I was born a Camery-Hoggatt," Jackson writes. "Upside: Both families are represented equally. Downside: This only works for one generation."
Thus, when Jonathan met Rebecca, he realized their joint last name would have been Jones-Camery-Hoggat.​
More on MSN Living: MSN Living readers share engagement rings
"…and if our kids and grandkids hyphenate, they'll have last names like Tutu-Smithersby-Rodr​igues-Jones-Camery-H​oggatt, and that just seems irresponsible."
To avoid a last name that resembled a short novel, Jackson explains that he and his bride picked a new one.
"We wanted one that's easy to pronounce and that fits well with our first names. Simple. That's why, on our wedding day, we both took the last name Jackson."
While the newlyweds made the change out of simplicity, the backlash they received reflected a more complex perspective about marriage, surnames and sexism.
"One women tried to insult me by saying that I must have a small penis," Jackson writes. "I hadn't considered correlating penis size with resistance to social norms. Second, each body is unique. I will never be insulted by comparisons to anyone's body type. Third, my penis is probably bigger than hers. Sadly, sexism comes in all shapes and sizes."
Even friends who advocated gender equality were taken aback by Jonathan and Rebecca's decision. Like most of us, they simply assumed that the woman would take the man's name.
Jackson explains that surnames evolved historically to symbolize a person's relationship with society. They developed based on titles and towns and land people owned.
"But a problem appeared: Servants, slaves, children, and women were a white man's property, so they fell under his family name."
Based on this reason, Jackson ends his piece by arguing that the social expectation of the bride taking the last name needs to change.
Bing: Why do brides change their last name?
"Our society needs an overhaul, and this last name choice won't make a huge difference by itself. We know that. It's quiet. It's subtle. But it still undermines small power asymmetries. In that sense, our last name has the potential to stand for something much, much bigger: It symbolizes our relationship with society itself."
What do you think--should brides continue the tradition of taking the groom's last name? Or is it time for a social overhaul?
More from The Heart Beat:

Traditional weddings: Are they outdated?
The most popular days for sex
Cougar cruises help young guys hook up with older women
Love content like this? Friend us on Facebook, follow us on Twitter and find us on Pinterest
Photo: Irina Sidorenko/Getty Images
love: friendship, dating, sex & marriage
What's worse than getting snubbed while proposing? Having your heart broken in front of countless strangers.

We asked brides on TheKnot.com to tell all -- and they did. Here, five of the most likely culprits and advice for how to deal with your drama-causing guests along the way.

This short course in flirting will not only teach you how to flirt better but also how to tell when someone is flirting with you—and how to respond. Have fun.

Gatsby glamour doesn't have to just live on the big screen! Embrace the trendy (yet timeless) art deco style with sequins, pearls, feathers and geometric patterns. Check out these art deco ideas and achieve the feel of 1920s decadence. By the way, all of these are affordable, except for the $600 hairpiece which is a splurge, but a knockout. Shop the look!

Wondering if your summer love will last? Here are 15 signs if your seasonal love is fleeting or for real.

Sixteen years after "Titanic's" release—and 101 years after the historic ship's notorious sinking—our hearts still go on for star-crossed lovers Rose DeWitt Bukater (Kate Winslet) and Jack Dawson (Leonardo DiCaprio). We rounded up some of our favorite ill-fated, but oh-so-romantic affairs on film, from "Gone with the Wind" to "Moulin Rouge!".

Flirting shouldn't be retired once you've got the ring. We asked relationship expert Harlan Cohen, as well as real husbands, the best way to keep the sparks flying.

When we're annoyed by male behavior, we turn to columnist Aaron Traister. His logic may be strange, but we have to admit, it's pretty helpful. Here, he answers our many questions for guys.

Author Amanda Robb talks to clinical psychologist David Schnarch, Ph.D., author of Passionate Marriage: Keeping Love and Intimacy Alive in Committed Relationships and Intimacy and Desire: Awaken the Passion in Your Relationship, to discover the ways she can relight the fire in her own relationship. What she learned just might help you wake up your own libido.

The average wedding costs $28,000. Think that's pricey? You're in for a surprise. We've rounded up some of the most expensive weddings of all time. See if you can guess how much was dropped on these over-the-top affairs, then click through to Bing to see if you're right.

A guide to staying together forever…straight from divorce lawyers! They know what tears couples apart, and they'll tell you how to avoid it.

We've come across some odd tales of lost love. Here's our list of the weirdest reasons people have divorced.