Bride and groom adopt new last name
Most brides decide to ditch their maiden names. Is it time for a social overhaul?
It's been a contentious question lately—why should women change their last names after marriage? A headline from The Guardian, for example, reads: "Let men change theirs."
Well, one man did. Jonathan Camery-Hoggatt married Rebecca Jones, and both of them decided to adopt a new last name, according to his piece written for the Huffington Post. While his reasons for the change are simple enough, Jonathan explains the subtle impact surnames have on our society.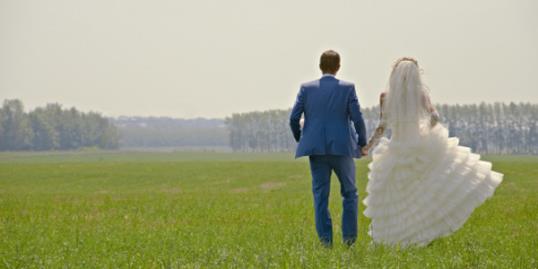 More on MSN Living: Readers share their funniest, cheesiest and best pickup lines
Jonathan was born Jonathan Camery-Hoggatt. When he married, became Jonathan Jackson.
"My mom was Camery, and my dad was Hoggatt, and I was born a Camery-Hoggatt," Jackson writes. "Upside: Both families are represented equally. Downside: This only works for one generation."
Thus, when Jonathan met Rebecca, he realized their joint last name would have been Jones-Camery-Hoggat.​
More on MSN Living: MSN Living readers share engagement rings
"…and if our kids and grandkids hyphenate, they'll have last names like Tutu-Smithersby-Rodr​igues-Jones-Camery-H​oggatt, and that just seems irresponsible."
To avoid a last name that resembled a short novel, Jackson explains that he and his bride picked a new one.
"We wanted one that's easy to pronounce and that fits well with our first names. Simple. That's why, on our wedding day, we both took the last name Jackson."
While the newlyweds made the change out of simplicity, the backlash they received reflected a more complex perspective about marriage, surnames and sexism.
"One women tried to insult me by saying that I must have a small penis," Jackson writes. "I hadn't considered correlating penis size with resistance to social norms. Second, each body is unique. I will never be insulted by comparisons to anyone's body type. Third, my penis is probably bigger than hers. Sadly, sexism comes in all shapes and sizes."
Even friends who advocated gender equality were taken aback by Jonathan and Rebecca's decision. Like most of us, they simply assumed that the woman would take the man's name.
Jackson explains that surnames evolved historically to symbolize a person's relationship with society. They developed based on titles and towns and land people owned.
"But a problem appeared: Servants, slaves, children, and women were a white man's property, so they fell under his family name."
Based on this reason, Jackson ends his piece by arguing that the social expectation of the bride taking the last name needs to change.
Bing: Why do brides change their last name?
"Our society needs an overhaul, and this last name choice won't make a huge difference by itself. We know that. It's quiet. It's subtle. But it still undermines small power asymmetries. In that sense, our last name has the potential to stand for something much, much bigger: It symbolizes our relationship with society itself."
What do you think--should brides continue the tradition of taking the groom's last name? Or is it time for a social overhaul?
More from The Heart Beat:

Traditional weddings: Are they outdated?
The most popular days for sex
Cougar cruises help young guys hook up with older women
Love content like this? Friend us on Facebook, follow us on Twitter and find us on Pinterest
Photo: Irina Sidorenko/Getty Images
love: friendships, dating, sex & marriage
A new study says we're more open to consensual non-monogamy now than ever before — but does it work?

5 steps to being happy together in the long run.

There has been an exponential increase in the number of people who are questioning their marriage.

We're willing to bet that if you're not already grappling with these wedding-related snags, you will be soon.

Pull out the tissues for these personalized wedding vows.

Forgotten what love is all about? Read this note, and remember.

And a few that aren't so shocking.

If you find yourself doing any of these things, consider changing your behavior or counseling.

From pineapple sculptures made out of sunflowers to bold graphic printed tablecloths, ten trendsetters in the wedding industry shared 100 days' worth of inspiring new wedding details. See The Knot editors' top picks for the coolest and most awe-worthy ideas from the wedding experts.

Those Facebook friends who seem to have perfect lives with flawless mates whom they adore at all times? Even they face tough times like these.

How to flag her little fibs. By Laura Tedesco

A new study on attraction may help explain why fashions change.