Bridezilla's Demanding Wedding Email Goes Viral
Biggest bridezilla ever?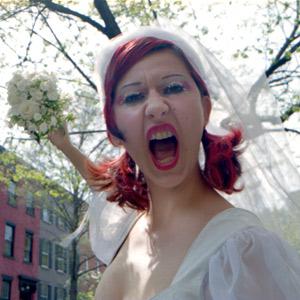 An anonymous email was forwarded to Gawker this week, and it included the insolent demands of a bossy bride-to-be. This woman takes "bridezilla" to a whole new level, addressing her wedding party as though they were her lowly interns.
She begins:
"You all have a big roll [sic] in this wedding, so before we continue I'm going to be setting some ground rules…"
If you're in this woman's bridal party, you better make sure you don't have anything planned during, oh, let's say, pretty much all of 2013:
"I would like everyone to send me any dates they are going away or planning to go away after February so if your [sic] going away in January I don't care. I want any dates from February to the day of our wedding in August, that way we know not to plan something when your away. But after this week the dates are set in stone."
This should be a fun wedding.
Bing: Are you planning a wedding? Here's how to do it right.
And if you can't afford the honor of being this woman's bridesmaid, well, tough crap:
"Also if money is tight and you cant afford to contribute to say the bachelorette party or wont be able to afford a dress etc then [my sister] and Myself don't have time to deal with that, I'm sorry."
That's "Myself." With a capital M.
"This includes flights as well, everyone knows the states where the parties are going to be held so if you won't be able to afford a flight then that means you cant make a party which ultimately means I can't have you as a bridesmaid… if you think by affordable its going to be a $25 forever 21 dress then your going to the wrong wedding."
A few other amusing demands:
"I don't have time to wait around for responses, everyone has their phone on them, it shouldn't take you more than a day to get back to me…"
"A few girls live out of town so if there is going to be a problem with coming to either one then I need to know now because after this week I don't want to be surprised."
"Also if you accept this honor another thing is that you need to be available, I'm not going to harass you with wedding stuff every hour of everyday but if its something important and it takes you a week even 2-3 days to get back to me seeeee ya!"
The email, in its entirety, can be read here.
Photo: Ali Smith/Getty Images
More love and sex on MSN Living:
Crazy Marriage Proposals
Weird Wild World of Modern Love
Most Romantic Date Destinations in America
25 Reasons Why Married Sex Is Better
love: friendships, dating, sex & marriage
Love it or hate it, the selfie wields much power.

Talk about some blurred lines.

Come on people, it's not that hard to mind your own business.

No sense in wasting your time on someone who will never commit.

There he is, the man of your dreams. He's sitting across from you at the coffee shop or standing at the opposite side of the bar. His eyes meet yours, a quick glance, and then it's back to his drink. Was he giving you a signal?

Remember that time on "30 Rock" when Liz Lemon and her eventual-husband Criss went shopping at Ikea, only to end up in a major fight? We know it couldn't be closer to the truth because we've all been there. In honor of the irritation that can be Ikea, here are the top fights you'll likely encounter.

Dating doesn't have to be a daunting task, promise. Here's how to make it fun for you and him.

One woman's honest journey to divorce will break your heart and inspire you at the same time.

Want to send your date running? Try one these moves.

Two guests arrested in New Jersey.

Celebrities certainly know how to travel in style, so if you're struggling to select a honeymoon destination, look no further than these star-approved hotspots. To make it even easier, we're providing you with hotel recommendations, packing essentials, and tips on what to do and see! So channel your inner celeb at one of these U.S. destinations for an unforgettable vacation!

Tall Twitter users named Wayne, we're on to you!