Bridezilla's Demanding Wedding Email Goes Viral
Biggest bridezilla ever?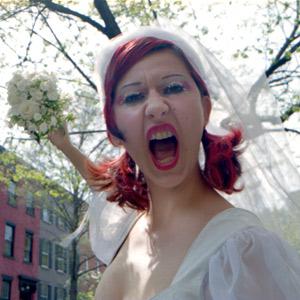 An anonymous email was forwarded to Gawker this week, and it included the insolent demands of a bossy bride-to-be. This woman takes "bridezilla" to a whole new level, addressing her wedding party as though they were her lowly interns.
She begins:
"You all have a big roll [sic] in this wedding, so before we continue I'm going to be setting some ground rules…"
If you're in this woman's bridal party, you better make sure you don't have anything planned during, oh, let's say, pretty much all of 2013:
"I would like everyone to send me any dates they are going away or planning to go away after February so if your [sic] going away in January I don't care. I want any dates from February to the day of our wedding in August, that way we know not to plan something when your away. But after this week the dates are set in stone."
This should be a fun wedding.
Bing: Are you planning a wedding? Here's how to do it right.
And if you can't afford the honor of being this woman's bridesmaid, well, tough crap:
"Also if money is tight and you cant afford to contribute to say the bachelorette party or wont be able to afford a dress etc then [my sister] and Myself don't have time to deal with that, I'm sorry."
That's "Myself." With a capital M.
"This includes flights as well, everyone knows the states where the parties are going to be held so if you won't be able to afford a flight then that means you cant make a party which ultimately means I can't have you as a bridesmaid… if you think by affordable its going to be a $25 forever 21 dress then your going to the wrong wedding."
A few other amusing demands:
"I don't have time to wait around for responses, everyone has their phone on them, it shouldn't take you more than a day to get back to me…"
"A few girls live out of town so if there is going to be a problem with coming to either one then I need to know now because after this week I don't want to be surprised."
"Also if you accept this honor another thing is that you need to be available, I'm not going to harass you with wedding stuff every hour of everyday but if its something important and it takes you a week even 2-3 days to get back to me seeeee ya!"
The email, in its entirety, can be read here.
Photo: Ali Smith/Getty Images
More love and sex on MSN Living:
Crazy Marriage Proposals
Weird Wild World of Modern Love
Most Romantic Date Destinations in America
25 Reasons Why Married Sex Is Better
love: friendships, dating, sex & marriage
Or how to tell if you've reached THAT point in your bond.

Dating doesn't have to be a daunting task, promise. Here's how to make it fun for you and him.

This just in: A new study shows girls are warriors in the womb.

You can make a pros and cons list...but ultimately you know what works best for you.

Maggie Reyes is a life coach, writer, and the founder of ModernMarried.com. She helps newlyweds re-think what married life can be. Here, she's revealing tricks every newlywed couple needs to know.

Government-supported Vietnamese classes teach women Korean language, customs.

Whether you're into creative artists or uber-preppy bankers, there's something to be said for trying something new.

Sometimes two characters on a TV show or movie can portray being a happy couple effortlessly, or can have lots of fun playing former spouses — especially if they're married to each other in real life! Keep scrolling for six celebrity costars you probably didn't know tied the knot, even after the bloodiest and craziest story lines.

Some couples want nothing more than a laid-back, by-the-book proposal. Then there are the other couples, where the proposal not only needs to be personalized, it also has to be unique and entirely different than the typical restaurant, bended-knee idea. Sound like you? Then get inspired by some of the most creative proposal ideas we've ever seen. If you find something you like, steal it and then modify it to make your proposal something totally unforgettable.

From Nantucket all the way to Cayo Espanto, we've rounded up some of the prettiest beaches to travel to for your honeymoon.

Researchers studied the age-old stereotype that women really are more talkative than men.

'There is a science behind attraction,' SingldOut says.