Bridezilla's Demanding Wedding Email Goes Viral
Biggest bridezilla ever?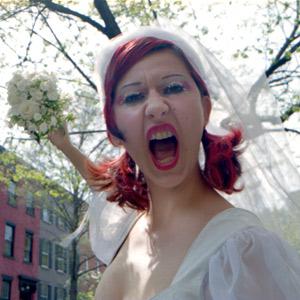 An anonymous email was forwarded to Gawker this week, and it included the insolent demands of a bossy bride-to-be. This woman takes "bridezilla" to a whole new level, addressing her wedding party as though they were her lowly interns.
She begins:
"You all have a big roll [sic] in this wedding, so before we continue I'm going to be setting some ground rules…"
If you're in this woman's bridal party, you better make sure you don't have anything planned during, oh, let's say, pretty much all of 2013:
"I would like everyone to send me any dates they are going away or planning to go away after February so if your [sic] going away in January I don't care. I want any dates from February to the day of our wedding in August, that way we know not to plan something when your away. But after this week the dates are set in stone."
This should be a fun wedding.
Bing: Are you planning a wedding? Here's how to do it right.
And if you can't afford the honor of being this woman's bridesmaid, well, tough crap:
"Also if money is tight and you cant afford to contribute to say the bachelorette party or wont be able to afford a dress etc then [my sister] and Myself don't have time to deal with that, I'm sorry."
That's "Myself." With a capital M.
"This includes flights as well, everyone knows the states where the parties are going to be held so if you won't be able to afford a flight then that means you cant make a party which ultimately means I can't have you as a bridesmaid… if you think by affordable its going to be a $25 forever 21 dress then your going to the wrong wedding."
A few other amusing demands:
"I don't have time to wait around for responses, everyone has their phone on them, it shouldn't take you more than a day to get back to me…"
"A few girls live out of town so if there is going to be a problem with coming to either one then I need to know now because after this week I don't want to be surprised."
"Also if you accept this honor another thing is that you need to be available, I'm not going to harass you with wedding stuff every hour of everyday but if its something important and it takes you a week even 2-3 days to get back to me seeeee ya!"
The email, in its entirety, can be read here.
Photo: Ali Smith/Getty Images
More love and sex on MSN Living:
Crazy Marriage Proposals
Weird Wild World of Modern Love
Most Romantic Date Destinations in America
25 Reasons Why Married Sex Is Better
love: friendships, dating, sex & marriage
The typical wedding: A white dress, tiered cake, floral centerpieces and a cute flower girl -- you know the drill. Every once in a while, though, a couple trades in tradition for a quirky, never-seen-that-before idea. Here are a few of the most out-there wedding photos that made us do a double take.

There's a lot to love about weddings this fall, like cocktails served in copper Moscow mule mugs, industrial-inspired lighting and pheasant feather details. See what's new!

Do you have to be engaged to sport a ring with bling?

124.6 million haven't gotten hitched.

Even though the national average wedding is $29,858, that's just an average. If you live in a smaller state like Idaho where the average wedding costs $16,159, you may find yourself saving a little more than half of the national spend! Check out some of the other least expensive cities to get married in below:

Summer is winding down, but the ubiquitous summer romance lives on.

For those times when nothing big and horrible happened--but nothing is feeling right either.

He's confident, distinguished and anywhere from 4 to 20 years older than you. Age is just a number, but there's something about older men that we love. Here are eight reasons why being in a relationship with an older man is tops.

While a younger man may have less life experience, that doesn't mean he's not emotionally mature. Here are the eight reasons why being in a relationship with a younger man is tops.

Have you ever wondered what the 'other woman' was thinking?

So fall is coming and you need some romantic inspiration now that long walks on the beach are out of the question. Well look no further! From apple picking to pumpkin carving, these are some great fall date ideas from girls just like you!

Getting bored of the same dinner and movie date night? Take an adorable cue from your favorite celebs and try something new! From dancing to boxing you can't go wrong with these awesome date ideas.