How to turn your summer fling into a fall boyfriend
Think your summer fling is the real thing? Here's how to transition from "no strings attached" to a serious relationship.
As Sandy and Danny will attest, there is nothing like summer love. Summer is a time of casual Fridays, spontaneous travel, and eating ice cream in the street — everyone feels more free. So how do you tame your summer fling into a fall boyfriend?
Keep it casual — at first.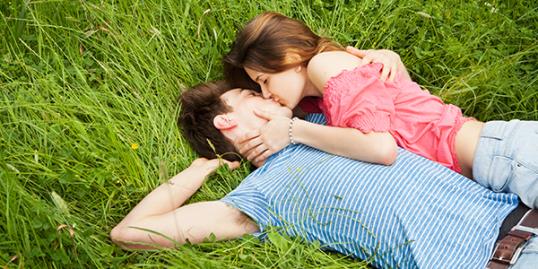 No one wants to hear a profession of love a few weeks into dating! Summer romance is fun because it's carefree. Mayssa, a recent graduate of NYU who was abroad in Rome last summer, told HC that it's important to keep a "summer boy" guessing. "Don't move too fast," she says. "You have to leave something to look forward to!" Mayssa found this play-it-cool strategy worked particularly well with Euro boys.
To do: Plan a date a week in advance, not a month. (If you MUST get concert tickets ahead, don't mention them to him until closer to the date of the show.) By keeping things light and making plans on the fly, you'll show your summer boy that by staying with you, he would guarantee himself a fall semester that's anything but boring.
Bing: Romantic getaways
Introduce him to one or two of your friends.
While he's not a serious boyfriend yet, it's important that he gets to know your life outside of the summer situation you have going on. What you don't want to do is overwhelm him with your six best girlfriends. Pick one or two of your friends who sit on the "chill" side of the spectrum (be honest, you know who they are) to meet him before everyone else. Once he starts to meet your friends, he'll feel more connected to you, get to know you better, and be able to picture what dating you (past the summer) would be like.
To do: Schedule happy hour or casual bowling and invite him to stop by. It's a no-pressure situation!
Take his cues.
Is he texting you every single day to meet up? Or is he only asking what you're up to on weekends? It's important to notice how he's acting towards you — guys are pretty obvious creatures, no? "My summer boy last year only texted me late at night at first," says Sarah, Colby College '13. "But I knew when he asked me out during the day that he was getting more serious about dating!" Once you get the vibe that the guy is more serious, it is OK to make your intentions known.
To do: Let him know that you like what he's doing. For example, say, "I love getting your texts at work! Makes the day go by so much faster," or "I really appreciate you checking in with me before I go to bed." It's important to compliment his good deeds so he knows to keep doing them. The more he communicates with you, the more he'll think and learn about you. Soon he won't be able to imagine not talking to you and texting you, and that's when he'll decide he would rather stay with you than lose you.
For the rest of the article and more love advice, check out HerCampus.com!
More from The Heart Beat: 
Facebook PDA linked to happier marriages
Map shows where all the single people live
Coffee shop lets customers pay with a kiss
love: friendships, dating, sex & marriage
Here's why dudes without hair make the best boyfriends.

What do you wish you appreciated more when you were flying solo?

"If you're so busy tweeting and Instagraming, you're not paying attention," New York wedding planner Marcy Blum said. "It's almost a cosmic faux pas. People want your energy with them and focused on what they're doing."

The wedding favor, that little thank-you-for-coming gift, has risen to new heights with the bride and groom giving guests a wide range of favors that are meaningful to them.

Generations ago, planning a wedding was 100 percent the bride's job, but in today's age of gender equity, it's a mere 99 percent.

For all the self-help books and advice columns out there (um, keeping reading my advice anyway, please!), there's one tool we all already have in our arsenal for picking a partner that will keep us happy: our gut instincts.

According to a new study from the University of Texas and the University of California, Los Angeles, both men and women have regrets when it comes to sex, but the genders vary greatly when it comes to what they regret specifically.

Spending time alone with your guy is easy, but going public with your plus-one is another thing entirely. Whether it's your crazy relatives at Thanksgiving dinner or awkward convos with your boss at the holiday party, possible pitfalls are everywhere. Keep reading for tips on how to make his grand entrance into your social life a good thing.

Match.com survey reveals the day you're least likely to get spruced up for a date.

Drinking and relationships seem to go hand in hand in a lot of ways. But only in moderation!

Many men will tell you that they have no clue what their wives are thinking.

Spending the holidays with your guy's family for the first time is a huge relationship milestone. But between your nerves, the usual family tension, and your weird Uncle Sal's inappropriate stories, it's also a prime opportunity for total disaster. Read on for 10 of our readers' most embarrassing meet-the-parents moments.