How to turn your summer fling into a fall boyfriend
Think your summer fling is the real thing? Here's how to transition from "no strings attached" to a serious relationship.
As Sandy and Danny will attest, there is nothing like summer love. Summer is a time of casual Fridays, spontaneous travel, and eating ice cream in the street — everyone feels more free. So how do you tame your summer fling into a fall boyfriend?
Keep it casual — at first.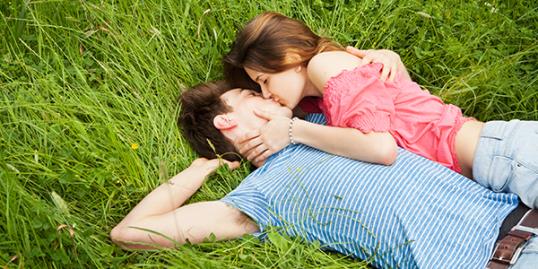 No one wants to hear a profession of love a few weeks into dating! Summer romance is fun because it's carefree. Mayssa, a recent graduate of NYU who was abroad in Rome last summer, told HC that it's important to keep a "summer boy" guessing. "Don't move too fast," she says. "You have to leave something to look forward to!" Mayssa found this play-it-cool strategy worked particularly well with Euro boys.
To do: Plan a date a week in advance, not a month. (If you MUST get concert tickets ahead, don't mention them to him until closer to the date of the show.) By keeping things light and making plans on the fly, you'll show your summer boy that by staying with you, he would guarantee himself a fall semester that's anything but boring.
Bing: Romantic getaways
Introduce him to one or two of your friends.
While he's not a serious boyfriend yet, it's important that he gets to know your life outside of the summer situation you have going on. What you don't want to do is overwhelm him with your six best girlfriends. Pick one or two of your friends who sit on the "chill" side of the spectrum (be honest, you know who they are) to meet him before everyone else. Once he starts to meet your friends, he'll feel more connected to you, get to know you better, and be able to picture what dating you (past the summer) would be like.
To do: Schedule happy hour or casual bowling and invite him to stop by. It's a no-pressure situation!
Take his cues.
Is he texting you every single day to meet up? Or is he only asking what you're up to on weekends? It's important to notice how he's acting towards you — guys are pretty obvious creatures, no? "My summer boy last year only texted me late at night at first," says Sarah, Colby College '13. "But I knew when he asked me out during the day that he was getting more serious about dating!" Once you get the vibe that the guy is more serious, it is OK to make your intentions known.
To do: Let him know that you like what he's doing. For example, say, "I love getting your texts at work! Makes the day go by so much faster," or "I really appreciate you checking in with me before I go to bed." It's important to compliment his good deeds so he knows to keep doing them. The more he communicates with you, the more he'll think and learn about you. Soon he won't be able to imagine not talking to you and texting you, and that's when he'll decide he would rather stay with you than lose you.
For the rest of the article and more love advice, check out HerCampus.com!
More from The Heart Beat: 
Facebook PDA linked to happier marriages
Map shows where all the single people live
Coffee shop lets customers pay with a kiss
love: friendships, dating, sex & marriage
Brad Pitt and Angelina Jolie finally took the plunge, but marriage isn't always a good choice for everyone.

Learn how these surprising tactics can really improve your relationship.

Use these tips to up your chances of finding love.

Find out how paired-off ladies might feel lacking—and how you can make your relationship satisfying.

These signals are seriously subtle, but they can give you real insight into what's going through your husband's mind.

Check which changes are necessary to stay happy together.

We know some of this may sound obvious, but these simple statements can make both of you happier.

Making your relationship more secure, connected, and intimate doesn't have to feel overwhelming. Try these expert tips and reap the rewards now—and in the long run.

For those times when nothing big and horrible happened--but nothing is feeling right either.

What's more fun than animals in weddings? We've rounded up eight of the cutest.

Your puppy is all over your Instagram, Facebook and fridge, so there's no reason not to include him in your engagement pictures too. The best engagement photos give viewers a peek into your life. If you're a dog owner, take this opportunity to show off your pooch, like these 22 couples did! And we can't thank them enough.

Our married blogger gets real about checking out other guys when you're taken.