Tourist photo-bombs Disney wedding proposal
An unintentional photo-bomb turns a tourist into an Internet meme: 'In the Way Guy'
A romantic young man popped the question to his girlfriend in front of Cinderella's Castle at Disney World. He got down on one knee as she reacted to the magic ensuing, and nearby, someone prepared to snap their photo — a perfect moment that might sit on their mantle for years to come.
And then this guy happened: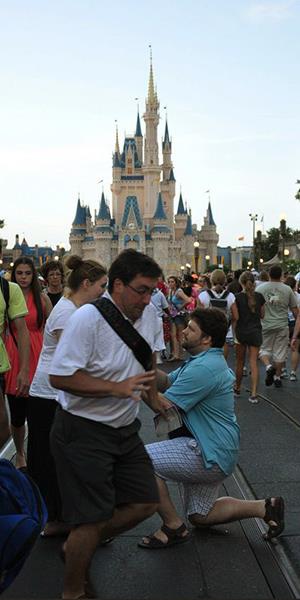 MSN Living: 10 Most Outrageous Wedding Photos
Yes, a nervous tourist quickly tried to get out of the way of a perfect photo op. Instead, he was captured right in front of the magic moment.
"Tried to get a photo of our proposal...nailed it!" the bride wrote, posting the photo on Reddit.
MSN Living: Best wedding photo bombs on Pinterest
To be fair, the photo-bomber's expression is priceless. And the couple was still able to get a beautiful photo that did capture their moment.

But the tourist in the photo has become such a hit, he's now an Internet meme, aptly dubbed, "In the Way Guy." For example, "In the Way Guy" interrupts the famous "V-J Day in Times Square" kiss. Check it out.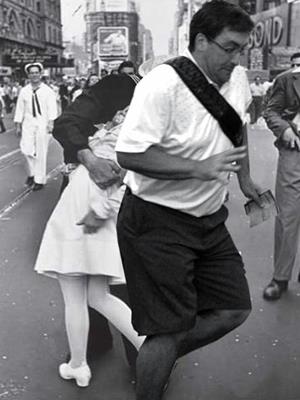 More from The Heart Beat: 
Japanese women have palm surgery to be luckier in love
Love letter delivered after nearly 70 years
France's first gay marriage is broadcast to nation

I'm not quite sure just what Jesse's point is, if he actually has a point. If he's offended by my comments regarding the use of Image manipulation software to create images that appear real, but are just fabrications designed to impress, I think he should rethink his role and his position in the field of photography. Using Photo Shop as a means of giving your work meaning seems to be a very positive manifestation of your absolute LACK OF PHOTOGRAPHIC SKILL. Anyone who practices, soon learns how to tell very convincing lies, but one lie leads to another, and so ON AND ON IT GOES!  WHERE IT STOPS, NOBODY KNOWS. Photography should be about fact, not fiction!
Show me your work Jesse!  Mine's at . I'm a self taught amateur.
seriously?  look at this guy he noticed ( albeit a moment too late ) that he as in the way, his body posture tells HIS story.  The thing is when you gotta go you gotta go!  It is painfully obviously that upsetting a memorable moment for the couple was not on this guy's agenda.
A smart guy would have had a wing man there to block traffic. 

I take issue with photographers/people​ who use "Photo Shop" to tell lies. It's a cheap way for most who label themselves professional photographers to produce work that seems impressive, dramatic; "the amazing capture".  Therein lies the difference. CAPTURED or CREATED?  There seems to be no LIMIT as to how far some will go to get attention. What is the ultimate purpose? It causes me to doubt anything/everything I see in photographs.
Are you sure you want to delete this comment?
love: friendships, dating, sex & marriage
How to flag her little fibs. By Laura Tedesco

A new study on attraction may help explain why fashions change.

As a general rule, any island that offers great weather year-round is going to attract the most visitors in the winter (high season) when we're all trying to escape the snow. Once summer rolls around, many islands see a sharp drop-off in tourism since many people have beach weather right in their own backyards.

And how you can attack the issues together.

A wedding is an exceptionally special day. Sometimes, an opportune photo flub makes the occasion even more memorable. Here are 25 awesome wedding photo bombs.

Somewhere between the first few butterfly-inducing dates and the committed-for-life stage, there's the period of wondering if you're both on the same page about how serious you feel about a future together. If you're not quite at the point of "that talk" but you're looking for a few clues you're heading in that direction, here are some signs he's in it for the long haul as your relationship progresses.

What's that sound? It's white noise blocking out the well-meaning person proclaiming groundbreaking news about where you can meet someone, asking why you're still single, or bugging you about when you're getting married already. Don't be that person. Here are 15 annoying things all single people don't want to hear.

With just a few days left before the big day, you already have a mile-long checklist of to-dos—now meet the don'ts! From impromptu skin treatments to all-night movie marathons, here are 11 things to avoid at all costs.

A new study shows that watching and discussing romantic films can drastically reduce your chance of divorce. These flicks more than fit the bill.

These seemingly innocent phrases still have the power to wound… big time.

Making "I do" last forever is one of the biggest challenges you'll ever face—and it's normal to worry about how you'll do it. But, if your connection involves any of these things, rest assured that you're in it for the long run.

Ultimately, as hard as it may seem at the beginning, a marital affair can be a turning point.