Tourist photo-bombs Disney wedding proposal
An unintentional photo-bomb turns a tourist into an Internet meme: 'In the Way Guy'
A romantic young man popped the question to his girlfriend in front of Cinderella's Castle at Disney World. He got down on one knee as she reacted to the magic ensuing, and nearby, someone prepared to snap their photo — a perfect moment that might sit on their mantle for years to come.
And then this guy happened: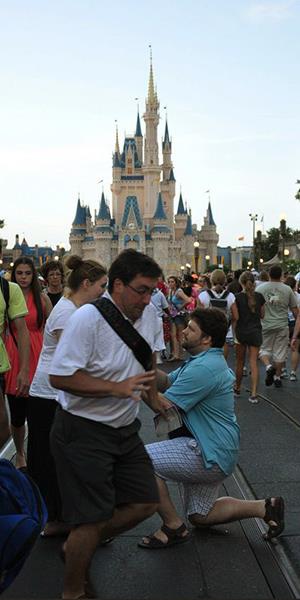 MSN Living: 10 Most Outrageous Wedding Photos
Yes, a nervous tourist quickly tried to get out of the way of a perfect photo op. Instead, he was captured right in front of the magic moment.
"Tried to get a photo of our proposal...nailed it!" the bride wrote, posting the photo on Reddit.
MSN Living: Best wedding photo bombs on Pinterest
To be fair, the photo-bomber's expression is priceless. And the couple was still able to get a beautiful photo that did capture their moment.

But the tourist in the photo has become such a hit, he's now an Internet meme, aptly dubbed, "In the Way Guy." For example, "In the Way Guy" interrupts the famous "V-J Day in Times Square" kiss. Check it out.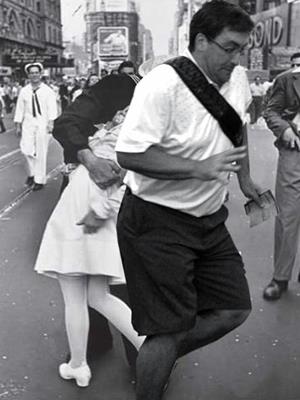 More from The Heart Beat: 
Japanese women have palm surgery to be luckier in love
Love letter delivered after nearly 70 years
France's first gay marriage is broadcast to nation

I'm not quite sure just what Jesse's point is, if he actually has a point. If he's offended by my comments regarding the use of Image manipulation software to create images that appear real, but are just fabrications designed to impress, I think he should rethink his role and his position in the field of photography. Using Photo Shop as a means of giving your work meaning seems to be a very positive manifestation of your absolute LACK OF PHOTOGRAPHIC SKILL. Anyone who practices, soon learns how to tell very convincing lies, but one lie leads to another, and so ON AND ON IT GOES!  WHERE IT STOPS, NOBODY KNOWS. Photography should be about fact, not fiction!
Show me your work Jesse!  Mine's at . I'm a self taught amateur.
seriously?  look at this guy he noticed ( albeit a moment too late ) that he as in the way, his body posture tells HIS story.  The thing is when you gotta go you gotta go!  It is painfully obviously that upsetting a memorable moment for the couple was not on this guy's agenda.
A smart guy would have had a wing man there to block traffic. 

I take issue with photographers/people​ who use "Photo Shop" to tell lies. It's a cheap way for most who label themselves professional photographers to produce work that seems impressive, dramatic; "the amazing capture".  Therein lies the difference. CAPTURED or CREATED?  There seems to be no LIMIT as to how far some will go to get attention. What is the ultimate purpose? It causes me to doubt anything/everything I see in photographs.
Are you sure you want to delete this comment?
love: friendships, dating, sex & marriage
This just in: Guys over 5'10" are twice as likely to stray.

Or how to tell if you've reached THAT point in your bond.

Dating doesn't have to be a daunting task, promise. Here's how to make it fun for you and him.

This just in: A new study shows girls are warriors in the womb.

You can make a pros and cons list...but ultimately you know what works best for you.

Maggie Reyes is a life coach, writer, and the founder of ModernMarried.com. She helps newlyweds re-think what married life can be. Here, she's revealing tricks every newlywed couple needs to know.

Government-supported Vietnamese classes teach women Korean language, customs.

Whether you're into creative artists or uber-preppy bankers, there's something to be said for trying something new.

Sometimes two characters on a TV show or movie can portray being a happy couple effortlessly, or can have lots of fun playing former spouses — especially if they're married to each other in real life! Keep scrolling for six celebrity costars you probably didn't know tied the knot, even after the bloodiest and craziest story lines.

Some couples want nothing more than a laid-back, by-the-book proposal. Then there are the other couples, where the proposal not only needs to be personalized, it also has to be unique and entirely different than the typical restaurant, bended-knee idea. Sound like you? Then get inspired by some of the most creative proposal ideas we've ever seen. If you find something you like, steal it and then modify it to make your proposal something totally unforgettable.

From Nantucket all the way to Cayo Espanto, we've rounded up some of the prettiest beaches to travel to for your honeymoon.

Researchers studied the age-old stereotype that women really are more talkative than men.