Women Love Bad Boys? Not During a Recession
Sometimes it pays to wear your heart on your sleeve.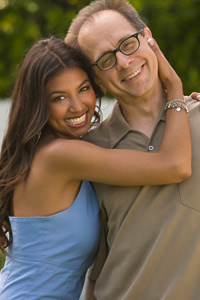 If you're a sensitive guy who feels ignored by women because they're constantly chasing after the stereotypical bad boy, I have good news.
Researchers at Southampton Solent University have discovered that during tough economic times, women are more attracted to men who are gentler and less dominant. Or, as the Daily Mail has dubbed them: wimps.
More than 150 women took part in the study, which involved rating the online profiles of various men. The profiles, all of which were fictitious, revealed how much money the men were capable of making and also how dominant they were. Some profiles described the man as a leader, others as a follower. Before they reviewed the profiles, the women took a language test, which included words like "bankruptcy," to put thoughts of the recession into their minds. The study found that the women opted for both men with money and more sensitive men. According to the Daily Mail, researchers concluded that the women believed sensitive men were less likely to cheat, making them "a better bet to ride out the economic storm."
But aren't nice, caring men just better mates, in general? As relationship site YourTango asks:
"Can we start calling quality men something other than wimpy? It seems unfair to demote these marriage-material guys with a word that's defined as 'weak and ineffectual.'"
And often, a bad boy—or alpha male—can turn into the sensitive type. One reader commented:
"I know of Macho types that are that way on the outside, but very sensitive and caring at home."
On the guy's side, their tastes also change during an economic downturn. Another study revealed that men prefer "curvier" women during tough financial times. When the economy is prosperous, they go for younger women with big eyes and softer features.
Photo: Hill Street Studios/Getty Images
love: friendships, dating, sex & marriage
Why holding on to your partner's mistakes will end up hurting you.

A little extra effort, will power and research can help your marriage bloom well into old age.

These are the conversations all betrothed couples should take the time to have before they get hitched.

Brace yourself, this is uncomfortable.

There's nothing wrong with grabbing Italian food and alternating between watching action films and romantic comedies, but shaking up your going-out routine with an extreme date night can be the ultimate turn on and the best way to keep your relationship exciting.

This just in: Guys over 5'10" are twice as likely to stray.

Or how to tell if you've reached THAT point in your bond.

Dating doesn't have to be a daunting task, promise. Here's how to make it fun for you and him.

This just in: A new study shows girls are warriors in the womb.

You can make a pros and cons list...but ultimately you know what works best for you.

Maggie Reyes is a life coach, writer, and the founder of ModernMarried.com. She helps newlyweds re-think what married life can be. Here, she's revealing tricks every newlywed couple needs to know.

Government-supported Vietnamese classes teach women Korean language, customs.