Women Love Bad Boys? Not During a Recession
Sometimes it pays to wear your heart on your sleeve.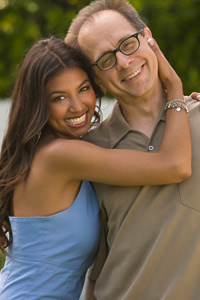 If you're a sensitive guy who feels ignored by women because they're constantly chasing after the stereotypical bad boy, I have good news.
Researchers at Southampton Solent University have discovered that during tough economic times, women are more attracted to men who are gentler and less dominant. Or, as the Daily Mail has dubbed them: wimps.
More than 150 women took part in the study, which involved rating the online profiles of various men. The profiles, all of which were fictitious, revealed how much money the men were capable of making and also how dominant they were. Some profiles described the man as a leader, others as a follower. Before they reviewed the profiles, the women took a language test, which included words like "bankruptcy," to put thoughts of the recession into their minds. The study found that the women opted for both men with money and more sensitive men. According to the Daily Mail, researchers concluded that the women believed sensitive men were less likely to cheat, making them "a better bet to ride out the economic storm."
But aren't nice, caring men just better mates, in general? As relationship site YourTango asks:
"Can we start calling quality men something other than wimpy? It seems unfair to demote these marriage-material guys with a word that's defined as 'weak and ineffectual.'"
And often, a bad boy—or alpha male—can turn into the sensitive type. One reader commented:
"I know of Macho types that are that way on the outside, but very sensitive and caring at home."
On the guy's side, their tastes also change during an economic downturn. Another study revealed that men prefer "curvier" women during tough financial times. When the economy is prosperous, they go for younger women with big eyes and softer features.
Photo: Hill Street Studios/Getty Images
love: friendships, dating, sex & marriage
The typical wedding: A white dress, tiered cake, floral centerpieces and a cute flower girl -- you know the drill. Every once in a while, though, a couple trades in tradition for a quirky, never-seen-that-before idea. Here are a few of the most out-there wedding photos that made us do a double take.

There's a lot to love about weddings this fall, like cocktails served in copper Moscow mule mugs, industrial-inspired lighting and pheasant feather details. See what's new!

Do you have to be engaged to sport a ring with bling?

124.6 million haven't gotten hitched.

Even though the national average wedding is $29,858, that's just an average. If you live in a smaller state like Idaho where the average wedding costs $16,159, you may find yourself saving a little more than half of the national spend! Check out some of the other least expensive cities to get married in below:

Summer is winding down, but the ubiquitous summer romance lives on.

For those times when nothing big and horrible happened--but nothing is feeling right either.

He's confident, distinguished and anywhere from 4 to 20 years older than you. Age is just a number, but there's something about older men that we love. Here are eight reasons why being in a relationship with an older man is tops.

While a younger man may have less life experience, that doesn't mean he's not emotionally mature. Here are the eight reasons why being in a relationship with a younger man is tops.

Have you ever wondered what the 'other woman' was thinking?

So fall is coming and you need some romantic inspiration now that long walks on the beach are out of the question. Well look no further! From apple picking to pumpkin carving, these are some great fall date ideas from girls just like you!

Getting bored of the same dinner and movie date night? Take an adorable cue from your favorite celebs and try something new! From dancing to boxing you can't go wrong with these awesome date ideas.