Who's grumpier in the morning: Men or women?
Very, very important Battle of the Sexes: Who's the bigger grumpster dumpster in the morning?
By Gena Kaufman
Surprise: it's us, ladies. We're totally morning beasts! According to a survey of 2,000 people in London, women are totally grumpier than men, with some accused by their colleagues of "being a strop" in the a.m. hours. "Strop" is British slang for "Get this beyotch some coffee," I think.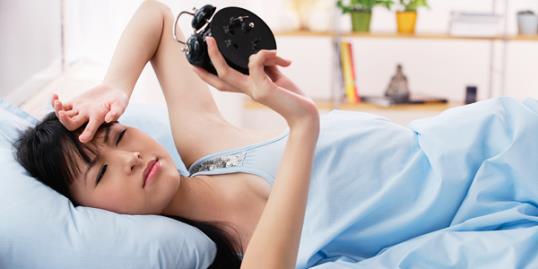 Anecdotally, I'd have to agree. I'm never less happy than when my alarm goes off in the morning, and I've basically worn a hole in my snooze button. Beware, the future boyfriend who has the pleasure of waking up next to me on a Monday morning, especially if I ever again find myself in a job where I have to do more than roll out of bed to start working.
More from Glamour: 10 turn-ons that aren't about looks
My last boyfriend and I were pretty much on the same oversleeping page, so I think we just subconsciously agreed to be miserable together, silently, most mornings. But I imagine mornings could get unpleasant between a rise-and-shine kind of person if they were dating a "Seriously, could you please SHUT UP AND LEAVE ME ALONE TO MY CEREAL-SLURPING MISERY?" kind of person.
More from Glamour: 30 sex tips every woman should consider 
Which kind of morning person are you? What about your guy? How do you deal with mornings together?
More from Glamour:
10 romantic movies men secretly love
50 things men are afraid to ask for (but really want)
25 first-date dos and don'ts
Photo: Asia Images Group/Getty Images
love: friendships, dating, sex & marriage
Why holding on to your partner's mistakes will end up hurting you.

A little extra effort, will power and research can help your marriage bloom well into old age.

These are the conversations all betrothed couples should take the time to have before they get hitched.

Brace yourself, this is uncomfortable.

There's nothing wrong with grabbing Italian food and alternating between watching action films and romantic comedies, but shaking up your going-out routine with an extreme date night can be the ultimate turn on and the best way to keep your relationship exciting.

This just in: Guys over 5'10" are twice as likely to stray.

Or how to tell if you've reached THAT point in your bond.

Dating doesn't have to be a daunting task, promise. Here's how to make it fun for you and him.

This just in: A new study shows girls are warriors in the womb.

You can make a pros and cons list...but ultimately you know what works best for you.

Maggie Reyes is a life coach, writer, and the founder of ModernMarried.com. She helps newlyweds re-think what married life can be. Here, she's revealing tricks every newlywed couple needs to know.

Government-supported Vietnamese classes teach women Korean language, customs.