Who's grumpier in the morning: Men or women?
Very, very important Battle of the Sexes: Who's the bigger grumpster dumpster in the morning?
By Gena Kaufman
Surprise: it's us, ladies. We're totally morning beasts! According to a survey of 2,000 people in London, women are totally grumpier than men, with some accused by their colleagues of "being a strop" in the a.m. hours. "Strop" is British slang for "Get this beyotch some coffee," I think.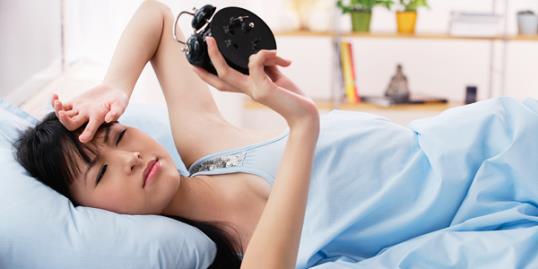 Anecdotally, I'd have to agree. I'm never less happy than when my alarm goes off in the morning, and I've basically worn a hole in my snooze button. Beware, the future boyfriend who has the pleasure of waking up next to me on a Monday morning, especially if I ever again find myself in a job where I have to do more than roll out of bed to start working.
More from Glamour: 10 turn-ons that aren't about looks
My last boyfriend and I were pretty much on the same oversleeping page, so I think we just subconsciously agreed to be miserable together, silently, most mornings. But I imagine mornings could get unpleasant between a rise-and-shine kind of person if they were dating a "Seriously, could you please SHUT UP AND LEAVE ME ALONE TO MY CEREAL-SLURPING MISERY?" kind of person.
More from Glamour: 30 sex tips every woman should consider 
Which kind of morning person are you? What about your guy? How do you deal with mornings together?
More from Glamour:
10 romantic movies men secretly love
50 things men are afraid to ask for (but really want)
25 first-date dos and don'ts
Photo: Asia Images Group/Getty Images
love: friendships, dating, sex & marriage
Brad Pitt and Angelina Jolie finally took the plunge, but marriage isn't always a good choice for everyone.

Learn how these surprising tactics can really improve your relationship.

Use these tips to up your chances of finding love.

Find out how paired-off ladies might feel lacking—and how you can make your relationship satisfying.

These signals are seriously subtle, but they can give you real insight into what's going through your husband's mind.

Check which changes are necessary to stay happy together.

We know some of this may sound obvious, but these simple statements can make both of you happier.

Making your relationship more secure, connected, and intimate doesn't have to feel overwhelming. Try these expert tips and reap the rewards now—and in the long run.

For those times when nothing big and horrible happened--but nothing is feeling right either.

What's more fun than animals in weddings? We've rounded up eight of the cutest.

Your puppy is all over your Instagram, Facebook and fridge, so there's no reason not to include him in your engagement pictures too. The best engagement photos give viewers a peek into your life. If you're a dog owner, take this opportunity to show off your pooch, like these 22 couples did! And we can't thank them enough.

Our married blogger gets real about checking out other guys when you're taken.