Study: Men's Porn Habits Hurt Women's Self-Esteem
When does a harmless habit become hurtful?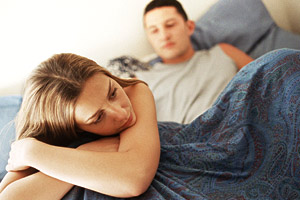 As a generation of men are growing up with virtual sex lives, their real-life partners are becoming increasingly unhappy, a new study finds. Specifically, young women with porn-loving partners feel they just can't measure up to Jenna Jameson—or whoever happens to tickle their man's fancy.
Destin Stewart is a clinical psychology intern at the University of Florida. After her clients began complaining about pornography use in their relationships, Stewart decided to study exactly how porn use is affecting those relationships.
She surveyed 308 college women (ages 18 to 29) and asked them about their current partner's pornography habits. She also wanted the women's perspectives on their relationship quality, sexual satisfaction and self-esteem. Stewart found that the ladies who reported their partners looked at porn more frequently were not only less happy with their relationships, they also had less self-esteem and were less satisfied with their sex lives.
Stewart told LiveScience that when some women discovered pornographic material on their partner's computer, it made them "feel like they were not good enough, like they could not measure up."
While one might argue that the men weren't there to confirm their habits in the study, it's apparent that pornography is negatively affecting an increasing number of relationships. Psychiatrist Norman Doidge studied the effects of porn use in his patients and then reported the findings in his book, The Brain Changes Itself:
"They reported increasing difficulty in being turned on by their actual sexual partners, spouses or girlfriends, though they still considered them objectively attractive." Doidge wrote about his patients. "When I asked if this phenomenon had any relationship to viewing pornography, they answered that it initially helped them get more excited during sex, but over time had the opposite effect."
Stewart says that when porn becomes a problem in relationships, she advises women not to compare themselves to porn stars. She also urges couples to communicate and compromise.
"It's just about trying to do some education about what is realistic and unrealistic and trying to get couples to be honest about what their wants and needs and desires are," Stewart said.
As much as we women would love our men to only have eyes for us, let's face it. As long as there are women willing to do anything, everything and put it out there for the world to see, men are going to look. But Aristotle said to seek moderation in all things, and while I don't think he was referring to watching online porn, it's not bad advice.
Tell us on Facebook: Do you think porn is hurtful or harmless?

Photo: Patrick Sheandell O'Carroll/Getty Images
More on love & sex from MSN Living:
10 Ways to Improve Your Love Life (Right Now!)
The Secrets to Great Sex (in 50 Words or Less)
5 Sexy Steps to Get Out of Your Date Rut
love: friendships, dating, sex & marriage
How to flag her little fibs. By Laura Tedesco

A new study on attraction may help explain why fashions change.

As a general rule, any island that offers great weather year-round is going to attract the most visitors in the winter (high season) when we're all trying to escape the snow. Once summer rolls around, many islands see a sharp drop-off in tourism since many people have beach weather right in their own backyards.

And how you can attack the issues together.

A wedding is an exceptionally special day. Sometimes, an opportune photo flub makes the occasion even more memorable. Here are 25 awesome wedding photo bombs.

Somewhere between the first few butterfly-inducing dates and the committed-for-life stage, there's the period of wondering if you're both on the same page about how serious you feel about a future together. If you're not quite at the point of "that talk" but you're looking for a few clues you're heading in that direction, here are some signs he's in it for the long haul as your relationship progresses.

What's that sound? It's white noise blocking out the well-meaning person proclaiming groundbreaking news about where you can meet someone, asking why you're still single, or bugging you about when you're getting married already. Don't be that person. Here are 15 annoying things all single people don't want to hear.

With just a few days left before the big day, you already have a mile-long checklist of to-dos—now meet the don'ts! From impromptu skin treatments to all-night movie marathons, here are 11 things to avoid at all costs.

A new study shows that watching and discussing romantic films can drastically reduce your chance of divorce. These flicks more than fit the bill.

These seemingly innocent phrases still have the power to wound… big time.

Making "I do" last forever is one of the biggest challenges you'll ever face—and it's normal to worry about how you'll do it. But, if your connection involves any of these things, rest assured that you're in it for the long run.

Ultimately, as hard as it may seem at the beginning, a marital affair can be a turning point.