Sadly, it's officially 'National Breakup Season'
Tis the season for heartbreak, statistics say.
If taking down decorations and heading back to work aren't bad enough, there's something new to dread in January: heartbreak.
We didn't even know this was a thing, but according to the New York Post, the period from late December to Valentine's Day has come to be known as "National Breakup Season." And yes, we're in full swing.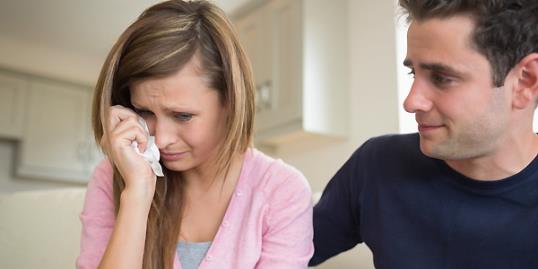 More on MSN Living: 14 surprising facts about getting engaged
In 2010, a Yahoo dating survey analyzed the Facebook status updates of 10,000 users. The survey found a steady increase in breakups right after Thanksgiving, with a peak just before Christmas and a spike right before spring.
Dating site We Love Dates recently put together an interesting infographic that illustrated similar findings. The Heart Beat talked to a spokesperson from the site who offered an explanation of the phenomenon:
More on MSN Living: 10 cliche holiday marriage proposals

"We decide what things we'd like to bring with us into the new year, and what things and people are better left in the past. It's the perfect time to establish a clean slate in regards to our love lives."
With a little over a month to go, is your love life in danger? In honor (or warning) of National Breakup Season,
The
Post
put together a list of signs that you might be getting the relationship axe. Here are a few of the most noteworthy:
No phone calls: Tamsen Fadal, author of "Why Hasn't He Called?" explained this warning sign to The Post: "The sweet little phone calls you used to have daily have been whittled down to short, quick calls that have to do with details." If your significant other is cutting back on the communication, it could be a breakup red flag.
The change-up: Does your partner want you to be someone else? Is the feeling mutual? When both parties are trying to change the other, it could mean a breakup is on the horizon.
What's wrong? What are you thinking about? What's wrong? Fadal explains that when you start asking questions like this, it could be your instincts kicking in. "If you hear yourself asking those questions, you need to quickly turn them inward and answer them for yourself."
Send us your engagement ring photos for a chance to be featured in an MSN Living slideshow. Please tell us about yourself and your proposal story.
Bing: The latest celebrity splits
Photo: Wavebreakmedia Ltd/Getty Images
More from The Heart Beat:
Divorces increase after the holidays
Singles resolve to find love in 2013
Revealed: The hardest marriage vow to keep

love: friendships, dating, sex & marriage
Two guests arrested in New Jersey.

Celebrities certainly know how to travel in style, so if you're struggling to select a honeymoon destination, look no further than these star-approved hotspots. To make it even easier, we're providing you with hotel recommendations, packing essentials, and tips on what to do and see! So channel your inner celeb at one of these U.S. destinations for an unforgettable vacation!

Tall Twitter users named Wayne, we're on to you!

Should little girls be dreaming of a different kind of "I do"?

Need a reason to pack your bags and get the hell out of here?

After your return from your honeymoon, your marriage officially starts and with that come some changes. It's not to say that the honeymoon phase is over, but you'll have to get some things situated in order to have your marriage start off on the right foot. We tapped the expert advice of wedding planner and reality TV star David Tutera and love and career coach Charreah Jackson to dish on six things you must do to have a successful first month of marriage — from wedding-related logistics to wrap up to relationship rules to set.

Owner of Weddings in Vieques, a destination-wedding planning company off the coast of Puerto Rico, Sandy Malone has helped countless couples plan their big day since 2007. Here, the veteran planner is sharing some expert advice for free: She's sharing the top eight things you have to do right after you get engaged.

Is the idea of a big bridal bash just not your thing? Or perhaps you and your fiancé are just the super spontaneous type, so why not make your next beach vacation your nuptials as well? If you're thinking of eloping but have questions on the mind, we're here to help. We tapped elopement and wedding planner Lindsey Nickel, founder of Events, Etc., for her top dos and don'ts for getting hitched on the sly.

Easy everyday ways to keep the love alive.

Expert tips on moving past those oh-so-familiar arguments.

Sometimes you have to do things you don't want to do, like hang out with his lame friends. You're not always in the mood to nurse a beer silently while he and his boys argue about who's going to die next on "Game of Thrones" — but tomorrow he's sitting through a seven-girl brunch. So.

Why holding on to your partner's mistakes will end up hurting you.