Sadly, it's officially 'National Breakup Season'
Tis the season for heartbreak, statistics say.
If taking down decorations and heading back to work aren't bad enough, there's something new to dread in January: heartbreak.
We didn't even know this was a thing, but according to the New York Post, the period from late December to Valentine's Day has come to be known as "National Breakup Season." And yes, we're in full swing.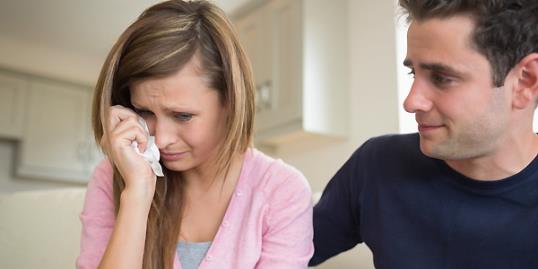 More on MSN Living: 14 surprising facts about getting engaged
In 2010, a Yahoo dating survey analyzed the Facebook status updates of 10,000 users. The survey found a steady increase in breakups right after Thanksgiving, with a peak just before Christmas and a spike right before spring.
Dating site We Love Dates recently put together an interesting infographic that illustrated similar findings. The Heart Beat talked to a spokesperson from the site who offered an explanation of the phenomenon:
More on MSN Living: 10 cliche holiday marriage proposals

"We decide what things we'd like to bring with us into the new year, and what things and people are better left in the past. It's the perfect time to establish a clean slate in regards to our love lives."
With a little over a month to go, is your love life in danger? In honor (or warning) of National Breakup Season,
The
Post
put together a list of signs that you might be getting the relationship axe. Here are a few of the most noteworthy:
No phone calls: Tamsen Fadal, author of "Why Hasn't He Called?" explained this warning sign to The Post: "The sweet little phone calls you used to have daily have been whittled down to short, quick calls that have to do with details." If your significant other is cutting back on the communication, it could be a breakup red flag.
The change-up: Does your partner want you to be someone else? Is the feeling mutual? When both parties are trying to change the other, it could mean a breakup is on the horizon.
What's wrong? What are you thinking about? What's wrong? Fadal explains that when you start asking questions like this, it could be your instincts kicking in. "If you hear yourself asking those questions, you need to quickly turn them inward and answer them for yourself."
Send us your engagement ring photos for a chance to be featured in an MSN Living slideshow. Please tell us about yourself and your proposal story.
Bing: The latest celebrity splits
Photo: Wavebreakmedia Ltd/Getty Images
More from The Heart Beat:
Divorces increase after the holidays
Singles resolve to find love in 2013
Revealed: The hardest marriage vow to keep

love: friendships, dating, sex & marriage
This winter, it's all about mixing unexpected seasonal elements with elegant neutral details and a hint of sparkle and sequins. Take a look.

Here's why dudes without hair make the best boyfriends.

What do you wish you appreciated more when you were flying solo?

"If you're so busy tweeting and Instagraming, you're not paying attention," New York wedding planner Marcy Blum said. "It's almost a cosmic faux pas. People want your energy with them and focused on what they're doing."

The wedding favor, that little thank-you-for-coming gift, has risen to new heights with the bride and groom giving guests a wide range of favors that are meaningful to them.

Generations ago, planning a wedding was 100 percent the bride's job, but in today's age of gender equity, it's a mere 99 percent.

For all the self-help books and advice columns out there (um, keeping reading my advice anyway, please!), there's one tool we all already have in our arsenal for picking a partner that will keep us happy: our gut instincts.

According to a new study from the University of Texas and the University of California, Los Angeles, both men and women have regrets when it comes to sex, but the genders vary greatly when it comes to what they regret specifically.

Spending time alone with your guy is easy, but going public with your plus-one is another thing entirely. Whether it's your crazy relatives at Thanksgiving dinner or awkward convos with your boss at the holiday party, possible pitfalls are everywhere. Keep reading for tips on how to make his grand entrance into your social life a good thing.

Match.com survey reveals the day you're least likely to get spruced up for a date.

Drinking and relationships seem to go hand in hand in a lot of ways. But only in moderation!

Many men will tell you that they have no clue what their wives are thinking.