Sadly, it's officially 'National Breakup Season'
Tis the season for heartbreak, statistics say.
If taking down decorations and heading back to work aren't bad enough, there's something new to dread in January: heartbreak.
We didn't even know this was a thing, but according to the New York Post, the period from late December to Valentine's Day has come to be known as "National Breakup Season." And yes, we're in full swing.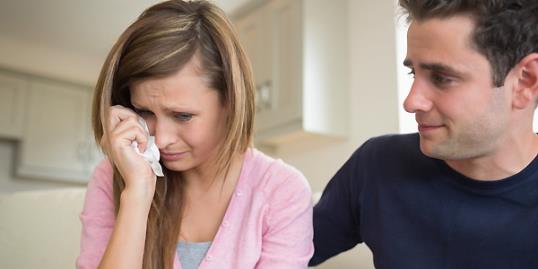 More on MSN Living: 14 surprising facts about getting engaged
In 2010, a Yahoo dating survey analyzed the Facebook status updates of 10,000 users. The survey found a steady increase in breakups right after Thanksgiving, with a peak just before Christmas and a spike right before spring.
Dating site We Love Dates recently put together an interesting infographic that illustrated similar findings. The Heart Beat talked to a spokesperson from the site who offered an explanation of the phenomenon:
More on MSN Living: 10 cliche holiday marriage proposals

"We decide what things we'd like to bring with us into the new year, and what things and people are better left in the past. It's the perfect time to establish a clean slate in regards to our love lives."
With a little over a month to go, is your love life in danger? In honor (or warning) of National Breakup Season,
The
Post
put together a list of signs that you might be getting the relationship axe. Here are a few of the most noteworthy:
No phone calls: Tamsen Fadal, author of "Why Hasn't He Called?" explained this warning sign to The Post: "The sweet little phone calls you used to have daily have been whittled down to short, quick calls that have to do with details." If your significant other is cutting back on the communication, it could be a breakup red flag.
The change-up: Does your partner want you to be someone else? Is the feeling mutual? When both parties are trying to change the other, it could mean a breakup is on the horizon.
What's wrong? What are you thinking about? What's wrong? Fadal explains that when you start asking questions like this, it could be your instincts kicking in. "If you hear yourself asking those questions, you need to quickly turn them inward and answer them for yourself."
Send us your engagement ring photos for a chance to be featured in an MSN Living slideshow. Please tell us about yourself and your proposal story.
Bing: The latest celebrity splits
Photo: Wavebreakmedia Ltd/Getty Images
More from The Heart Beat:
Divorces increase after the holidays
Singles resolve to find love in 2013
Revealed: The hardest marriage vow to keep

love: friendships, dating, sex & marriage
Exes are like ghosts! So much that even Hollywood noticed and made a very bad movie about it one time. Even when he's totally over her, and into you, your fear of her can haunt and eventually ruin a relationship. Here's why you needn't fret.

It's not that you don't find every little thing about your partner endearing and adorable; it's just that it would have been really, really nice if that map could have been consulted three hours ago.

Here's how it goes: You meet someone, you fall in love, you meet their parents, you get engaged, you get married, you have a baby, you have another baby, you move to Florida. Those are all the major relationship moments worth celebrating, right? Wrong. There's so much more to it than that! Here are 11 less-than-romantic relationship milestones every couple can expect to face when things get serious.

There's no harm in thinking them, but just try not to accidentally blurt any of these out.

For better or worse, here are few things he'll probably keep to himself.

You know the warning signs — toddler-like tantrums, mascara-stained cheeks, immaculately organized wedding binders that weigh more than a flower girl — yet somehow it's happened to you … You've become a Bridezilla. You may think this overused title is solely reserved for reality TV and romantic comedies, but the reality is high expectations mixed with unexpected circumstances — also known as wedding planning — can be a cocktail of disaster that even the sanest souls can't stomach. If you suspect the process might be getting the better of you, here are eight ways to tell you're entering the Bridezilla danger zone.