Sadly, it's officially 'National Breakup Season'
Tis the season for heartbreak, statistics say.
If taking down decorations and heading back to work aren't bad enough, there's something new to dread in January: heartbreak.
We didn't even know this was a thing, but according to the New York Post, the period from late December to Valentine's Day has come to be known as "National Breakup Season." And yes, we're in full swing.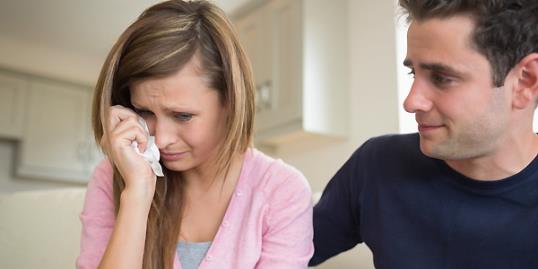 More on MSN Living: 14 surprising facts about getting engaged
In 2010, a Yahoo dating survey analyzed the Facebook status updates of 10,000 users. The survey found a steady increase in breakups right after Thanksgiving, with a peak just before Christmas and a spike right before spring.
Dating site We Love Dates recently put together an interesting infographic that illustrated similar findings. The Heart Beat talked to a spokesperson from the site who offered an explanation of the phenomenon:
More on MSN Living: 10 cliche holiday marriage proposals

"We decide what things we'd like to bring with us into the new year, and what things and people are better left in the past. It's the perfect time to establish a clean slate in regards to our love lives."
With a little over a month to go, is your love life in danger? In honor (or warning) of National Breakup Season,
The
Post
put together a list of signs that you might be getting the relationship axe. Here are a few of the most noteworthy:
No phone calls: Tamsen Fadal, author of "Why Hasn't He Called?" explained this warning sign to The Post: "The sweet little phone calls you used to have daily have been whittled down to short, quick calls that have to do with details." If your significant other is cutting back on the communication, it could be a breakup red flag.
The change-up: Does your partner want you to be someone else? Is the feeling mutual? When both parties are trying to change the other, it could mean a breakup is on the horizon.
What's wrong? What are you thinking about? What's wrong? Fadal explains that when you start asking questions like this, it could be your instincts kicking in. "If you hear yourself asking those questions, you need to quickly turn them inward and answer them for yourself."
Send us your engagement ring photos for a chance to be featured in an MSN Living slideshow. Please tell us about yourself and your proposal story.
Bing: The latest celebrity splits
Photo: Wavebreakmedia Ltd/Getty Images
More from The Heart Beat:
Divorces increase after the holidays
Singles resolve to find love in 2013
Revealed: The hardest marriage vow to keep

love: friendships, dating, sex & marriage
Want a classic round stone but an extra special setting? These stunning rings are not your average solitaire.

If you just got engaged, congrats! This is seriously exciting news that deserves lots of congratulatory hugs, "oohing" and "ahhing" over the ring and plenty of bubbly. To make sure you get the right response from friends, family and coworkers, avoid announcing your engagement like this…

All year long we laugh and cry along to some of the cutest, funniest and most creative proposals on the Internet. We've seen it all -- from marching bands to every kind of flash mob you can imagine. Here, we've narrowed down our favorites from this year.

John F. Kennedy reigned with his wife Jackie in the Washington golden age known as Camelot. They were young, beautiful and seemingly the perfect couple. But behind the scenes, it was a totally different story. JFK's affairs were as legendary as some of his conquests.

Persistent nagging could cause an avalanche of distrust the way an affair can.

Try these tried-and-true tricks from dating experts to detach the stage-five clinger in your life without being a heartbreaker.

We know that the winter doldrums can leave you lacking the spirit and inspiration needed to come up with steamy Saturday night plans, so we did it for you. Happy (early) holidays!

A guide to getting by and creating a productive and memorable experience.

Plus, the No. 1 reason for divorce.

Taking forever to get ready? Nagging him? See where it all ranks on the tolerable spectrum.

Looking for an afternoon delight? A dating service lists the most desirable locations for sex at work.

Breakups: They're an emotional time for everyone. Let's agree on a few ground rules, shall we?