Sadly, it's officially 'National Breakup Season'
Tis the season for heartbreak, statistics say.
If taking down decorations and heading back to work aren't bad enough, there's something new to dread in January: heartbreak.
We didn't even know this was a thing, but according to the New York Post, the period from late December to Valentine's Day has come to be known as "National Breakup Season." And yes, we're in full swing.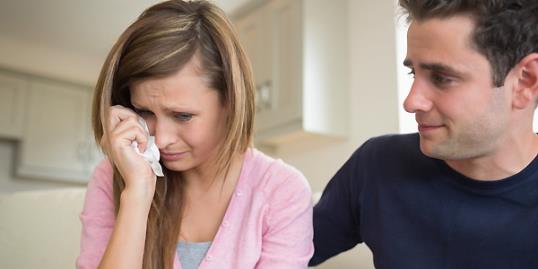 More on MSN Living: 14 surprising facts about getting engaged
In 2010, a Yahoo dating survey analyzed the Facebook status updates of 10,000 users. The survey found a steady increase in breakups right after Thanksgiving, with a peak just before Christmas and a spike right before spring.
Dating site We Love Dates recently put together an interesting infographic that illustrated similar findings. The Heart Beat talked to a spokesperson from the site who offered an explanation of the phenomenon:
More on MSN Living: 10 cliche holiday marriage proposals

"We decide what things we'd like to bring with us into the new year, and what things and people are better left in the past. It's the perfect time to establish a clean slate in regards to our love lives."
With a little over a month to go, is your love life in danger? In honor (or warning) of National Breakup Season,
The
Post
put together a list of signs that you might be getting the relationship axe. Here are a few of the most noteworthy:
No phone calls: Tamsen Fadal, author of "Why Hasn't He Called?" explained this warning sign to The Post: "The sweet little phone calls you used to have daily have been whittled down to short, quick calls that have to do with details." If your significant other is cutting back on the communication, it could be a breakup red flag.
The change-up: Does your partner want you to be someone else? Is the feeling mutual? When both parties are trying to change the other, it could mean a breakup is on the horizon.
What's wrong? What are you thinking about? What's wrong? Fadal explains that when you start asking questions like this, it could be your instincts kicking in. "If you hear yourself asking those questions, you need to quickly turn them inward and answer them for yourself."
Send us your engagement ring photos for a chance to be featured in an MSN Living slideshow. Please tell us about yourself and your proposal story.
Bing: The latest celebrity splits
Photo: Wavebreakmedia Ltd/Getty Images
More from The Heart Beat:
Divorces increase after the holidays
Singles resolve to find love in 2013
Revealed: The hardest marriage vow to keep

love: friendships, dating, sex & marriage
All year long we obsess over hundreds of beautiful photos of every wedding detail, from the cutest flower girl dresses ever to wedding favor ideas that no one has ever seen before. But we couldn't keep these brilliant details to ourselves — here, 10 of the year's most unique wedding ideas!

Sexier sex! Very public proposals! Nearlyweds! It was a pretty busy year for love and relationships. As 2013 comes to a close, we look back at the best trends that made headlines.

The most wonderful time of the year can quickly become the most irritating time of the year if you're waiting for an engagement ring.

The holidays are a time of joy, cheer, and fighting with your boyfriend because he forgot to bring the gift you bought for his mom after you reminded him five times. These practical tips will help you avoid the bickering so you can get back to the important stuff—like eating more cookies.

Wedding cake, wedding reception? Psh! This couple is forgoing both—and going for a run instead.

Part of the reason Christmas felt so magical when you were a kid was because of all the special things you did only at that time of year, like sing Christmas carols or help decorate your mom's famous sugar cookies. (OK, fine. Also because of presents.)

Talk about a marriage proposal to remember.

I was just discussing last night how annoying posed professional portraits have become.

The key to wedded bliss isn't over-the-top romance, but these surprisingly simple practices you can do to stay - or fall back - in love with your partner. Read on for expert tips on how to have a happy marriage.

Do not get him a dopp kit, a money clip, a tie (seriously?), cufflinks or a bunch of candy that you will eat after he opens. Get him this stuff instead. He'll be surprised—but more importantly, he'll be happy. These gifts are good.

It might be time to let go of our general assumption that long-distance relationships are pure torture.

Researchers in a recent study conclude that men are better at focusing on one task, while women are more attuned to multi-task.