3 reasons why you've never had a boyfriend (& why that's totally OK!)
Still single? Here's why — and why you should be happy about it.
Ever felt like you woke up one day and every girl you know has a boyfriend? Your best friend does, your frenemy does, and even that weird girl in your chem lab seems to be cuddling up with some cutie in between classes. What gives?
To all the collegiates out there who feel perpetually single, don't worry! There are plenty of reasons why you've never had a boyfriend, and there are an infinite number of reasons why it's totally OK that you haven't.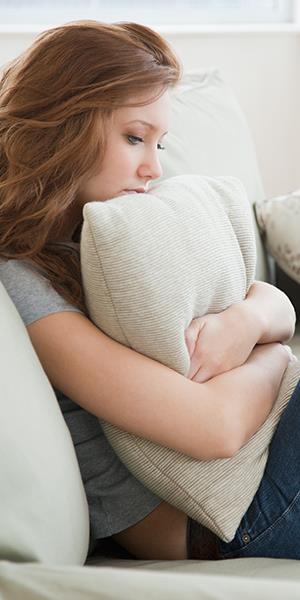 More from HerCampus: 6 foolproof convo starters
1. You've been focusing on your studies and extracurricular activities.
You rush to your 8 a.m. history class, and then you go to three more classes, a working lunch for a group project, two club meetings, a quick trip to the gym, your on-campus job, a 7 p.m. bio review, and then the library to do homework. By the end of the day, you're exhausted and just want to head to bed. Where in your schedule would there be time to keep up with a boyfriend?
Putting your energy into every aspect of school (academics, extracurricular groups, or work) is great! However, it's important to make sure that you strike the balance you want between academics, activities, work and being social. But "being social" doesn't always have to include a boyfriend, and you definitely shouldn't feel pressured to tack a guy onto your life unless you know you have the time and emotional energy for him.
Leslie, a senior at University of Florida, found herself single amongst her friends, but ultimately decided that academics and her extracurricular activities were more important. "I spent dozens of hours every week on schoolwork, and I'm also really involved in theater as well as singing," she says. "I didn't want to give either thing up, especially because there wasn't any specific boy I was trying to pursue."
More from HerCampus: 5 places to fall in love
Leslie's friends felt like she was spending too much time hitting the books instead of going out and hanging with guys, and they kept pushing her to find a boyfriend as a way of being more social. "Honestly, I didn't really see how those two things had to be related. A boyfriend is a person you have a connection with. It's not like a hobby you can just sort of pick up. Relationships are a huge commitment," she says. "My priorities differ greatly from some of my friends. Taking school and extracurricular [activities] seriously is awesome, and I've found that not having a boyfriend shouldn't make you feel somehow inadequate."
Leslie's bottom line? "Live your life by your own terms, and let other people do the same," she says. "If you love schoolwork or some hobby or anything, don't sell yourself short! Decide on your priorities and stick to them. A boyfriend doesn't have to be on that list."
2. You're not a huge fan of your current dating pool.
Let's face it: Guys can be immature, annoying, rude, hard to read (or too easy to read), and every other problematic adjective in between. These all can be unappealing reasons to date for many collegiettes, and it could be why you're having trouble finding someone to call your beau. Guys do eventually change (sometimes), so if the guys in your class year or at your college just aren't cutting it for you, remember that there's always hope for the future!
Kate Masters, a sophomore at Wesleyan University, found several guys at Wesleyan  she liked, but never felt like they were boyfriend material. "I had a couple of flings here and there during my freshman year, but I never felt like anything really clicked," she explains. "Either the guys weren't looking for a relationship, or I wasn't looking for a relationship with them. I just got frustrated and decided to take a break from the whole 'finding a boyfriend' ordeal."
From her experience, Kate has one piece of advice for her fellow collegiates who don't like their college's dating pool. "Don't lower your standards! You'll know when you're ready to take it to the next level with someone physically as well as emotionally, and you shouldn't rush it," she says. "Trying to alter or completely change your preferences leads to a lot of awkwardness and backtracking later on."
Kate says she feels that when you lower your standards, you're just being dishonest with yourself. "A boyfriend isn't worth changing who you are," she says. "If you don't feel comfortable with your school's dating scene or your relationship prospects, that's fine. Love is not one-size-fits-all, so keep being yourself and wait for someone who meets your standards."
3. You just don't want a boyfriend.
Ellie, a junior at Wesleyan University, realized that she'd had several steady hook-ups over the years but never an actual boyfriend, and that began to worry her. "A lot of my friends started getting into relationships during my sophomore year, and I started feeling insecure," she says. "I mean, to me it was like, 'How am I supposed to become an adult without ever having an actual relationship?' I had never really wanted a boyfriend all that much, but I just felt like I was doing things all wrong by not wanting one." She felt like she was missing a crucial part of the "growing up" process.
However, after some experimenting, Ellie soon changed her mind. "I tried pursuing a relationship with a guy I didn't really like, and I just felt so emotionally exhausted after the whole thing. Hook-ups and casual dating work for me in college," she says. "I'm positive that in the future I'll be more ready for a relationship, but a steady boyfriend is just not what I'm looking for right now, nor do I feel ready to take that on anytime soon."
Ellie feels like some collegiates often get pressured into having boyfriends, but they definitely shouldn't pursue a relationship unless they want to. "The moment I stopped apologizing for not having a boyfriend and considering myself weird for not wanting one, everything became a whole lot better," she says. "I don't want a boyfriend right now, and that's absolutely OK. Boys can be stupid and moody and annoying, and I've chosen to take myself out of that equation. It's my business, and I'm happy to finally realize that boyfriends are not the be-all, end-all of college life."  You go, girl!
For one more reason why you haven't had a boyfriend and for more love advice, check out HerCampus.com!
More from HerCampus:
10 greatest fictional couples we can learn from
10 ways to get guys to notice you
How your favorite chick flicks are ruining your love life

Photo: Jamie Grill/Getty Images

love: friendships, dating, sex & marriage
The outlandish things we do for love have no limits; just ask these guys. Love makes us do some pretty crazy things. And sometimes, we feel the need to prove it to the entire world. And no, we don't mean getting a tattoo of your partner's name on your leg or proposing on the big screen at the Yankee game. We mean renewing your marriage vows 101 times or making out for 58 hours. Who would go to such extremes you ask? Meet the Guinness World Record-holders in all-things love. They gave up sleep, food and even going to the bathroom alone, all in the name of loving longer than anyone else. Who's hugged the longest? Kissed the longest? Been on the most expensive date? Take a look below as we count down the world's most loving record-breakers.

Her partner? Wine? Downtime? Find out where it all ranks.

Pheromones *may* be the key to finding your perfect match.

This time of year, we dust off our holiday traditions of special songs, stories, events and food to make our season bright. Here's a look into the traditional, unique and quirky holiday traditions of some famous couples.

Look, I looooove engagement season for obvious reasons, but even I can admit I'm like, "Really, AGAIN?" when yet ANOTHER engagement ring pops up in my news feed. Seriously, there were two this weekend. (Congrats, Gemma and Danny!)

We asked real men and women (and a few first-base experts, too) to give us the cardinal rules of kissing, tell us what makes someone a good kisser and more. So whether you're leaning in for kiss No. 1 or 1,000, read on.by Devin Tomb

Not quite sure which diamond shape suits your personality? We're here to help.

Dating can lead to all kinds of tricky situations. To help you navigate even the most awkward moments, we've compiled our 50 best dating tips—some new, some old—given to us by experts, moms, women like you, and even Justin Timberlake.

Customers as Madison's new Snuggle House can snuggle with professional cuddlers for $60 an hour.

Can you believe it was only about 15 years ago that engagement ring shopping meant a time-consuming slog from jewelry boutique to jewelry boutique? Thank goodness for the internet; nowadays, it's easy to do all that legwork online.

The holiday season, with all its twinkly lights and fireplaces and cold nights perfect for snuggling, is most definitely for lovers—but "The Single Woman" author Mandy Hale is here to remind you that it's also for singles, too.

Studies show that being satisfied with your romantic relationship is one of the best predictors of happiness -- even more important than education, income, or having a high-status job. Resolve to make 2014 your happiest year yet with these bond-strengthening pledges.