Man hits the streets seeking 'wealthy wife'
Meeting a companion can be hard, so one man is using extreme measures to try and make a love connection.
Some people will go to extreme lengths to find a suitable companion. Fifty-six year old Robert Darling is one of them.
For the past 12 years, the bachelor from New Jersey has been making a weekly trip to Manhattan in hopes of making a love connection, reports The Wall Street Journal. To publicize his single and ready to mingle status, the bachelor parades a sandwich board that reads: "I'm looking for a wealthy lady to be my wife," along with his phone number and email.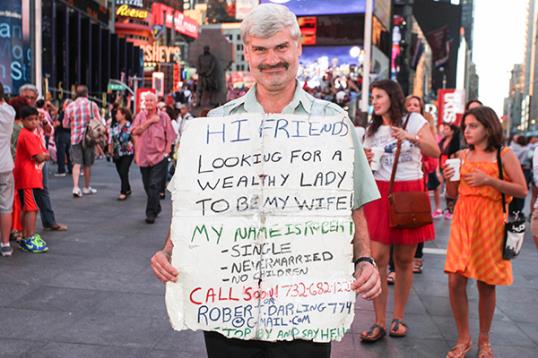 More on MSN Living: 7 dating tips guaranteed to improve your dating life
Sure, everyone has their reasons for entering a relationship. Some do it for love, others for money. And although the recently unemployed Darling has never been in a serious relationship, he's pretty clear about his intentions.
He wants a woman with a net worth of at least $750,000 who's smart, has a sense of humor and likes listening to the English rock band Genesis.
So far, Darling's creative advertising tactics have landed him exactly one date – with a women who wanted him to get hitched to a friend so she could get her green card.
More on MSN Living: 50 Dating Dos & Don'ts
"The odds may not be great, but they might be better than any other way," Darling told The Wall Street Journal. "I'm still very hopeful. I'll never give up."
Tell us: What do you think of this wife-seeking tactic?
Bing: World's oddest couples
More from The Heart Beat: 
Paralyzed bride walks down the aisle on wedding day
Couple marry on city bus where they first met
How to turn your summer fling into a fall boyfriend
Subscribe to The Heart Beat | Friend us on Facebook, follow us on Twitter and find us on Pinterest.
Photo: ​LAURENTIU GAROFEANU/Barcroft Media/Landov
love: friendships, dating, sex & marriage
Forgotten what love is all about? Read this note, and remember.

And a few that aren't so shocking.

If you find yourself doing any of these things, consider changing your behavior or counseling.

From pineapple sculptures made out of sunflowers to bold graphic printed tablecloths, ten trendsetters in the wedding industry shared 100 days' worth of inspiring new wedding details. See The Knot editors' top picks for the coolest and most awe-worthy ideas from the wedding experts.

Those Facebook friends who seem to have perfect lives with flawless mates whom they adore at all times? Even they face tough times like these.

How to flag her little fibs. By Laura Tedesco

A new study on attraction may help explain why fashions change.

As a general rule, any island that offers great weather year-round is going to attract the most visitors in the winter (high season) when we're all trying to escape the snow. Once summer rolls around, many islands see a sharp drop-off in tourism since many people have beach weather right in their own backyards.

And how you can attack the issues together.

A wedding is an exceptionally special day. Sometimes, an opportune photo flub makes the occasion even more memorable. Here are 25 awesome wedding photo bombs.

Somewhere between the first few butterfly-inducing dates and the committed-for-life stage, there's the period of wondering if you're both on the same page about how serious you feel about a future together. If you're not quite at the point of "that talk" but you're looking for a few clues you're heading in that direction, here are some signs he's in it for the long haul as your relationship progresses.

What's that sound? It's white noise blocking out the well-meaning person proclaiming groundbreaking news about where you can meet someone, asking why you're still single, or bugging you about when you're getting married already. Don't be that person. Here are 15 annoying things all single people don't want to hear.