Man hits the streets seeking 'wealthy wife'
Meeting a companion can be hard, so one man is using extreme measures to try and make a love connection.
Some people will go to extreme lengths to find a suitable companion. Fifty-six year old Robert Darling is one of them.
For the past 12 years, the bachelor from New Jersey has been making a weekly trip to Manhattan in hopes of making a love connection, reports The Wall Street Journal. To publicize his single and ready to mingle status, the bachelor parades a sandwich board that reads: "I'm looking for a wealthy lady to be my wife," along with his phone number and email.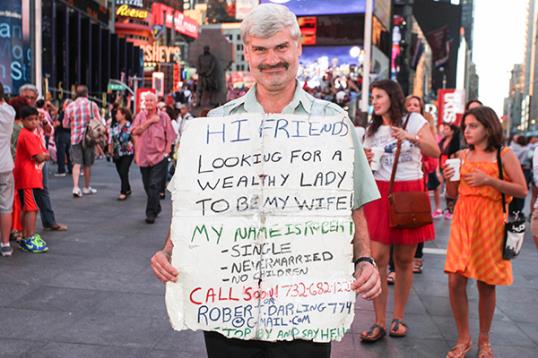 More on MSN Living: 7 dating tips guaranteed to improve your dating life
Sure, everyone has their reasons for entering a relationship. Some do it for love, others for money. And although the recently unemployed Darling has never been in a serious relationship, he's pretty clear about his intentions.
He wants a woman with a net worth of at least $750,000 who's smart, has a sense of humor and likes listening to the English rock band Genesis.
So far, Darling's creative advertising tactics have landed him exactly one date – with a women who wanted him to get hitched to a friend so she could get her green card.
More on MSN Living: 50 Dating Dos & Don'ts
"The odds may not be great, but they might be better than any other way," Darling told The Wall Street Journal. "I'm still very hopeful. I'll never give up."
Tell us: What do you think of this wife-seeking tactic?
Bing: World's oddest couples
More from The Heart Beat: 
Paralyzed bride walks down the aisle on wedding day
Couple marry on city bus where they first met
How to turn your summer fling into a fall boyfriend
Subscribe to The Heart Beat | Friend us on Facebook, follow us on Twitter and find us on Pinterest.
Photo: ​LAURENTIU GAROFEANU/Barcroft Media/Landov
love: friendships, dating, sex & marriage
Two steps forward, one giant fight afterward?

If you've been hiding any of this stuff, it's time to fess up.

The outlandish things we do for love have no limits; just ask these guys. Who's hugged the longest? Kissed the longest? Been on the most expensive date? Take a look below as we count down the world's most loving record-breakers.

If you just got engaged, congrats! This is seriously exciting news that deserves lots of congratulatory hugs, "oohing" and "ahhing" over the ring and plenty of bubbly. To make sure you get the right response from friends, family and coworkers, avoid announcing your engagement like this…

Ladies, give yourself the best gift of all this season: The NYC Taxi Driver 2014 Calendar. By Michelle Toglia

Pheromones may be the key to finding your perfect match.

Her partner? Wine? Downtime? Find out where it all ranks.

This time of year, we dust off our holiday traditions of special songs, stories, events and food to make our season bright. Here's a look into the traditional, unique and quirky holiday traditions of some famous couples.

Look, I looooove engagement season for obvious reasons, but even I can admit I'm like, "Really, AGAIN?" when yet ANOTHER engagement ring pops up in my news feed. Seriously, there were two this weekend. (Congrats, Gemma and Danny!)

We asked real men and women (and a few first-base experts, too) to give us the cardinal rules of kissing, tell us what makes someone a good kisser and more. So whether you're leaning in for kiss No. 1 or 1,000, read on.by Devin Tomb

Not quite sure which diamond shape suits your personality? We're here to help.

Dating can lead to all kinds of tricky situations. To help you navigate even the most awkward moments, we've compiled our 50 best dating tips—some new, some old—given to us by experts, moms, women like you, and even Justin Timberlake.