Why Do Wives Need More Space Than Their Husbands?
Honey, I love you. But you're in my bubble.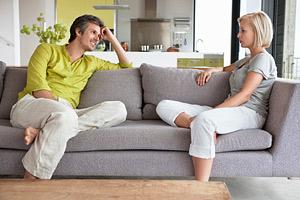 As much as you love your spouse and your family, chances are, occasionally, you need your alone time. Distancing yourself from the pack helps you to regain your identity, and as the cliché goes, absence makes the heart grow fonder.
But despite everything you've heard about 'man caves,' a recent study shows that women may need that distance more often than men.
Terri Orbuch is a psychologist and research professor at the University of Michigan's Institute for Social Research, and for the past 25 years, she's been studying 373 married couples.  According to the Wall Street Journal, 29 percent of people in Dr. Orbuch's study reported that they didn't have enough "privacy or time for self" in their relationship. She recently analyzed some data from her study and found that more wives than husbands reported not having enough space.
So why do women need more alone time? According to Dr. Orbuch, it's simply because women have less time to spend with themselves than men. She points out that women, even when they have full time jobs, are often the primary caregivers of children and/or aging parents. They also tend to have more friends than men; therefore, they have more social obligations.
Take all that into consideration and yes, that could leave wives very little time to spend with their thoughts.
Dr. Orbuch also asked her participants if they were unhappy in their marriages. Of those who said yes, 11.5 percent said it was because they had little privacy. That percentage was even greater than those who said they were unhappy because they were displeased with their sex lives (6 percent).
Dr. Orbuch says it's all about having an identity outside of the relationship.
"When individuals have their own friends, their own set of interests, when they are able to define themselves not by their spouse or relationship, that makes them happier and less bored," Dr. Orbuch tells the Wall Street Journal. "Space brings excitement and novelty."
And if you still aren't taking the importance of space seriously, it could have harmful consequences on your relationship. Dr. Vondie Lozano, a licensed marriage therapist, tells the Wall Street Journal:
"If you don't give [your spouse] their physical space, they will take emotional space."
What do you think? Do you have enough space in your marriage or relationship? Does your spouse complain about needing more time alone?
Photo: Fabrice LEROUGE/Getty Images
More on love & sex from MSN Living:
The Most Amazing Wedding Venues in the World
12 Fourth of July Wedding Ideas
How to Determine If He's Marriage Material
Are you sure you want to delete this comment?
love: friendships, dating, sex & marriage
Brad Pitt and Angelina Jolie finally took the plunge, but marriage isn't always a good choice for everyone.

Learn how these surprising tactics can really improve your relationship.

Use these tips to up your chances of finding love.

Find out how paired-off ladies might feel lacking—and how you can make your relationship satisfying.

These signals are seriously subtle, but they can give you real insight into what's going through your husband's mind.

Check which changes are necessary to stay happy together.

We know some of this may sound obvious, but these simple statements can make both of you happier.

Making your relationship more secure, connected, and intimate doesn't have to feel overwhelming. Try these expert tips and reap the rewards now—and in the long run.

For those times when nothing big and horrible happened--but nothing is feeling right either.

What's more fun than animals in weddings? We've rounded up eight of the cutest.

Your puppy is all over your Instagram, Facebook and fridge, so there's no reason not to include him in your engagement pictures too. The best engagement photos give viewers a peek into your life. If you're a dog owner, take this opportunity to show off your pooch, like these 22 couples did! And we can't thank them enough.

Our married blogger gets real about checking out other guys when you're taken.