Why Do Wives Need More Space Than Their Husbands?
Honey, I love you. But you're in my bubble.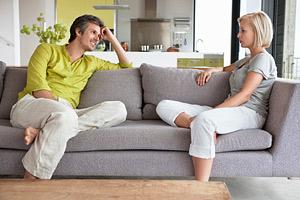 As much as you love your spouse and your family, chances are, occasionally, you need your alone time. Distancing yourself from the pack helps you to regain your identity, and as the cliché goes, absence makes the heart grow fonder.
But despite everything you've heard about 'man caves,' a recent study shows that women may need that distance more often than men.
Terri Orbuch is a psychologist and research professor at the University of Michigan's Institute for Social Research, and for the past 25 years, she's been studying 373 married couples.  According to the Wall Street Journal, 29 percent of people in Dr. Orbuch's study reported that they didn't have enough "privacy or time for self" in their relationship. She recently analyzed some data from her study and found that more wives than husbands reported not having enough space.
So why do women need more alone time? According to Dr. Orbuch, it's simply because women have less time to spend with themselves than men. She points out that women, even when they have full time jobs, are often the primary caregivers of children and/or aging parents. They also tend to have more friends than men; therefore, they have more social obligations.
Take all that into consideration and yes, that could leave wives very little time to spend with their thoughts.
Dr. Orbuch also asked her participants if they were unhappy in their marriages. Of those who said yes, 11.5 percent said it was because they had little privacy. That percentage was even greater than those who said they were unhappy because they were displeased with their sex lives (6 percent).
Dr. Orbuch says it's all about having an identity outside of the relationship.
"When individuals have their own friends, their own set of interests, when they are able to define themselves not by their spouse or relationship, that makes them happier and less bored," Dr. Orbuch tells the Wall Street Journal. "Space brings excitement and novelty."
And if you still aren't taking the importance of space seriously, it could have harmful consequences on your relationship. Dr. Vondie Lozano, a licensed marriage therapist, tells the Wall Street Journal:
"If you don't give [your spouse] their physical space, they will take emotional space."
What do you think? Do you have enough space in your marriage or relationship? Does your spouse complain about needing more time alone?
Photo: Fabrice LEROUGE/Getty Images
More on love & sex from MSN Living:
The Most Amazing Wedding Venues in the World
12 Fourth of July Wedding Ideas
How to Determine If He's Marriage Material
Are you sure you want to delete this comment?
love: friendships, dating, sex & marriage
This just in: Guys over 5'10" are twice as likely to stray.

Or how to tell if you've reached THAT point in your bond.

Dating doesn't have to be a daunting task, promise. Here's how to make it fun for you and him.

This just in: A new study shows girls are warriors in the womb.

You can make a pros and cons list...but ultimately you know what works best for you.

Maggie Reyes is a life coach, writer, and the founder of ModernMarried.com. She helps newlyweds re-think what married life can be. Here, she's revealing tricks every newlywed couple needs to know.

Government-supported Vietnamese classes teach women Korean language, customs.

Whether you're into creative artists or uber-preppy bankers, there's something to be said for trying something new.

Sometimes two characters on a TV show or movie can portray being a happy couple effortlessly, or can have lots of fun playing former spouses — especially if they're married to each other in real life! Keep scrolling for six celebrity costars you probably didn't know tied the knot, even after the bloodiest and craziest story lines.

Some couples want nothing more than a laid-back, by-the-book proposal. Then there are the other couples, where the proposal not only needs to be personalized, it also has to be unique and entirely different than the typical restaurant, bended-knee idea. Sound like you? Then get inspired by some of the most creative proposal ideas we've ever seen. If you find something you like, steal it and then modify it to make your proposal something totally unforgettable.

From Nantucket all the way to Cayo Espanto, we've rounded up some of the prettiest beaches to travel to for your honeymoon.

Researchers studied the age-old stereotype that women really are more talkative than men.