Why Do Wives Need More Space Than Their Husbands?
Honey, I love you. But you're in my bubble.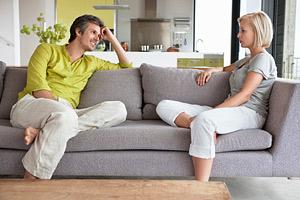 As much as you love your spouse and your family, chances are, occasionally, you need your alone time. Distancing yourself from the pack helps you to regain your identity, and as the cliché goes, absence makes the heart grow fonder.
But despite everything you've heard about 'man caves,' a recent study shows that women may need that distance more often than men.
Terri Orbuch is a psychologist and research professor at the University of Michigan's Institute for Social Research, and for the past 25 years, she's been studying 373 married couples.  According to the Wall Street Journal, 29 percent of people in Dr. Orbuch's study reported that they didn't have enough "privacy or time for self" in their relationship. She recently analyzed some data from her study and found that more wives than husbands reported not having enough space.
So why do women need more alone time? According to Dr. Orbuch, it's simply because women have less time to spend with themselves than men. She points out that women, even when they have full time jobs, are often the primary caregivers of children and/or aging parents. They also tend to have more friends than men; therefore, they have more social obligations.
Take all that into consideration and yes, that could leave wives very little time to spend with their thoughts.
Dr. Orbuch also asked her participants if they were unhappy in their marriages. Of those who said yes, 11.5 percent said it was because they had little privacy. That percentage was even greater than those who said they were unhappy because they were displeased with their sex lives (6 percent).
Dr. Orbuch says it's all about having an identity outside of the relationship.
"When individuals have their own friends, their own set of interests, when they are able to define themselves not by their spouse or relationship, that makes them happier and less bored," Dr. Orbuch tells the Wall Street Journal. "Space brings excitement and novelty."
And if you still aren't taking the importance of space seriously, it could have harmful consequences on your relationship. Dr. Vondie Lozano, a licensed marriage therapist, tells the Wall Street Journal:
"If you don't give [your spouse] their physical space, they will take emotional space."
What do you think? Do you have enough space in your marriage or relationship? Does your spouse complain about needing more time alone?
Photo: Fabrice LEROUGE/Getty Images
More on love & sex from MSN Living:
The Most Amazing Wedding Venues in the World
12 Fourth of July Wedding Ideas
How to Determine If He's Marriage Material
Are you sure you want to delete this comment?
love: friendships, dating, sex & marriage
How to flag her little fibs. By Laura Tedesco

A new study on attraction may help explain why fashions change.

As a general rule, any island that offers great weather year-round is going to attract the most visitors in the winter (high season) when we're all trying to escape the snow. Once summer rolls around, many islands see a sharp drop-off in tourism since many people have beach weather right in their own backyards.

And how you can attack the issues together.

A wedding is an exceptionally special day. Sometimes, an opportune photo flub makes the occasion even more memorable. Here are 25 awesome wedding photo bombs.

Somewhere between the first few butterfly-inducing dates and the committed-for-life stage, there's the period of wondering if you're both on the same page about how serious you feel about a future together. If you're not quite at the point of "that talk" but you're looking for a few clues you're heading in that direction, here are some signs he's in it for the long haul as your relationship progresses.

What's that sound? It's white noise blocking out the well-meaning person proclaiming groundbreaking news about where you can meet someone, asking why you're still single, or bugging you about when you're getting married already. Don't be that person. Here are 15 annoying things all single people don't want to hear.

With just a few days left before the big day, you already have a mile-long checklist of to-dos—now meet the don'ts! From impromptu skin treatments to all-night movie marathons, here are 11 things to avoid at all costs.

A new study shows that watching and discussing romantic films can drastically reduce your chance of divorce. These flicks more than fit the bill.

These seemingly innocent phrases still have the power to wound… big time.

Making "I do" last forever is one of the biggest challenges you'll ever face—and it's normal to worry about how you'll do it. But, if your connection involves any of these things, rest assured that you're in it for the long run.

Ultimately, as hard as it may seem at the beginning, a marital affair can be a turning point.