Grouper: The new online dating site you need to know about
The latest in online dating matches you up on group dates with free drinks.
Just to make things clear, when it comes to Grouper, we're not talking about the fish. It's actually a dating site (or as they prefer, social club) that sets you and your two best friends up with another group of three friends.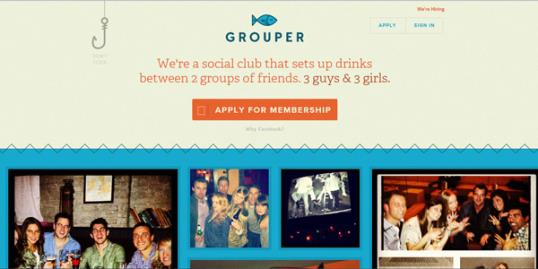 How it works
After you apply for membership (don't worry, this isn't an elite club that only Chuck Bass and Blair Waldorf can get accepted into), Grouper will match you with someone else using your Facebook profile. But, they're not checking out how hot you are, rather, they set you up based on age, educational background, profession, interests, and lifestyle. On top of all that, they also ask you what you're looking for—from older guys, to just about your age, to youngins' if that's what you're into.  Although the site doesn't mention any age requirements, it's most likely a 21+ kind of deal, since Grouper typically sends you to a bar to meet up with your dates. On that note, once matched, you invite two wing-women to tag along and the guys do the same. After that, you pay Grouper $20, they pick a restaurant or bar, and then set you all up with a round of free drinks.
The pros and cons
So what makes Grouper the new hit thing in dating? Well, for starters, since it's a social gathering of six (three guys, three girls), you don't have to worry about being set up with a creeper. You have to be somewhat normal to have two best friends to come out with you. Even if you don't get along with one guy, you can still have fun with the entire group… or totally fall for one of his friends, improving your chances of meeting someone (cough, cough).
On top of that, Grouper's casual. There's no pressure like on a blind, first date because it's more of a group hangout than a traditional date.
As for its pitfalls? If you're looking for something more serious and less laidback, then Grouper may not be for you—like we said, it's more of a hangout among friends than a legitimate date. But it is a guaranteed night out where you'll meet new people, laugh at awkward moments with your friends, and get free drinks courtesy of Grouper. It's all about stepping out of your comfort zone.
To read about one woman's experience going on a Grouper date, read the rest of the article here on HerCampus.com.
Would you try out a Grouper date?  Leave a comment!
More from HerCampus.com:
11 guys you should really reconsider
Tinder: The new online dating app you need to know about
Photo: Grouper
love: friendships, dating, sex & marriage
How to flag her little fibs. By Laura Tedesco

A new study on attraction may help explain why fashions change.

As a general rule, any island that offers great weather year-round is going to attract the most visitors in the winter (high season) when we're all trying to escape the snow. Once summer rolls around, many islands see a sharp drop-off in tourism since many people have beach weather right in their own backyards.

And how you can attack the issues together.

A wedding is an exceptionally special day. Sometimes, an opportune photo flub makes the occasion even more memorable. Here are 25 awesome wedding photo bombs.

Somewhere between the first few butterfly-inducing dates and the committed-for-life stage, there's the period of wondering if you're both on the same page about how serious you feel about a future together. If you're not quite at the point of "that talk" but you're looking for a few clues you're heading in that direction, here are some signs he's in it for the long haul as your relationship progresses.

What's that sound? It's white noise blocking out the well-meaning person proclaiming groundbreaking news about where you can meet someone, asking why you're still single, or bugging you about when you're getting married already. Don't be that person. Here are 15 annoying things all single people don't want to hear.

With just a few days left before the big day, you already have a mile-long checklist of to-dos—now meet the don'ts! From impromptu skin treatments to all-night movie marathons, here are 11 things to avoid at all costs.

A new study shows that watching and discussing romantic films can drastically reduce your chance of divorce. These flicks more than fit the bill.

These seemingly innocent phrases still have the power to wound… big time.

Making "I do" last forever is one of the biggest challenges you'll ever face—and it's normal to worry about how you'll do it. But, if your connection involves any of these things, rest assured that you're in it for the long run.

Ultimately, as hard as it may seem at the beginning, a marital affair can be a turning point.