Grouper: The new online dating site you need to know about
The latest in online dating matches you up on group dates with free drinks.
Just to make things clear, when it comes to Grouper, we're not talking about the fish. It's actually a dating site (or as they prefer, social club) that sets you and your two best friends up with another group of three friends.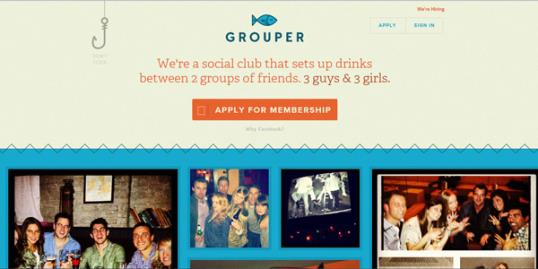 How it works
After you apply for membership (don't worry, this isn't an elite club that only Chuck Bass and Blair Waldorf can get accepted into), Grouper will match you with someone else using your Facebook profile. But, they're not checking out how hot you are, rather, they set you up based on age, educational background, profession, interests, and lifestyle. On top of all that, they also ask you what you're looking for—from older guys, to just about your age, to youngins' if that's what you're into.  Although the site doesn't mention any age requirements, it's most likely a 21+ kind of deal, since Grouper typically sends you to a bar to meet up with your dates. On that note, once matched, you invite two wing-women to tag along and the guys do the same. After that, you pay Grouper $20, they pick a restaurant or bar, and then set you all up with a round of free drinks.
The pros and cons
So what makes Grouper the new hit thing in dating? Well, for starters, since it's a social gathering of six (three guys, three girls), you don't have to worry about being set up with a creeper. You have to be somewhat normal to have two best friends to come out with you. Even if you don't get along with one guy, you can still have fun with the entire group… or totally fall for one of his friends, improving your chances of meeting someone (cough, cough).
On top of that, Grouper's casual. There's no pressure like on a blind, first date because it's more of a group hangout than a traditional date.
As for its pitfalls? If you're looking for something more serious and less laidback, then Grouper may not be for you—like we said, it's more of a hangout among friends than a legitimate date. But it is a guaranteed night out where you'll meet new people, laugh at awkward moments with your friends, and get free drinks courtesy of Grouper. It's all about stepping out of your comfort zone.
To read about one woman's experience going on a Grouper date, read the rest of the article here on HerCampus.com.
Would you try out a Grouper date?  Leave a comment!
More from HerCampus.com:
11 guys you should really reconsider
Tinder: The new online dating app you need to know about
Photo: Grouper
love: friendships, dating, sex & marriage
This just in: A new study shows girls are warriors in the womb.

You can make a pros and cons list...but ultimately you know what works best for you.

Maggie Reyes is a life coach, writer, and the founder of ModernMarried.com. She helps newlyweds re-think what married life can be. Here, she's revealing tricks every newlywed couple needs to know.

Government-supported Vietnamese classes teach women Korean language, customs.

Whether you're into creative artists or uber-preppy bankers, there's something to be said for trying something new.

Sometimes two characters on a TV show or movie can portray being a happy couple effortlessly, or can have lots of fun playing former spouses — especially if they're married to each other in real life! Keep scrolling for six celebrity costars you probably didn't know tied the knot, even after the bloodiest and craziest story lines.

Some couples want nothing more than a laid-back, by-the-book proposal. Then there are the other couples, where the proposal not only needs to be personalized, it also has to be unique and entirely different than the typical restaurant, bended-knee idea. Sound like you? Then get inspired by some of the most creative proposal ideas we've ever seen. If you find something you like, steal it and then modify it to make your proposal something totally unforgettable.

From Nantucket all the way to Cayo Espanto, we've rounded up some of the prettiest beaches to travel to for your honeymoon.

Researchers studied the age-old stereotype that women really are more talkative than men.

'There is a science behind attraction,' SingldOut says.

One minute you're happy and in love, the next he's delivering the "It's not you, it's me" speech. Why? We have the scoop on the real reasons most couples split up.

Want to keep your wedding budget in check? Start by checking out this list of the 10 things that could end up costing you a lot more than you anticipated.