Grouper: The new online dating site you need to know about
The latest in online dating matches you up on group dates with free drinks.
Just to make things clear, when it comes to Grouper, we're not talking about the fish. It's actually a dating site (or as they prefer, social club) that sets you and your two best friends up with another group of three friends.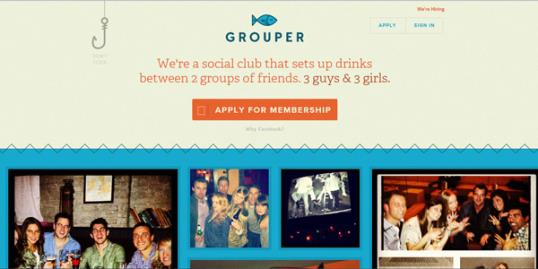 How it works
After you apply for membership (don't worry, this isn't an elite club that only Chuck Bass and Blair Waldorf can get accepted into), Grouper will match you with someone else using your Facebook profile. But, they're not checking out how hot you are, rather, they set you up based on age, educational background, profession, interests, and lifestyle. On top of all that, they also ask you what you're looking for—from older guys, to just about your age, to youngins' if that's what you're into.  Although the site doesn't mention any age requirements, it's most likely a 21+ kind of deal, since Grouper typically sends you to a bar to meet up with your dates. On that note, once matched, you invite two wing-women to tag along and the guys do the same. After that, you pay Grouper $20, they pick a restaurant or bar, and then set you all up with a round of free drinks.
The pros and cons
So what makes Grouper the new hit thing in dating? Well, for starters, since it's a social gathering of six (three guys, three girls), you don't have to worry about being set up with a creeper. You have to be somewhat normal to have two best friends to come out with you. Even if you don't get along with one guy, you can still have fun with the entire group… or totally fall for one of his friends, improving your chances of meeting someone (cough, cough).
On top of that, Grouper's casual. There's no pressure like on a blind, first date because it's more of a group hangout than a traditional date.
As for its pitfalls? If you're looking for something more serious and less laidback, then Grouper may not be for you—like we said, it's more of a hangout among friends than a legitimate date. But it is a guaranteed night out where you'll meet new people, laugh at awkward moments with your friends, and get free drinks courtesy of Grouper. It's all about stepping out of your comfort zone.
To read about one woman's experience going on a Grouper date, read the rest of the article here on HerCampus.com.
Would you try out a Grouper date?  Leave a comment!
More from HerCampus.com:
11 guys you should really reconsider
Tinder: The new online dating app you need to know about
Photo: Grouper
love: friendships, dating, sex & marriage
The typical wedding: A white dress, tiered cake, floral centerpieces and a cute flower girl -- you know the drill. Every once in a while, though, a couple trades in tradition for a quirky, never-seen-that-before idea. Here are a few of the most out-there wedding photos that made us do a double take.

There's a lot to love about weddings this fall, like cocktails served in copper Moscow mule mugs, industrial-inspired lighting and pheasant feather details. See what's new!

Do you have to be engaged to sport a ring with bling?

124.6 million haven't gotten hitched.

Even though the national average wedding is $29,858, that's just an average. If you live in a smaller state like Idaho where the average wedding costs $16,159, you may find yourself saving a little more than half of the national spend! Check out some of the other least expensive cities to get married in below:

Summer is winding down, but the ubiquitous summer romance lives on.

For those times when nothing big and horrible happened--but nothing is feeling right either.

He's confident, distinguished and anywhere from 4 to 20 years older than you. Age is just a number, but there's something about older men that we love. Here are eight reasons why being in a relationship with an older man is tops.

While a younger man may have less life experience, that doesn't mean he's not emotionally mature. Here are the eight reasons why being in a relationship with a younger man is tops.

Have you ever wondered what the 'other woman' was thinking?

So fall is coming and you need some romantic inspiration now that long walks on the beach are out of the question. Well look no further! From apple picking to pumpkin carving, these are some great fall date ideas from girls just like you!

Getting bored of the same dinner and movie date night? Take an adorable cue from your favorite celebs and try something new! From dancing to boxing you can't go wrong with these awesome date ideas.