Grouper: The new online dating site you need to know about
The latest in online dating matches you up on group dates with free drinks.
Just to make things clear, when it comes to Grouper, we're not talking about the fish. It's actually a dating site (or as they prefer, social club) that sets you and your two best friends up with another group of three friends.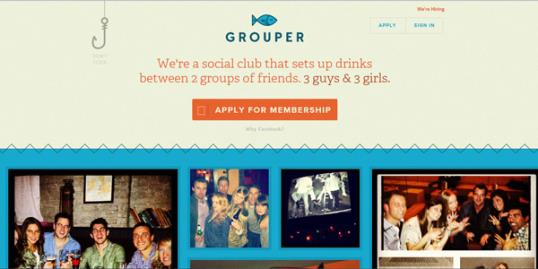 How it works
After you apply for membership (don't worry, this isn't an elite club that only Chuck Bass and Blair Waldorf can get accepted into), Grouper will match you with someone else using your Facebook profile. But, they're not checking out how hot you are, rather, they set you up based on age, educational background, profession, interests, and lifestyle. On top of all that, they also ask you what you're looking for—from older guys, to just about your age, to youngins' if that's what you're into.  Although the site doesn't mention any age requirements, it's most likely a 21+ kind of deal, since Grouper typically sends you to a bar to meet up with your dates. On that note, once matched, you invite two wing-women to tag along and the guys do the same. After that, you pay Grouper $20, they pick a restaurant or bar, and then set you all up with a round of free drinks.
The pros and cons
So what makes Grouper the new hit thing in dating? Well, for starters, since it's a social gathering of six (three guys, three girls), you don't have to worry about being set up with a creeper. You have to be somewhat normal to have two best friends to come out with you. Even if you don't get along with one guy, you can still have fun with the entire group… or totally fall for one of his friends, improving your chances of meeting someone (cough, cough).
On top of that, Grouper's casual. There's no pressure like on a blind, first date because it's more of a group hangout than a traditional date.
As for its pitfalls? If you're looking for something more serious and less laidback, then Grouper may not be for you—like we said, it's more of a hangout among friends than a legitimate date. But it is a guaranteed night out where you'll meet new people, laugh at awkward moments with your friends, and get free drinks courtesy of Grouper. It's all about stepping out of your comfort zone.
To read about one woman's experience going on a Grouper date, read the rest of the article here on HerCampus.com.
Would you try out a Grouper date?  Leave a comment!
More from HerCampus.com:
11 guys you should really reconsider
Tinder: The new online dating app you need to know about
Photo: Grouper
love: friendships, dating, sex & marriage
Brad Pitt and Angelina Jolie finally took the plunge, but marriage isn't always a good choice for everyone.

Learn how these surprising tactics can really improve your relationship.

Use these tips to up your chances of finding love.

Find out how paired-off ladies might feel lacking—and how you can make your relationship satisfying.

These signals are seriously subtle, but they can give you real insight into what's going through your husband's mind.

Check which changes are necessary to stay happy together.

We know some of this may sound obvious, but these simple statements can make both of you happier.

Making your relationship more secure, connected, and intimate doesn't have to feel overwhelming. Try these expert tips and reap the rewards now—and in the long run.

For those times when nothing big and horrible happened--but nothing is feeling right either.

What's more fun than animals in weddings? We've rounded up eight of the cutest.

Your puppy is all over your Instagram, Facebook and fridge, so there's no reason not to include him in your engagement pictures too. The best engagement photos give viewers a peek into your life. If you're a dog owner, take this opportunity to show off your pooch, like these 22 couples did! And we can't thank them enough.

Our married blogger gets real about checking out other guys when you're taken.