Grouper: The new online dating site you need to know about
The latest in online dating matches you up on group dates with free drinks.
Just to make things clear, when it comes to Grouper, we're not talking about the fish. It's actually a dating site (or as they prefer, social club) that sets you and your two best friends up with another group of three friends.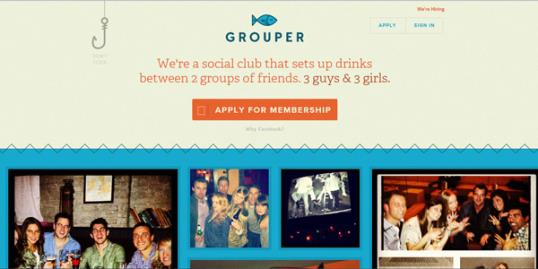 How it works
After you apply for membership (don't worry, this isn't an elite club that only Chuck Bass and Blair Waldorf can get accepted into), Grouper will match you with someone else using your Facebook profile. But, they're not checking out how hot you are, rather, they set you up based on age, educational background, profession, interests, and lifestyle. On top of all that, they also ask you what you're looking for—from older guys, to just about your age, to youngins' if that's what you're into.  Although the site doesn't mention any age requirements, it's most likely a 21+ kind of deal, since Grouper typically sends you to a bar to meet up with your dates. On that note, once matched, you invite two wing-women to tag along and the guys do the same. After that, you pay Grouper $20, they pick a restaurant or bar, and then set you all up with a round of free drinks.
The pros and cons
So what makes Grouper the new hit thing in dating? Well, for starters, since it's a social gathering of six (three guys, three girls), you don't have to worry about being set up with a creeper. You have to be somewhat normal to have two best friends to come out with you. Even if you don't get along with one guy, you can still have fun with the entire group… or totally fall for one of his friends, improving your chances of meeting someone (cough, cough).
On top of that, Grouper's casual. There's no pressure like on a blind, first date because it's more of a group hangout than a traditional date.
As for its pitfalls? If you're looking for something more serious and less laidback, then Grouper may not be for you—like we said, it's more of a hangout among friends than a legitimate date. But it is a guaranteed night out where you'll meet new people, laugh at awkward moments with your friends, and get free drinks courtesy of Grouper. It's all about stepping out of your comfort zone.
To read about one woman's experience going on a Grouper date, read the rest of the article here on HerCampus.com.
Would you try out a Grouper date?  Leave a comment!
More from HerCampus.com:
11 guys you should really reconsider
Tinder: The new online dating app you need to know about
Photo: Grouper
love: friendships, dating, sex & marriage
After your return from your honeymoon, your marriage officially starts and with that come some changes. It's not to say that the honeymoon phase is over, but you'll have to get some things situated in order to have your marriage start off on the right foot. We tapped the expert advice of wedding planner and reality TV star David Tutera and love and career coach Charreah Jackson to dish on six things you must do to have a successful first month of marriage — from wedding-related logistics to wrap up to relationship rules to set.

Owner of Weddings in Vieques, a destination-wedding planning company off the coast of Puerto Rico, Sandy Malone has helped countless couples plan their big day since 2007. Here, the veteran planner is sharing some expert advice for free: She's sharing the top eight things you have to do right after you get engaged.

Is the idea of a big bridal bash just not your thing? Or perhaps you and your fiancé are just the super spontaneous type, so why not make your next beach vacation your nuptials as well? If you're thinking of eloping but have questions on the mind, we're here to help. We tapped elopement and wedding planner Lindsey Nickel, founder of Events, Etc., for her top dos and don'ts for getting hitched on the sly.

Easy everyday ways to keep the love alive.

Expert tips on moving past those oh-so-familiar arguments.

Sometimes you have to do things you don't want to do, like hang out with his lame friends. You're not always in the mood to nurse a beer silently while he and his boys argue about who's going to die next on "Game of Thrones" — but tomorrow he's sitting through a seven-girl brunch. So.

Why holding on to your partner's mistakes will end up hurting you.

A little extra effort, will power and research can help your marriage bloom well into old age.

These are the conversations all betrothed couples should take the time to have before they get hitched.

Brace yourself, this is uncomfortable.

There's nothing wrong with grabbing Italian food and alternating between watching action films and romantic comedies, but shaking up your going-out routine with an extreme date night can be the ultimate turn on and the best way to keep your relationship exciting.

This just in: Guys over 5'10" are twice as likely to stray.