You Stabbed Me…Now Will You Marry Me?
A truly bizarre proposal story.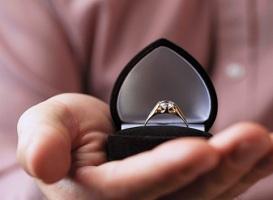 Gregory Todd proposed to his girlfriend in an unusual way—through her lawyer at a court hearing. Oh, by the way, they were in court because she was being indicted for stabbing him in the back with a 12-inch knife as he slept in December of last year.
Deal breaker, am I right? But Todd is eager to hear his girlfriend/assailant​'s response to his offer. During her hearing, Tiffany Ballies's lawyer said:
"Mr. Todd is in court and has been to see her in prison. He has brought a ring to court to propose to her. Eventually they want to get married. He says he has brought the engagement ring to ask to her marry him today."

Tiffany then began crying but didn't give any indication of whether she would accept the proposal.
As wacky as this scenario sounds, it's actually quite a sad story. Tiffany's attack came near the anniversary of the death of her 10-week old son and also shortly after she had suffered a miscarriage. According to her lawyer, she was grief-stricken during the time of the attack and couldn't explain why she stabbed her boyfriend.
The knife went through Gregory's liver, spleen and pancreas. Doctors said he would have died had he not received medical attention so quickly. After the hearing, Gregory said outside of the court:
"I love her I want to marry her. She didn't know I was going to propose today but I was. I wanted to give her the ring but they won't allow it in prison. I hoped she would get a suspended sentence, so I could propose today. She does not need to be in prison."
Ballies was originally charged with attempted murder, but has since admitted to grievous bodily harm with intent.
Sad, but still pretty brutal. 
love: friendships, dating, sex & marriage
Researchers in a recent study conclude that men are better at focusing on one task, while women are more attuned to multi-task.

It's normal to want to be accepted by your in-laws. But feeling that you need to be accepted can bring complications, causing you to be uncomfortable and unnatural around them.

One New York couple breaks down the highs and lows of their year together and even asks friends and family to weigh in.

Okay, prepare the tissues. We've rounded up the top ten viral love stories of the year. These stories are the ones that tugged at our heartstrings and went wild on the internet. And for good reason! These stories set the internet on fire and nearly crashed our computers, all because they revolve around the most important emotion in the world: love.

Man's best friend might have just become his mortal enemy due to stealing his woman.

Can a long-term union be happy without sex? One 34-year-old mom says yes. She anonymously shares all the not-so-dirty details of why not getting busy led to her wedded bliss.

Gluten-free? Mac lover? Pixie? There's a dating site for you.

Dating can lead to all kinds of tricky situations. To help you navigate even the most awkward moments, we've compiled our 50 best dating tips—some new, some old—given to us by experts, moms, women like you, and even Justin Timberlake.

This time of year, we dust off our holiday traditions of special songs, stories, events and food to make our season bright. Here's a look into the traditional, unique and quirky holiday traditions of some famous couples.

Two steps forward, one giant fight afterward?

If you've been hiding any of this stuff, it's time to fess up.

The outlandish things we do for love have no limits; just ask these guys. Who's hugged the longest? Kissed the longest? Been on the most expensive date? Take a look below as we count down the world's most loving record-breakers.